Friday, January 31, 2020
Hamid Sakhizada: "There were Hazara people that hadn't forgotten their culture"
Songlines spoke to the Afghan musician who, despite threats to his life, wants to show the world the beauty of Hazara music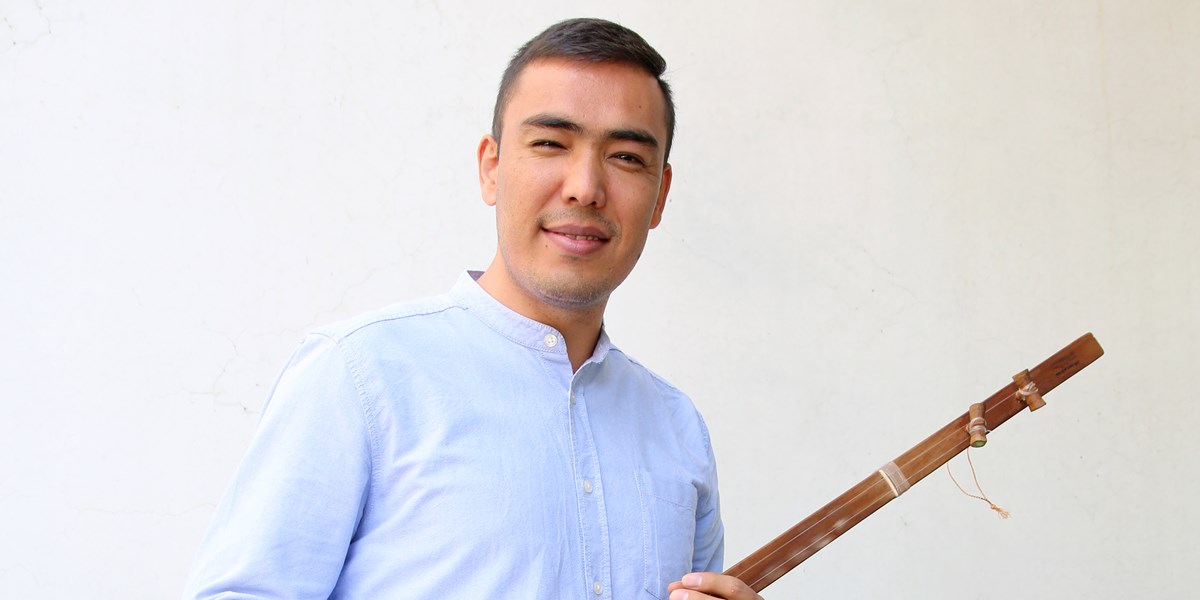 Hamid Sakhizada (photo by Knut Utler)
The simple idea that we should have the right to express ourselves creatively is an easy one to take for granted. But, as is made painfully clear in the reports from Freemuse (an organisation that documents violations on artistic freedom), so many artists are denied this right and are forced to either quit music or risk their lives. This was the harsh reality for Afghan dambura (long-necked lute) player Hamid Sakhizada, who was forced to flee his country following threats to his life. His crime? He wanted to show the world the beauty of traditional Hazara music.
Hazaras are the third largest ethnic group in Afghanistan, but they are persecuted and ridiculed as a minority so much that many are renouncing their own culture. Sakhizada is Hazara, but it wasn't until he moved to Pakistan to study classical music that he actually came into contact with Hazara folk music. "There were Hazara people that hadn't forgotten their culture," he explains. Suddenly exposed to the music of his roots, he felt a duty to immerse himself in it.

He was inspired to bring the music back to his home country after watching the music talent TV show Afghan Star, on which fellow Hazara singer Elaha Soroor also competed. "I was in Pakistan watching and thinking this can be a good thing to promote my culture." He had noticed that there were Hazara people singing on the show, but none of them sang in their own dialect, which was considered shameful. In 2007, he moved back to Kabul and in 2008 he competed on the show, coming second. His newfound popularity, however, came at a price. Religious extremists and groups hostile towards Hazara people began demanding that Sakhizada withdraw from the competition. He was sent threats and on one occasion had to be escorted out of the auditorium because the threats were so violent.
But this didn't stop him. In 2012, he set up the Bolbi Music Centre in Kabul in a bid to help preserve Hazara music. Later that year he won the Asia Broadcasting Union annual song contest (an Asian Eurovision), again raising the profile of the music. Spurred on by this success, he encouraged his students to enter contests like Afghan Star. But in June 2015, two of his music students were kidnapped by the Taliban. One was eventually released, but the other was killed. More threats followed, so Sakhizada decided it was time to seek refuge abroad.
In 2016, he moved to the Safe Music Haven of Harstad, in Norway, supported by SafeMUSE. Growing out of Freemuse, SafeMUSE was started in 2013 to help the persecuted artists Freemuse report on by providing them with safe spaces for creative expression. Earlier this year, Lidio, a sub label of Grappa, was created to release the music being made by these musicians. On November 1, Sakhizada released Dai Raft, his first album since he fled. With the help of SafeMUSE and Lidio, Sakhizada is finally able to keep the tradition alive and share his music with the world without fear.
+ ALBUM Dai Raft is reviewed in Songlines #155 issue
+ ONLINE www.safemuse.org