Monday, February 10, 2020
Introducing... Asmâa Hamzaoui & Bnat Timbouktou
By Jo Frost
The young Moroccan musician tells Jo Frost how she's realised her early childhood dreams by fronting her own Gnawa band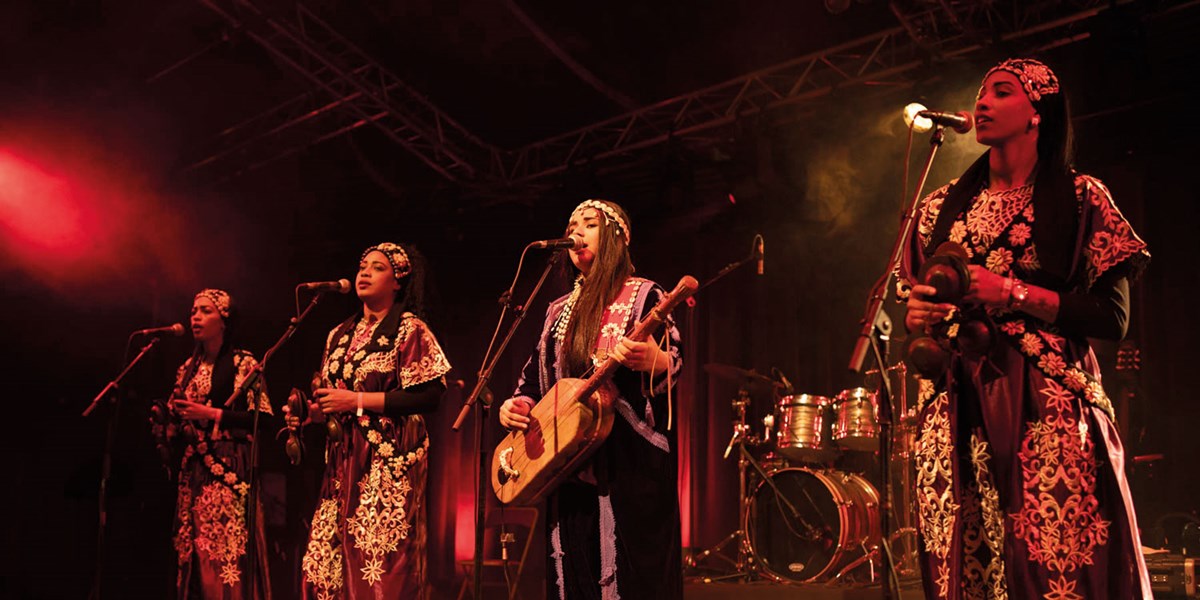 (photo: Chris Saunders)
The sound is instantly recognisable. The low, twang of the gimbri (three-stringed bass lute), underpinned by the rhythmic clacking of the qaraqab (metal castanets). It's the music of Morocco's Gnawa people but what makes this quartet stand out is the fact that they are women performing this most patriarchal of musical forms.
Asmâa Hamzaoui & Bnat Timbouktou are showcasing to a packed auditorium at WOMEX, introduced by Pether Lindgren from their label, ajabu!, who says simply, "this is music that speaks for itself."
They've been impressing audiences around Europe this summer having performed at Amsterdam Roots and Afrika Hertme festivals. Asmâa Hamzaoui also featured on BBC Radio 4's Sound Odyssey series when she collaborated with This is the Kit's singer Kate Stables.
The daughter of a well-known Gnawa maalem (master) Rachid Hamzaoui, Asmâa started her own group, Bnat Timbouktou, in 2012, aged just 16. She explains that she named the group (which means 'Daughters of Timbuktu') because "Timbuktu is the origin of Gnawa music."
The trio who make up the band comprise of Asmâa's elder sister Aicha (27), who acts as spokesperson and Soukaina Elmelyjy and Lamgammah Hind. "We've been friends since childhood, they're like family," says Aicha. "When they were very little, Asmâa said to her friend Soukaina, 'one day I'm going to play the gimbri and you're going to be in my band." Asmâa started playing the gimbri, aged seven. "It's not hard to learn," she insists, "but it takes time to learn and to play like a maalem, it's very difficult." There are other female gimbri players but none who play with the same professional competence, says Aicha. Asmâa is known as a maalma (the female version of a maalem), which means she can do everything other maalems do, including perform at sacred lilas (all-night trance ceremonies).
Their debut performance was at the Gnawa World Music Festival in Essaouira in 2017. The following year they played on the main stage with Fatoumata Diawara – the festival's first all-female collaboration. "She understands the music and the significance and symbolism of Gnawa music," Asmâa says of Fatou.
Their new album is called Oulad Lghaba (The Children of the Forest). "It's the history of slavery," explains Asmâa. "They're all traditional songs from the Gnawa repertoire."
When asked if she experiences resistance or prejudice being a maalma in a very male dominated world, she replies: "I don't care what others think; I'm obliged to do a good job." The most important thing for Asmâa is that their father accepted her choice, which in turn meant the other maalems have also accepted her.
On stage, adorned in the traditional cowry-shell embroidered robes of Gnawa performers, Asmâa sings and the others respond. Gradually the clattering of the qaraqabs quickens as Asmâa cranks up the pace of the song, creating a hypnotic atmosphere. It's very easy to see how this music is used in trance and healing ceremonies. Asmâa and her cohorts are bringing a breath of fresh air to this most male and Moroccan musical tradition.