Wednesday, April 15, 2020
Introducing... Guiss Guiss Bou Bess
Jenny Cathcart speaks to the Senegalese group who are making waves with their inventive, contemporary take on sabar drumming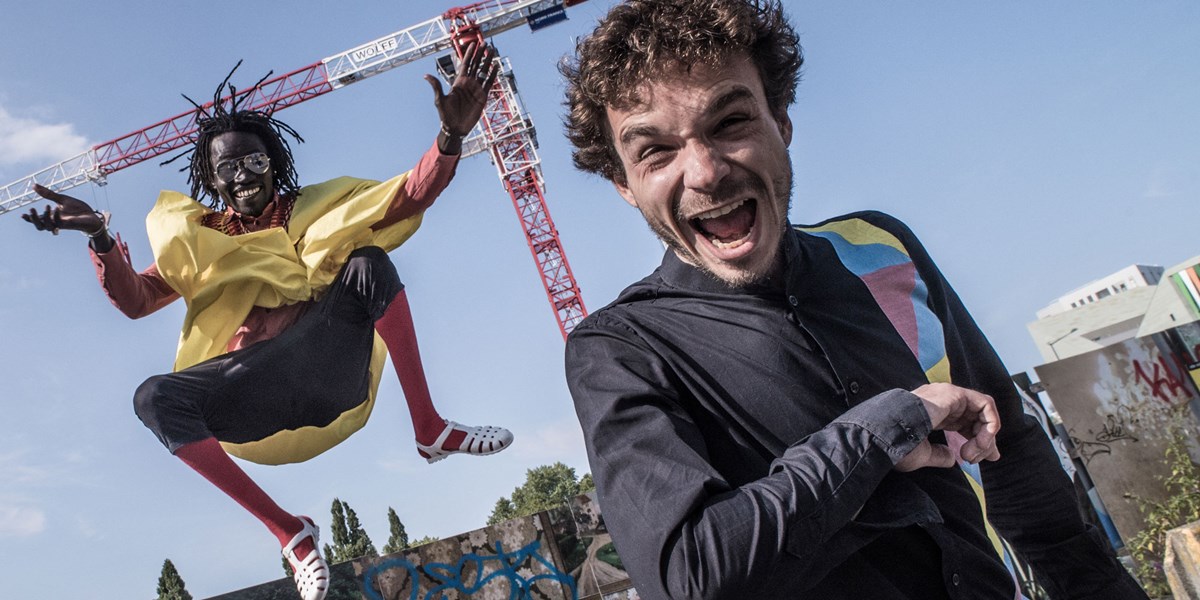 Guiss Guiss Bou Bess (photo: Jean-Baptiste Joire)
Guiss Guiss Bou Bess are performing in Médina, the bustling working-class area of Dakar where lead vocalist, dancer and percussionist, Mara Seck, was born and which has attracted hip young contemporary artists specialising in street art, fashion, craft and interior design. The group, whose name means 'New Vision' in Wolof, deliver an innovative electro-sabar fusion that cleverly updates Senegal's unique drumming tradition. The soundcheck on the outdoor stage draws excited children from the neighbourhood, while those watching from nearby balconies bag the best view. The musicians fill the stage with a riot of colour, their patchwork costumes trending the thrifty Baye Fall garb worn by followers of Cheikh Ibrahima Fall, the right-hand man of Cheikh Amadou Bamba who founded Senegal's Mouride Islamic sect. The sabar drums are festooned with rainbow ribbons and the guitarist's instrument is bright blue. Mara Seck leads his flamboyant troupe with flair. Each element – not least the diminutive female dancer, Thiat, with her krump, hip-hop and Serer moves – is designed to elaborate the new vision expressed in the band's debut album, Set Sela (To Visit).
Mara Seck is the son of the late lamented Alla Seck, a legendary dancer, animator and singer, first with the seminal Star Band and then with Youssou N'Dour's Super Étoile de Dakar. Having performed at WOMEX in 2018 and last year's Trans Musicales festival in France, Guiss Guiss Bou Bess were invited by the American artist Kehinde Wiley (best known for his portrait of Barack Obama) to entertain VIP guests including Alicia Keys and Naomi Campbell at the opening ceremony of his new Dakar workshop space, Black Rock.
Intrigued by the unusual inverted rhythms of mbalax, Stéphane Costantini, a percussionist-turned-beat maker from Grenoble, worked with Mara Seck to match the Senegalese drum patterns with trap, dubstep, garage and drum'n'bass beats. Costantini explains how he also picked up on the various sonorities in the sabar line-up: "Each sabar drum has a resonance and a note that we used to set the tonality for the album tracks."
Seck acknowledges the efforts of his entire production team, who on this occasion are all present in Dakar. "It is so important to have the right support when building a career," he affirms. The key figure is surely his wife and manager, Camille Lomey, who runs Kaani, a Dakar based artist agency. Married to percussionist Babacar Diop, Bec Stupak is an American video artist who worked on Lady Gaga's music video for the track 'Alejandro'. She is filming a documentary about the group and will be the tour manager on their upcoming dates, which includes Banlieues Bleues Festival, Roskilde, Paléo Festival, FMM Sines and Sziget.
French record label Hélico's CEO Valentin Langlois first saw the band perform in Paris. "I was immediately drawn to their contemporary electro-sabar concept and decided to produce the album, which was mixed in Brazil and mastered in Lisbon. Our aim is to allow the music to travel with stylish YouTube videos such as 'Lamp' directed by Jean-Baptiste Joire and, most of all, live shows."
Guiss Guiss Bou Bess, we are watching you!
Watch