Thursday, February 6, 2020
Introducing... Mishra
A mutual love of Indian music studied at universi was the impetus to form the global folk collective Mishra. Kevin Bourke speaks to the founding duo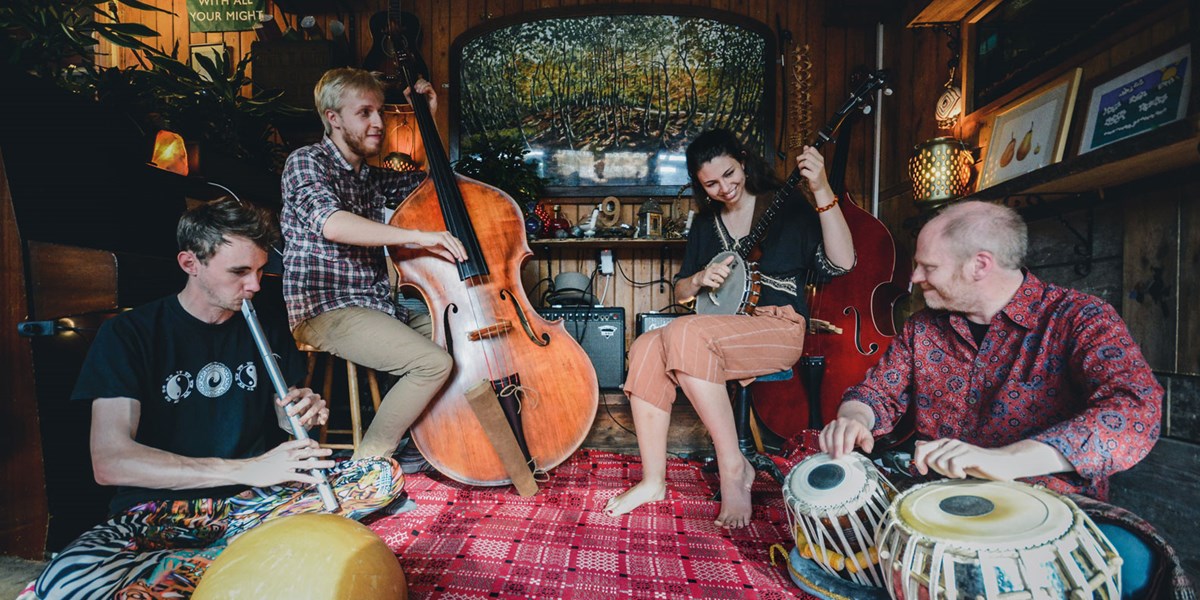 (Photo: Miles Gatt)
When Kate Griffin and Ford Collier first met as music students at Sheffield University in 2017, neither of them could have anticipated that their near-instantaneous creative partnership would be successful enough to win them the inaugural Christian Raphael Prize at the 2018 Cambridge Folk Festival. That award funded the recording of The Loft Tapes by their 'global folk collective,' Mishra, adding influences from Indian classical music, Americana, and jazz to their folk roots.
"We met through the Indian Music Ensemble that the university department ran," recalls banjo player Griffin, who also designed the striking sleeve of The Loft Tapes. "I'd just started at university and Ford had been there for a few years. He was also playing with his school friend Alex as The Drystones. My banjo teacher was Dan Walsh and daring to do something different with the much-maligned instrument was something I learned from him. So, I'd been writing some strange tunes in bizarre time signatures and I realised Ford was the only musician I knew who could help me out with these different tunes I was writing. We didn't decide we were going to make a band, it just came about organically."
"We were working out what we were about as we were gigging and writing stuff as a duo under our two names," agrees Collier, who plays guitar and whistle. "So, when Kate was invited, out of the blue, to play at Cambridge, she had to explain that she was now part of a duo. We had no idea we'd been nominated for any sort of prize."
The confidence boost and prize money "came at the right time," says Griffin. "We had been playing together for nearly a year and it gave us a little more time to keep discovering. Mishra came about through our experiments."
"For instance, we'd recruited our fellow student Joss Mann-Hazell on bass when we dallied with the idea of forming a bluegrass band doing cheesy covers," laughs Collier. "After that quickly fell apart, we kept sending him our ideas and he kept responding. Tabla player John Ball was our Indian Music Ensemble mentor. He got all of us passionate about this music, so it was great to have him helping to achieve our musical vision."
For their debut, remembers Collier, "we knew we wanted the warmth of analogue tape, and we wanted to capture the fun we have in performing. We didn't want the recording process to interfere with our music."
Griffin lives on a farm in Gloucestershire and her dad used to do quite a bit of recording years ago. "All his gear was up in the loft there. While we were doing the recording, we took breaks to go over to the farm and play with these new-born baby goats of mine and get attacked by the turkey, which is all represented on the album sleeve."
The tapes were then passed to Andy Bell to mix and, appropriately impressed, he offered to distribute the album through his own Hudson Records' label. "But apart from Andy and my dad David popping in to click 'Stop' and 'Go'," concludes Griffin, "we kind of did it all ourselves."
This article originally appeared in the January/February 2020 issue of Songlines. Never miss an issue – subscribe today!