Tuesday, December 17, 2019
Music in Moskovistan: Central Asians in Moscow
For centuries, Central Asia was criss-crossed from the west and east by merchants on the Silk Road. Today Central Asia itself is on the move with millions of migrant workers in the Russian Federation. Razia Sultanova reports on how music helps them settle in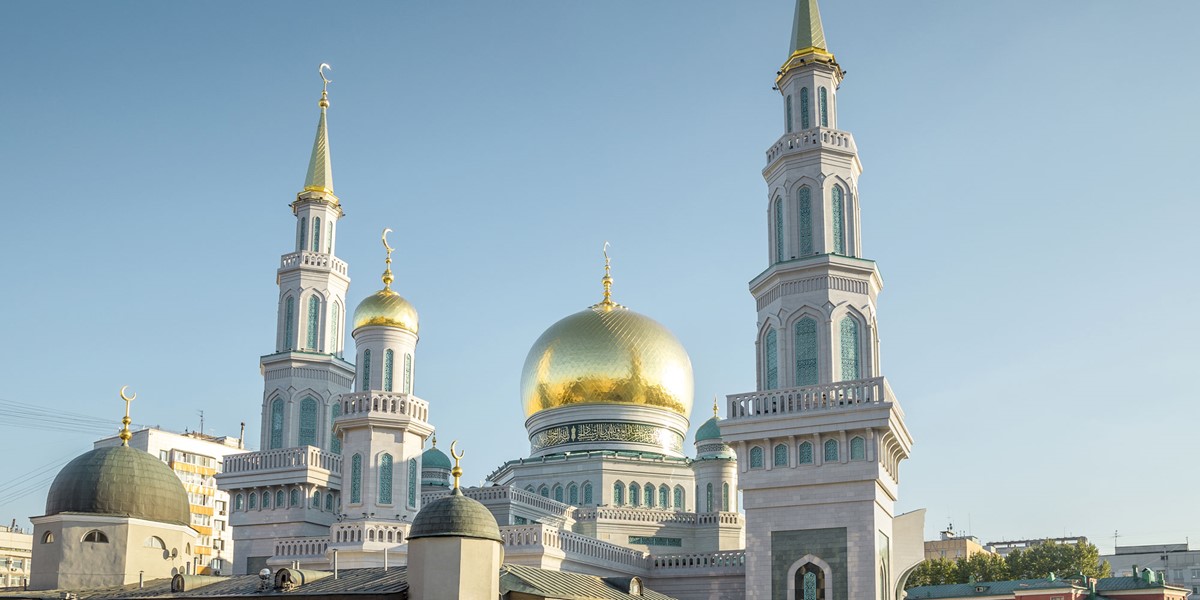 Moscow Cathedral Mosque, the largest in Europe
That Moscow and St Petersburg are the biggest Muslim cities in Europe today is a little known fact. Following the collapse of the USSR, migrant workers have moved there in droves, from Uzbekistan, Tajikistan, Kyrgyzstan, and distant outposts of the Russian Federation such as Chechnya or Dagestan. They've brought with them their cultural values and Islamic way of life, which has impacted these cities in a variety of ways. The new migrant population – around a million in both Moscow and St Petersburg – has resulted in an abundance of Uzbek, Kyrgyz and Caucasian cafeterias and restaurants, live music performances on the streets, in bazaars, and in private theatres and concert halls.
The most obvious result is Moscow's new mosque, the Moscow Cathedral Mosque, the largest in Europe. In Vladimir Putin's own words, spoken at its opening in 2015: "Traditional Islam today is an inherent part of our country's spiritual life." I visited on the first day of Ramadan in 2017 and the sound of 10,000 voices simultaneously announcing 'Allāhu akbar!' (God is the Greatest), was truly a powerful and moving sound.
Former citizens of Soviet countries don't need visas, so the presence of Central Asians in Moscow is enormous. They can be seen everywhere, working as taxi drivers, builders, bank workers and cleaners. And with them, of course, comes music.
Music has helped ease the progression from the initial hostility and xenophobic violence toward migrant communities immediately after the collapse of the USSR, to the growing public acceptance of Islam, with Central Asian and Caucasian performers winning the Russian TV talent show The Voice.
'Central Asian janitors scoop major Russian theatre award!' screamed a headline of Russia Beyond in April 2014 when Akyn-Opera won a prize at the Golden Mask festival held at the Bolshoi Theatre. Akyn-Opera premiered at Moscow's Teatr.doc in September 2012 and it tells the stories of three Tajik migrant workers in Moscow who came from the same Pamir village. The actors, Pokiza Kurbonasenova (voice), Abdulmamad Bekmamadov (voice and doira, frame drum), and Ajam Chakoboev (tar, long-necked lute), have worked in Moscow since civil war erupted in their homeland. During the week they work as a cleaner, an assistant painter and a bank teller, but at the weekends they're engaged with the arts and music. They've performed not only on stage, but also on building sites, at car washes, and in hostels for migrant workers. Their audience is mostly labour migrants but also Russian theatre lovers.
As an online theatre critic (Novaya Gazeta) points out, the aim of Teatr.doc's director Vsevolod Lisovskyi, was clear: 'To give the floor to those who are unnoticed. Only in the theatre there is an opportunity to discern another person, a little hero, with whom suddenly, contrary to logic, the viewer begins to feel a connection, a relationship.'
In Akyn-Opera the performers share their life stories, with old songs sung in Tajik, Persian and Shugnan languages. In Central Asia the tradition of improvisational poetry is still strong. It's easier to sing about what they've experienced than to talk. They sing about their lives, about the best construction site in Moscow to work at, about how to get from the Pamir mountains to Moscow, about war, death and their home back in Tajikistan. They continue to perform, appearing on a regular basis at various events in Moscow including Navruz (pre-Islamic New Year celebration), weddings or anniversaries.
Another popular Central Asian group are the Russian-Uzbek ethno-folk band Obmorok i Mama (whose name ambiguously sounds either like 'the fainting Imam' or 'faint and mother'). The group consists of the leader Ihtiyar Kadyrov (voice and doira), Jurabek Abdullaev (tar) and Aleksei Barakov (accordion). They formed back in 2004 and became stars within a few weeks, performing in Moscow, St Petersburg and other cities with their hit 'www.Leningrad' that features the following lyrics:
'I cannot remember when I moved to this land,
I might have been drunk
When a cop stops me, saying;
"You don't have a work permit!"
I answer with, "Hang on! My address today is..."'
It mocks the all-Soviet hit 'Moy Adres Sovetskiy Soyuz'' (My Address is the Soviet Union), a popular song symbolising the friendship of all Soviet peoples in the 1970-80s.
Besides comical songs representing a humiliated diaspora and ones that make fun of the ethno-nationalising efforts of the Soviet Union, the group are famous for their Uzbek style covers of 'Katyusha' and other Russian pop and rock hits. Russians have become so enamoured by this group and their parodic Uzbek style performances, dressed in national costumes, playing Uzbek instruments and singing in Russian with a strong Uzbek accent, that Obmorok i Mama have gained a wide appeal with listeners and regularly play at parties and wedding celebrations.
Central Asian migrants in Russia seek to retain their cultural distinctiveness, as do other migrants all around the globe. More than that, their food and probably their music has helped them gain acceptance. As The Reluctant Fundamentalist author Mohsin Hamid points out: 'Migration isn't a one-directional process; it's a colossal process that has been happening in all directions for thousand of years.'
This article originally appeared in the December 2019 issue of Songlines. Never miss an issue – subscribe today!