Monday, February 12, 2018
Shye Ben Tzur: Devoted to India
Simon Broughton speaks to Shye Ben Tzur about his qawwali-Hebrew collaboration with The Rajasthan Express and Radiohead's Jonny Greenwood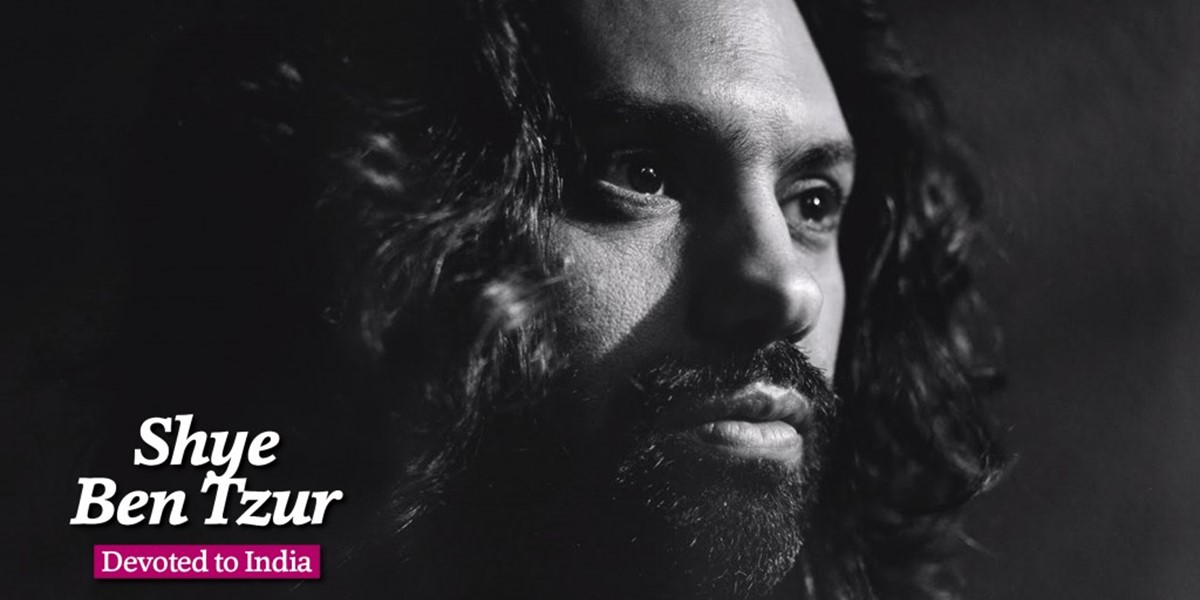 Sometimes a concert can change your life. But you don't always know it at the time. For example, a young Israeli music student called Shye Ben Tzur went to see Indian flautist Hariprasad Chaurasia and tabla player Zakir Hussain at the Jerusalem Festival in 1996. "I was singing and playing guitar and loved progressive rock," he says. "And when I heard Hariprasad Chaurasia and Zakir Hussain I'd never heard anything like it before and I just forgot about all the other bands I used to like and wanted to learn something about Indian music."
So a few months later, Shye Ben Tzur set out for India (which he'd visited briefly once before), met and married a Muslim girl in Rajasthan and has spent the last 20 years getting deeper and deeper into Indian music. "When I was listening to Hariprasad I wasn't thinking, 'wow, this concert will change my life,' but it did and took me in a whole new direction."
Ben Tzur has just recorded Junun, an ambitious project with Radiohead's guitarist Jonny Greenwood and a bevy of musicians dubbed The Rajasthan Express. It's devotional, funky and raucous, all at the same time – as Rajasthani music so often is. You get an idea of what an extraordinary project it is from the film of the same name made by Paul Thomas Anderson during the recording in February 2015. After a respectful wait for the call to prayer to finish, the music starts. The musicians are in a circle and the camera pans 360 degrees from one to another. Sufi singers, brass players on trumpet, trombones, tubas, Jonny Greenwood obscured by hair and hunched over his electric bass, lively percussionists on dholak (drums) and the extravagantly moustached Nathu Lal Solanki on nagara (kettledrums). Voices soar over rattling percussion, alternating with blaring tunes on the brass. It's a sultry mix, punchy and incisive. But perhaps what's most overpowering is the location itself: a large painted chamber with mattresses stacked against the walls and strewn with mics and cables. It's an extraordinary space that lends a character as well as ambience to the music.
The room is high up in Jodhpur's 15th-century Mehrangarh Fort, the spectacular location of the Jodhpur RIFF festival, hosted by the Maharaja Gaj Singh II, Bapji (meaning 'Father') to his friends. "I went to a lot of palace hotels which were quite beautiful, but there was always lots of echo," explains Ben Tzur. "When Bapji Singh, the Maharaja, asked if the fort would be any good for us, I went to look round. This space has beautiful frescoes, but also a wooden ceiling, which is not common and gives the room a warmth." They spent the first few days getting foam and mattresses in the market to get it right acoustically. "In the film you see that sometimes people use them to sleep but the idea was just to deaden the room."
One of the recurring things in the film – you couldn't call it a documentary – are birds that keep flying in and have to be chased out with microphone stands. "The whole approach was very different to a studio session," explains Ben Tzur. "Studios are controlled environments where people are sometimes producing sterile musical products. We wanted a feeling of being in the moment. As producer this was Jonny's aim."
Guitarist and composer Jonny Greenwood met Shye Ben Tzur a few years ago and was invited to appear in Ben Tzur's concert at London's Alchemy festival in 2014. They enjoyed the experience and started thinking about recording together. Greenwood was curious about Ben Tzur's music and collaborations in India. They soon decided they should record it there 'on location.'
Shye Ben Tzur self-released Heeyam, his debut album, in 2003. It featured Rajasthani-style qawwali in Hebrew. His second album, Shoshan, on the Chennai label EarthSync, brought more ingredients together and was a Top of the World review in #68. 'An accessible, uplifting and, yes, catchy album,' wrote our contributor Nathaniel Handy.
His Indian home is the Rajasthani city of Ajmer, famous for the shrine of Moinuddin Chishti (1141-1236), founder of the most popular Sufi movement in South Asia. The Chishtis are famous for their qawwali singing and devotional sessions can be heard every Thursday evening in the courtyard of the beautiful white-domed shrine in Ajmer.
In his music, Ben Tzur brings together three Rajasthani traditions that are never normally heard together: Sufi singers, a brass band and nagara drums, used in Rajasthani folk and ceremonial music. He says the mix was inspired by the annual urs, the most popular time for pilgrimage to Ajmer on the anniversary of Chishti's death. "There's a huge parade from the Chilla Sharif cave on the hill, where Chishti used to meditate, to the shrine. There are brass bands, people dancing, ascetics and sadhusmarching with flags. The brass bands are playing different qawwali tunes, or 'out-of-tunes' mostly. It's a very powerful experience and I wanted to do something with this sound." Having brought the brass and the qawwali singers together he added the nagara drums. The brass bands use a snare drum, but the nagara can play the same groove and it's much deeper. Ben Tzur pulled in Rajasthan's most celebrated nagara player, Nathu Lal Solanki, who was one of the first musicians he met when he arrived 20 years ago. He lives in the sacred Hindu town of Pushkar, just 11km from Ajmer. A visit to his place is always on the Songlines Music Travel trips to Rajasthan.
Junun was recorded over three weeks in the Mehrangarh Fort. After buying the mattresses and sorting out the acoustics, they worked out the arrangements. The music had been composed by Ben Tzur over the past few years, but, he says "the whole way the music evolved was in the creative process of these three weeks."
As well as adding guitar and funky bass lines, for instance to stand-out track 'Chala Vahi Des', Greenwood was the album's producer. Although he doesn't seem particularly audible, Ben Tzur feels his most important contribution was "saying what not to do." One of the most intriguing tracks is 'Eloah' (God). It's a sort of Sufi zikr, with God's name in Hebrew being chanted repeatedly with Hebrew poetry sung over the top. Anyone who's been to a zikr will recognise the inspiration. "I wouldn't have dared to record something like that," admits Ben Tzur. "I thought it was too heavy. But Jonny didn't want to compromise. Along with the chanting and singing we could have softened it with instruments, but he wanted it more naked."
Similarly on 'Junun', the opening track, which means 'the Madness of Love,' is a Sufi concept of divine love, and also the name of a Pakistani rock band (spelt Junoon) and a celebrated Hindi film. "I was thinking of adding some strings, but Jonny said 'No, let's keep it just vocals and rhythm.' It has no chord progressions, which is more Indian. Even the brass just play melody lines with occasional harmonies. It makes it very gutsy. A brass band and qawwali singers are quite radical. That's why the collaboration is very fruitful, I think."
His song 'Allah Elohim', which are the words for 'God' in Arabic and Hebrew, is like an anthem. It not only brings together Islam and Judaism, but the two main religions in the subcontinent with traditional Sufi words, which say:
'H is for Hindu, M is for Muslim,
H and M together make Hum ['us' in Hindi]
When cows went grazing in Gokul [where Krishna spent his childhood], goats grazed in Mecca.
You are manifest in the Prophet Mohammad and you are manifest in Krishna.'
About half of the album's lyrics are in Hebrew, written by Ben Tzur, and the other half are traditional lyrics in Urdu and Hindi, but sung to his music. 'Chala Vahi Des', for instance, is a poem by female poet Meera Bai in praise of Krishna sung by Razia Sultan and Afshana Khan. "Are you a religious person?" I ask. "What does it mean to be a religious person?" Ben Tzur replies. "Some of the religious laws I keep and some I don't. If the question is 'Is my faith in the almighty God?' That is the most important thing in my life for sure. If I claim myself to Judaism, yes, I was born Jewish. If I feel I'm a Muslim, yes, I'm a lover of the prophet and the saints and tradition of Islam. If this makes me religious I don't know. But I would like to be more devoted to God, and to love, which is a religion, so definitely I'm religious."
Recording an album is one thing, but performing Junun live is something else. And Ben Tzur was given the opportunity to do a 'pre-premiere' at the Jerusalem Sacred Music Festival in September. It was one of the festival highlights according to Clive Davis in The Times: 'Greenwood seemed content to play a supporting role, working away at unassuming rhythmic figures while the percussion and brass players fought for supremacy in an exuberant string of qawwali pieces.'
There were 16 people on stage in the Jerusalem Citadel: Shye Ben Tzur, Jonny Greenwood and 14 musicians from India, 12 of them Muslim. For them, says Ben Tzur, it was like a pilgrimage. Baba Farid, one of the other important Chishti saints went to Jerusalem where there's a chilla (cave) where he meditated. Inside the Old City, beneath the Dome of the Rock and Al Aqsa mosque, it now belongs to the Indian embassy who let them visit. "We did a sacred offering with everybody playing. It was a very powerful experience."
One of the aims of the Jerusalem Sacred Music Festival is to bring the city's conflicting communities together. And the Junun performances did that, with a second late-night performance being added when the first sold out. "Some people in the audience were religious Jews and others were Palestinian Muslims," says Ben Tzur, "and that was very powerful for us and the audience to feel in these difficult times. Whenever people from many different backgrounds sing 'Allah' together it's uplifting, but when it happens in Jerusalem it's very deep for us."
Of course the focus on Ben Tzur is always as a bridge between two cultures and religions, but he claims you don't need a bridge when there isn't much difference between them. It's a sound philosophy, which is encapsulated in his song 'Allah Elohim'. But more than that, it's an endorsement to go out and encounter the world – as Shye Ben Tzur himself has done – and see that basically we are all the same despite our multitude of languages.