Tuesday, February 20, 2018
Master Musicians of Jajouka: A Beginner's Guide
By Tim Cumming
Tim Cumming delves into the history and mystical appeal of the Moroccan musicians from Jajouka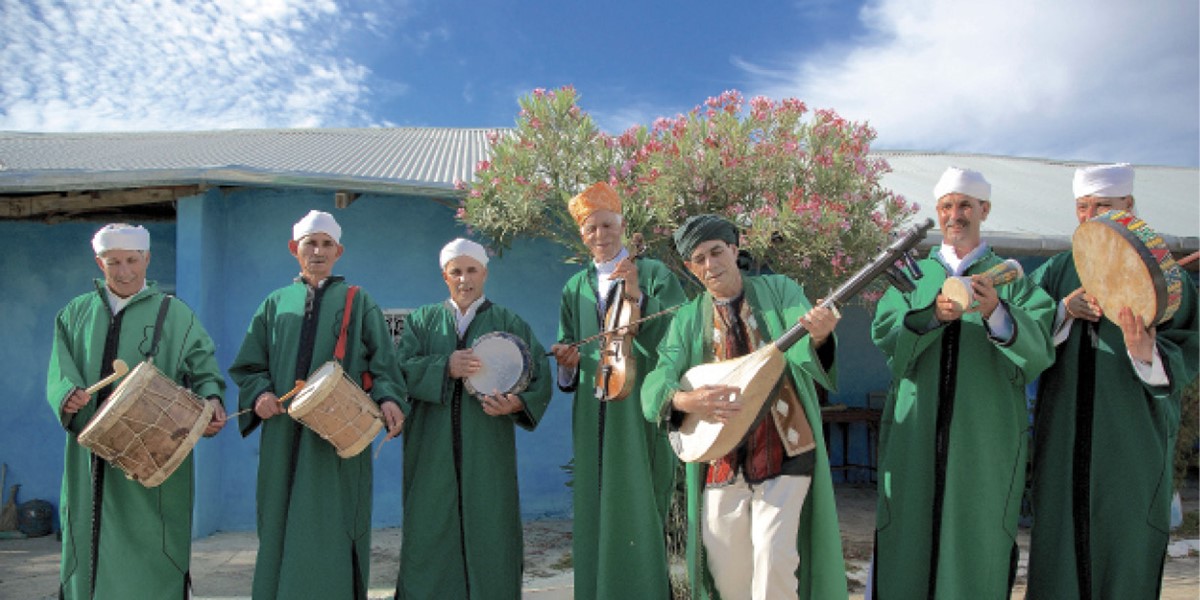 Photo: Cherie Nutting
This August, in the western foothills of the Rif, in the tiny northern Moroccan village of Jajouka (population 800, plus one saint, Sidi Ahmed Sheikh) adventurous festival-goers had the chance to attend the fourth Jajouka Festival, hosted by Bachir Attar and the Master Musicians of Jajouka.
Attar is the latest in a long family lineage of musicians whose origins are lost in the mists of time (and, as sardonic ethnomusicologists may point out, myth-making) but whose music sparks the cerebellum of musicians and listeners worldwide for its entrancing, hypnotic, otherworldly powers of discombobulation and release. Since the 1950s Jajouka has drawn Western creatives ranging from Paul Bowles, Brion Gysin and William S Burroughs through to Brian Jones and the Rolling Stones, Ornette Coleman, Bill Laswell, Marc Ribot, Flea and Talvin Singh.
This September, Attar and his musicians touch down in the UK (see below for details) with Sufi singer Marouane Hajji, their first UK appearances since Ornette Coleman's 2009 Meltdown. The music you will hear is centred around the pagan figure Boujeloud (the Father of Skins), a dancer in goat skins who re-enacts, along with various other dressed-up figures, a fertility and renewal ritual strikingly similar to the mythology of Pan and Daphnis, on the first full moon after the feast of sacrifice that is Eid Al Adha.
The most important figure in the global spread of Jajouka, besides Boujeloud, is Brion Gysin, painter, writer and associate of William S Burroughs, who first encountered the pipes at what he described as "a pre-Islamic festival in a sacred grove not far from the Cave of Hercules," with author and composer Paul Bowles in 1950. "That's the music I want to hear for the rest of my life," he said. A year later he had inveigled a young Moroccan painter, Hamri, to take him to Jajouka.
Gysin was a master myth-maker, and as well as providing the musicians with some financial support, he set about constructing a Jajouka mythology that lasts to this day, centred around Boujeloud being a shadow in ritual form of the Pan and the pastoral feast of Lupercalia. In 1954, he brought Abdesalam Attar and his musicians down the mountain to his Tangier restaurant, 1001 Nights, to play for well-heeled Tangerines. Recordings from the period appear on one of several releases on the Sub Rosa label, One Night @ the 1001 Nights.
Gysin lost his restaurant (to a couple of Scientologists and Moroccan magic, he said), but he remained in touch with the village and its musicians, and it was he who brought Brian Jones there in 1967. A year later, the Rolling Stone returned with engineer George Chkianz. He witnessed his own sacrifice in the form of a goat with shaggy blond hair and recorded reels of some of the best recordings of Jajouka available. To these he applied phasing, splicing and multi-tracking to create the album finally released in 1971, Brian Jones Presents the Pipes of Pan at Jajouka.
Since then, musical luminaries have come, stayed, and lost bits of themselves to Jajouka – Ornette Coleman for his Dancing in Your Head album in 1977 (a forthcoming boxed set, Celebrate Ornette, also features the Musicians); producer Joel Rubiner, whose superb village recordings are on Adelphi and Sol Re Sol; and William S Burroughs, whose 1973 recordings appear alongside readings and tape experiments on Sub Rosa's Break Through in Gray Roomreleased in 1986.
Coleman topped Burroughs' quote about Jajouka being a "4,000 year-old rock band" by proclaiming it was "6,000 years old" – predating Stonehenge by a good way, then. The schism that opened following Abdesalam Attar's death in 1982 pokes a gnarled and pointy stick in that epic history, and is a source of enduring sorrow for those close to the musicians.
A second group, calling itself Joujouka, featuring some members of the Attar family under the direction of the painter Hamri, who died in 2000, and producer Frank Rynn, have performed at Glastonbury, mounted their own rival village festival, and recently released a riotous, raw set of music for Boujeloud on Ergot Records. While the bad blood between the two groupings is depressing and seemingly permanent, there is no reason a listener need take sides, aside from musical preference.
When it comes to the repertoire, its oldest and most complex suite of pieces, Hamza oua Hamzine (55 in Arabic), refers to the number of beats in its acrobatically complex rhythms, performed on the extraordinarily powerful peeling sound of the ghaita, a double-reed horn of apricot wood, and the double-skinned tebel (drums). Augmenting them are djarbouga and bendir (drums), gimbri (lute), kamanja (violin) and the oldest of Jajouka instruments, the quiet, penetrating lira (bamboo flute).
Over these you will hear solo and chorus vocals, but it is the shrill, piercing occupation of the senses of those massed ghaitas that is the signature sound of Jajouka, their reeds trembling under the controlled breath of the Master Musicians in their element, carried in the tide of rhythms that dictate both the Hamza oua Hamzine cycle and the Hadra (Presence) – sacred music that may continue for days, Jajouka's oldest tune given to them in the mists of time by Sidi Ahmed Sheikh. It contains baraka (healing powers), and whether they find themselves at the tomb of Sidi Ahmed or in a concert hall, listeners may find that, like Brion Gysin, they too have found their music, and must follow the piper.
BEST ALBUMS
Brian Jones Presents the Pipes of Pan at Joujouka
(Point Music, 1971)
The original and for many still the best – engineer George Chkianz knew what he was doing, even if the phasing Brian Jones overlaid does sound antique.
The Primal Energy That is the Music

 

and Ritual of

 

Jajouka, Morocco
(Adelphi, 1974, reissued by Sol Re Sol in 2016)
Joel Rubiner's 1972 recordings from the village. It's a superb example of Abdesalam Attar's older generation of Master Musicians.

Apocalypse Across 
the Sky
(Axiom, 1992)
Bill Laswell brought back superb field recordings from Jajouka, and this 90s classic is worth seeking out. It's available digitally on Amazon.
Master Musicians

 

of Jajouka feat

 

Bachir Attar
(Point Music, 2000)
A mixture of pure Jajouka at its most powerful, and more delicate, sometimes less compelling fusions of tabla and electronics, produced by Talvin Singh.
The Road to Jajouka:

 

A Benefit Album
(Howe Records, 2013)
This album showcases a fusion of Jajouka with an eclectic range of musicians – Marc Ribot, Ornette Coleman, John Zorn, Lee Ranaldo, Flea and Mickey Hart. Reviewed in #97.
IF YOU LIKE THE MASTER MUSICIANS OF JAJOUKA, THEN TRY…

Music of Morocco: Recorded by Paul Bowles, 1959
(Dust to Digital, 2016)
Released earlier this year by the Atlanta-based Dust to Digital label, this glorious four-disc box set (including a 120-page hardback book) features music sourced from the archives of the Library of Congress in Washington DC. It covers a wide range of extraordinary Moroccan styles recorded by the author and composer Paul Bowles in 1959. Reviewed in #119.