23 August 2015
The 50 Greatest World Music Albums of the Last Five Years
By Jo Frost , Simon Broughton
Every year, editor Jo Frost and editor-in-chief Simon Broughton choose their favourite albums from the previous 12 months. This list of 50 recordings represent their selections from the last five years, beginning with 2014…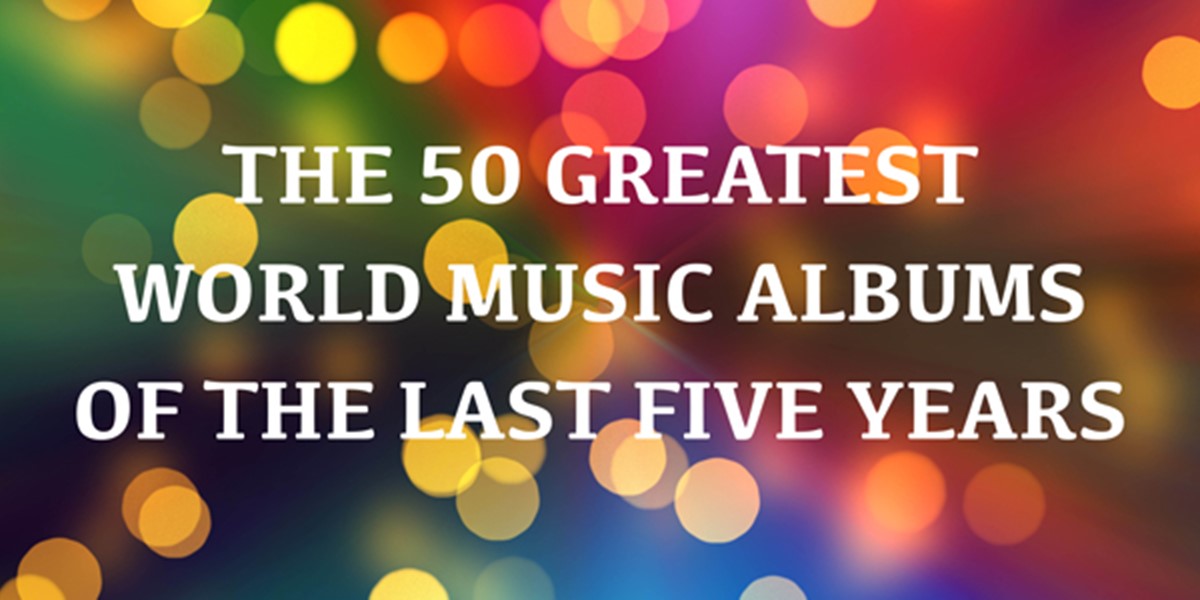 Aurelio
Lándini
(Real World)
There's something highly addictive about the rhythmic Garifuna sound. I've been a fan of this distinctive Central American music since first hearing the Belizean artist Andy Palacio. Aurelio has, since Palacio's death, firmly established himself as an ambassador for Garifuna culture. His latest album is rooted in the paranda and punta musical traditions, and its title – meaning 'Landing' – refers to when the British forced the Garifuna people into exile in the 18th century. Many of the songs are instilled with a sense of melancholy, yet ultimately Lándini is a celebration and homage to the richness of Garifuna culture. JF
Aziza Brahim
Soutak
(Glitterbeat)
Born and raised in an Algerian refugee camp, the young Saharawi singer has become a champion for her people from the occupied state of Western Sahara. There's a simplicity in the acoustic musical arrangements, combined with the poignancy of Brahim's soulful singing that lend a grace and dignity to these songs about resistance, freedom, longing and homeland. They have a political resonance too, especially the song 'Gdeim Izik' about the protest camp taken down by the Moroccans. It's a spare and powerful tribute to a land and sorrowful plight of its people, sadly overlooked by the outside world. JF
Kassé Mady Diabaté
Kiriké
(No Format!)
Kassé Mady Diabaté is one of the great vocalists of Mali, accompanied here by a top group of instrumentalists. There's Makan 'Badjé' Tounkara on ngoni, Lansiné Kouyaté on balafonand Ballaké Sissoko on kora, plus Vincent Segal on cello, who is also responsible for the exquisite production. There are just eight tracks – many of them connected to hunting – and it really feels like you're sitting right there among the musicians. All the instruments are heard on just one track, 'Sori', but the whole album is intimate, powerful and gorgeously recorded. SB See also: Top 25 Mali Albums
Toumani & Sidiki Diabaté
Toumani & Sidiki
(WorldCircuit)
Expectations were high for this record, but it delivers. According to Toumani, the family have been making music in West Africa for 700 years and what we have here is the transmission of that tradition in action. Toumani plays kora duets with his 23-year-old son Sidiki, named afer his grandfather who established the kora as a solo instrument. It's an elaborate concoction of gourd, cow skin, sticks and 21 strings that represents Malian music at its most sophisticated. The filigree music is sublime and Lucy Durán's notes are enlightening. SB See also: Top 25 Mali Albums
Piers Faccini & Vincent Segal
Songs of Time Lost
(No Format!)
Like many of the label's releases, this is a beautifully crafted album of song, guitar and cello. Faccini is an English singer-songwriter with a gorgeously languid singing style. He sounds at times like Nick Drake, but he also sings in Italian on a couple of traditional Neopolitan songs and in Creole on a maloya-inspired track from La Réunion. The two have been good friends since the 80s, which possibly explains the ease and naturalness of their partnership. Faccini's voice floats dreamily above the deep resonance of Segal's cello that acts as the bedrock to the whole sound. JF
The Gloaming
The Gloaming
(Real World)
This new collective evocatively known as The Gloaming revisit traditional Irish music but with a fearless sense of experimentation. The haunting vocals of Iarla Ó Lionáird combine with the effortless fiddle of Martin Hayes, eerie Hardanger fiddle of Caoimhín Ó Raghallaigh, and solid guitar of Dennis Cahill. Then there's the piano playing of Thomas Bartlett that takes the sound onto a whole other level, out of the trad box and placing it firmly into a new, exciting realm. The 'Opening Set' is a wondrous 16-minute-plus tune that slowly builds in intensity – it goes down a storm at their fantastic live shows. JF
Kronos Quartet
A Thousand Thoughts
(Nonesuch)
Celebrating their 40th anniversary, Kronos Quartet have released an album that clearly demonstrates how widely they've ranged in their inspiration. There are a few tracks (with Astor Piazzolla and Asha Bhosle) that have been previously released, but most of the material is new. Alongside music from Vietnam, Afghanistan, Turkey, Ethiopia and the American South, it includes an eerie version of the rebetikatrack 'Smyrneiko Minore' by Greek singer Marika Papagika, which Harrington describes as containing his "favourite note of all time." SB
Driss El Maloumi
Makan
(Contre Jour)
Moroccan oud player Driss El Maloumi stands out both for his instrumental mastery (he's director of the conservatoire in Agadir) and for his innovative approach – for instance the 3MA project with kora player Ballaké Sissoko and valiha player Rajery in 2008. This trio album with two percussionists – his brother Said El Maloumi (on frame drum and Iranian tombak) and Lahoucine Baquir (on frame drum and darbouka) ranges from the bluesy 'Imtidad' and the filigree 'Tawazoun' to the playful 'Intidar'. There's lyricism, virtuosity and imagination – plus a couple of songs too. SB
Robert Plant
Lullaby and… The Ceaseless Roar
(Nonesuch)
The ex-Led Zep frontman is no stranger to dabbling in African sounds. What makes this album so refreshing is that there is nothing tokenistic about the contributions from his band members. Intrinsic to the album is the rasping, raw sound of the ritti (one-stringed violin) and kologo (lute) from Gambia's Juldeh Camara together with Justin Adams, who plays guitar, ngoni and basically anything else he can lay his hands on. Add drummer Dave Smith, bassist Billy Fuller, guitarist Liam Tyson and keyboardist John Baggott and the end product is a powerful collaborative effort. JF
Söndörgő
Tamburocket Hungarian Fireworks
(Riverboat Records)
We've been champions of this Hungarian group since their brilliant collaboration with Gypsy sax player Ferus Mustafov in 2008. Söndörgő's sound is light, springy and delicately plucked. They play the virtuoso tambura music of Hungary's Serbian and Croatian communities and, as they've proved in recent concerts at WOMEX and in London, they do it with style. This album includes vibrant examples of their core repertoire, plus interesting takes on Macedonian music. The band are three brothers and a cousin, plus Attila Buzás on bass tambura. SB
Oana Cătălina Chiţu
Divine
(Asphalt Tango)
A real treat this one to mark the centenary of Maria Tănase (1913-1963), the Romanian Edith Piaf. Chiţu brings these songs alive with an excellent ensemble of violin, accordion, sax, guitar, cimbalom and bass. The songs are nostalgic and romantic and given a dark, Oriental tone by Chiţu's chiaroscuro alto voice. There's a tasty Romanian tango in 'Habar N-ai Tu' and the way she draws out the introduction to 'Aseară Ti-am Luat Basma' surrounded by filigree cimbalom flourishes is gorgeous. SB
Family Atlantica
Family Atlantica
(Soundway)
This band is a product of the fertile, multicultural metropolis that is London. The charismatic vocalist, Luzmira Zerpa, is Venezuelan and the other key members are London-born Jack Yglesias and Nigerian/Ghanaian percussionist Kwame Crentsil. Not surprisingly Family Atlantica's self-titled debut follows an ida y vueltabetween Africa, South America, the Caribbean and Europe – with some spectacular percussion at its core. Guest artists include Senegalese Gnawa Nuru Kane and the wonderful Mulatu Astatke, who Yglesias got to know as a member of Ethiopian band The Heliocentrics. A life-affirming debut. SB
Catrin Finch & Seckou Keita
Clychau Dibon
(Astar Artes)
This isn't the first kora collaboration to be featured in our Best of the Year list but it's certainly the first to include the harp. Classically trained Welsh harpist Catrin Finch has joined forces with Seckou Keita, Senegalese UK-based kora player, and they've produced an album of real beauty. The album's title sounds like it could be either Welsh or Wolof, in fact clychau is Welsh for 'bells' and dibon is a West African hornbill, but also the second bass string on a kora. There's a wonderful symmetry to this music – at times it's hard to distinguish between the two instruments, held in such high esteem in their respective cultures. This is an album of real class. JF
Jupiter Okwess International
Hotel Univers
(Out Here Records)
Lead singer Jupiter Bokondji was the subject of a French documentary called Jupiter's Dance back in 2006, so this international debut has been long anticipated. Jupiter has the swagger and looks of a bona fide rock star yet at the same time there's an ageless wisdom to his expression. The album is a hard-hitting critique about the Congo's history of colonisation, independence, dependence and corruption – Jupiter feels his country is still at war because of the avarice of its people. Despite the serious nature of the songs, there's a raw energy to this edgy and funky music, and live, this band simply rock. JF
Çiğdem Aslan
Mortissa
(Asphalt Tango)
This is London-based Aslan's debut disc. She is a lioness of Greek and Turkish rebetika, and focuses on the smyrneika style from Smyrna (now known as Izmir) that was shared by Turks, Greeks, Armenians and Jews. Alongside Aslan's idiomatic vocals, there are excellent instrumental contributions from Nikolaos Baimpas on kanun, Pavlos Carvalho on bouzouki, and Meg Hamilton on violin.
Buika
La Noche Más Larga
(Warner)
A sumptuous, emotionally charged set of songs from Concha Buika, a flamenco singer from Mallorca who has turned more towards jazz for this highly polished release recorded in Miami. Buika's live performances can at times be unnerving with her no holds barred approach on stage. But she's pulled out all the stops in the studio and her voice sounds better than ever. 
Kayhan Kalhor & Erdal Erzincan
Kula Kulluk Yakısır Mı
(ECM)
The only drawback with this album is the hard-to-remember title (if you don't speak Turkish). It's a folksong, which translates as 'how unseemly it is to follow anyone slavishly,' advice that both of these master musicians have always taken to heart. This is a largely improvisational duo performance by Iranian kamancheh (spike fiddle) player Kayhan Kalhor and Turkish saz player Erdal Erzincan. The two musicians create a tapestry that unfolds organically over an hour with moods ranging from introspection to elation. It was recorded live in Turkey and the contrasting textures of bowed and plucked strings sparkle brilliantly off each other. SB
Bassekou Kouyaté
Jama Ko
(Out Here Records)
This recording demonstrates exactly what puts Mali at the top of the African music charts. Jama Ko is a fiercely contemporary album produced by Howard Bilerman (Arcade Fire), though it is rooted in the nimble, yet rough-edged sound of the ngoni, the desert lute that goes back centuries. The extremely catchy title-track is a call for unity and peace, while 'Kele Magni' features the magnificent Khaira Arby from Timbuktu, under Islamist control when the album was recorded. 'Sinaly', with Kasse Mady Diabaté, refers to a historical Malian king resisting radical Islam. Powerful content and a thrilling sound. SB See also: Top 25 Mali Albums
Leyla McCalla
Vari-Colored Songs
(Dixie Frog)
This is the debut solo release from the newest member of the Carolina Chocolate Drops. Born in New York to Haitian parents, McCalla grew up reading the works of American poet and social activist Langston Hughes and in tribute, has set some of his poems to music. In addition to these poem-songs are some beautiful a capella Haitian-Creole songs. Besides her beguilingly languid singing style, McCalla is an impressive cellist and plays a mean banjo too. An album steeped in the Caribbean and Haitian roots of America's South. JF
Rokia Traoré
Beautiful Africa
(Nonesuch)
Ever the innovator, Rokia has, for her latest album, hooked up with producer John Parish who is best known for his work with PJ Harvey. Perhaps it's his influence as Beautiful Africa is certainly a rockier affair – but still innately Malian, with some fabulous ngoni from Mamah Diabaté, and some feisty female backing vocals. You really get a sense that Rokia has a determined intention of getting her message across, whether singing in Bambara, French or English. Standout tracks include 'Mélancholie' and the title-track. Another class act from Mali's first lady of song. JF See also: Top 25 Mali Albums
Duncan Chisholm
Affric
(Copperfish Records)
It's a rather special album that manages to stop you in your tracks and make you just sit and listen, especially when it's played in the noisy environs that is Songlines HQ. But that's what the opening track 'An Ribhinn Donn' of Scottish fiddler Duncan Chisholm's latest release managed to do. The final part of his Strathglass Trilogy, it certainly lives up to the two previous offerings (Farrar & Canaich). Chisholm's violin is intensely deep and rich, evoking misty glens and the rolling Highlands. He's probably best known for being in Julie Fowlis' band and Wolfstone, but on evidence of this, Chisholm will go far as a solo player. JF 
Caroline Herring
Camilla
(Signature Sounds)
The Southern American folk singer was part of 2011's Cecil Sharp Project which is where I first came across her. Listening to Camilla is akin to having a sociohistorical lesson about the American South – songs such as 'Black Mountain Lullaby' about the tragic death of a child caused by mountaintop removal, or 'White Dress,' about an African-American civil rights activist who rode on the segregated buses during the 60s. The one thing missing from this beautifully illustrated album (by English artist Alice Pattullo) is notes explaining the tales behind these songs, but you can read these online. Alternatively go and see Herring perform live and prepare to be captivated by her compelling performance. JF 
Lo'Jo
Cinéma el mundo
(World Village)
Incredible to think this collective of musicians, based in the south-west of France, have been going for 30 years and yet their latest release – their tenth – sounds as fresh and intriguing as ever. Every Lo'Jo album offers up an enticing assortment of musical influences and styles and this is no exception. It starts off with the gruff spoken words of Robert Wyatt and continues with the familiar vocals of the El Mourid sisters and the ever-present, deeply enigmatic poetry and singing of Denis Péan. This release will delight die-hard fans and newcomers alike. JF 
Mokoomba
Rising Tide
(IglooMondo)
The music of Zimbabwe tends to get overshadowed by the powerhouse that is West Africa and so the arrival of this debut release was much anticipated. Mokoomba are a young band from Victoria Falls, who won a Southern African music contest back in 2008. The album is an impressively polished affair, thanks in part to Manou Gallo from Zap Mama who produced it, but also due to the joyful, energetic playing by the band. But the most striking feature is lead singer Mathias Muzaza whose voice has a potency and rawness that defies his outwardly shy demeanour. After their recent hit live dates in the UK, plus a much coveted spot on BBC's Later… with Jools Holland, the band look set for a bright future. JF 
Narasirato
Warato'o
(Smash)
Seeing the panpipes, log drums and massive bamboo thong-ophone on stage at WOMAD and hearing the storm of sound was a thrilling endorsement of Songlines' championing this group. We get few chances to hear music from the Solomon Islands, so it's great to find a band like Narasirato devoted to their local traditions, but able to impress at festivals like WOMAD and Glastonbury and make a compelling album like this. With lead singer Aloysius Mauhana and his formidable array of musicians behind him, the music is sometimes haunting, sometimes punchy, full of an ethereal breathiness and an earthy energy that has a distinctive island feel. Aside from the exuberance, there's also a strong message about safeguarding the culture and natural environment. SB 
Punch Brothers
Who's Feeling Young Now?
(Nonesuch)
String groups don't get much more exciting or dynamic than this. Individually, they're all virtuoso musicians with their own successful solo careers (Chris Thile on vocals and mandolin, Gabe Witcher on violin, Noam Pikelny on banjo, Chris Eldridge on guitar and Paul Kowert on double bass), but collectively they sure pack a punch. From the frenzied, rock-like opening of 'Movement and Location' to the joyous instrumental cover of 'Flippen' by the Swedish band Väsen and their take on Radiohead's 'Kid A', the playing by these young bluegrass experimentalist hotshots is superb. They're setting a new benchmark when it comes to their live shows which are consistently thrilling and intense. JF 
Malick Pathé Sow & Bao Sissoko
Aduna
(Muziekpublique)
These days, when the predominant trend is to mix everything together into a sort of soup, or what Lucy Durán calls KWOMUBA! (Komposite World Music Band Afrika), it's refreshing to hear two master musicians exploring their own rich musical culture. Both from Senegalese griot families, Malick Pathé Sow and Bao Sissoko, now resident in Belgium, have produced a sublime album of acoustic roots music. Sow is the vocalist and plays guitar and hoddu (lute), the Senegalese version of the ngoni, while Sissoko plays kora. The contrasting textures of the dark, leathery hoddu and light silvery kora weave a magical spell, along with female vocalist Talike Gelle. This is a gem of traditional West African musicianship. SB 
Staff Benda Bilili
Bouger Le Monde!
(Crammed Discs)
The first disc by Kinshasa's Staff Benda Bilili was a spectacular success, but was it partly down to their story – a band of largely disabled street musicians gaining worldwide recognition? The triumph over adversity back-story can hopefully be discounted for their second album and we can really listen to and enjoy the music. The splendid opener 'Osali Mabe' is danceable Congolese music at its best with fluid guitar playing and fabulous Congolese drumming from Montana – a new member of the band. The fact that it was recorded in the old Kinshasa Renapec studio gives it a warm bloom and endorses the amazing work that producer Vincent Kenis has done both for this band and Congolese music over the years. SB 
The Other Europeans
Splendor
(Ethnomusic Records)
The Other Europeans bring together Jewish and Gypsy music and get their name from the fact that both groups have been marginalised – or worse – by the nations of Europe. But they also explore the way klezmer and Roma lautari musicians worked together in Bessarabia (now Moldova) before WWII. The project is led by American pianist and accordionist Alan Bern and includes Christian Dawid (clarinet), Matt Darriau (winds), Martin Bunea (violin), Petar Ralchev (accordion), Kalman Balogh (cimbalom) and Guy Schalom (drums). This live album features largely unknown repertoire, unlike so many klezmer discs which recycle the same tunes (read Bern's fascinating notes online: www.other-europeans-band.eu). Every time I listen to this, I'm impressed by the music and the exceptional instrumental playing. SB 
Various Artists
Songs For Desert Refugees
(Glitterhouse Records)
It's been a tragic year for Mali – the coup in March, the MNLA annexation of Azawad in the north and the takeover by Islamists. Sharia law has been imposed, music banned and over 500,000 people have fled to refugee camps. This CD is in support of those desert refugees. But this is a lot more than a fund-raising compilation, it's a brilliant collection of largely Touareg desert blues. It opens with an unreleased track by the Touareg rockers Tinariwen, made for their 2007 album Aman Iman. With its powerful oscillating bass, jangling guitars and soulful vocals, I have no idea why it went unreleased. But then there's lots more by artists known and unknown, including Tamikrest, Terakaft, Tartit and guitarist Bombino. A superb collection to assist those suffering in the region and remind us of what's at stake. SB
Anda Union
The Wind Horse
(Hohhot Records)
Undoubtedly one of the most talked about bands at WOMAD 2011, this group of throat-singing, horse head fiddle players are from Inner Mongolia, China. Musically, there are similarities with the Tuvan group Huun Huur Tu, but with the addition of two excellent female singers. Their highly evocative music conjures up impressions of vast expanses of sparsely populated grasslands, as depicted in a documentary about the band recently shown at the London Film Festival. This album is definitely one for equine fans – the whinnying sounds they make on 'Galloping Horses' is quite amazing. JF
Aurelio
Laru Beya
(Real World)
It's thanks to the late Belizean singer Andy Palacio that the culture and music of the Central American Garifuna people is known internationally. Aurelio Martinez dedicates this album to his friend and mentor, with a particularly beautiful song written in Palacio's honour, 'Wamada'. In addition to the drum and percussion heavy Garifuna rhythms, there are contributions from Youssou N'Dour and Orchestra Baobab – a result of Aurelio's Rolex Mentor-Protégé initiative with Youssou back in 2007 [see #64]. These West African vocal additions were recorded on one of Aurelio's trips to Dakar, tracing the roots of his ancestors – he describes this album as 'a homecoming.' Palacio's Garifuna legacy is in safe hands with Aurelio. JF
Boban & Marko Marković Orkestar and Fanfare Ciocărlia
Balkan Brass Battle
(Asphalt Tango)
The story is a great one – the two top Gypsy bands in the Balkans go head to head. Boban and Marko Marković, the kings of Balkan brass from the 'Trubacka Republika' (Trumpet Republic) of Serbia versus Fanfare Ciocărlia, the peasant upstarts, from Romania. Each band does a few of their own tunes, they each do a version of Duke Ellington's 'Caravan' and they do four tracks together. A gristly gobbet of the best of Balkan brass. SB
Blind Note
Blind Note
(Muziekpublique)
It's the haunting sound of the Armenian duduk on the opening track 'Chiraki Par' that initially got me hooked. Then there's the fact that the musicians, from Armenia, Turkey, Mexico, Senegal and Madagascar, all now based in Belgium, recorded the album in aid of a Belgian NGO, Light for the World, who raise money for blind children in Africa. But regardless of the good cause, it's the simplicity and sensitivity of the music they've created that makes this album so noteworthy. Interestingly, Muziekpublique only release one or two albums a year – their main work is putting on concerts and music classes in a small venue in Brussels. JF
Carminho
Fado
(EMI Portugal)
Every young fado singer has got to market themselves as the new voice of fado. But Carminho is the one to watch. She has a versatile intimacy in her voice, as if she's talking to you personally, and some of the lyrics she's written herself, which give songs like 'Nunca é Silêncio Vão' a special intensity. Featuring several fine Portuguese guitar players, this CD represents a spectacular debut with the opening 'Escrevi teu Nome no Vento' a particular highlight with a gorgeous melody and delivery. SB
Cecil Sharp Project
Cecil Sharp Project
(EFDSS/Shrewsbury Folk Festival)
So often, well-intended collaborative 'projects' look great on paper but don't work in practice, seeming forced and lacking in real musical connection. Not so with this project, which I was privileged to witness in action when the eight musicians spent a week together coming up with the songs for a series of concerts and album [see #78]. The idea is simple enough – putting into song the experiences of English folk collector Cecil Sharp during his trip to Appalachia. It's the quality of the musicianship and their obvious enjoyment in working and playing together that is striking, particularly on tracks such as 'The Great Divide' and 'The Ghost of Songs'. JF
Dawda Jobarteh
Northern Light Gambian Night
(Sterns)
For me the kora is the greatest of African instruments, providing a sublime accompaniment or as a marvellous solo instrument in its own right. Dawda Jobarteh comes from one of the great griot dynasties in the Gambia and, now living in Denmark, he's produced this album in which he does both with guitarist Preben Carlsen and lots of guest musicians. One of the loveliest tracks, 'Nkanakele', features South Indian flute player Shashank and apparently the wild guitar on 'Dinding Do' is actually Dawda Jobarteh on electric kora. A great debut album from an impressive new artist and it closes with a stately duet with the supreme kora maestro Toumani Diabaté. SB
Anoushka Shankar
Traveller
(Deutsche Grammophon)
The meeting of Indian music and flamenco isn't new, but this is one of the best products of that fusion. Sitar player Anoushka Shankar (daughter of Ravi) worked with guitarist and (Grammy-award winning) producer Javier Limón on an album that really does chart a musical and emotional journey, if not a geographical one. There are great vocals from Buika, Duquende and Sandra Carrasco on the flamenco side and Shubha Mudgal and Sanjeev Chimmalgi on the Indian side and spectacular sitar duets from Anoushka and flamenco pianist Pedro Ricardo Miño and flamenco guitarist Pepe Habichuela. An exuberant recording which is one of the highlights of the year. SB
Söndörgő
Tamburising
(World Village)
Söndörgő – hard to say, but easy to listen to – are a fabulous young band from Hungary. They have now started to make an international impact and this CD and their spectacular live shows are the reason. On delicate plucked tamburas, they play the music of the South Slav minorities in Hungary – virtuoso dance tunes that are fiery, but delicate. This CD, featuring Gypsy tambura master József Kovács, from whom they've learned many of their tunes, is a great calling card with a cross section of their repertoire as played in the southern city of Mohács. In addition to the tambura repertoire they play some great Macedonian tunes – notably the popular 'Zajdi, Zajdi' with their secret weapon, fabulous vocalist Kátya Tompos. SB
Abigail Washburn
City of Refuge
(Rounder)
To describe Abigail Washburn as a singer-songwriter and banjo player seems woefully inadequate when you realise this is a woman who has become an unofficial US goodwill ambassador to China (she speaks and sings in Chinese). The illustrative album artwork, depicting a multitude of exotic-looking places and faces, is a good indication of what you're going to hear. It's an enchanting treasure trove of musical treats, featuring a host of instruments, from double bass, viola, guzheng (zither) and the beautiful yet rarely heard cello banjo (on 'Bring Me My Queen'). JF
Alex Wilson
Mali Latino
(Alex Wilson Records)
Pianist Alex Wilson was born and brought up in Britain and has long had a considerable reputation on the Latin jazz scene. This collaboration with Malian musicians began back in 2004, but was developed and recorded over the past couple of years with singer (and balafonplayer) Ahmed Fofana and kora player Madou Sidiki Diabaté (younger brother of Toumani Diabaté). AfroCubism, the other notable Mali-Latino collaboration of the year, was released at the same time and might have over-shadowed this, but they are very different in character with Mali Latino boasting beautiful intimate moments alongside a punchy big-band sound and Kandia Kouyaté on the final track. SB 
Ballaké Sissoko & Vincent Segal
Chamber Music
(No Format)
Recorded in Salif Keita's Moffou Studios in the Malian capital, Bamako, this release on the excellent French No Format label, slowly, and without fanfare, infiltrated its way onto my pile of favourites. Its winning formula is the beautiful, simple sounding melodies on cello and kora. The harp-like trills of Ballaké Sissoko's kora seem to float on top of the deeply resonating tones of Vincent Segal's cello. They make an incongruous looking duo on stage – Ballaké tall and resplendent in his boubou and Vincent, the quintessentially dapper-looking Frenchman. But together they've made a beguiling album, classical in its elegance and form. JF 
Chris Wood
Handmade Life
(RUF Records)
This latest release by Chris Wood simply confirms the fact that he is one of the best songwriters and storytellers in England. This isn't an album to put on as background music as you'll find yourself stopping in your tracks to absorb these wonderfully worded songs, such as 'No Honey Tongued Sonnet,' which, in typically understated fashion, he describes as 'doggerel with nothing much on it.' Subject matters range from growing asparagus in his allotment, the banking fiasco, and an incredibly potent song about Jean Charles de Menezes, the young Brazilian shot by the police on the London Underground. There's an intensely rich, warm yet melancholic tinge to the album, thanks to the unconventional line-up of Robert Jarvis on trombone and two fellow Imagined Village bandmates, Andy Gangadeen on drums and Barney Morse Brown on cello. JF
Cheikh Lô
Jamm
(World Circuit)
The Senegalese musician cuts a striking figure, with his patchwork, multicoloured robes, dreadlocks, aviator sunglasses and beaming white smile. A follower of Baye Fall, a form of Sufism commonly practiced in Senegal, Cheikh Lô describes this album, Jamm (Peace in Wolof ) as being 'pan African' and 'like a cocktail.' It's certainly packed with a variety of musical influences, and features a host of guest musicians such as former James Brown sax player Pee Wee Ellis, master Afro-beat drummer Tony Allen and Cuban violinist Omar Puente. The singer tests out some Spanish lyrics on the lovely Cuban-influenced track 'Seyni.' It's a joyful, uplifting album from one of West Africa's most popular singers. JF
Asmara All Stars
Eritrea's Got Soul
(Out Here)
This is everything one hopes for – an insightful glimpse into an unknown musical world. One might wish for slightly less reggae influence, but there's plenty to compensate for that – the voices of Faytinga, the only Eritrean artist I'd encountered before, Temasgen Yared and Sara Teklesenbet, amongst others. The Eritreans may not thank me for saying so, but the pentatonic modes, juicy saxophone and electric organ sound are reminiscent of Ethiopian music, so anyone who likes that should try this. And the tracks make a useful introduction to the country's varying sounds and ethnic groups. Temasgen Yared's Tigrigna song 'Ykre Beini' is magnificent. A shame the Eritrean government has been so obstructive in getting the musicians out on tour. SB
Bellowhead
Hedonism
(Navigator)
English folk has never sounded so much fun, thanks to this 11-strong folk powerhouse. Hedonism was recorded within the hallowed studios of Abbey Road and produced by the acclaimed John Leckie. The formula seems to have worked, because the resulting album perfectly captures the boisterous, music-hall spirit of their live shows. Fronted by singer and fiddler Jon Boden – surely one of the most charismatic frontmen around – the band romp through a range of traditional tunes, starring a motley bunch of characters from sailors, prostitutes, maids and corpses. Whenever anyone claims they don't like English folk music, well, they obviously haven't had the Bellowhead experience. JF
Natalie Merchant
Leave Your Sleep
(Nonesuch)
The former 10,000 Maniacs singer's most ambitious project to date is one inspired by conversations she had with her young daughter. It's an album of poem-songs that took five years to research, culminating in over 50 songs, featuring more than 100 musicians, including the Klezmatics, Hazmat Modine, Wynton Marsalis and Lúnasa. Merchant's voice ranges from sounding wonderfully sassy on the quirky 'Bleezer's Ice-Cream' to the delicate and poignant harmonies of 'If No One Ever Marries Me.' She also gets top marks for producing the best-looking release this year – the double album resembles a hardback poetry anthology, complete with fascinating notes about the songs and poets. A real labour of love. JF 
Various Artists
Music of Central Asia Vol 9: In the Footsteps of Babur
(Smithsonian Folkways)
There were two discs in the latest batch from the Aga Khan Trust for Culture's Central Asia series of the very highest quality – Rainbow, an ambitious collaboration between Alim and Fargana Qasimov, Homayun Sakhi and the Kronos Quartet, and this one featuring traditional music from Northern India, Afghanistan and Central Asia. It's something special to get music like this in performances of this quality with a highlight being the duet of Rahul Sharma on santoor and Homayun Sakhi on Afghan rubab. SB 
Kroke
Out of Sight
(Oriente Musik)
The Polish trio Kroke started playing together nearly 20 years ago, but it was their signing with Oriente in 1996 and their collaborations with Nigel Kennedy that really put them on the map. Although they played some klezmer standards at the beginning, Tomasz Kukurba (viola), Jerzy Bawol (accordion) and Tomasz Lato (double bass) have been composing their own material for years – often with a klezmer or Balkan flavour. This is their eighth album for Oriente and one of their best, with a slightly dark, meditational tone. They certainly have an ear for a good tune – 'Medinet,' 'Moondowner' and 'Madrugada' are standouts here – and know how to develop the melodies through their arrangements and instrumental colours. SB 
Rango
Bride of the Zar
(30IPS)
The debut recording of a new group from Cairo that made a big impact on its summer tour, including performances at WOMAD and the Royal Opera House's Voices Across the World series. The zar music they play originates in Sudan and is a close relative to the bluesy trance music of the Moroccan Gnawa – also originating in sub-Saharan Africa. Their performances include the colourful and percussive dancing of Tu Tu, the growling tanbura lyre and the rango xylophone, an instrument rescued from extinction by this band. The track 'Baladia Wey' has all the raw minimal power that surges through Konono No 1. SB