Tuesday, May 26, 2020
Moonlight Benjamin: Voodoo Priestess of Haitian Blues
The Haitian-raised, French-based singer-songwriter Moonlight Benjamin tells Lucy Hallam where her distinctive blend of voodoo and blues originates from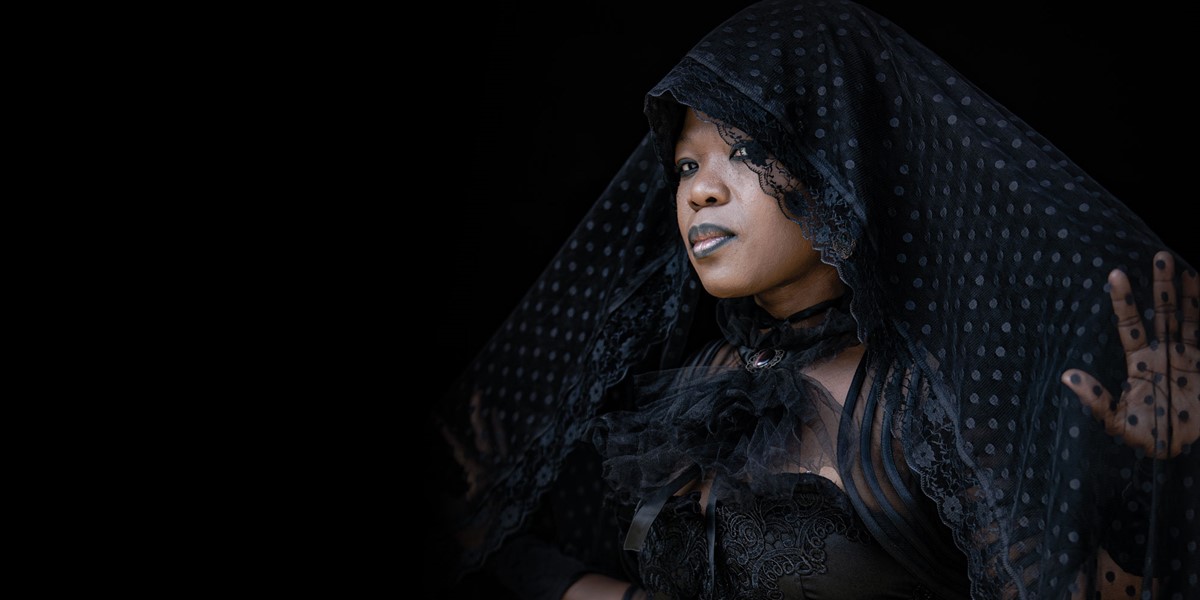 Moonlight Benjamin (photo: Nöt Cédrick)
Touted as the 'Voodoo Priestess of Blues Rock,' Haitian-born singer Moonlight Benjamin has been turning heads since the release of her album Siltane two years ago (a Top of the World review in #141). The distinctive combination of voodoo rhythms and melodies over saturated guitar riffs and classic rock'n'roll progressions has gained her international recognition, meriting such commendable comparisons as 'Angélique Kidjo meets The Black Keys' and even the 'Caribbean Patti Smith.' Voodoo and blues might not sound like the most evident pairing, but it sure as hell works. I am pretty surprised then, when I sit down with her during the Brussels leg of her tour, to discover that Benjamin's unique blend of genres – the winning formula that has put her on the map – was as unexpected to her as it was to her listeners.
"No no no," she shakes her head. "Rock music didn't interest me at all. I listened to it, sure, but it never appealed to me as a singer." She is softly spoken, almost demure, and I struggle to marry this with her formidable stage presence (usually seen draped head to toe in black lace) and the powerful sound that she emits both live and in the studio.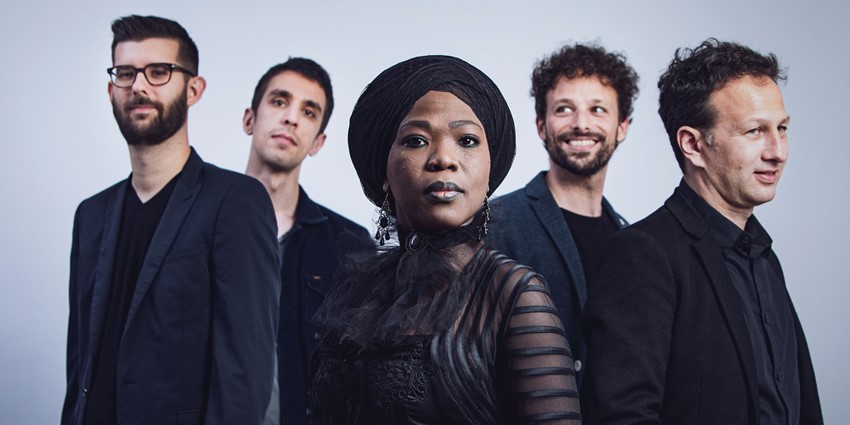 Arriving in France 18 years ago to begin formal training as a singer, Benjamin's first forays into the music scene were not rooted in rock, but in jazz. Her first album, Mouvman (released in 2011), with its acoustic guitars and gentle percussion, bears more resemblance to the tender music of Cesaria Evora than the punchy energy of Angélique Kidjo (whom she has since opened for in concert). So what then, I ask, took her from gentle jazz to the exhilarating Haitian blues she performs now? Enter, Matthis Pascaud, French guitarist and composer, and the missing piece to Benjamin's captivating style. The two met back in 2017, but despite their shared background in jazz, Matthis' vision for Benjamin's music came instead from the rock and blues bands he'd grown up on.
"A few years ago, I decided I wanted a change," says Benjamin. "I wanted to take my music somewhere different, and Matthis gave me that direction." It was Pascaud who floated the idea of the rock music injection that, as she reminds me, had never interested her. Her response? "Bien, parfait. Voilà." And even accounting for the nonchalance of the French language, I can only imagine that in this instance it really was as simple as that: the perfect creative match.
Matthis, an undoubtedly gifted composer, has I'm sure lost count of the number of times people have compared his arrangements of Benjamin's music to the likes of The Black Keys, The White Stripes, or Alabama Shakes. His catchy guitar hooks and solid backlines are original, but – owing to some of the greats that share his composition style – still sound warmly mnemonic to our ears. Add Benjamin's intensely powerful vocals into the mix though, and we are presented with a different beast entirely – music that is at once familiar, and yet still totally unexpected.
Benjamin was born in Haiti's Port au Prince, but in 2002 she left her Caribbean home to start a new life in France. She was already heavily influenced by the voodoo roots of her homeland when she settled in Toulouse, yet the tradition that inspires her music wasn't something Benjamin grew up with. Recounting her quite particular childhood, she explains that her ethereal name – not, as I had assumed, a moniker – was given to her by Reverend Doucet Alvarez, who adopted her after her own mother died in childbirth. Raised on gospel in a Roman Catholic orphanage, it wasn't until her late teens that she sought out the ancestral traditions of voodoo.
"I grew up in that family, but I feel like I wasn't myself. So once I realised that, well, I went looking for myself. That's how it happened, I found myself in those practices, in that way of life." The discovery of voodoo lit a fire under her musical career – inspired by the melodies and poetry of her fellow countrymen, Benjamin began touring and collaborating with various Haitian artists, exploring the roots and rhythms that connect Haiti to its African ancestry.
Haitian voodoo – or vaudou – is perhaps one of today's most misunderstood religions, which through rife misuse of the name has had its reputation ineffaceably distorted. Born of the merging of West African traditions by slaves during the colonial era (as well as elements of Catholicism), this combining of beliefs proved to be extremely important in building a new identity for Haitians; overthrowing colonisers in 1804 they are the only state in history established by a successful slave revolution (and the first country to abolish slavery). The voodoo tradition served as a uniting force for its diverse people in the face of shared adversity.
She has championed many aspects of voodoo culture in her sound and image. When she performs, she is often seen sporting intricate patterns on her face; these, she explains, are the veve – diagrams traced on the ground at the opening of a ceremony, with different designs used to evoke different spirits. Music also plays a key role in voodoo ritual, with drumming being particularly important in underpinning the ceremonies and invoking an almost trance-like state (look no further than 'Simbi' from her 2018 album).
But the release of Simido brings with it some changes; gone are the voodoo rhythms and traditional drums of Siltane; gone are the more stripped back numbers and chants, and, at least for tonight's performance, gone are the veve. You could be forgiven for thinking that the voodoo influences have taken a backseat on this record, but "the soul is still there," she assures me as she describes her songwriting process.
"The culture I bring to this project is more like, voodoo-inspired melodies. There are the lyrics and their melodies that I compose myself, then I give them to Matthis who does the arrangements. We co-compose together." Gone, also, is the bilingualism of her previous album, which was composed partially in French; on this release she sings entirely in Creole. "It was a conscious choice. It's my identity, I want to share the Creole language with more people."
If you can call gripping guitar solos and saturated distortion 'stripping it back,' that's what has been done on this record. In some ways Simido has taken a step away from the voodoo sonority, but this group's second release is full of confidence and makes no apologies. More distilled, more assured, but still holding onto a Haitian identity at its core; they've found their sound and settled into it, and the music has absolutely no need to be bolstered by anything else.
I ask her what she attributes her success to, and for the first time she looks lost for words. "I ask myself the same question," she laughs. "I don't know if I can give you the answer." But seeing her performance as she takes to the stage at Brussels' Ancienne Belgique shortly afterwards, her success is no mystery. The whole spectacle is electrifying. The power in her voice is a perfect match for the equally potent guitar riffs, and between the two fierce forces battling it out, there isn't a moment's pause for the elated audience. At one point the band breaks into a thrilling cover of Led Zeppelin's 'Immigrant Song'. Benjamin's voice on the refrain sends chills down my spine and leaves me wondering how I'll ever listen to the original again. She paces back and forth across the stage, brow furrowed, head tilted down singing furiously into the mic, looking completely and utterly in her element.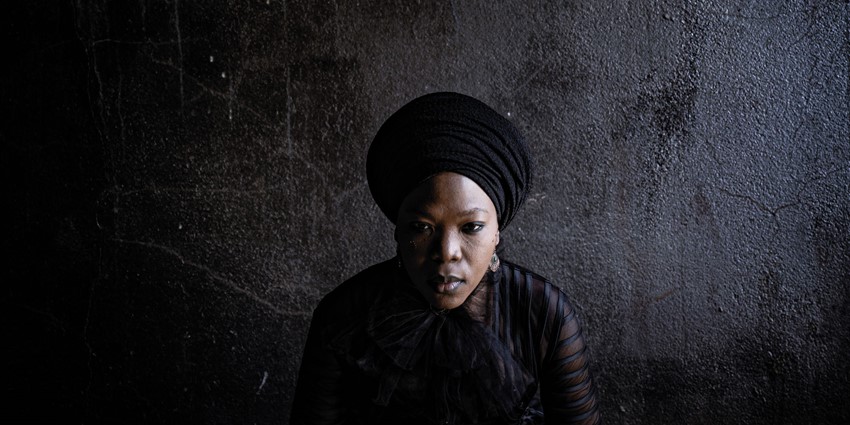 From gospel to voodoo, and from jazz to rock, needless to say Benjamin's style has taken quite the journey to get to where it is today; but if one thing has stayed constant throughout, it's the message in her music.
"No, that hasn't changed," she smiles. "I always sing about Haiti. I sing of her pride, I sing about socio-cultural problems, and I sing about the love I have for her." As a country that's suffered a challenging history – amid dictatorships, political instability, poverty and natural disaster – the flurry of musical activity that's emerged from this nation in recent years is a welcome change of narrative. Albums by Haitian roots group RAM, and singer Mélissa Laveaux, as well as Benjamin's own projects, have helped to paint the country in a different light – and with this record, she manages to do exactly that. The album is inspired above all by Haiti's strength. The songs on Simido reflect an image of a country, which, despite all of its hardships, is standing strong, proud, and resilient.
This interview originally appeared in the May 2020 issue of Songlines. Never miss and issue – subscribe today!