Wednesday, August 18, 2021
"My whole body was shaking. I started to tremble and sing. Two songs later, I didn't want to stop" | Natalia Lafourcade interview
The multi award-winning Mexican singer Natalia Lafourcade reveals to Catalina Maria Johnson how she found her voice in rewriting the Latin American songbook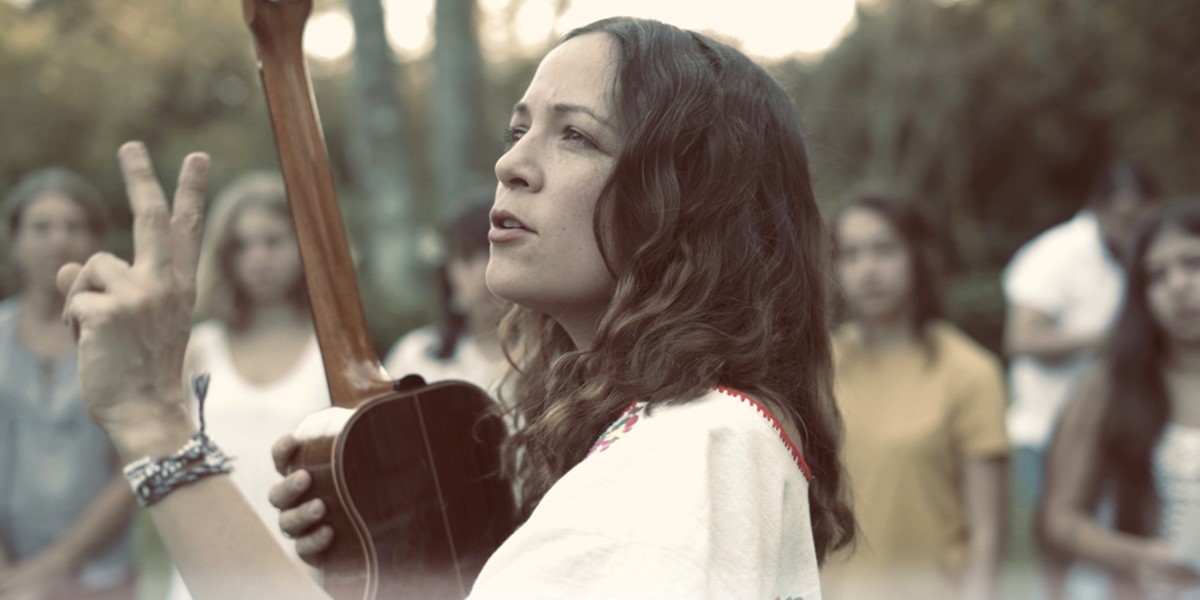 Natalia Lafourcade
Natalia Lafourcade remembers the first moment when the stage captured her soul, at about ten years of age. Her mother, a music teacher, had enrolled her in a series of classes to help channel the child's abundant energy and curiosity, As she was blessed with a sweet and tuneful voice, a teacher suggested that she should sing at a Christmas celebration. As she puts it, "All of a sudden, I realised it was going to be real mariachi playing behind me. My whole body was shaking. I started to tremble and sing. Two songs later, I didn't want to stop. I remember thinking, 'What is this? This is what I want to do my whole life'."
Lafourcade laughs as she describes the scene, cradling Frida, her small dog who joins our Zoom interview, nestling onto the singer's lap. This epiphany led the adolescent singer to "constantly beg" her mother to take her to sing at bars where mariachis would play on weekends. This was followed by inevitable voice lessons and eventually a music school, where her formation centred on jazz and pop. She explains that at that point, she had moved away from traditional genres: "I started my first record being so eclectic. It has all kinds of genres and approaches; I felt an intense ambition to try all kinds of different things."


"It's taken me a long time, many years. I feel that it's just been about three years since I've really found my voice. It's a process we all go through."

Yet the renowned singer and composer's musical heritage is deeply rooted in Latin America's folk traditions. She grew up in one of Mexico's musical sweet spots – the state of Veracruz – birthplace of the potent son jarocho. Although mariachi ensembles may seem to be Mexico's most well-known symbol, Veracruz's son jarocho also reigns supreme in the country's musical consciousness – this is the genre that birthed the Gipsy Kings' famous 'La Bamba', and is resplendent in its cultural collision of African, First Nations and European rhythms and melodies. And as her father is from Chile, Lafourcade had also grown up immersed in that land's politically-charged nueva canción.
To all of this and more, Lafourcade has returned, full circle, in a series of fascinating musical twists and turns. Her earliest musical exploration began with Twist, a 1998 girl band, followed by a self-titled solo debut album as a multi-instrumentalist composer and singer. After several rock-tinged pop albums in back-and-forths between solo recordings and albums with a band called Natalia y La Forquetina, she released Hu Hu Hu in 2009. That Mexican Top 10 album gained Lafourcade recognition as a major player in Latin America's alternative pop scene.
But something was absent, says Lafourcade. "I had the sensation or intuition that there was something missing in what I was doing. I felt very pleased with my musical exploration; I had proven to myself that I could make records playing all the instruments myself, producing it all. But, at the end of this search, there was a point at which I thought, there's something I am still not understanding about composing songs, or the way I am speaking about things that are happening to me. And that's when I feel that life, and destiny – a little bit of all of that – pushed me to record the music of Agustín Lara."
One of Mexico's seminal and prolific composers (1897-1970), Lara wrote many of his legendary songs and film music in the 1930s and 40s, within a career spanning nearly 70 years. His compositions include classics such as 'Granada', which has been covered by dozens of artists from Frank Sinatra to Placido Domingo.
To Lafourcade, it was also a kind of joint endeavour with the deceased artist and legendary composer from her home state of Veracruz. "It was meant to be a tribute, but also a way of collaborating with him, and still doing it my own way. I dedicated myself to the task of dissecting the music of Agustín Lara, and adding my own flavour."
Lafourcade dedicated 2011 to recording Lara's songs, and re-interpreted some of his most beloved compositions in Mujer Divina, imprinting his iconic songs with an indie sensibility. Her poignant, youthful voice tenderly flowed and melded around the syllables of Lara's torch tunes with a fresh and sophisticated, dare we say, millennial perspective.
Mujer Divina also won Lafourcade a Latin Grammy for Best Alternative Music Album. She followed that tribute disc with Hasta La Raíz, a series of her own compositions that drew sustenance from Lara's work. That album garnered her three Latin Grammys in 2015.
She has continued in recent years to embrace traditional folk music from throughout Latin America, recording Musas and Musas, Vol 2 with Los Macorinos, a duo of veteran musicians who had also accompanied the legendary ranchera singer, Chavela Vargas. These two albums shared a reinterpretation of Latin America's past in an unusual way as she hewed more faithfully to the originals than in Mujer Divina yet found in them new facets in an elegant delivery.
Along the way, she extracted renewed meanings in the social justice messaging of nueva canciónballads in songs by Violeta Parra, Atahualpa Yupanqui and Víctor Jara, and highlighted the contributions of Latin America's female composers and singers. In Musas, Vol 2, she even successfully reinterpreted the ultimate, mythical Mexican folk song, 'La Llorona' (the Crying Woman), with a plaintive version of the musical tale of a wailing woman who mourns the loss of her children (she may or may not have killed them herself – the jury is still out on that detail). Despite centuries of being intoned, the pliant soar of Lafourcade's dulcet, crystalline voice lent La Llorona's lament a revelatory, comprehensible vulnerability.
With her latest two albums, Lafourcade's journey has taken her back to Veracruz with the multi-Grammy winning Un Canto Por México, Vol 1 (a Grammy for Best Regional Mexican Music Album and Latin Grammys for Album of the Year as well as two other categories). This heartfelt project began with a sold-out performance at Mexico City's Auditorio Nacional in 2019, with all proceeds going to the reconstruction of El Centro de Documentación del Son Jarocho (CDSJ). The CDSJ, a renowned cultural centre in Jáltipan, Veracruz, was founded two decades ago by Ricardo Perry and son jarocho luminaries Los Cojolites, and had been severely damaged in Mexico's 2017 earthquakes.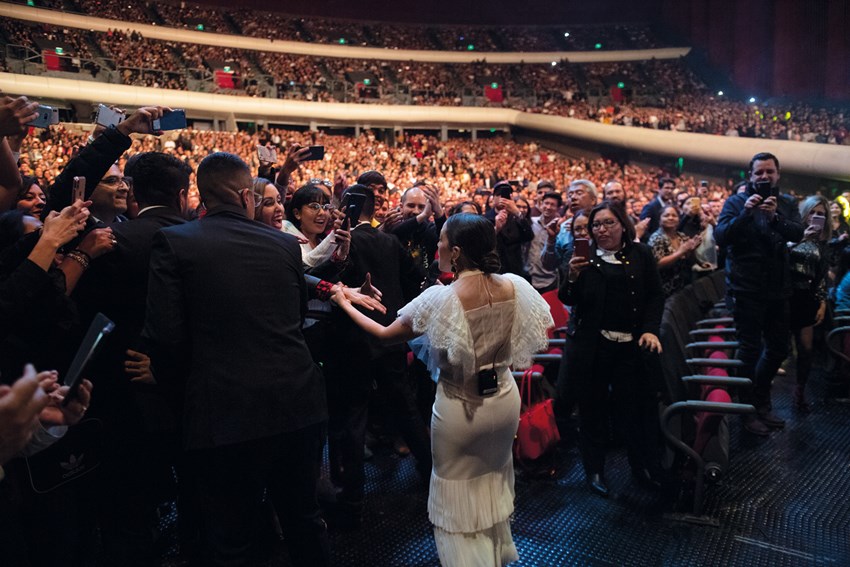 Un Canto Por México's first volume shared 14 songs in a rich, ambling stroll through the many soundscapes of Mexico that included two original compositions by Lafourcade. The album included collaborators from Mexico's traditional genres, such as Los Cojolites, to Mexican ska band, Panteón Rococó. The project's follow-up album was released at the end of May.
Un Canto Por México, Vol 2 is a marvellous testimony of the feat accomplished by Lafourcade's current musical stance – by looking forward and back at the same time she is also creating a new future for Latin American music. Its 11 tracks include several originals by Lafourcade, as well as Mexican standards, and features a wide swathe of collaborators from Panamanian salsa great Rubén Blades and activist rapper Mare Advertencia Lírika from Oaxaca, Mexico to the great Brazilian singer-songwriter Caetano Veloso.
This latest album also features two versions of 'La Llorona', a song that Lafourcade describes in our conversation as singing about the "darkness within." In the solo acoustic version, the singer's voice has acquired a world-weary gravitas, hanging on to each syllable in partly spoken phrases weighed down with longing. It's during interpretations like these that Lafourcade's true genius shines, as she illuminates new truths in the patina of the classics.
Distilling these complex emotions is not an easy task, and takes a certain level of understanding and maturity, says Lafourcade: "To sing folkloric music," she explains, "you have to understand things that are not related just to music – things that are related to life and even to the spirit and the soul. You have to connect with the words and the spirit of the song, and with the life itself that inhabits the songs and their words. And it's not just that! You have to undertake a very personal task of self-knowing, to understand where you're going and what you're looking for in the song, to be able to share that analysis and the magic of music, which is practically mystical."
This magic is no doubt what has made Lafourcade's albums reference points for Latinos, and especially Mexicans, in the diaspora. I share this observation with her, and Lafourcade concurs: "I've realised that this restless quality that I've always had resonates with people who are outside of Mexico. I receive letters that say, 'I'm no longer embarrassed to say from where I come; I've learned to love where I'm from'."
Lafourcade's work in both composing and interpreting has now garnered her a record 14 Latin Grammys and two Grammys. She also recorded 'Remember Me', the title-track and Oscar-winning original song for Coco, Disney's blockbuster, along with R&B superstar Miguel. Much like that movie's famed bridge between the dead and the living, in remembering and breathing new life into Latin America's musical past, Lafourcade has become an essential link to its present.
At the same time, Lafourcade states she has found her true voice thanks to folkloric music. "It's taken me a long time, many years. I feel that it's just been about three years since I've really found my voice. It's a process we all go through." Trees growing their roots, have a similar process, she muses. "It just takes time to grow. I feel like my roots have finally matured, and that also reflects itself in my voice and my approach and in my taste, the things that I now want to sing and interpret. Now, I want to sing to the mystery of life, and to its love and sorrows, the way it hurts, and its strength."
Lafourcade describes her creative process as an eternal courtship of Mexican music, a flirting or coqueteo. "I like that word! It's beautiful. I'm taking elements from folklore, but I'm not 100% strict. It's not like others who have spent their lives learning this art – I'm an urban artist. I've travelled thanks to my profession and now I've decided to return to my land to begin to perceive again, to begin to learn again and to begin to understand even more clearly. But it's not something that happens overnight. That's why I like to say that I've been 'flirting' with these musical influences. They have brought an immense richness to my work and to me as well – because it's also related to my growth as a human being, as a woman, as a singer, as a composer and a musician."
Folkloric music is also like medicine, she declares. "It's so necessary that we continue to strengthen these links to our culture, because that gives us tools for life and to find our roots in a foreign land. Personally, I find so much anchoring in my roots. I feel so strong in the connection to my space, my land and my people. There's this system that has forced us to go far away from our land and distance ourselves from family, our roots, our history, and when you are so far away from home, you feel like you are totally in the air. But if you connect again with your roots, then you get that stability. Having roots allows you to fly. But to fly, you need to be grounded."
Yet, the musical path she has taken will no doubt take many other, distinct and unpredictable turns. As she puts it, "Un Canto… was expansion, it's a party, a fiesta, a fandango, it's about dancing and releasing. On a personal and artistic level I'm feeling the need for contraction. It will come in its own time."
This interview originally appeared in the July 2021 issue of Songlines. Never miss an issue – subscribe today
Read the review of Un Canto por México, Vol II in the Songlines Reviews Database
Listen to Un Canto por México, Vol II