Monday, October 28, 2019
Jasdeep Singh Degun's Anomaly
Award-winning young sitarist debuts music from his forthcoming album, Anomaly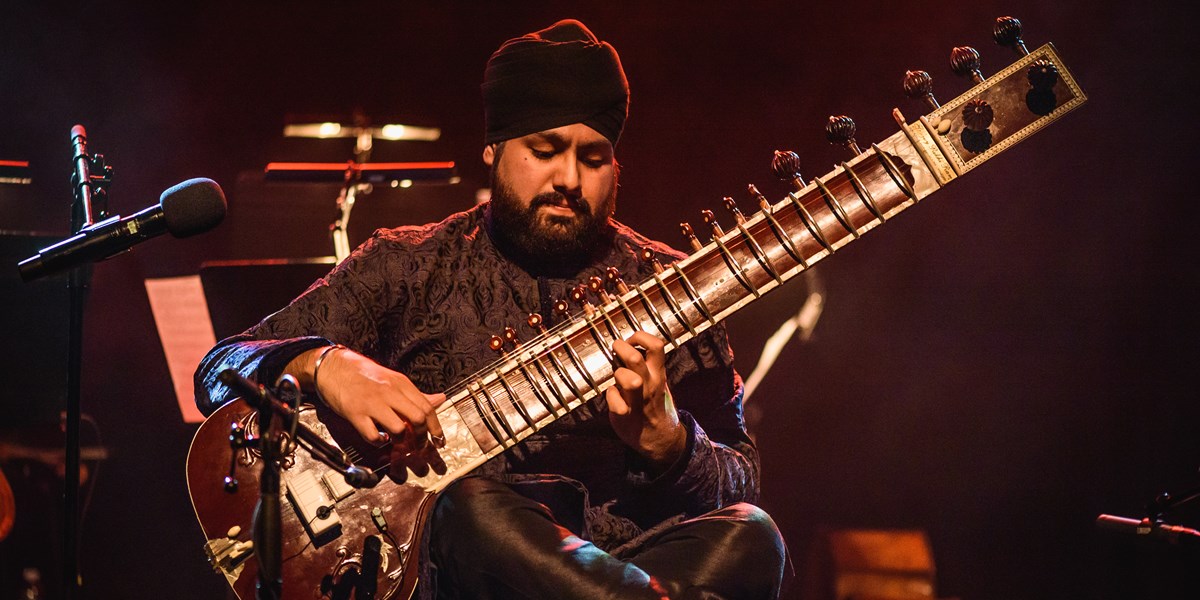 Jasdeep Singh Degun at Purcell Room ©Kabilan Raviraj
Jasdeep Singh Degun's Anomaly 
Purcell Room, Southbank Centre, London
October 4 2019
Earlier this month, the young sitarist Jasdeep Singh Degun proved that the UK's Indian classical music scene is in rude health as he debuted his forthcoming album Anomaly. Held in the Southbank Centre's smaller venue, the Purcell Room, the concert felt intimate, helped in part by the large family contingent in the audience, as Degun joked. 
Degun began working on the album in 2016 after being awarded with a Sky Art scholarship. Originally setting out to write an album of solo sitar music, he found himself calling on various guests and the project grew from there. On this evening, the sitarist was joined by 14 guests, and that's not counting an eight-strong string section (or the exhaustive list of well-respected musicians in the audience including Anoushka Shankar and Nitin Sawhney). 
He may be young, but Degun is already a seasoned performer. A regular session musician, he has worked with Guy Chambers and Cerys Matthews among others and has become one of the rising stars of the UK's Indian classical music scene. He was an endearing presence onstage, explaining each track and cracking jokes between songs as he guided us through the album. The music was cinematic in scope, with expansive
strings and rolling piano. It was clear that he pulls from a wide range of influences, but with Indian classical music always very much at the the core of what he does. What particularly stood out was the standard of arrangements – Degun proved himself a sophisticated composer on tunes that seemed to grab you like an undertow, leaving you no choice but to surrender to the music and be carried out to sea. This was of course boosted by the list of talented guests. 
He opened with the gentle 'Kafi', which allowed his instrument to shine over a lush bed of strings and piano. This was followed by the heartbreaking beautiful 'Veer' (Brother), an aural offering for recently lost family members based on a Punjab melody. 'Enigma 7.5' was a delightfully lilting piece constructed around an intriguing time signature of 7.5 beats. Next, he showcased a new arrangement of Nitin Sawhney's hit 'Nadia', a piece that helped him realise that Indian music could be performed in new ways and essentially set him on his path. To close out the first half, Degun was joined by fellow sitarist Roopa Panesar on 'Mahogany' and the duelling sitarists showed off some impressively fast fingers.
The second half kicked off with a lovely thumri arranged by Degun and sung by the captivating voices of Debipriya Sircar and Yarlinie Thanabalasingam, both British-born Asians, which Degun was particularly keen on showcasing for both this concert and the album, proving that the UK boasts a wealth of talented Indian classical musicians. The cinematic 'Ulterior Motives' led into 'Alaap' featuring French electronic producer Franz Kirmann, a highlight of the evening. Starting with the haunting esraj (bowed stringed instrument, similar to the dilruba) of Kirpal Singh, 'Alaap' was stunning; it was easy to imagine a hazy sunrise in rural India as the improvised lines rose out of the electronic drones. This led straight into the faster 'Rageshri' before Degun revisited 'Kafi' in what he jokingly called 'Kafi Epic', though it could have perhaps done with dropping the drum kit. Degun closed the evening the album's subdued title-track.
While the album is yet to be released, this evening of excellent music from one of the UK's Indian classical music stars promises great things to come. Degun has already been commissioned to write a sitar concerto for Opera North, which will tour in 2020, and I certainly look forward to hearing what this up-and-coming musician has in store.