Wednesday, August 15, 2018
Présence Autochtone 2018 – Celebrating Canada's First Nations and Indigenous music
The Montréal First Peoples Festival once again celebrated the culture and heritage of the indigenous people of Canada and beyond.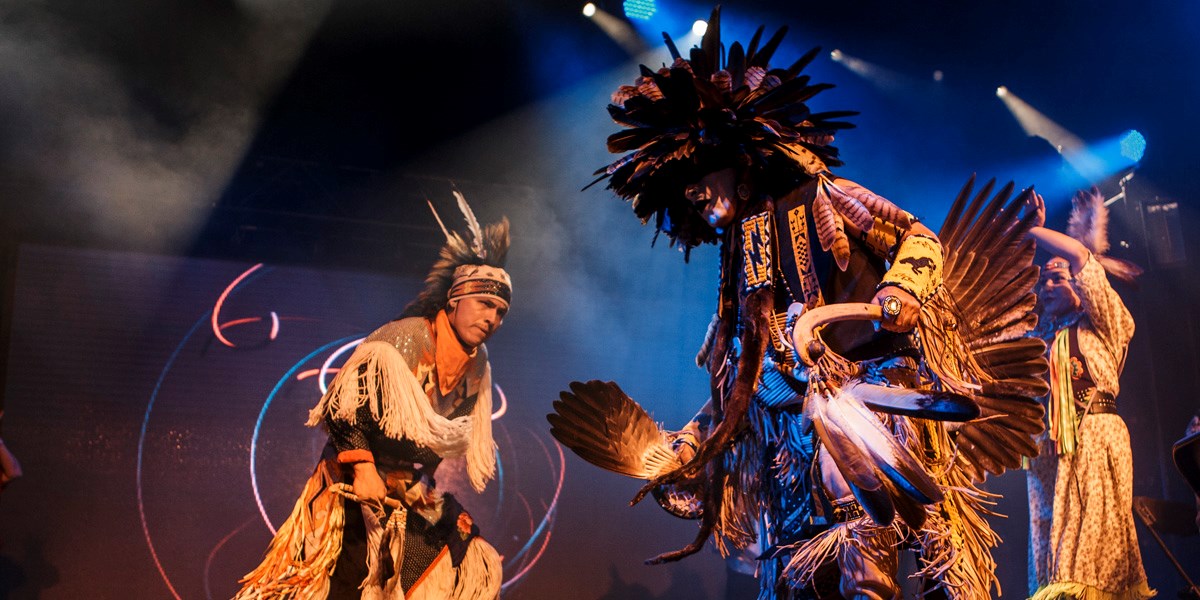 Deer Family Dancers ©Chris Patmore
For 28 years, Présence Autochtone (Montréal First Peoples Festival) has been at the forefront of promoting the culture and heritage of the indigenous people of Canada, the Americas and the rest of the world, through film, music, dance and visual arts. While the film programme opens a dialogue on the lives, tribulations and triumphs of indigenous people, it is music and dance that reaches the largest audience through the spirit of the pow wow, with four days of free open-air concerts held in Place des Festivals in downtown Montréal.
The traditional pow wow was led this year by Northern Voice drummers (tewehikanles) and the Wemotashee Singers from the Atikamekw Nation, along with the Deer Family Singers and Dancers, who also performed in the spectacular Ioskeha et Tawiscara: Le Grand Jeu de la Création (the great play of creation) on the Friday night.
Where this festival excels is in promoting contemporary music by indigenous performers. Artists such as Montréal-based Beatrice Deer, an Inuk singer from Nunavik in northern Québec. Beatrice and her band played on the Thursday night, performing their folk-pop-rock songs in Inuktitut and English, as well as incorporating ancient Inuit throat-singing. Following Deer were The Jerry Cans, also from northern Québec, a primarily white alt-folk band that perform their upbeat songs in Inuktitut, and also incorporating throat singing, making them a real crowd pleaser.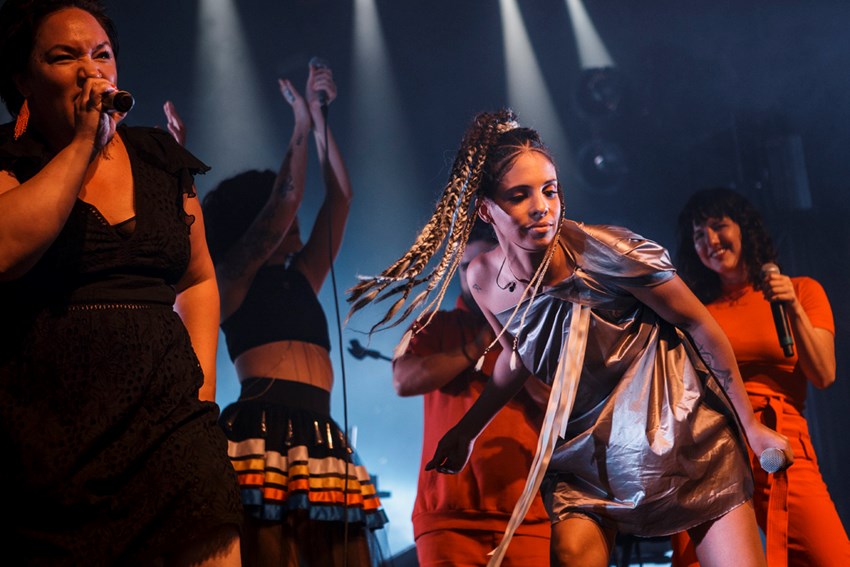 Saturday night was a showcase from Musique Nomade, an organisation that actively promotes Canadian indigenous music across all genres. Hip-hop is particularly popular among the youth (and some older members) of the First Nations, giving them a much needed voice, and incorporating traditional beats and rhythms (performed live here by Sacred Wolf Singers). Hip-hop duo Violent Ground, and young soloist Wolf Castle brought an energetic opening to the evening. There was no shortage of female representation, with synth-pop trio Chances, singers Annie Sama and Anachnid performing solo and together in both English and Inuk, again incorporating throat singing, with its call-and-response format working perfectly over hip-hop beats.
The highlight of the night was young singer-songwriter IsKwe of Cree/Dené and Irish heritage, whose powerful, soaring pop-rock vocals backed by some serious guitar shredding has seen her cross over into the mainstream Canadian charts. With individual and collaborative set pieces from all these young artists, this was an indication that indigenous music is on the rise and getting widespread recognition.