Wednesday, November 7, 2018
The London African Gospel Choir Perform Paul Simon's Graceland: review
By Tim Romain
Union Chapel hosts the London African Gospel Choir as they perform Paul Simon's classic album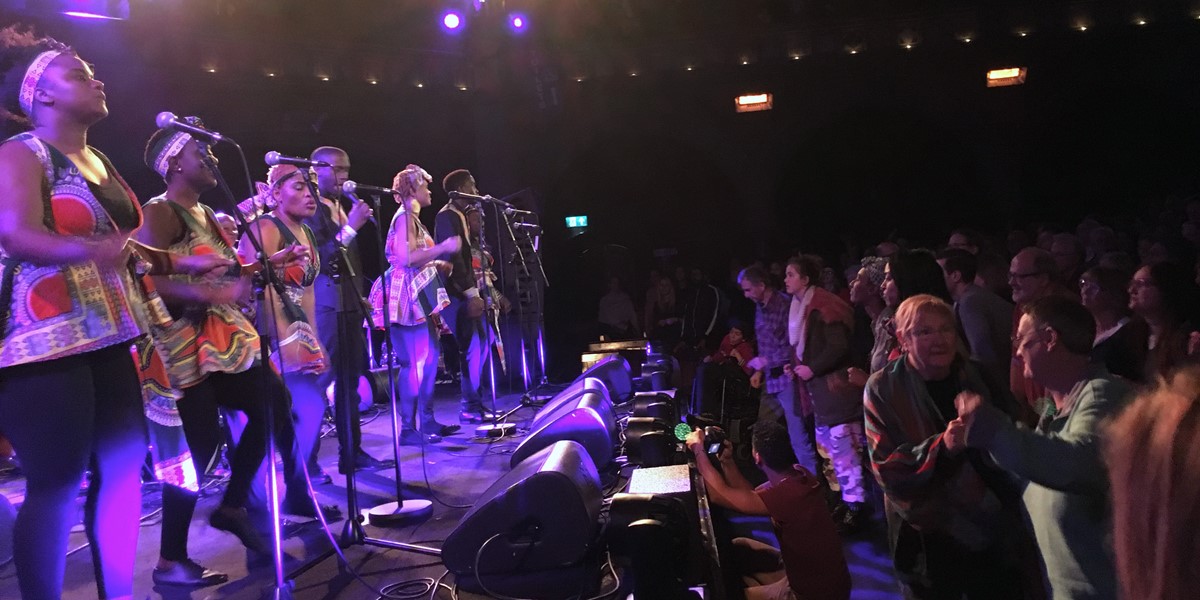 The London African Gospel Choir
Union Chapel, London
November 1
It's the interval but it doesn't feel like it. In the packed pews of the Union Chapel, shoulders rest uncomfortably against their neighbours, while necks craning over the parapet from the galleries above are still trying to find a comfortable spot. The room is warmed up, but there's too much anticipation still to relax. You wouldn't normally talk of a band playing its own support act, but that's the best way to describe what's going on tonight. The London African Gospel Choir have already performed for half an hour and have left the stage, and now the atmosphere in the church is one of an eager crowd waiting for the start of the main event: Graceland. 
It's an album that we've heard countless times. It has won awards, appeared on numerous best album… lists, and has been debated, denounced, appraised and reappraised; covered, remixed, played and replayed. Yet there's something about this particular show that has ignited a new spark. A one-night-only homage performance commissioned by the Jazz Cafe in March 2017, it sold out in hours, then became a run, then a tour that continued to grow in length and reach, and it's still going. Next year, for the first time, they're taking the show to the US, the home of gospel (and Paul Simon) itself.
If the excitement in the room is fermenting, it's also due to the impact of the LAGC's first set. Eight voices singing African gospel tunes and medleys of prayer cut with secular songs, including heartfelt solos and choral crescendos that gave an auspicious sign of what they're capable of. The ten-piece band of drums, percussion, bass, two electric guitars, two keyboards and a three-man horn section kept a spirited pace behind them. So when they're back on stage after the break, and the keyboardist plays those first accordion notes of 'The Boy in the Bubble' which open the album, the room knows exactly what's in store: infectious US pop on a bed of southern African grooves, sung with all the power and joy of a gospel choir.
Introduction aside, they play the album in their own order, led by Derrick Kiteke, whose range probably doubles that of Paul Simon, with solos divided up between chorists. The show-stealer however, is undoubtedly Prudence Jezile, a South African singer with uncontainable charisma and a voice that almost brought down the belfry. She treats us to an extra rendition of 'Pata Pata', a 1967 Xosa hit by her fellow countrywoman, the singer and anti-apartheid activist Miriam Makeba.
The complexity of an album created with such a large roster of different musicians from varying musical traditions is, as you might expect, slightly simplified for performance. But who better to go at it than a choir of multi-denominational church singers who hail from all over the African continent and diaspora? The only notable absence is of the Gaza Sisters' shangaan-style contrapuntal that animates the chorus of 'I Know What I know' on Simon's version, but what's lost there is more than made up for elsewhere. 'Homeless', originally by Ladysmith Black Mambazo, is sung here with intense feeling and religious longing, and is one of the night's most moving moments. 
After repeated entreaties for the audience to sing unaccompanied were met with a typically British response, the spirit of gospel finally won out with the penultimate two songs, 'Graceland' and 'Diamonds on the Soles of her Shoes'. By then, the whole church had risen, and under Kiteke and Jezile's instruction, different sides of the church were singing to each other with increasing abandonment. After a regulatory exit from the stage, they finished with (what else?) 'Call Me Al', featuring some impressive bass-work from Desmond Ackam that drew cheers from the crowd.
The London African Gospel Choir are clearly onto something good with this show, and the high expectations are more than matched by their performance.
To see tour dates, and to out more about the London African Gospel Choir, click here.