11 October 2018
Zakir Hussain & Les Amazones d'Afrique: Live In Brussels
Martin Longley reports from a long weekender in Brussels with tabla legend Zakir Hussain, pan-African supergroup Les Amazones d'Afrique and frenetic Ugandan DJ Kamire.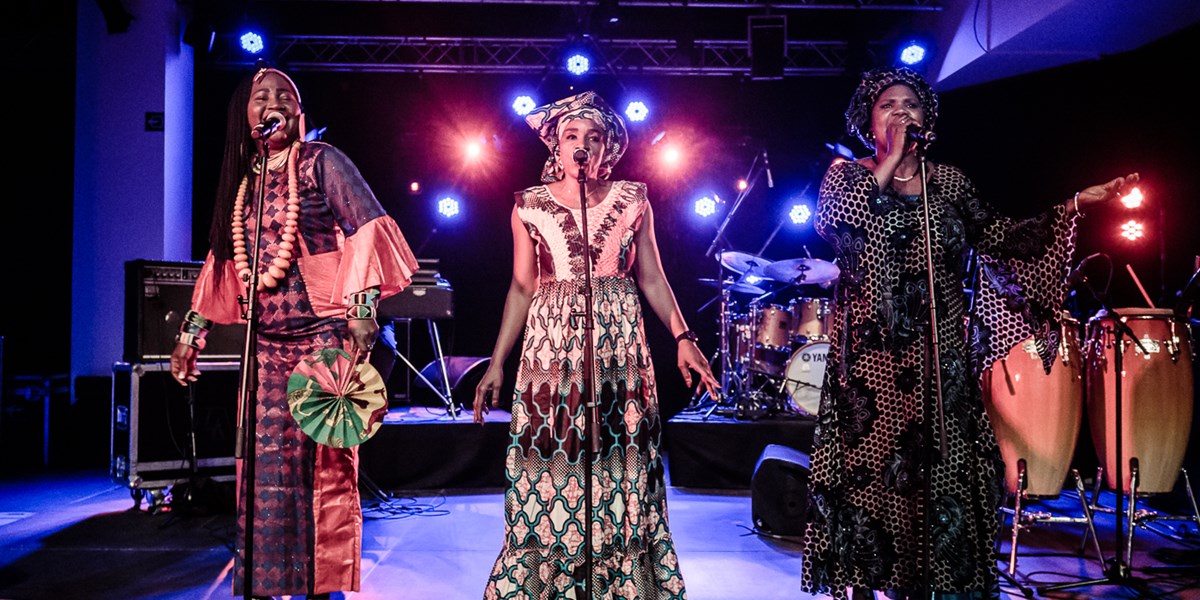 Mamani Keita, Rokia Kone and Awa Sangho of Les Amazones d'Afrique
Zakir Hussain/Les Amazones D'Afrique/DJ Kampire
BOZAR, Brussels, Belgium
September 26-28 2018
Veteran Indian tabla player Zakir Hussain is most often found in an overtly jazz setting - just this summer he was touring with bassist Dave Holland and saxophonist Chris Potter – so this was a rare opportunity to witness Hussain playing in a Hindustani classical setting. Not that his approach to this distinguished tradition is typical however, containing as it does many gestures and tactics from outside the form. Hussain's Tal Vanya was founded in 1973, but he has now revived the concept, joined by fellow percussionists Navin Sharma (dholak) and Anantha R Krishnan (mridangam). The quartet line-up was completed by sarangi player Sabir Khan, who offered a solo introduction on this chunky bowed instrument, his resonant sweeps creating an evocative landscape for Hussain's entrance.
Here, in the sold out medium-sized Hall M of the Brussels Centre For Fine Arts (BOZAR), there was a swift initial development, as Hussain ran through some very minimalist patterns, his droplet finger-pats leaving much more space when compared to the usual tabla approach. This time he savoured each padding and pacing hit. Hussain heightened his activity, and the sarangi sounded a touch too quiet, particularly when Sharma and Krishnan joined the rhythm force. There was an appealing contrast between the three drum-head qualities, the dholak having a sharper, more metallic attack. Familiar time signatures evolved, but Hussain imparted a halting progress, playing with phrasing, pausing for dramatic effect, then breaking out into spurts of hyperactivity. A small electronic bass box, placed at his side, added even lower pulses. The 90 minute show climaxed with a round robin circling from all four players, Khan suddenly breaking into song, ceasing his sarangi playing, and backed by the three phenomenal speed-rattling percussionists. Hussain consistently subverted the tradition, making repeated surprise moves as he subtly introduced outside influences into the music. Even the choice of a sarangi and tripled percussion formation was inherently adventurous.
On the following day, BOZAR began hosting the long weekender of Nuits Sonores, ostensibly an electronic music festival, but with several surprise global-ethnic appearances. In the all-standing basement Terarken Rooms (BOZAR is an impressively multi-spaced bastion), Les Amazones d'Afrique played to a smaller crowd than expected, although we were all bunched down at the frontal stage area. Their original starry all-female vocal line-up was reduced to a trio, missing the group's more well-known singers, but still rejoicing in the authoritative and expressive rapport between Mamani Keita, Rokia Kone and Awa Sangho. Lead guitarist Salif Kone also provided a succession of imposing solos, dripping with dreamy reverberation.
Straight afterwards, DJ Kampire Bahana provided a highly suitable aftershock, but had to confront a bare room, inhabited by just three of us in the audience. All was certainly not lost, as a steady return drift from the other stages eventually led to a swift upward curve of power, as more and more people were drawn to her dynamic electro-acoustic spinning. Kampire's foundation is Ugandan trad, shaken by frenetic beat-spurts, allowing a hardcore East African ethno-folkloric spread to twitch above a restless bed of manic dance floor stutter-syncopations. Even an apparent laptop glitch couldn't halt her progress – Kampire finished up in a basement den crammed with enthusiastic responders.