20 July 2019
A special 20th anniversary one-off publication
To celebrate 20 years of Songlines magazine, we will be releasing a special publication on September 6, filled with details of the most important artists, releases and news of the past 20 years in world music.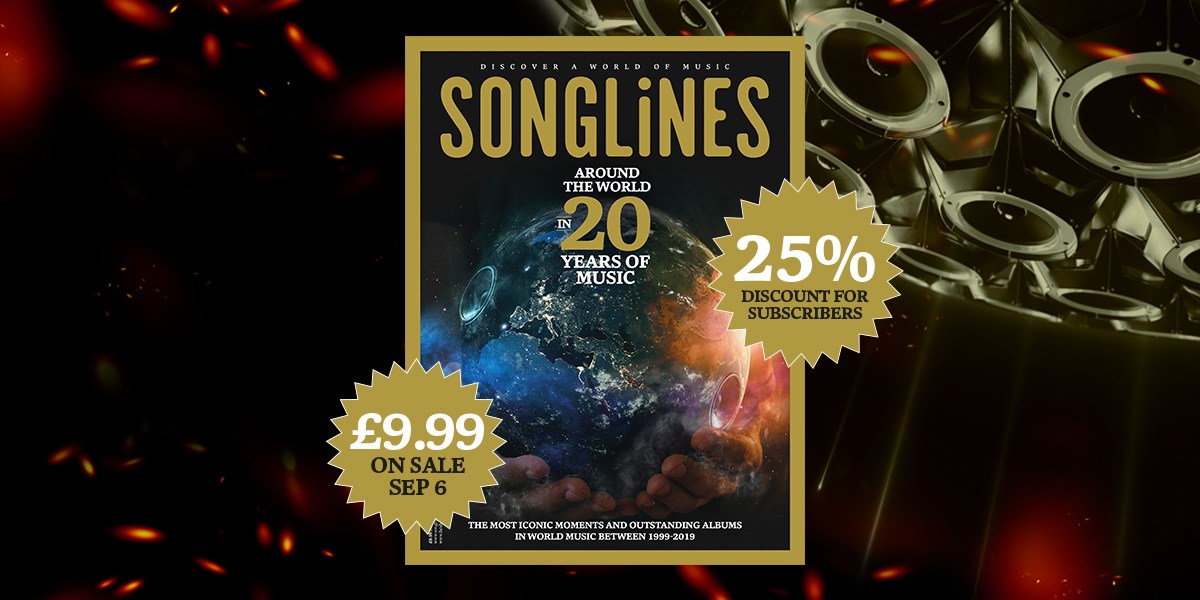 The Bookazine will be released on September 6, with a 25% discount for Songlines subscribers
20 years ago, it must have been hard to imagine that Songlines, a quarterly, independent magazine, would continue on to become a go-to magazine for folk and roots music fans the world over, publishing ten issues a year, running holidays, hosting the Songlines Music Awards and curating Songlines Encounters Festival. To celebrate this milestone, we will be publishing a special, one-off publication (out September 6) which will sum up the past 20 years of world music in one handy volume, a must-have for the world music aficionado. You can pre-order it now at www.magsubscriptions.com/songlines20.
The past 20 years have seen styles of music previously unknown outside of their home cultures brought to the world. We've been documenting all the while – the bookazine will sum up the most important artists that have been caught our attention over the past two decades. We'll present to you some of the most crucial releases, news and events. The results of our readers' poll (we asked you to select your favourite and least favourite Songlines covers) will also be announced. 
To say thank you to our readers, we're offering current subscribers a 25% discount (and free P&P) if ordered by August 9 with the publication posted with their October issue of Songlines (#151). When placing your order, subscribers can use the discount code printed on this issue's carrier sheet (the sheet of paper on the front of the magazine). Already recycled it? Email subscriptions@markallengroup.com.
The past 20 years have seen huge improvement in the representation of folk and roots musicians from around the world: increased audiences, increased interest and the creation of platforms for musicians from less developed parts of the world. There's still a long way to go and Songlines will endeavour to keep flying the flag for less represented styles and musicians, bringing you the best music from around the world.
So, here's to the next 20 years! We hope you'll join us for the ride.