Thursday, September 27, 2018
The Rough Guide to World Music: Brazil
By David Cleary
Brazilian music is a whole world of its own. It may be best known for samba – the irrepressible rhythm of carnival – but that's only a fraction of the story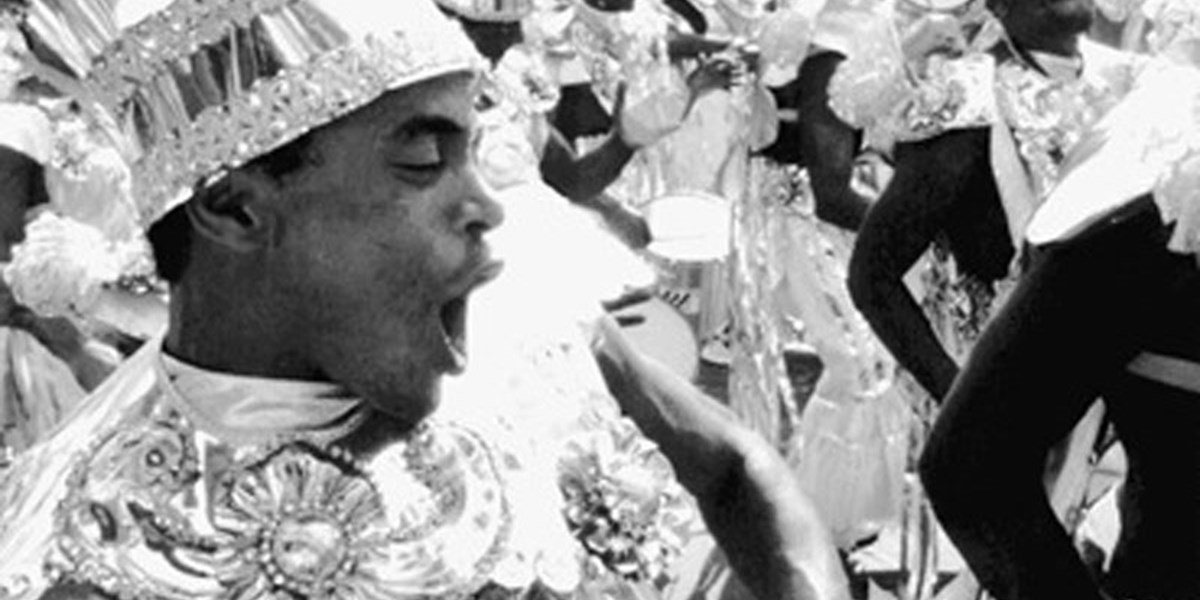 (Note that this Rough Guide to World Music article has not been updated since it was originally published. To keep up-to-date with the best new music from around the world, subscribe to Songlines magazine.) 
Brazilian music is a whole world of its own. It may be best known for samba – the irrepressible rhythm of carnival – but that's only a fraction of a story that takes in everything from the drum groups of Bahia (where Paul Simon got his inspiration for Rhythms of the Saints), to forró, an accordion-led dance music that is a little like zydeco. David Cleary gets down to the roots and ramifications.
Meu Brasil brasileiro – My Brazilian Brazil, a line from an Ary Barroso song, "Aquarela do Brasil", sums up the way Brazilian music has long since burst its national boundaries while remaining true to its roots. In the 1940s it was translated into English and sung by Carmen Miranda in one of her first Hollywood films; in the 1980s it gave Terry Gilliam the idea for the film Brazil, where it served as the basis for the soundtrack. Words that were once Portuguese – samba, bossa nova, lambada – have entered the international vocabulary. Brazilian music is World Music in its most literal sense, played across the world, recognised globally, its influence noticeable in the musical output of many other countries from the US to Nigeria.
"Who hasn't been influenced by Brazil?" said Sérgio Mendes, when asked about Brazil's impact on American jazz. The top Brazilian stars, like Milton Nascimento and Gilberto Gil, sell out Montreux or Madison Square Gardens as easily as the Canecão in Rio, while luminaries like Paul Simon and David Byrne – and an entire generation of American jazz musicians before them – have made musical pilgrimages to Brazil. And yet, funnily enough, Brazilian music on the World Music scene is like an iceberg: a highly visible tip but with an enormous mass of music and musicians lurking beneath the surface, unknown for the most part abroad.

A National Genius
The same rich ethnic cocktail that formed Brazilian society from African, European and Indian ingredients underlies a national genius for music, and a bewildering variety of rhythms, melodies and regional genres. Everyone's seen clips of the orgiastic music-making of Carnaval (along with other forms of orgiastic activity), but music is an all-year backdrop to life in Brazil.
Hop into a taxi in any Brazilian city and you weave your way through the traffic to the sound of distorted but foot-tapping music pounding through tattered speakers – the beat will be different, depending on the city. Walk into a bar at the weekend, or head for the beach, and you'll run into ordinary Brazilians making often extraordinary music.
Instruments help but aren't essential: match-boxes shake to a syncopated beat, forks tap against glasses, and palms slap on thighs or tabletops – and that's all that's required. This is a country that has had a significant recording industry since the 1920s, where musicians are called artistas and draw audiences from the whole population rather than mainly the young, and where some of the most innovative writing in the language occurs in song lyrics: Caetano Veloso and Chico Buarque are known throughout the Portuguese-speaking world as great writers as well as musicians.

Some MPB Geography
Música popular brasileira, habitually shortened to MPB, is the catch-all term Brazilians use for Brazilian music in general. It first cropped up in the 1930s, when the growth of a national radio network made it possible for musicians to build up a national audience, and it still refers to the elite corps of nationally – and often internationally – famous artistas whose records are available everywhere. But underlying modern MPB, as it has done ever since the term was coined, is a rich tradition of regional music-making, and it's in these regional centres that musicians cut their teeth and start to experiment with other musical influences, from elsewhere in Brazil and abroad. It's the regional variety of Brazilian music that explains its remarkable capacity to produce exciting new sounds, since there are so many genres to pick and mix with outside influences that the permutations are almost endless.
On any musical map of Brazil, Rio figures large, especially historically: it was here that choro, the precursor to samba, developed in the nineteenth century, and in the city's favela slums that samba began to develop around the time of World War I. But viewed from inside Brazil, Rio is only one of a number of musical centres. The city of Salvador de Bahia, six hundred kilometres north, has produced as many MPB stars as Rio, and with its unique blend of African and Brazilian influences – not to mention the most musically inventive Carnaval of any Brazilian city – it now has a strong claim to be the music capital of the country. Then there is Recife, which lies at the centre of another hotbed of genres that Brazilians lump together under the heading of música nordestina, northeastern music.
Further north and you hit eastern Amazonia, famous for burning rain forests but also – and not a lot of people know this – for lambada, which started out as a souped-up variant of carimbó, the dance music of Belém, a city with its own regional genres but also strongly influenced by the Guyanese and French Guianan rhythms available on the radio dial. Go deeper into Amazonia and you hit the heartland of boi, a once obscure brand of folk music from central Amazonia recently popularised by an astutely marketed annual festival in the river town of Parintins, and now a national craze. Even São Paulo, long derided by non-Paulistanos as a musical desert, has in recent years become home to a thriving rock and punk scene.


Rio Roots
It was in a downtown Rio bairro known as 'Little Africa' that samba began in the early years of this century. This was a quarter where ex-slaves and the few black bourgeois lived from the eighteenth century on, their numbers steadily reinforced by contingents from the hillside favelas that were already a feature of Rio's landscape. Samba, here, started as Carnaval music and horrified Rio's established (and white) society: it was lewd, loud, the drums were too African, and so the police regularly raided the area to arrest sambistas.
There's nothing of the bairro left today: it was swept away by the docks and warehouses of Rio's port as it was expanded in the 1920s. The beaches from where poor blacks set out on Sundays for day trips to the islands in Guanabara Bay are long since filled in: where the wharfs stand is where Carnaval as we know it today began, as the returning day-trippers, well-oiled, danced and sang and formed the embryonic, informal music groups that a couple of decades later would evolve into Escolas de samba (samba schools), the highly organised neighbourhood associations that parade in the modern Carnaval.
Why schools? Before he died in 1975, Ismael Silva, a great sambista who was born at the same time as samba, explained: "The sambistas used to rehearse in an empty lot near a teachers' college, and people always said, that's where the professors come from. But nobody knew more about samba than us. People started joking, no, this is where the professors come from. That's how the idea of a samba school came about."


Choro
Even before samba there was choro, literally 'crying, sobbing'. The original Carnaval music, it still survives today as live music, not just on dusty records, some 120 years after it surfaced. It is mainly instrumental, played by a small combo that might include a flute, a guitar, a cavaquinho – a miniature guitar introduced to Brazil by the Portuguese – and a clarinet.
With its roots in European salon music and Portuguese fado, choro is generally through-composed with little space for improvisation in its original form. Probably the most influential composer of choros was Pixinguinha, (1898–1973), whose classic "Lamento" is still played. Choro was also one of the primary inspirations of the great Brazilian classical music composer Heitor Villa-Lobos (1887–1959), who spent his formative years playing cello and guitar in choro bands in Rio's cafés, on street corners and at parties.
Choro is in some ways the opposite of samba, as quiet and private as samba is loud and public. You come across it most often these days as background music in stylish bars in the big cities of southern Brazil. It is currently undergoing something of a revival after decades of neglect, largely thanks to the well-known sambista Paulinho da Viola, who has been arguing for a return to Brazilian roots and including a choro or two on all his recent records, most notably the self-explanatory "Chorando". Several choro bars have sprung up in recent years in Lapa, one of the oldest and most traditional nightlife areas in central Rio, as choro recolonises its old haunts. One of the best choro groups, Os Ingênuos from Salvador de Bahia, recorded in the mid-1990s by Nimbus, gives a good introduction to the choro style and its diverse solo instruments: the seven-string guitar (an extra bass string brings out the highly mobile bass lines), cavaquinho, trumpet, trombone and soprano sax.
The basic rhythms of choro come from the dances favoured by European immigrants in the last century, especially polkas and waltzes, but overlaid by Afro-Brazilian syncopation to produce a jazzy Brazilian sound, like tropical Dixieland played on string and wind instruments rather than brass. With the clarinet wailing and cavaquinho notes sliding all over the place, you can hear how choro got its name.


Samba
It was this choro syncopation that carried over into samba, a versatile rhythm that can assume many different forms. Heated up, with a shouted call-and-response verse backed by literally thousands of samba-school drums on parade, it becomes samba de enredo, the mass Carnaval music famous the world over. Quite apart from the spectacle, a desfile – the formal parade of samba schools that is the centrepiece of Rio's Carnaval – is the loudest music you will ever hear: the drums up close are a physical force as much as music, enveloping and vibrating every part of your body – transfixing, but not the sort of thing that makes the transition to record very effectively.
Slowed down and broken up a little, the samba becomes samba-canção, literally 'song samba', where a lead singer is backed by a group that varies in size but is always built around guitar and percussion. Samba-canção is the staple of Rio's clubs and dancetarías, and itself breaks down into several varieties, ranging from the quiet, delicate plucking of a single guitar to frenetic dance numbers played by a large combo. These samba styles include samba breque, 'break samba', a choppy, almost reggae rhythm, and samba do pagode, a good-time soaring dance rhythm exemplified by artistas like Agepê, Clara Nunes and Alcione, and bands like Raça Negra, which swept Rio and the country from north to south and first hooked David Byrne, like many others, on Brazilian music.
Closely related, if more downmarket, is the current national craze, samba da garrafa, literally 'bottle samba'. Basically an uptempo brand of pagode, it originated as an accompaniment to an outrageous Carnaval dance, where a solo dancer, man or woman, gyrates their hips and pelvis above an empty beer bottle. Its most famous exponent is not a musician at all but a dancer, Carla Perez (aka A Bunda Nacional, which translates as the National Arse), who is only slightly less famous than Pele at the moment. For Brazil's urban poor, samba is, like football, an obsession and, for the lucky ones, a route to international celebrity.


Bossa Nova
Rio's other great contribution to world music was bossa nova (new wave), which began in the chic beach neighbourhood of Ipanema by day, and moved to the Copacabana clubs by night, before being discovered by American jazz musicians and going on to become an international craze in the early 1960s. Outside Brazil it often sank under the massed strings and tuxedos of foreign record producers, leaving most people with the misleading impression that bossa nova is muzak best-suited to elevators and airports. Tom (Antonio Carlos) Jobim, the man who penned "A Garota de Ipanema" (The Girl from Ipanema), would later talk of being haunted by innumerable cover versions murdering what in its original form is still one of the most beautiful Brazilian songs ever recorded.
Bossa nova is one of the few brands of popular music that was invented single-handed: the rhythm was devised by Jobim, a classically trained conservatory musician given to hanging out in bars at night, but first sung by Bahian João Gilberto, who in July 1957 released the first bossa nova record, a Jobim number ironically titled "Desafinado" (Out of Tune). It was an instant smash in Brazil, where bossa nova, gently crooned to the accompaniment of a single guitar, always had a much more delicate, individual touch than in its later North American distortions.
For a couple of glorious years Jobim, Gilberto, and a small group of other musicians, notably Vinícius de Morães, were able to mount a serious challenge to samba's dominance within Rio's music scene, and in 1959 bossa nova took off abroad as well: Astrud Gilberto's quavering English version of "The Girl from Ipanema" became Brazil's biggest ever international hit.
There were several reasons behind this success. One was the increasing development of the Brazilian record industry, which by now was exporting to the US and allowing bossa nova to come to the attention of influential jazz musicians like Stan Getz and Charlie Byrd. But underlying that was the large market for a sleek, sophisticated urban sound (bossa nova is lounge-bar rather than dance floor music) among the burgeoning middle classes in Rio, who found Jobim's slowing down and breaking up of what was still a samba rhythm an exciting departure.
Although the bossa craze abroad was eclipsed by the arrival of The Beatles, at home the music survived in its natural habitats of Ipanema and the middle-class areas of the Zona Sul, while Jobim went on to become one of the elder statesmen of MPB until his tragic death from cancer in 1996, still only in his fifties. The form has also had a recent revival in New York, through the collaboration of the Brazilian-born musician and producer Arto Lindsay with Vinicius Cantuária, a singer and guitarist who ironically had found himself straitjacketed in Brazil as a rock/pop singer, and reinvented himself playing bossa – mixed in with drum'n'bass and contemporary rhythms by Lindsay – in the US.


Bahia: Dancing to a Different Drum
Salvador, capital of the huge northeastern state of Bahia, is like no other city in Brazil. Almost everyone you see on the streets is black, and African influences are everywhere. You can taste it in the food, with sauces based on palm oil, peanuts and coconut milk, you can see it in the hundreds of cult houses of candomblé and umbanda, the Afro-Brazilian religions with millions of devotees across Brazil, and most of all you can hear it in the music.
An outrageously high proportion of the major MPB stars comes from Salvador and around: a very partial list includes Caetano Veloso, Gilberto Gil, Gal Costa, Maria Bethânia, Dorival Caymmi, Belô Velloso, Carlinhos Brown, Vinícius de Morães, and – among the newer stars of the firmament – Virginia Rodrigues and Silvia Torres.
What makes Salvador's music special is its rhythm, reflected in the importance of drumming and percussion, which in Salvador reaches a peak unmatched elsewhere. No other Brazilian city, not even Rio, can boast such a range of cosmopolitan influences on its local music, with rhythms from the Caribbean, Africa and North America finding their way to the city, being absorbed somewhere in the bewildering range of local genres, and resurfacing as something new and very Brazilian.
The 1980s were an especially good decade for Salvador, building on the achievements of the 1970s, when a wave of black consciousness partly inspired by American soul music transformed the city's Carnaval. A number of new black Carnaval groups were set up, playing African-influenced music with heavier, more complicated rhythms than the frenetic Carnaval styles popular elsewhere in the northeast. In the 1980s reggae was absorbed into the city's music in a similar way, and the result was a new Salvador sound that by the late 1980s was vying with samba and MPB for national attention. It mixed up reggae, salsa and samba, added percussion and lyrics that often had an African theme, and came up with a highly danceable style called fricote, or deboche.
Underlying this success was a thriving network of independent labels and studios based in the city, and the fact that every Carnaval seemed to break a new Bahian singer or group nationally. The new generation of young stars from the city, joining the old MPB veterans, include singers like Margareth Menezes, Daniela Mercury, Luiz Caldas and Abel Duere, and groups like Banda Mel, Reflexu's, Ara Ketú and Olodum. As a result, through the 1990s, Salvador mounted a serious challenge to Rio as the dominant city in Brazilian musical culture.
It was Olodum who Paul Simon heard playing on the streets, while on a trip with singer Milton Nascimento, and went on to record as the inspired base for much of his album Rhythms of the Saints. The band began life as part of the rising black consciousness movement, reflected in a rootsy, back-to-Africa sound based entirely around drumming and chanted lyrics about Africa, slavery and racism. Reflexu's are in a similar vein, though they have lightened the percussion with synthesizers and a honeyed female voice. Both are excellent in their own way, and especially good live – they were spawned by Carnaval; political correctness can rarely have been more enjoyable.
A trio of women singers from Salvador have made it big in the 1990s. The best-known abroad is Margareth Menezes, spotted by David Byrne and plucked from the Salvador club scene to support him on tour in the US, where, as Byrne happily admits in the sleeve notes to her album Elegibô, she often blew him off the stage. She has a beautiful voice and is electrifying when singing native Bahian rhythms. Unfortunately, like many young Brazilian stars who make it big, she insists on cluttering up her discs and live act with thrash-rock that would have sounded outdated in 1975.
Less well-known abroad, but a major star inside Brazil, is Daniela Mercury. She has everything – a fantastic voice, writes her own music, sticks to Bahian sounds, is remarkably beautiful and, to cap it all, is a quite superb dancer even by Brazilian standards. A more recent Bahian MPB sensation is Virginia Rodrigues, a woman of Nigerian-Brazilian descent, who sings what she calls 'Brazilian gospel' in a dramatic chorister-like voice. Caetano Veloso discovered her singing a -cappella in a street theatre group and was bowled over, took her under his wing, and produced her stunning albums, Sol Negro and Nos.
Another Bahian strand in the 1990s came with fusing the heavy percussion sound of Bahia with rock-funk elements. The masters of this are Timbalada, led by Carlinhos Brown, and sometimes involving up to sixty musicians, hammering out their rhythms with percussion, horns, electric guitars and electronic beats. Brown himself, incidentally, is an eclectic talent, rated perhaps Brazil's top current producer. He has been responsible for the rise of two key women singers in recent years – Marisa Monte and Silvia Torres.

Forró and Nordestina
Northeastern Brazil has a deceptive coastline, lush green with coconut palms framing the best beaches in Brazil, fertile soils and large plantations. But drive directly inland, and in most places it takes less than an hour before you hit the sertão, the rocky, arid hinterland where droughts can last for years and periodic waves of migrants – flagelados, 'the scourged' – give up the unequal struggle with the land and head for the coastal cities. It looks unpromising, but music seems to flourish here, even if little else does.
One reason is the peculiar delight the region takes in wordplay and poetry: most markets have stalls selling literatura de cordel, 'string literature', printed ballads by regional poets, and in music this poetic tradition is reflected by repentismo, where balladeers pair off against each other with guitar in hand, and improvise verses in a variety of complicated metres on themes shouted out by the audience. A historical impulse was the popularity of dances as social gatherings, especially in rural areas, where prospective marriage partners could look each other over. Since slaves were imported mainly to work on the coastal plantations, most black nordestinos now live in the coastal strip. The main influence on the music of the sertão was Portugal: old Portuguese folk melodies lurk beneath the surface of much música nordestina.
Música nordestina has many different forms, but all are instantly recognisable as northeastern: the rhythms are very strong but slower than in other parts of the country, the beat often comes from accordion and/or guitar rather than percussion, and the lyrics are sung in a gravelly, nasal nordestino accent, which you can tell apart even if you don't speak a word of Portuguese.
The varieties of nordestino music include frevo, Recife's Carnaval beat; maracatú, a blend of African rhythms with Portuguese melodies, most popular among blacks around Recife; and baião, a thumping dance style built around a trio of accordion, bass drum and triangle. However, by far the most popular form is a jaunty, danceable style called forró – a word that's allegedly a corruption of the English 'for all', the name of the dances British companies laid on for their employees in nineteenth-century Recife.
Forró can be played fast, slow or somewhere in between, but whichever it's one of the most enjoyable – and danceable – forms of Brazilian music. Like Louisiana zydeco, the music is accordion-led with a robust and frenetic sound. In its traditional form, forró is played by a trio of sanfona (accordion), triangle and drum, with a singer crooning out over the strongest, most foot-tapping rhythm Brazil has to offer. Only danced by couples, it's from forró that the more athletic dances associated with lambada developed. Essentially, the couple swivel round the dance floor, joined only at the pelvis, and nobody in Brazil looks twice at a display that would clear the dance floor most places in the First World.
The accordionist and singer Luiz Gonzaga (1912–89) is considered the first big name of forró, popularising the music – and other nordestino styles – outside his native region and becoming an idol among the northeastern migrants in São Paulo and Rio. He moved to Rio in the 1940s and had an enormous hit with a simple but very moving song about a farmer forced to migrate; called "Asa Branca" (White Wing), after a bird traditionally said to be the last to leave the sertão in a drought, it became a regional anthem and one of the best-loved of all Brazilian tunes, a national standard.
Gonzaga blazed a trail for a number of other northeastern musicians, who became major MPB stars from the 1960s onwards without ever abandoning their regional roots. They included Gonzaga's son, Gonzaguinho, tragically killed in a car crash in 1991; Elba Ramalho, who looks uncannily like Bette Midler and has a remarkable voice to match; accordionist/singer Dominguinhos; Morães Moreira; Alceu Valença; Geraldo Azevedo; and Fagner. Most of these musicians bring in additional instruments – including electric guitar and brass – while keeping the accordion to the fore.

Amazonia: Lambada and Boi
Eastern Amazonia is yet another distinctive musical region: it has its own rhythms and dances, most notably carimbó, a lilting, enjoyable dance style that was electrified in the 1960s and became the basis of Belém's nightlife. From the mid-1970s, Belém's DJs and musicians started playing around with carimbó rhythms, adding elements of the merengue, salsa and reggae constantly played on the radio stations of the Guianas only a few hundred kilometres north, and produced a new dance music they started to call lambada.
Lambada made its way to Salvador in the 1980s, where it was absorbed and transformed like so many other musical imports, and by the mid-1980s a Bahian version, lighter, even boppier and based around synthesizers, was hitting local radio stations. There, so the Brazilian story goes, it was heard by French record producers on holiday, who were equally interested in the spectacular dance that Bahia developed to go with it: they signed up Bahian lambada dancers and musicians, took them back to Paris in 1988 and the rest, as they say, is history. (Although music history being what it is, there is another parallel version, which is that the basic lambada melody came from a song by Bolivan Andean group K'jarkas).
The Belém musicians who had played such a critical role in the development of lambada hastily put out records with titles like "The Original Lambada" but it was too late: the Bahians had sewn up the market, and added insult to injury by rushing out all kinds of Bahian pop, labelling it lambada, and selling it in Europe, where the market was more interested in dancing than musical roots. Hence the fact that lambada as known internationally refers more to a dance than a style of music. The word had become a marketing category first and foremost, and no longer bore any relation to the original music or the region it came from.
Still, in the long run, the Amazonians got their own back.The most recent musical craze to have come out of northern Brazil is boi: a rhythmical percussive style of music that is most characteristic of Maranhão state, just to the east of Amazonia proper, where the annual bumba-meu-boi festival, with groups performing the characteristic dance that goes with the music, is a bigger deal than Carnaval. It also exists as rootsy folk music in the Amazonian interior, carried by generations of Maranhense migrants, and there it might well have stayed had it not been for the town of Parintins, which holds an annual Carnaval in June consciously modelled on Rio, but using Amazonian imagery: Indians, jaguars, and so forth. In the 1990s this festival began to be astutely marketed as a summer Carnaval holiday, and began to attract tourists to Parintins from all over. Amazonian musicians were commissioned to jazz up the old boi styles, and came up with a poppy, electrified dance music which soon burst its regional boundaries and is now heard as often in São Paulo as in Amazonas. The Parintins festival has gone from strength to strength on the back of the craze.


MPB and the Military
Modern MPB, like so much else, really began in the 1960s. The impulse was the military coup of 1964, which initiated over twenty years of military rule. In a backhanded tribute to the special importance of music in Brazil, one of the regime's first acts was to impose direct censorship of song lyrics and radio and TV playlists, which they followed up by persecuting musicians thought to be critical of the military; most of the MPB stars of the 1960s spent a year or two in exile in the 1970s.
These strict controls on musical output, which were not relaxed until 1985, had the opposite effect to that intended: they proved a creative spur, forcing musicians to use oblique, subtle images that could make it past the censor, and at the same time gave MPB a coherence it would not otherwise have managed, uniting practically all serious musicians against the military and compelling them to deal with politics as well as the eternal preoccupations of sex and drugs and rock'n'roll. You can get an idea of the depth this gave MPB by listening to a song like Chico Buarque's "Tanto Mar" (So Much Sea), which is ostensibly about a party although all Brazilians of the time – 1973 – recognised it as a salute to the Portuguese Revolution of that year, "The Revolution of the Carnations" as it's known in Portuguese.
It was a fine party
I had a great time
I've kept an old carnation to remind me
And even though the party's over
They're certain to have overlooked a seed
In some corner of the garden
So much sea between us,
So much sea between us.
The first sign that the military would find it impossible to keep the musical lid on things was tropicalismo, a musical movement that erupted in the late 1960s and marked the arrival of a new and extravagantly talented generation of musicians who are still among the leading lights of MPB, most notably Caetano Veloso and Gilberto Gil. Tropicalismo was the most controversial twist MPB ever came up with, since it consisted of mixing a large number of regional genres together, stirring in rock influences like electric guitars and elaborate studio production, and topping everything off with extraordinarily dense, oblique lyrics.
Caetano and Gil were booed off stage and violently attacked in the press at first, accused of being unpatriotic for turning to foreign rock for inspiration and for using electric instruments – a stupid criticism, since música nordestina was as important an influence on tropicalismo as rock. However, the young, thoroughly alienated as Brazil lurched into dictatorship, loved tropicalismo's iconoclasm and rejection of convention.
At its worst tropicalismo reproduced the self-importance and studio excesses of much North American and British rock of the period, but at its best, as in Caetano's song "Tropicália", which became the movement's anthem, it was the most successful blend to date of Brazilian musical imagination with rock music. Although tropicalismo only lasted a couple of years, and more or less ended when Caetano and Gil were forced into exile in London in 1971, it left a lasting mark – not least because it inspired many more far less successful attempts to blend rock from abroad with elements of MPB.
Both the founders of tropicalismo went on to greater fame, Gil as the leading Salvador artista and an increasingly successful politician, and Caetano to become, along with Chico Buarque, the most admired and productive MPB star, now in his fourth decade of recording and if anything getting better with age.


Chico, Milton and Elis
The 1960s also saw the emergence of two stars who were never part of the tropicalismo wave but who have remained at the forefront of MPB ever since. Chico Buarque and Milton Nascimento remained within Brazilian musical styles for the most part, but took them to new heights.
Chico Buarque shot to stardom in the 1960s first as a sambista, singing beautifully crafted sambas alone with only his guitar. What marks him out is the superb quality of his lyrics; excerpts do him little justice, since his trademark is the intricate building up of themes over the course of a song. At first there was little love lost between Chico and the tropicalistas, who suspected that the conservatism of his music reflected his politics as well, but Chico soon earned his political street-cred by writing what became the most famous anti-military songs, "Apesar de Vocr" (In Spite of You) and "Vai Passar" (It Will Pass), and spending a year in exile. His dense lyrics and haunting tunes are still flowing, and along with Caetano, who has similar lyrical gifts and is equally in love with the Portuguese language, Chico has become one of the select band of MPB figures with whom the entire country is on first-name terms.
Another is Milton Nascimento, who came up at the same time and via the same route as Chico, but is musically poles apart. Where Chico was comfortable with what lay musically to hand in his native Rio, Milton's music has returned again and again to the reflective, spiritual music of his native state of Minas Gerais, to the north of Rio, whose people have a reputation for introversion and whose music is heavily influenced by the Catholic church. When you add to this Milton's extraordinary, soaring voice, and his songwriting genius, the result is a dense, compelling sound that has made Milton one of the best-known Brazilian musicians abroad, especially in North America. Since he speaks little English, he is less known abroad for his politics, but he has become the most prominent public spokesperson for black Brazilians and involved himself in the struggle for Indian land rights years before it became fashionable.
Were she still alive, a third star in this MPB trinity would be Elis Regina, whom few would argue is the woman who has made the greatest contribution to Brazilian musical history. Elis burst onto the music scene after winning a nationally televised song competition in 1965, when she was only eighteen, and it was immediately obvious that she had the finest voice of her time. She went on to release a series of records that made her the undisputed queen of MPB. Her voice was a unique blend of technique and soul: she could put an extraordinary depth of emotion into a song, keeping perfect control at the same time. Tragically, she became something of an Edith Piaf figure: she struggled with drugs and alcohol for most of her career, and died alone in 1982, when she was at the height of her powers, from an overdose that may or may not have been suicide.


Looking ahead
Brazil, like most places, is full of people eager to argue that things aren't what they used to be, and while they have a point when talking about modern Brazilian football, they're on less sure ground when they express the argument – surprisingly common within Brazil – that Brazilian music is in decline. That's not to say there aren't justified criticisms to be made. The most obvious is that no one of similar stature has come up in MPB to replace the towering figures of the 1960s, most of whom are still producing very high-quality music. But they are also all in their late fifties by now, and they don't have a direct line to Brazilian youth the way they did. While some very high quality singers have emerged in the 1990s, such as Marisa Monte and Daniela Mercury, a depressingly high proportion of Brazilian youth, especially in the urban centres of the south, have been sucked (or suckered) into the global market for FM blandness, and US and British rock dinosaurs still manage to fill Brazilian stadiums.
There's also the problem of the relationship between Brazilian music and the international music scene. This has a positive side, as David Byrne's repeated trips to Brazil have shown, but it has a downside as well. Many Brazilian musicians have tried to blend rock with Brazilian music; tropicalismo did it with some success, but most attempts to do so since have been embarrassing failures. A rare exception were the mid-1990s experiments of Chico Science, who created a dynamic fusion of samba with rock and rap; however, Science died, untimely, in 1997. The Rio-based singer Daude has also had some success fusing Brazilian rhythms (notably from her Bahia home) with hip hop and Western dance music.
The basic problem for most artists is musical incompatibility: Brazilian music is built around complicated melodies and rhythms and the Brazilian musical imagination is versatile and subtle – not the ideal cultural recipe for good rock'n'roll, in other words. There is a Brazilian rock scene, centred around São Paulo, but it's very tame and derivative compared to that of London or New York. Brazil has been much more successful in absorbing non-rock influences from abroad, as the music scene in Salvador shows, and we can look forward to more productive plundering of Caribbean and African music in the years to come (a traffic that goes both ways, as people like King Sunny Ade will tell you).
All the same, it is easy to exaggerate the negative side. For all that people say Brazilian music isn't what it was, a foreigner finds it difficult to understand what they're worried about. Long- established genres like samba are still breaking up into new variants, and new music, like the Salvador sound, is being produced at a more than healthy rate. There are more studios and independent labels now than ever before, and the regional music that is the bed rock of MPB is doing as well as ever. If there were a World Cup for music, meu Brasil brasileiro could still give anyone a game.