Newcomer Award
Alostmen

Kologo (Strut)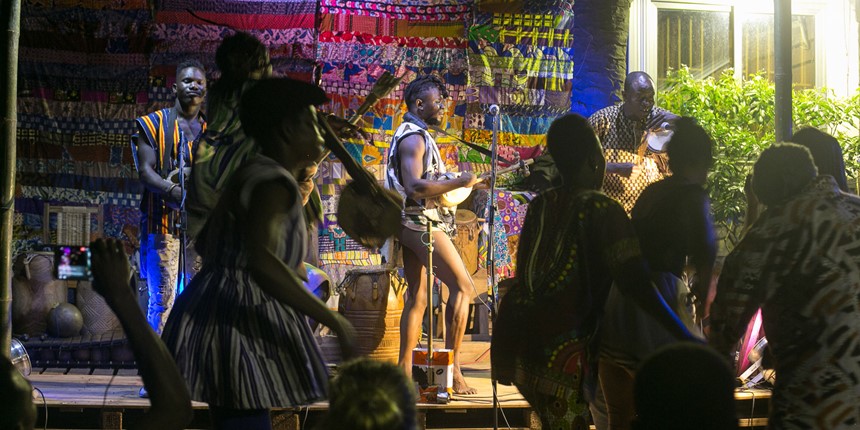 Back in the late 2000s Stevo Atambire had been living on the streets of Accra in Ghana for six years when he found a kindred spirit in Wanlov the Kubolor. The latter – a barefoot, dreadlocked, skirt-wearing cultural icon with social media savvy and a CV that includes fame as one half of rascally duo FOKN Bois (with M3nsa Ansah) – was struck by the raw musical talent of Atambire, then barely out of his teens. Atambire's singular use of the kologo, the two-stringed lute particular to his Frafra people of northern Ghana, was matched by his charisma.
"My two sisters sold tea and bananas in Tip Toe Lane, Circle," says the 30-something Atambire, referencing the city's sprawling, chaotic hub. "Wanlov would come by and we ended up jamming, me on kologo, him on kashaka [shakers]. He gave me good money for my music, which was the first time anybody had done that."
Kologo music is traditionally played at funerals, naming ceremonies and other gatherings. Its griot-like proponents are storytellers and messengers: relaying proverbs, encouraging unity and development, keeping ancestors' legacies alive.
"You can hear Afro-reggae and blues in this instrument, which can entertain thousands of people without a mic or an amplifier. But not all the youth are willing to listen to the same tuning and tones. To keep people entertained you need to bring the kologo to different levels," insists Atambire, whose fame among the Frafra had been forged by five cassette-only solo albums.
Contemporary Ghanaian musicians such as King Ayisoba, who wowed the WOMADelaide festival in March and with whom Wanlov has also collaborated, are doing precisely that. Atambire's rich voice and grab bag of kologo variations – tone slides, ghost notes, bends, syncopation, a wah-wah pedal – convinced Wanlov to include this bright Frafra yout'man from the Upper East region of Tanga in his Afro Gypsy Band, which toured West Africa and Europe in 2017.
Along the way – in hotel rooms, closets and bathrooms using Wanlov's mobile studio unit – Atambire began recording tracks for his own band, Alostmen, a quartet featuring a Nigerian talking drummer, a goje (two-string fiddle) player and singer and a percussionist playing heavy Ga rhythms on gome box/djembé/congas. A clutch of guests, including Wanlov (on the catchy first single 'Kologo'), Ghanaian rap hero Yaa Pono (on the yearning 'Fauziah') and aforementioned FOKN Bois member M3nsa (on the trance-like 'Killer Fear Die'), help make the band's debut a toe-tapping, head-nodding delight.
Alostmen is a celebratory mix of Frafra/Guruna-language songs that tell of life in this poor but proud pocket of Ghana, where a semi-nomadic people herd cattle and play goje and kologo, sometimes relocating to cities such as Accra or Kumasi to work as food vendors or pounders of the popular dish called fufu.
"We use traditional instruments to bring something authentic and unique to impress the world," says Atambire, who left his village aged 15 after choosing music over agriculture. "I play kologo music to give people hope that if they work hard, they can achieve. I preach in a positive way."
Read the album review Buy from Amazon
Watch