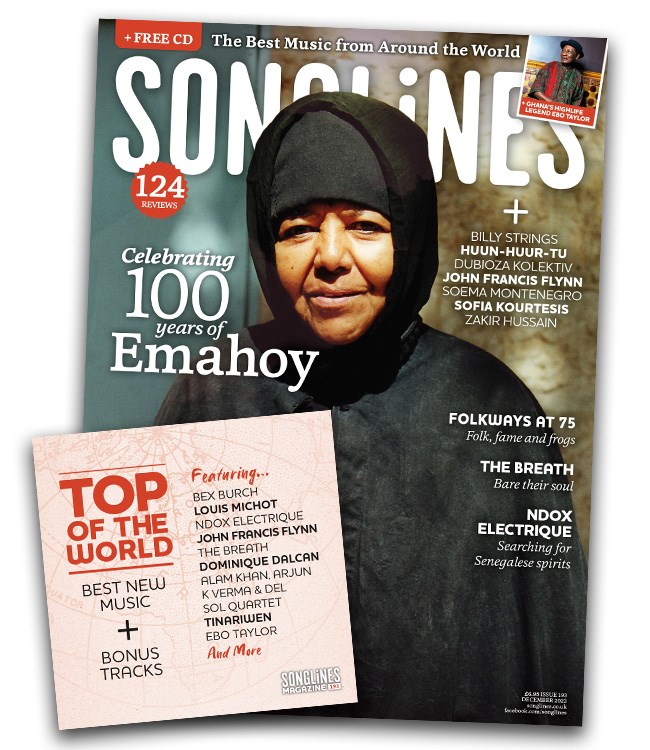 Songlines - December 2023
The December 2023 issue (#193) of Songlines is out now, filled with the best music happening around the world, and the stories behind that music. We find out about the extraordinary life and unreleased songs of Ethiopian musician and nun, Emahoy Tsege-Mariam Gebru, who would have turned 100 in December; we celebrate 75 years since Folkway Records began by discussing some of the most iconic records on the label; we chat with Manchester duo The Breath about their soul-baring new album, go deep into Senegalese rituals with Ndox Electrique and speak to Soema Montenegro whose latest work aims to give the landscape of Argentina a voice. Ghanaian highlife tour-de-force Ebo Taylor gets the Beginner's Guide treatment, British journalist Anthony Sattin shares his My World tracks, there's a Dispatch from Ukraine where performing folksongs is more important than ever, and there's still space for Dubioza Kolektiv, John Francis Flynn, Huun-Huur-Tu, Billy Strings and Sofia Kourtesis. Plus all the usual news, listings, reviews, competitions and so much more.
Both physical and digital copies of the magazine will also come with our accompanying Top of the World compilation featuring our pick of the month's best new music – Louis Michot, Bex Burch, Dominique Dalcan, Cherry Bandora, Batsükh Dorj, Alam Khan, Arjun K Verma & Del Sol Quartet and more – as well as bonus tracks from Tinariwen, The Breath, Ebo Taylor and Soema Montenegro to bring our features to life.