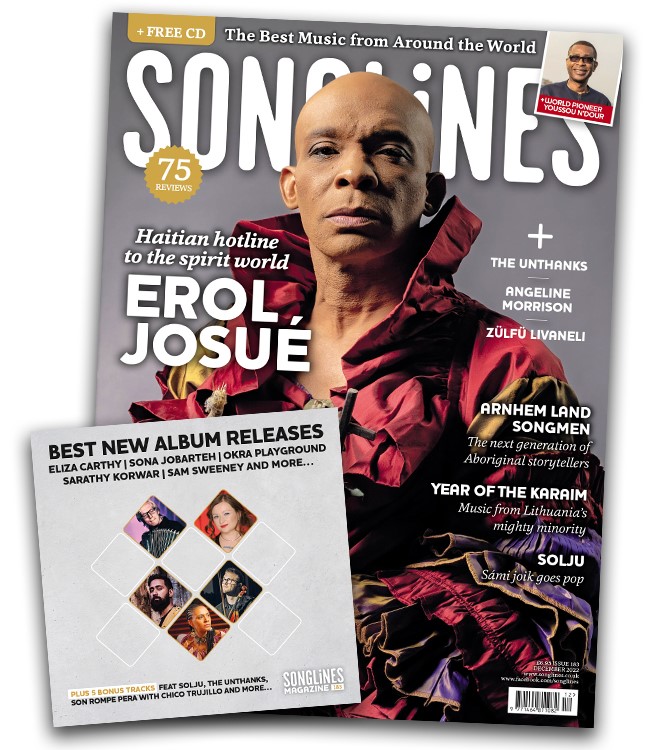 December 2022 (#183)
The December 2022 issue (#183) of Songlines is now on sale. This issue's cover star is Erol Josué, who is on a mission to dispel myths and misconceptions about Haitian vodou. Other features include an interview with the Sámi mother-daughter duo Solju; Simon Broughton travels to Lithuania to discover the music of Europe's smallest minority, the Karaim; the next generation of Aboriginal songmen from Arnhem Land; we catch up with Welsh chamber folk trio and audio archaeologists VRï; a Postcard from an emotional chigualo ceremony in Colombia; a Beginner's Guide to Northumbrian folkies The Unthanks; a Spotlight on Turkish legend Zülfü Livaneli; a My World interview with Colombian author and composer Julián De La Chica; plus all the latest news, listings, and concert and album reviews.
This month's Top of the World album (available as a CD and download) includes Eliza Carthy, Sarathy Korwar and Sona Jobarteh, plus an extra five bonus tracks featuring music from the issue, including Son Rompe Pera, Owen Spafford & Louis Campbell and Jambinai.