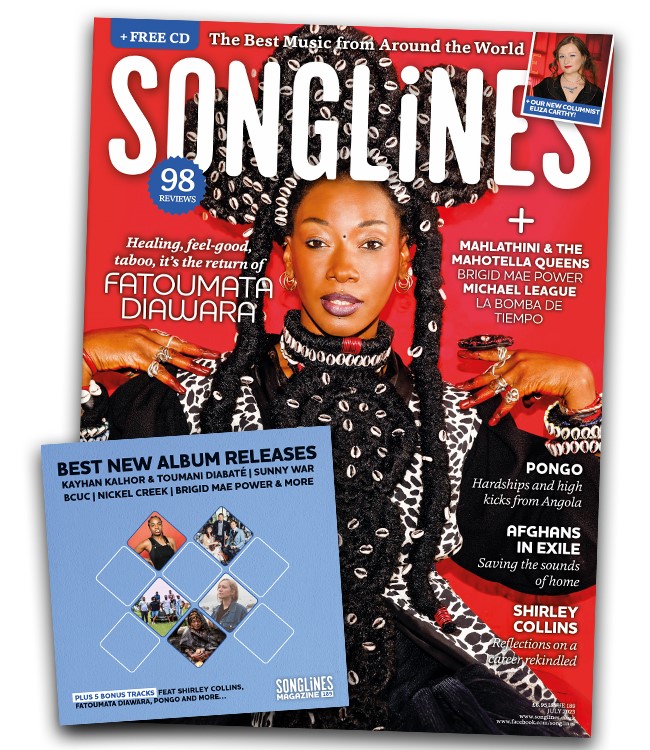 Songlines - July 2023
The July 2023 issue of Songlines is out now and is packed with the best music happening across the world. Fatoumata Diawara discusses her new album and how she's fallen in love with collaboration; Angolan star Pongo breaks down her extraordinary and tragic rise to the top; we welcome Eliza Carthy as our new columnist; and we give an overview of Shirley Collins' rejuvenated career. We speak to a group of exiled Afghan musicians about the current situation back home and how the music lives on; we take a trip down memory lane to enthuse over Mahlathini & the Mahotella Queens' revelatory tour of the UK in the late 80s; and find out why percussion ensemble La Bomba de Tiempo is Buenos Aires' finest tourist attraction. Plus, we chat with Snarky Puppy's Michael League, country punk artist Sunny War and Ivory Coast's Peter One (who now calls Nashville home). We also have Oum Kalthoum, Ensemble Al-Kindi, BCUC and Noga Ritter, as well as the usual news, listings, reviews and competitions in another bumper issue.
Both physical and digital copies of the magazine will also come with our accompanying Top of the World compilation featuring our pick of the month's best new music – Kayhan Kalhor & Toumani Diabaté, BCUC, Nickel Creek, Inna Baba Coulibaly, Brigid Mae Power and more – as well as bonus tracks from Fatoumata Diawara, Shirley Collins, Mahlathini & the Mahotella Queens and Kardeş Türküler to accompany our features.
You can buy the latest issue or subscribe to get this and future issues right to your door as soon as they're published. We also offer digital subscriptions that give you access to every one of our 189 issues from 1999 to 2023… and beyond.