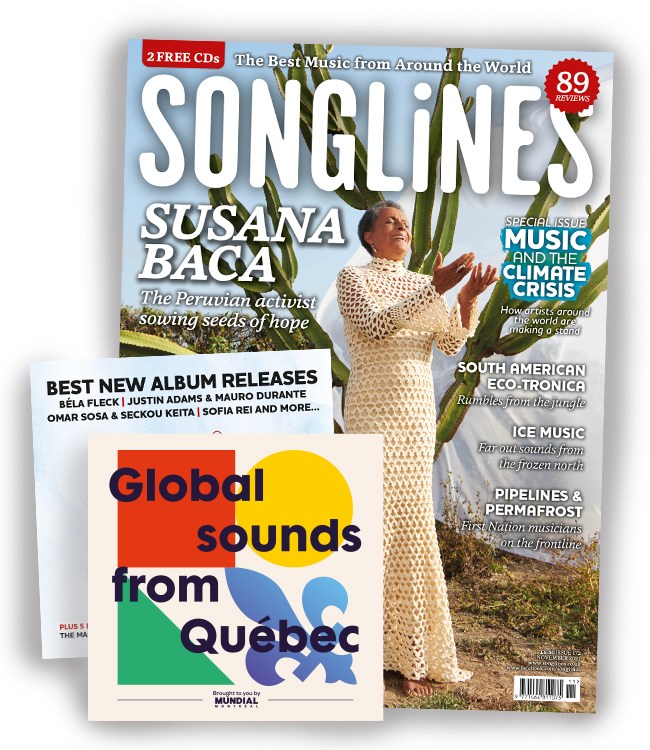 November 2021 (#172)
The November 2021 issue (#172) of Songlines is now on sale. The issue is a special edition as we take a look at the musicians from every corner of the globe who are doing their part to address and speak out about the climate crisis. Other features include an interview with the iconic Peruvian singer Susana Baca about her new album; a look into the Sufi roots of the Arab world's electronic scene; a My World interview with author and musicologist Michael Spitzer; a Beginner's Guide to the Grammy-winning producer, Ian Brennan; plus all the latest news, concert reviews and listings, CD and world cinema reviews.
This month's exclusive Top of the World album (available as a CD and download) includes Béla Fleck, Omar Sosa & Seckou Keita and Justin Adams & Mauro Durante, plus an extra five bonus tracks featuring music by The Master Musicians of Joujouka, Dongyang Gozupa and Yoshikazu Iwamoto. The issue also comes with a bonus CD of music from Québec brought to you by Mundial Montréal, boasting cuts by Les Grands Hurleurs, Djely Tapa, Dominique Fils-Aimé and Mélisande [électrotrad], among others.