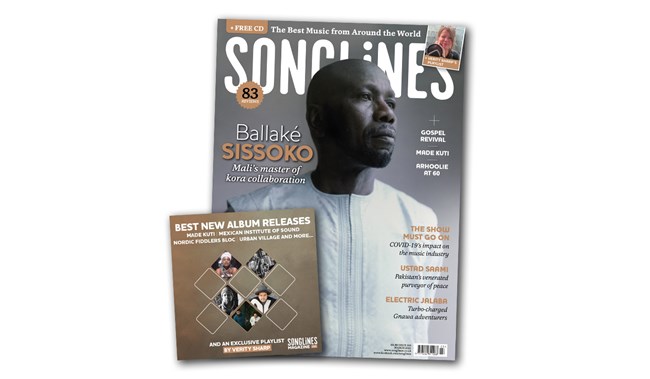 March 2021 (#165)
The March 2021 issue (#165) of Songlines is now on sale.
This issue's cover star is Ballaké Sissoko, the Malian master of kora collaboration who has a new album coming out in April. Other features include a look at the music industry's response to the impact of COVID-19 around the world; an interview with singer Ustad Saami from Pakistan; an overview of the current gospel revival; Electric Jalaba and their homage to Morocco's Gnawa music, plus all the latest news, online streamed concert reviews, CD and world cinema reviews.
The exclusive 15-track Top of the World album with this issue (available as a CD and download) includes Urban Village, Made Kuti, The Nordic Fiddlers Bloc and Mexican Institute of Sound, plus an exclusive playlist by broadcaster Verity Sharp, featuring music by Ross Daly, Tanya Tagaq, Frente Cumbiero and others.