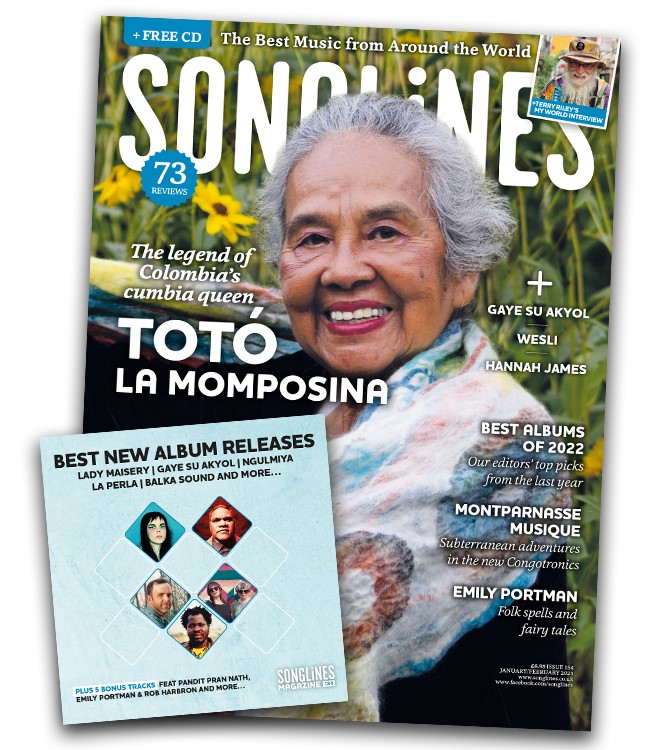 January/February 2023 (#184)
The January/February 2023 issue (#184) of Songlines is now on sale. This issue's cover star is Totó la Momposina. We reflect on the Queen of Cumbia's journey from a small Colombian village to the international stage after she recently announced her retirement at the age of 82. Other features include our albums of the year; an interview with Montparnasse Musique, the duo who are mixing Congolese sounds with South African house; singer Emily Portman, who is injecting her folk songs with a little bit of magic; we catch up with singer-songwriter Wesli who is on the search for an alternative Haitian music that is neither pop nor traditional; a Beginner's Guide to the versatile singer, songwriter, musician and percussive dance champion Hannah James; a My World interview with pioneering minimalist composer Terry Riley; all the latest news, concert reviews and listings, album and book reviews.
This month's Top of the World album (available as a CD and download) includes Gaye Su Akyol, Lady Maisery and La Perla, plus an extra five bonus tracks featuring music from the issue, including Totó la Momposina, Pandit Pran Nath and Wesli.