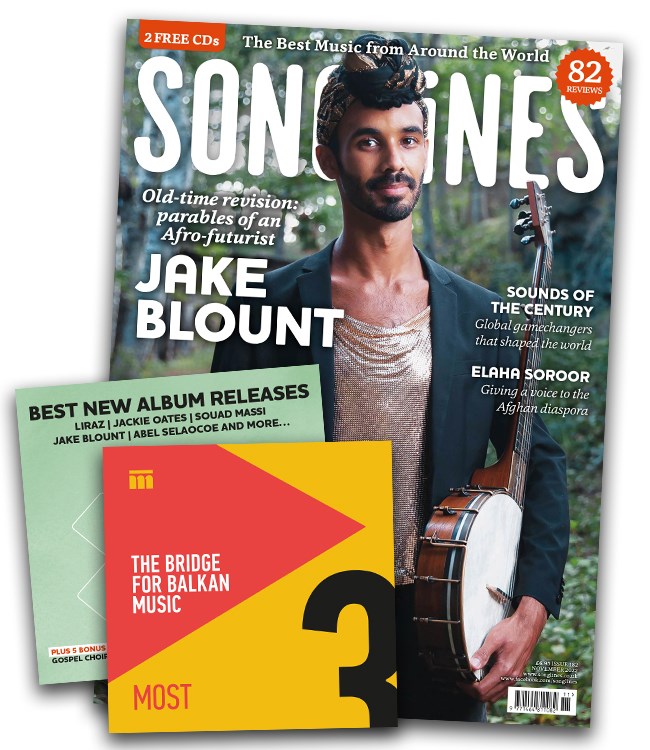 November 2022 (#182)
The November 2022 issue (#182) of Songlines is now on sale. This issue's cover star is American multi-instrumentalist and scholar Jake Blount, who contemplates big questions with his new Afro-futurist, dystopian concept album. Other features include exiled Afghan singer Elaha Soroor, who tells us about her role in a play that mirrors her own flight as a refugee; we take a trip through the sounds of the last century, investigating the political contexts of musical trends over the years, from the tango of the 1910s to the women and LGBTQ+ artists making their voices heard this decade; an interview with French-Algerian singer-songwriter Souad Massi; fado singer Sara Correia takes us on a journey through her roots, from school hall to music hall; a Beginner's Guide to the Soweto Gospel Choir; a My World interview with sound-recordist Chris Watson; plus all the latest news, concert reviews and listings, album and world cinema reviews. 
This month's Top of the World album (available as a CD and download) includes Abel Selaocoe, Liraz and Jackie Oates, plus an extra five bonus tracks featuring music from the issue, including Al-Qasar, Soweto Gospel Choir and Hyelim Kim. Each issue also comes with a bonus CD of Balkan music curated by MOST.