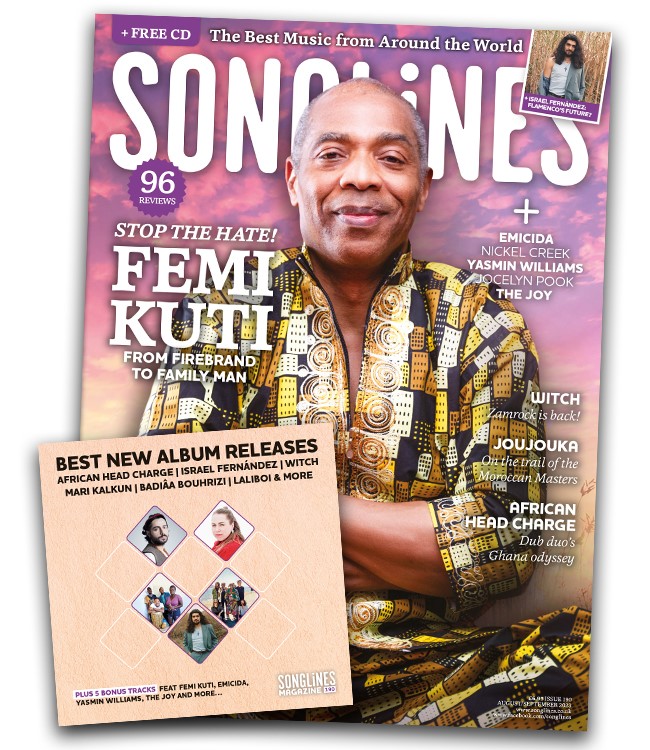 Songlines - August/September 2023
The August/September 2023 issue (#190) of Songlines is out now and is packed with the best music happening across the globe. We speak to Femi Kuti, the Afrobeat heir who is still at the top of his game;, we lose track of Zamrock pioneers WITCH as they embark on a triumphant US tour; we get up close and personal with Israel Fernández, flamenco's latest star; we see why dub pioneers African Head Charge are saying their new, Ghana-infused album, is their best yet; and we travel from Morocco to Glastonbury with the Master Musicians of Joujouka. We also discover viral South African vocal group The Joy and get excited about Yasmin Williams' singular guitar style, not to mention features on Sheila Chandra, Peruvian cumbia, Nickel Creek, Jocelyn Pook and the usual news, listings, reviews and competitions in another bumper issue.
Both physical and digital copies of the magazine will also come with our accompanying Top of the World compilation featuring our pick of the month's best new music – Badiâa Bouhrizi, Mari Kalkun, Laliboi & Spoek Mathambo, Humazapas, Naïssam Jalal and more – as well as bonus tracks from Femi Kuti, The Joy, Emicida and Yasmin Williams to accompany our features.
You can buy the latest issue or subscribe to get this and future issues right to your door as soon as they're published. We also offer digital subscriptions that give you access to every one of our 189 issues from 1999 to 2023… and beyond.