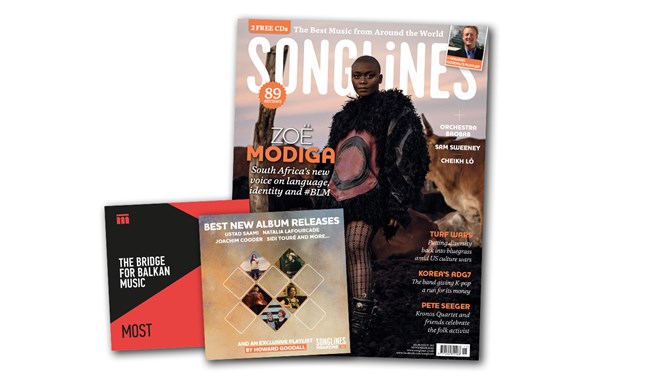 November 2020 (#162)
The November issue (#162) of Songlines is now available. Our cover star this month is celebrated South African singer Zoë Modiga, who talks about the importance of identity and language in an increasingly unpredictable world.
Other features include an interview with Ak Dan Gwang Chil – aka ADG7 – the Korean collective making their UK debut at the K-Music Festival; a look at the new generation of American musicians bringing diversity back to bluegrass; the mysterious tale of Emil Shalit, the man behind the pioneering Melodisc imprint; a Beginner's Guide to Senegalese singer-songwriter Cheikh Lô, plus all the latest news, online streamed concert listings and reviews, CD and world cinema hot-takes.
This month's issue comes complete with two tantalising CDs brimming with delectable global sounds. First up, this month's 15-track Top of the World CD (also available as a download to digital subscribers) includes The Rheingans Sisters, Sidi Touré, Ustad Saami and Lauren MacColl, plus an exclusively compiled playlist by composer and broadcaster Howard Goodall, featuring music by Kuljit Bhamra, Kathryn Tickell and others. Secondly, each copy of Songlines will be accompanied by a bonus CD boasting a bevy of Balkan audio delights courtesy of MOST.