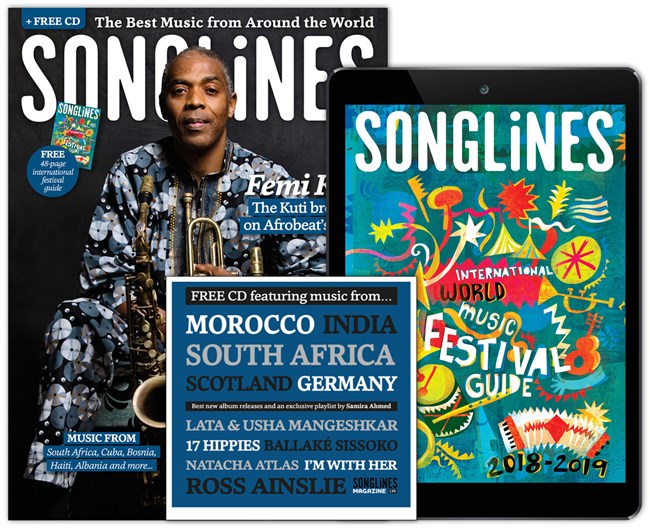 April 2018 (#136)
Introducing the April 2018 (#136) issue of Songlines
Our cover feature artist this issue is the Afrobeat musician Femi Kuti who talks about continuing his father Fela's musical legacy. 
Other features include interviews with the Haitian singer Mélissa Laveaux; Trinidadian calypsonian Drew Gonsalves and his band Kobo Town; African instrumental trio 3MA who are combining Malian, Moroccan and Malagasy traditions; GRRRL – a new all-female collective tackling gender inequality; a Beginner's Guide to the Cuban former Buena Vista Social Club star Eliades Ochoa, plus the latest CD, book, world cinema and live reviews. 
The digital edition also includes streamed excerpts from our Top of the World CD including Afrika Mamas, I'm With Her, Ross Ainslie and Daniel Kahn & The Painted Bird, as well as a guest playlist from the journalist and broadcaster, Samira Ahmed, featuring music from Lata and Usha Mangeshkar, Natacha Atlas and others.