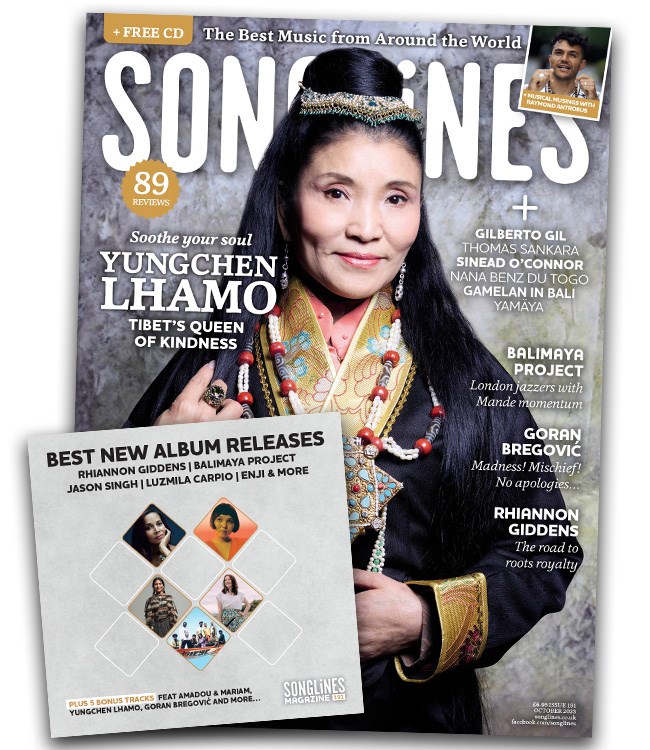 Songlines - October 2023
The October 2023 issue (#191) of Songlines is out now, filled with the best music happening around the world, and the stories behind that music. Yungchen Lhamo recounts her journey, from humble origins in Tibet to a globe-spanning career; London's Mande jazz collective, Balimaya Project, dismiss the notion of second-album syndrome; Goran Bregović discusses the past, present and future of Balkan music. We also tell the story of Burkina Faso's former president Thomas Sankara and how he used music to unite the nation; we take a visit to Bali to witness gamelan in its devotional glory; and salute Gilberto Gil, who will soon be playing his last-ever London show, by asking fellow Brazilian musicians to pick their favourite songs of his. British poet Raymond Antrobus reveals his musical influences, we take a detailed look at Rhiannon Giddens' discography, speak to Puerto Rico's iLe and discover all-female Nana Benz du Togo's vibrant electro-vodoun sound. Plus, all the usual news, listings, reviews, competitions and so much more.
Both physical and digital copies of the magazine will also come with our accompanying Top of the World compilation featuring our pick of the month's best new music – Rhiannon Giddens, Jason Singh & The Banwasi Collective, Luzmila Carpio, Enji, Balimaya Project, Haïdouti Orkestar and more – as well as bonus tracks from Amadou & Mariam, Elder Jack Ward, Yungchen Lhamo and Goran Bregović to accompany our features.
You can buy the latest issue or subscribe to get this and future issues right to your door as soon as they're published. We also offer digital subscriptions that give you access to every one of our 191 issues from 1999 to 2023… and beyond.