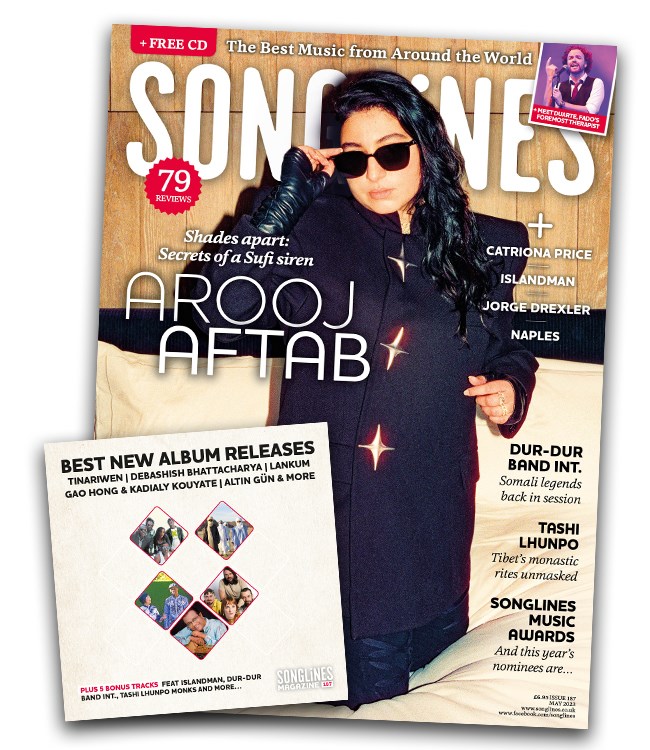 Songlines - May 2023
Our cover star for the month is Arooj Aftab, who is following-up the Grammy-winning Vulture Prince with another detour into neo-Sufi transcendence; we have the extraordinary story of Dur-Dur Band Int., reigniting Somalian music after 30 years in the cold; a rare encounter with the exiled Tashi Lhunpo Monks and their sacred rituals; we reveal this year's Songlines Music Award nominees; discover the musical tastes of South African dancer/choreographer Dada Masilo; we pay our respects to the dearly departed Simon Emmerson; find out how Jorge Drexler went from selling 30 copies of his debut to having more awards than he can physically hold; and we speak to Orkney islander Catriona Price, Turkish jam masterminds Islandman and new fado superstar Duarte, as well as detours into Brazilian country, raga fusion, Japanese shamisen and Neapolitan music. That's not to mention our usual news, listings and reviews, and plenty of competitions too.
Both physical and digital copies of the magazine also come with our accompanying Top of the World compilations which features our pick of the month's best new music – Tinariwen, Altın Gün, Lankum, Debashish Bhattacharya and Dele Sosimi & The Estuary 21 are just some of those to feature – as well as bonus tracks from Islandman, Dur-Dur Band Int. and Duarte to accompany our features.