Samba Touré | Best Artist Award Winner
Samba Touré

Binga on Glitterbeat Records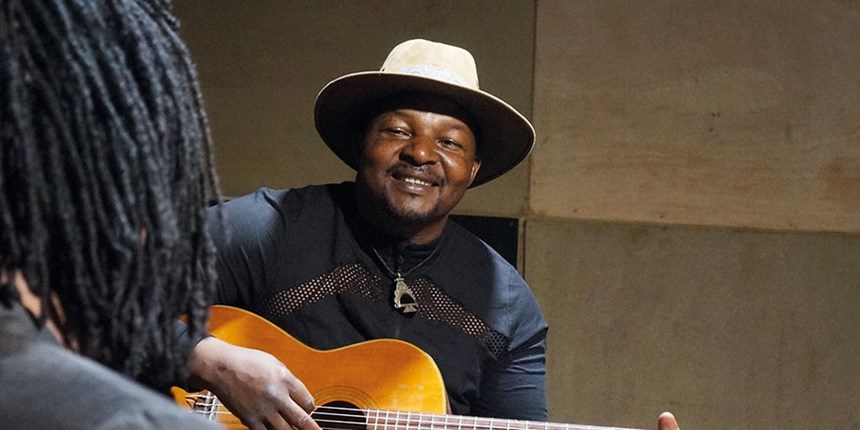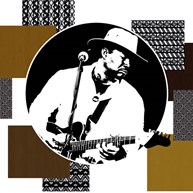 Born in 1968 in a rural commune near Timbuktu, Samba Touré's boyhood hero and mentor was Ali Farka Touré. They were unrelated but his mother was a singer who sometimes performed with Ali's band and he was desperate to join in, fashioning his first guitar out of an old sardine box. He graduated to an electric instrument when Ali gave him one of his cast-offs, and by the 1990s he was touring Europe and the US as a member of Ali's band. Heavily influenced by the blues-driven style of the great man who died of cancer in 2006, his first international album came two years later and was fittingly titled Songhai Blues: Homage to Ali Farka Touré.
In 2013 he was signed by Chris Eckman when the former Walkabouts singer launched Glitterbeat Records. Binga is his fourth album for the label. On 2014's Gandadiko and 2018's Wande he mixed traditional African instrumentation with a harder rocking urban style. On Binga, named after his birthplace, the sound is stripped-back to Samba's guitar, the earthy sound of the banjo-like ngoni and calabash percussion. The groove is taut and the vibe is stark, almost austere in its bare bones feel. The only chromatic embellishment to the strictly traditional template comes from the use of harmonica on several tracks, which perfectly matches Samba's strident voice. It's an intense journey to the deepest heart of the desert blues, though Samba dislikes the term, which he regards as a lazy shorthand. "It's a Western word to put all musicians from Sahara in the same box. It's just a new ghetto they invented, like 'world music' before that," he says.
Singing in his native Songhai tongue, his songs disseminate messages as vitally as Twitter and Facebook for a domestic audience, many of whom are illiterate. On Binga, he sings about the malfunctioning education system, the damage mankind is wreaking upon the natural world, rural poverty and the illusion of seeking a better life abroad. Despite this, there is a palpable optimism for the future of his homeland throughout; he urges the Malian people to stand tall and hope for better days to come.
Read the album review Buy from Amazon
Watch