Friday, May 4, 2018
3MA: African Chamber Music
The pan-African trio of musicians, 3MA, are clearly relishing their reunion and latest collaboration, as they tell Pierre Cuny in advance of their appearance at the 2018 Songlines Encounters Festival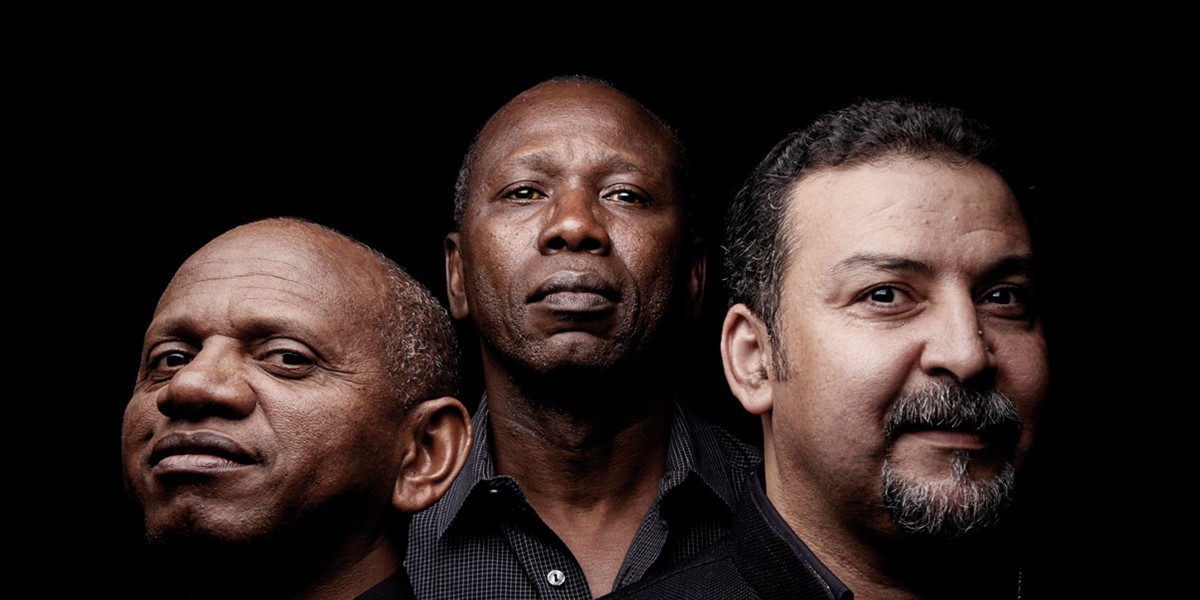 Photo: Cyrill Choupas
The group's name, 3MA, denotes the first syllables of the countries – Madagascar, Mali and Morocco (Maroc in French) – from where each of the instrumental virtuosos originate: Rajery, Malagasy troubadour and prince of the emblematic valiha (tubular bamboo zither); Malian kora magician, Ballaké Sissoko and Moroccan oud master, Driss El Maloumi. Over the past ten years, this pan-African trio have regularly brought together their passion to create a luxurious musical tapestry. Now 3MA are back on stage for a world tour with a new album, Anarouz.
At a recent concert in Paris' Espace Cardin, the audience appeared delighted to be pulled in by their delicate rhythmic pulses, sharing an atmosphere of intimate joy of what one could describe as African chamber music. The artists clearly connect, weaving their magical sounds to produce a superb flow of invigorating melodies on their various instruments.
The adventure first started after an impromptu meeting in Agadir between Driss El Maloumi and Rajery in 2006. They both agreed that the mix of their instruments would marry well with a kora. A few months later in Madagascar, their project came together when Ballaké Sissoko joined them for a series of artistic residencies sponsored by the French Institute. The chemistry was instant. Not only in their exceptional instrumental fluidity, but their friendly, joyful personalities immediately hit it off. The trio then headed to La Réunion island to record their first album with the Belgian label Contre Jour in 2008 (reviewed in #54). Over the following years, each musician continued his own successful solo career with multiple and diverse projects, while never losing sight of one another.
Germain Randrianarisoa, better known as Rajery, is one of the main music personalities of Madagascar performing internationally. A leading singer, songwriter and master of the valiha, with over 35 years of live performance experience, Rajery devotes much of his time as a campaigner for the preservation of Madagascar's natural environment. His incredible strength of will enabled him to overcome disability at a young age after the amputation of his right hand and he went on to achieve outstanding expertise on the 18-stringed tubular zither. "Rajery adapted his style of play to his handicap," comments Christian Mousset, founder of the French Musiques Métisses festival and co-producer of Anarouz. "If comparing him within the world of jazz, one would say he is closer to Thelonious Monk's renowned syncopation than to Art Tatum who was more in a flow of notes." Full of abounding energy, Rajery launched a music festival, Angaredona (a beautiful Malagasy name meaning 'Collective Effort'), now in its 15th edition where over 60 traditional local bands and guest musicians from all over the world assemble each year in Madagascar. He is also strongly involved in the reforestation of his country. "What is remarkable about Rajery," comments Kamel Dafri, director of Villes des Musiques du Monde festival in France, "is his capacity to lead large-scale artistic projects. A recent example is the opera he wrote and directed for 450 children from our northern Paris suburb, entitled The Red Island, which evokes the deforestation in Madagascar."
Ballaké Sissoko needs little introduction. International star devoted to musical traditions of Mali, he is, with his cousin Toumani Diabaté, one of the world's leading kora players. However Ballaké was never taught the 21-stringed lute-harp. "As a child my father didn't want me to be a musician, but I secretly taught myself by patiently watching him closely over a long period of time," he confides. He then went on to study the kora with local traditional griots. From performing throughout Africa with the Ensemble Instrumental du Mali, founded by his father, Ballaké continually strives to meet and play with musicians from different horizons. "I always considered the kora as an instrument of communication with other cultures," he says. One of his greatest achievements is his collaboration with cellist Vincent Segal with whom he has performed in the most prestigious venues worldwide, their two albums receiving acclaimed international success. Despite his fame, Ballaké has always remained discreet, as No Format's Laurent Bizot remarks: "Ballaké is a quiet force, economical with his words, going directly to the essential. In fact he does not speak much at all. Throughout the nine years we have been working together, I only recall peaceful moments. He is an ambitious artist but not obsessed by success, working as a skilled craftsman who knows where he is going. His tranquillity is positive for everyone."
With his sharp sense of humour, Driss El Maloumi is certainly more loquacious. Of Berber origins, Driss constantly travels back and forth across the Mediterranean mixing numerous musical styles. His broad cultural background and combined classical Arabic and Western music education have made him one of the most talented and creative oud players of his generation. He has pursued a successful solo career as well as working together in various duos and trios. He is also the director of the Agadir Conservatory of Music. "I know this place well," he laughs, "having been a pupil for many years then a teacher before becoming director." During the past 20 years Driss has also been one of the pillars of the baroque ensemble, Hespèrion XXI, led by Jordi Savall, master of the viola da gamba. "My meeting with the Catalonian maestro was a determining factor in my career," remarks Driss. "There are people you meet in your life and who leave their footprint, who inspire you to change your conception, your vision of things. Jordi is one of those."
For the past four years, the trio have participated at the forefront of Savall's multicultural creation, The Routes of Slavery (a double album and DVD, reviewed in #128), a historical homage to the millions of men, women and children brutally torn from their homes over the centuries. The project brings together musicians and singers from a wide musical spectrum and includes a large baroque orchestra with living musical traditions drawn from descendants of slaves from Africa, Brazil, Mexico and the Caribbean. "This project has made a lasting impression on me," Rajery whispers with emotion. "In Madagascar we do not talk much about slavery. I learned that slaves from the Red Island were dispersed everywhere. In Brazil for example, around the area of ​​Salvador de Bahia, many people claim their Malagasy origin. Before, I knew nothing about it."
The 3MA trio were delighted to be on stage together again, while touring with this project and it was from here that the desire to create a second album grew. When they were finally able to make this new recording, almost a decade after their first one, the trio insisted in taking more time to work together. "The initial album was launched very rapidly and was more a work of improvisations," explains Corinne Serres of Mad Minute Music and co-producer with Mousset. "This time, Rajery, Driss and Ballaké wanted to be able to research and create something more concrete. Christian and I therefore organised a series of residences, and before going to the studio in January 2017, the musicians spent a week at Mousset's home in a village close to Angoulême. We were on a cloud! The album was made in a peaceful yet joyful atmosphere," she adds.
"We always compose together, each one of us bringing his themes, and our arrangements are elaborated collegially," Rajery explains. "The residences gave us the time necessary to prepare Anarouz serenely. In fact, we were so relaxed, the record almost wrote itself! The human factor is fundamental for creativity and it was essential to spend a lot of time together." Ballaké adds, "a great amount of work was put into enhancing the tones, using our different traditions to achieve the sound we wanted."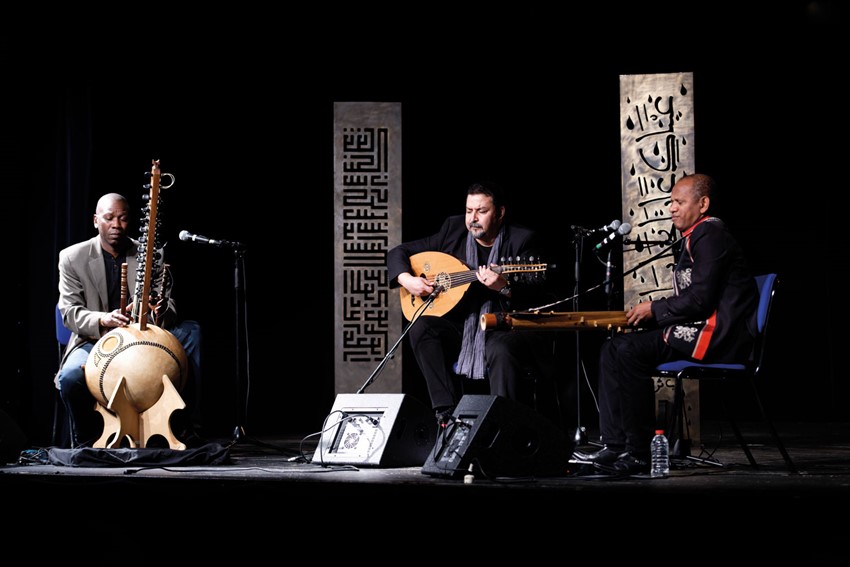 So what has changed for 3MA since 2008? "We are older and have put on a bit of weight!" jokes Driss, while chatting in the theatre before their show in Paris. "Seriously, we have gained in maturity, each having lived his experiences and his own musical adventures. Every time we meet up we challenge each other. For this new opus, we cast our net wide and brought our different cultures together. You must know that in our countries, the three of us were initially considered as a bit mad because we shook up musical traditions. In fact we respected them. We were simply looking towards other cultures. Now surprisingly we are seen as a new wave by the youth who want to play our instruments."
This important aspect is taken up by Ballaké: "Indeed, many youngsters in Bamako are now learning the kora. I am working daily with kids and am delighted to share my art with them. Transmission in Mali is always from father to son, but I believe that everyone should be able to gain from it. The circle of transmission must be widened."
There are also three songs on the new album. "Yes indeed," confirms Driss. "They symbolise our different cultures. For example, on the track 'Hanatra', we sing in our three individual languages (Bamana, Malgache and Arabic). Even if we prefer to express our sentiments through tightly strung chords, it is hard to supress the human desire to sing." Driss concludes: "to quote an old Gypsy proverb: 'Stay where there are songs, bad people don't sing'."
3MA will perform at the Songlines Encounters Festival on May 31, for ticket details, visit: www.kingsplace.co.uk