14 June 2018
Introducing: The Turbans, musical globetrotters
By Jim Hickson
The Turbans have finally recorded their debut album. Jim Hickson quizzes them about their back story and influences.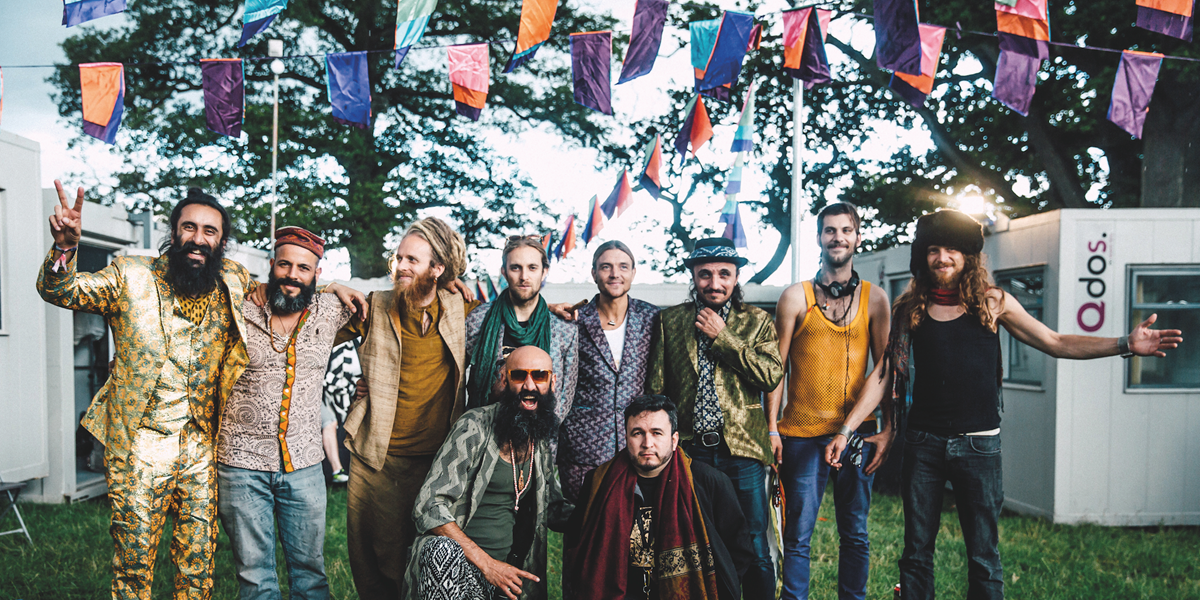 ©Zoe Savitz
The Turbans are many. Many members, many homelands, many instruments and many styles, all together as one. They are a band of stories: theirs began when two half-Iranian musicians, Oshan Mahony and Darius Luke Thompson, met while cycling in Nepal. They started jamming and busking together as they travelled and found new musical friends as they made their way through the subcontinent, forming the foundations of The Turbans.
They accrete as they go. There are Turbans everywhere now: if the band's seven-member nucleus goes to Thailand, or Mexico, or Australia, there are people who are ready to hop seamlessly into the line-up. No one knows how many of them there are, but Mahony reckons there's about 40. As band legend has it, "at any given time, there's a member of The Turbans playing music somewhere in the world."
They all have an interesting, unlikely story to tell. Maxim Shchedrovitzki was born in Belarus, raised in Israel and learned the Turkish oud in India; Miroslav Morski is well-known as a pop singer in Bulgaria; bassist Freddie Stitz was in Razorlight. The list goes on. Unfortunately, their whole story is so epic that they'd need a feature film to explain it fully. "We have our silly answer to 'Where are you from'," says Mahony. "We just say 'Manywhere.' We throw it away really, because it's a story, it takes time, and that's a shame."
The music is just as international. Their sound is situated somewhere between Eastern Europe and the Middle East. Turkish folk melodies pop up in klezmer tunes and Bulgarian choirs sing to classical Arabic maqamat. It goes further too: there's plenty of flavours hinting at everywhere from Albania to India. So how do they stop it from sounding like just a million different sounds? Says Shchedrovitzki: "It is a million different sounds though!" Oh. "But often we find that this little part of an Indian raga is just like they play it in Morocco, it's so similar. Then suddenly you have a composition which is Indo-Moroccan." Mahony interjects, "so really, in the end it's not that difficult, actually. Because it's not actually different types of music, it's just the same one that's split into different time-zones." Shchedrovitzki jumps back in: "And what makes it sound like us is, I think, deep down we're all rockers. We like to bang it!"
What's surprising is that they're not necessarily a party band. They can party (hard!) but their music has a subtlety that's rare in other bands of similarly diverse influences. The crashing cymbals and oompahs will get you up and stomping about, but there is always intricacy there when you look for it and their quieter moments are extra special.
After years of performing across the globe, they've finally released their self-titled debut album, and of course there are many stories attached to its conception. They will regale you if you ask, but it's really all there in the music. The Turbans are a band of stories. They come from manywhere but their music is definitely from here… wherever that happens to be today. 
The Turbans perform at London's Jazz Cafe on August 22, for details see www.thejazzcafelondon.com