Tuesday, April 3, 2018
Mariza's World
Mariza won the Best Artist category in the Songlines Music Awards 2016. Following the release of her first album in five years, Mariza makes sure fado is not a limitation. Mundo, she tells Gonçalo Frota, is her way of saying these are happy times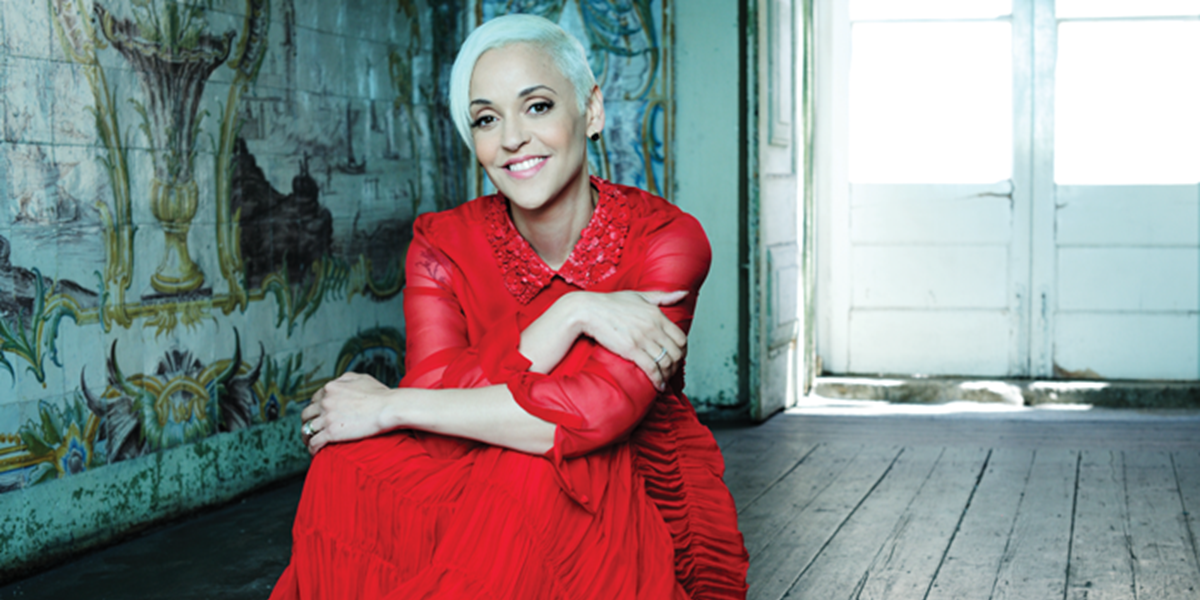 Mariza (photo by Carlos Ramos)
Mariza was born prematurely. Her mother was six months into her pregnancy when on a fine Sunday afternoon in 1973 she interrupted a family gathering, demanding to be taken to the hospital as she was feeling her first contractions. Mariza's father didn't take his wife seriously and dismissed her appeal as a false alarm, an occasional anxiety symptom – due to previous miscarriages – and kept on preparing the feijoada everyone was waiting for. But she knew better than that and came back with her maternity bag ready to leave. He then took her to the hospital in Lourenço Marques (Mozambique) but had so little faith in an untimely birth, he returned to eat the feijoada and have a drink with the rest of the family.

When he finally got back to the hospital the baby had already been born, although in such a fragile condition that after first laying eyes on his still unnamed daughter, he headed to the hospital chapel. And there he made a promise: if the tiny girl was to survive, she would be named after the Brazilian singer Marisa Gata Mansa, and she too would be a singer. "Up to this day," Mariza confides to me, "I'm still keeping my father's promise. It's his promise but it's my job to carry my luggage all around the world." She may look serious for a couple of seconds, but we all know she's not really complaining about her life. There's no suffering or sacrifice involved in this decision of choosing music as her daily commitment.
Mundo (World), her new album, is Mariza singing as a woman overcome by happiness. And so we head back to motherhood. A lot has changed in Mariza's life since she released Fado Tradicional in 2010. She gave birth to her son four years ago, got married and drastically changed her lifestyle. Farewell those fado nights stretching from dinnertime to dawn – now she's welcomed a new wellbeing into her life and her music. Music stopped being an obsession and became more of a pleasure. "Before all this," she says, "all I had was my music. But that has changed now."

This new state of mind first started to come forth in the comeback tour where Mariza revisited the Terra (2008) repertoire. Instead of staying on the stage, she suddenly felt the need to get closer and share her happiness with the audience. The concerts turned into "something more intimate" and she started to shorten the distance between the stage in big halls and the spectators: stepping down, talking to them, getting them to answer her questions, seeing their faces, being totally aware of their presence. "I feel that it's important to do this, because when one likes an artist and they keep his or her distance, it feels impersonal. And music doesn't have to be impersonal. It's a give and take."
This wish for intimacy is spread all over Mundo. When Spanish producer Javier Limón, with whom Mariza had previously worked on Terra, sent her the first mixes, she felt the record didn't match the sound she had envisioned. When she called him up saying it wasn't quite right, Limón prompted her to take the next plane so they could work together on the album's ultimate shape.

And so it happened, but it still took some time for them to work out an understanding. Limón proposed various solutions, yet Mariza declined them all. "That's not it," she maintained. "What is it then?" Limón asked. "I don't want any effects on my voice; I want people to feel I'm singing just next to their ear, like I am right beside them, having each listener as my solo audience." The producer was so astonished with the no-effects ruling he even asked Mariza if she really wanted to go back to the 'pre-history' of studio work. But she was so sure of what she was after, he finally gave in and assisted her in achieving this intimate and enveloping music.
It now seems inevitable that Mariza should look for a new direction in her comeback. She recorded Fado Tradicional in 2010, as a tribute to her fado favourites and a celebration of the tenth anniversary of her career, which placed her in a kind of bubble in relation to her previous discography. From the very beginning, although fado will always have a special place in her musical universe, she was never the type of fadista to refrain from experimenting with more daring approaches or to abide to the restraints of the tradition. "Lyrics and songs have a time of their own," Mariza claims. "There are songs that used to be really important to me and every time I sang them it meant something rather painful for me; but when I sing them nowadays, in spite of obviously connecting to that time in my life, I no longer feel the same. That moment is gone."
Mariza acknowledges that the sheer fact of singing these songs built on her suffering helped ease the pain and acted as an emotional catharsis, a cleansing of sorts. Mundo, on the other hand, called for a different backdrop. It could not mirror a sadness or melancholy she didn't feel in tune with. And that is why, not being a songwriter, she had doubts about a lot of the material other musicians were sending. "Everyone who was offering me songs and poems was thinking of fado." She felt they were responding to a particular idea of her and limiting her to what she had already proven to be capable of."It was all too heavy and dramatic," she confesses. "Of course drama, melancholy and saudade will always be present in my music, but I was – and still am – living a period in my life that is so happy, relaxed and romantic those songs didn't make sense to me. So I started to talk to these songwriters and told them about where I am right now.

This way, Mundo turned out to be a tailor-made record, a perfect fit. Mundo is my world." Among other things, this meant that when Jorge Fernando – producer of her 2001 debut album, Fado em Mim, prolific songwriter and a fadista himself – called her up and asked Mariza to hurry to the computer and open a file he had just sent with a new track, the singer was startled with the verse 'como é que eu hei-de matar esta paixão' (how can I kill this passion). "I don't want to kill anything or anyone," she responded. But Fernando insisted and convinced Mariza to show the track to Limón. Still she wasn't sure of the song, and it would be the last of more than two dozen of compositions Limón was shown. The producer's enthusiasm was so contagious, Mariza called Fernando back to work out a little detail: would he agree that instead of matar (kill) she'd sing instead apagar (erase)? With his approval they started to work on the album's first single 'Paixão'.
Known for his sharp eye for new talent, Jorge Fernando played a major part in Fado em Mim, Mariza's stunning debut appearance before the world. 'Chuva', along with 'Ó Gente da Minha Terra', were two of the key tracks that made Mariza an instant star in Portugal and boldly opened the doors for fado to a new international generation, after the genius of globetrotting Amália Rodrigues. The immediate recognition of Mariza's singularity quickly led to working with Carlos Maria Trindade (from Madredeus) on Fado Curvo, Jaques Morelenbaum (Brazilian collaborator who has also worked with Caetano Veloso and Ryuichi Sakamoto) on Transparente, and Limón (who is known for his work with Buika, Paco de Lucía and Estrella Morente) on Terra.
Little by little, Mariza absorbed all the music cultures she came into contact with on her extensive travels, meeting with musicians from all over the planet and acknowledging that her nature was that of mixture. When still a child she left Mozambique and moved with her parents to Lisbon, Portugal, where they settled in Mouraria, one of the city's most traditional neighbourhoods. There could probably not be a more appropriate setting for her musicality to flourish. She recalls "everyone singing in the street, listening to records through the neighbours' windows," in such a cheerful, popular environment that different singing voices came from each building, transforming the streets into a competition for the loudest recording. "The women were often doing their house work while battling with songs by Fernando Maurício and Artur Batalha," she remembers. At home Mariza's father was the big fado fan and he soon started to take the little girl to weekend musical get-togethers.
Although it was her dad who led to the discovery of Argentinian tango singer Carlos Gardel (his repertoire makes it onto Mundo through her rendition of 'Caprichosa'), Mariza often says that it was her mother who was absolutely pivotal to her broad musical scope. Back then she already listened to Cape Verdean singers such as Cesária Évora or Bana, but also to music from Brazil, Guinea and the Antilles. And so it should come as no surprise that she feels closer to the sounds of her African roots than to any other music. During the 90s there was an intense Cape Verdean live music scene in Lisbon that Mariza witnessed firsthand and 'Padoce de Céu Azul,' a morna she fell in love with while listening to Tito Paris, stands for that lineage on the new album. It was one of the surviving tracks after Mariza and Limón put them to the infallible test of voice and guitar.
Accompanied by the skilful classical guitarist Pedro Jóia, Mariza sang each of the potential songs to feature on Mundo, and she and Limón only let through the ones that left no doubts as to whether it fitted wholly into her singing style and her voice. It was a cruel process; Mariza had to let go of a couple of compositions she absolutely loved but had to concede were not a perfect match. "We spent three whole days just choosing," she says. "But every time I came back to the studio I had second thoughts about some of the songs that I was eliminating. Javier finally told me I had to make up my mind because we weren't working on a double album. I almost cried then, because it was so hard parting ways with some of that stuff." When Mariza first started to have conversations about a new album with her label, a bunch of names was suggested, trying to entice her into taking a different musical approach. But each and every time she always went back to Limón. They had kept in touch since the recording of Terra, and communication was easy with him. She knew it would be tiring trying to explain the sound in her head to anyone else who probably did not share the same musical language. The way Terra was done, allowing for any unconventional ideas to be included, had instilled a trust in Mariza that she felt she absolutely needed for Mundo – this was not the time to start anew.
What Mariza had not anticipated was that in the heat of the moment, while already in studio with Limón, a sudden urge to record two fados would sneak up on her. Mundo had already secured a Brazilian flavour and a Latin and African twist, but Mariza's world could not be completed without a small display of her worth as a fadista. 'Maldição' and 'Anda o Sol na Minha Rua' came along at the last minute but they still managed to make a strong and lasting impression. This flexibility is an acute example of how things have changed in Mariza's life since she embraced motherhood. "I feel like I have a different and lighter way of dealing with everything in my life," she says. "I used to be highly competitive – with myself and other fadistas. I felt I had to be the best. I wanted to be on top because I had nothing else, music was all my life. Of course I still need music now, but that situation has changed." And that is exactly what Mundo sounds like. Mariza is not chasing the stars anymore. She's looking at them from afar and peacefully enjoying it.
This article originally appeared in Songlines #113.