Tuesday, April 3, 2018
50 Great Moments in World Music
We've noted 50 great moments from 7000BC to the present day – concerts and confrontations, collaborations and conspiracies – all of which have shaped the sounds we're listening to today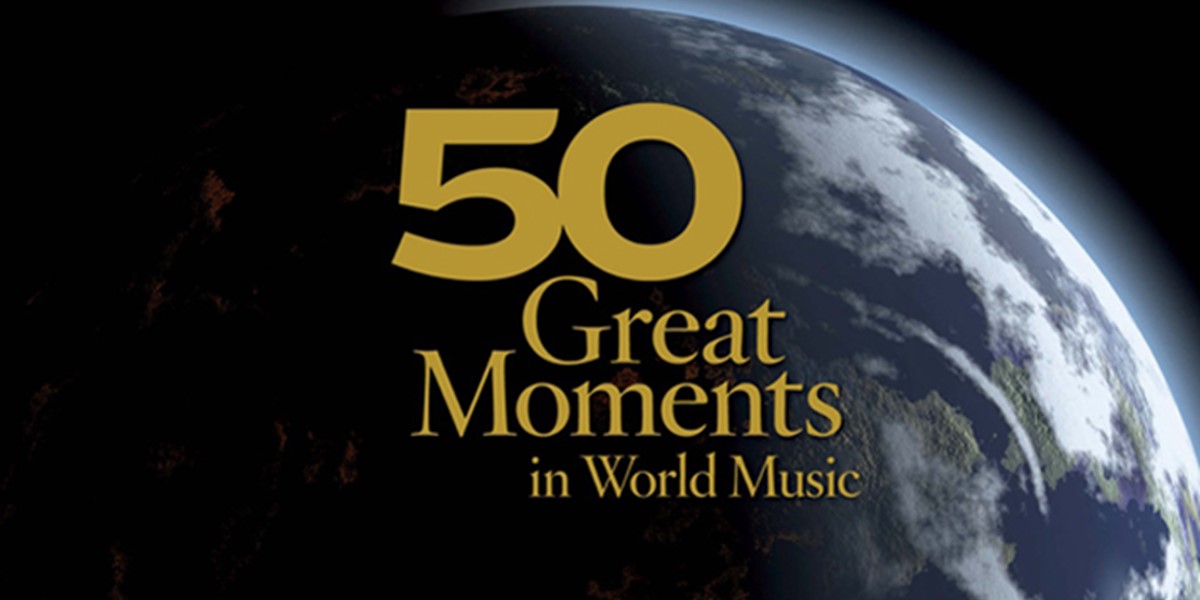 1
The recording of courtesan Gauhar Jan
November, 1902
Fred Gaisberg of Gramophone and Typewriter Limited (GTL) arrives in India, somewhat uncertain about its music but in no doubt about the fact that the country was potentially a gigantic market for this brand new technological wonder. After some unfruitful early forays into musical theatre, he was taken to the house of a Bengali babu (clerk), where he found the source for India's first commercial recordings: the courtesan Gauhar Jan (1875-1930), an Armenian Jewess who could sing in 20 languages and dialects and had trained in khayal and thumri. She pioneered the art of compressing a raga into the required two minutes and 30 seconds of those early cylinder and shellac objects and still managed to fit in the famous end announcement: 'My name is Gauhar Jan!' She went on to even greater success and fame as India's first singing star and commercially recorded artiste.
2
Amnesty International Human Rights Now! tour
September, 1988
Like many rock music fans, the first time I ever saw Youssou N'Dour was at Wembley Stadium on the opening date of the 1988 tour organised by Amnesty International to commemorate the 40th anniversary of the Universal Declaration of Human Rights. At the time I was editor-in-chief of the Labour Party's publications and really went along wearing my political hat. The big names on the bill were Bruce Springsteen, Sting and Peter Gabriel, plus the fast rising Tracy Chapman – and Youssou N'Dour, whose name was unknown to me. Fortunately I arrived early. I think they started with a group performance of Bob Marley's 'Get Up, Stand Up' and just for Youssou to be up there on an equal footing with four of the biggest rock stars of the day seemed a statement in itself. He then played his own set and was a revelation. I thought he had the most soulful voice I'd heard since Otis Redding and nothing else on the bill matched him. Over the next six weeks the tour took them to India and Africa, as well Europe and the US and by the end of it Youssou was on his way to being an international star.
3
Ibrahima Sylla records Salif Keita in Paris
1986
Senegalese law graduate and major record collector Ibrahima Sylla was producing records in Paris from the late 1970s. But it wasn't until he teamed up with Malian maverick Salif Keita in 1986 that his influential 'Syllart' sound definitively emerged. Salif wanted to get away from the African dance-band sound of his previous outfits, the Rail Band and Les Ambassadeurs, waiving his advance so that more could be spent on production. "I wanted to improve the technical level of African music: working in good studios, with good engineers and arrangers," says Sylla. "I'd worked with French arrangers once or twice before, but when Salif said he didn't want an advance, but that any money should be put into the making of the records, I decided to push the whole thing much further than before."
He hired French producer-arrangers François Bréant and Jean-Philippe Rykiel, insisting that certain defining African elements remain in place. The result was a gleaming blend of the funky and the atmospheric, with razor-sharp horns and plangent female choruses framing Keita's earth-shaking voice. Soro was both the defining album of 80s 'Paris-Africa' and of the emerging world music phenomenon. It shaped expectations of how African stars might break into the global market. But no one quite managed to repeat the formula. Sylla went on to a different kind of success with Africando and Kékélé, and Keita eventually refound his way with a more acoustic approach. But this was their finest hour.
4
Franco forms OK Jazz
June 6, 1956
The Congolese guitarist Franco played his first gig with OK Jazz on June 6, 1956 at the OK Bar in what in those pre-independence days was still known as Léopoldville (later Kinshasa). Few of those present could have realised that they were witnessing the birth of the most influential and enduring African dance band of them all – or that Franco would dominate Congolese rumba (and its subsequent transformation into soukous) for more than three decades until his death in 1989.
5
Yothu Yindi record 'Treaty'
1992
Four years after prime minister Bob Hawke vowed to recognise the rights of indigenous land owners, Aboriginal band Yothu Yindi recorded the hit single 'Treaty' to protest the broken promise. Co-written by Mandawuy Yunupingu with Midnight Oil's Peter Garrett (now environment minister) and singer-songwriter Paul Kelly, 'Treaty' was both a political statement and – when remixed by Filthy Lucre – a dance floor smash. Albeit borrowing heavily from rock, the track was innovatively driven by the djatpangarri rhythm of the Yolngu people of the Northern Territory's Arnhem Land; its success ensured that of Yothu Yindi's second album Tribal Voice. Former headmaster Yunupingu was named Australian of the Year soon after.
6
Ry Cooder releases Chicken Skin Music
1976
There was considerable bemusement among rock fans when Cooder – a guitar hero who'd played with Captain Beefheart and the Rolling Stones – featured Hawaiian and Mexican musicians on Chicken Skin Music. Long before Paul Simon and Peter Gabriel, it made him the first and most intrepid of rock music's global adventurers and was the beginning of a remarkable journey that over the next 30 years would lead to collaborations with musicians from India, Japan and Mali, plus Buena Vista Social Club.
7
The arrival of YouTube
2005
The video sharing website YouTube has revolutionised our musical consumption. The last 50 years of world music history seems to be available at the click of a mouse – historic Fela Kuti footage and an early-60s performance by an impossibly beautiful Miriam Makeba to name but a few.
8
Mano Negra's train ride across Colombia
December, 1993
Photographer Youri Lenquetter writes: "Anybody with any sense wouldn't have even tried. But Manu Chao had a dream to take his band across Colombia in a train and nothing was going to get in his way. The train was dilapidated and it took a month to prepare it. I thought I was there to take pictures. Instead when I arrived I was given a hammer and told to get to work. There were jugglers, clowns and magicians. One carriage was full of ice sculptures. Another was converted into a travelling children's funfair and a third was decorated to resemble a firebreathing dragon. The first day out of Santa Marta, we were ambushed by armed guerrillas, but Manu persuaded them to allow us to continue. The train halted at villages along the way and Manu Negra played for the peasants. Each stop lasted three days. The first day was spent building the stage. The second was the show and the third was spent partying with the locals. Unfortunately, people got sick or injured. Some just got tired and left. It was a fight to go on. But with Manu, the more it crumbled, the more determined he was. By the time we got to Bogotá six weeks later, only Manu and one other musician were left so they performed as a duo. It was the end of Mano Negra. But the experience changed Manu and his music forever."
9
The beginning of Buena Vista Social Club
March, 1996
Bad news – Malian musicians Djelimady Tounkara (guitar) and Bassekou Kouyaté (ngoni) fail to get their Cuban visas for a World Circuit recording session in Havana. In haste, Juan de Marcos González rounded up some old veterans of Cuban music for the recordings in the EGREM studios. These included the 88-year-old singer Compay Segundo, the pianist Rúben González, who couldn't afford a piano, and the singer Ibrahim Ferrer (who hadn't spent time on the street shining shoes, as the myth has it, but had cleaned the white shoes favoured by his musician friends). Other headline artists included the relatively youthful Eliades Ochoa and, the one woman involved, Omara Portuondo. The album, co-produced by Nick Gold and Ry Cooder, became Buena Vista Social Club which has sold over seven million copies and counting.
10
Miriam Makeba addressing the United Nations
July 16, 1963
In 1962, the Liberian diplomat Angie Brooks, then president of the UN general assembly, asked Miriam Makeba to sing for delegates at a diplomatic reception. She was honoured but took it in her stride: singing, after all, was her profession. The following year, however, she was asked to address the UN special committee on apartheid. In effect, she was being asked to become a spokeswoman for South Africa's oppressed people. That she had never been so nervous in her life is evident in the 44-second clip of her appeal you can find on YouTube. Yet there's also an overwhelming power and dignity to her words as she tells the world: "The time has come for the whole of humanity to shout 'halt' and to act… most of the world's big powers have only paid lip service to the appeals of my people for help. Therefore, I must urge the United Nations to impose a complete boycott of South Africa." Afterwards, she told the press: "I am not a politician or a diplomat. I am just a singer." Yet the result of her words was that back in South Africa her records were banned and she was declared a criminal and told she would never be allowed to return home.
11
Fela Kuti's response to the siege on his compound
February 18, 1977
About 1,000 Nigerian soldiers surrounded Fela Kuti's self-proclaimed independent Kalakuta republic (actually a residential compound) and began a 15-hour siege. Kalakuta residents were beaten, some raped and tortured. Fela went to hospital, his brother Beko was seriously injured, as was Fela's 77-year-old mother, the feminist activist Funmilayo Ransome-Kuti who was thrown out of a window and later died from her wounds. Fela responded with two of his most powerful musical statements: 'Unknown Soldier' and 'Coffin For Head Of State' – 'Them kill my mama/So I carry the coffin.' The song directly blames Nigerian president Obansanjo for her death. The Kalakuta attack inspired his biggest hit 'Zombie', where he attacks the mindlessness of the Nigerian police and military. On October 1, 1979 Fela delivered a life-sized coffin to Obasanjo's home accompanied by his Queens (some of his 27 wives), his son Femi and others.
12
Farhad Darya returns to Kabul
May 14, 2004
Farhad Darya, Afghanistan's most celebrated pop star gives his first concert in Kabul since going into exile in 1991. Since then Kabul had seen civil war between factions of the Mujahideen, strict restrictions on music, and then six years of Taliban rule when music was banned altogether. Football was also forbidden and the stadium used as an execution ground. The Taliban regime fell in November 2001 and Afghan music returned. Farhad Darya's album Salaam Afghanistan was top of the charts for weeks in spring 2004 and this huge concert in front of an estimated 45,000 people was unprecedented. "It was like a national day in Kabul," recalls Darya. "In the stadium I felt like a cloud flying over the sky of the crowd. What was amazing was the presence of women. Men and women were sitting next to each other for a concert right where they had seen their beloved ones executed. Many of them were dancing and crying. It looked like they had forgotten the misery and pain of the past decades. Even the 700 armed security guys started to dance to the music and enjoy the new wave of hope. I wanted a fresh start in Afghanistan with music and we did it!"
13
The term 'world music' coined
June 29, 1987
It was at a meeting at the Empress of Russia pub in Islington, north London that the term 'world music' was coined for the first time as a marketing term. The meeting was masterminded by Ben Mandelson and Roger Armstrong of Globestyle Records and included record labels, promoters and festival organisers – including Nick Gold, Thomas Brooman, Charlie Gillett and Ian Anderson who has the minutes on display on the fRoots website. The press release afterwards declared: 'one of the problems perceived as hindering the development of this music is the haphazard racking of the records in the shops. It was agreed that the terms 'world music' would be used by all labels present to offer a new and unifying category for shop racking, press releases, publicity handouts and 'file under' suggestions. This means that you no longer have to worry about where to put these new Yemenite pop, Bulgarian choir, Zairean soukous or Gambian kora records.'
No one can deny that the £3,000 invested in the initial campaign has brought a good return for the money – although the name still attracts more brickbats than approbation. "It's become much bigger than any of us ever thought it would," laughs Mandelson. "It was an idea waiting to happen, it just needed to be named!"
14
The launch of the Songlines Music Awards
2009
The Songlines Music Awards were launched with great fanfare in 2009. The winners at those first Awards included Jah Wobble & The Chinese Dub Orchestra (Best Collaboration), Amadou & Mariam (Best Group), Rokia Traoré (Best Artist) and Kiran Ahluwalia (Best Newcomer). Other winners of the coveted Best Artist Award include Femi Kuti (2011), Anoushka Shankar (2012) and Tony Allen (2015).
15
Rock'n'roll comes to India
1957
Rock'n'roll came to India courtesy of the hit number 'Eena Meena Deeka', sung in two versions by Asha Bhosle and Kishore Kumar, in the film Aasha. The song is credited to C Ramchandra and lyricist Rajendra Krishnan – the words were inspired by kids playing 'Eeny Meeny Miny Moe'. The visuals in the film are hilarious too – with an Indian rock'n'roll band and the set burning down. The song was one of Asha Bhosle's first hits – 50 years on, she's still a megastar.
16
Silvio Rodríguez and Pablo Milanés perform in Argentina
April, 1984
Cuban singers Silvio Rodríguez and Pablo Milanés headline the 'En Vivo en Argentina' concert in Buenos Aires, marking the end of a brutal dictatorship in which a generation of young people had 'disappeared.' Alongside León Gieco, César Isella, Cuarteto Zupay, Píero, Antonío Tarragó Ros and Victor Heredía they sang songs that nurtured the spirit of the whole continent to an audience who wept while celebrating their freedom.
17
Stern's African Record Centre opens
April 10, 1983
Stern's began life in the 1950s as an electrical shop off Tottenham Court Road, but from the 60s onwards it became known for stocking African records in its back room. It was literally the only place in London that sold discs by the likes of Franco or Ebenezer Obey. Then in 1983 the lease ran out, the old owner retired, and a trio of music enthusiasts – Don Bayramian (an Armenian), Charles Easmon (a Ghanaian) and Robert Urbanus (a Dutchman) – relaunched it as Stern's African Record Centre, filling the racks with the latest imports from Zaire, Zimbabwe, Senegal, Ghana, Cameroon and other 80s powerhouses.
Of course, selling records was just a part of the Stern's mission. Really, it was the mothership of African (and later world) music: a meeting point for African expatriates and Brits, brought together by a love of African music. People rolled in for the afternoon with a sixpack of lager, to listen to the new discs, and mix. Its role was – and still is – vital.
18
Cesaria Evora's big break
December 14, 1991
The story of Cesaria Evora's late-flowering success is a heartwarming one. Within a decade of her 'discovery' she put the sultry, world-weary music of Cape Verde on the map. The great moment came with Cesaria's concert at New Morning in Paris. "Six months before, on June 7, 1991, the same club had been only half full when Cesaria performed there before an essentially Cape Verdean audience," remembers François Post of the Lusafrica label. "But six months later, the situation was very different. The Mar Azul album had been released at the end of November and two national radio stations had immediately playlisted it. On December 14, Le Monde and Libération had each published rave reviews of the album and mentioned the concert that evening. It was full to bursting and the atmosphere was electric. All the things that would make up her legend were there: her seemingly impassive, indifferent air as she stood immobile with the microphone in one hand and a cigarette in the other; the bottle of whisky on a little table; and her clear voice loaded with emotion as she sang her mornas and coladeiras. But the song that really left a mark was 'Sodade', which Cesaria would record for the Miss Perfumado album the following year: a revelation!"
19
Aboriginal singer Gurrumul sings for Barack Obama
November 17, 2011
The Aboriginal Australian singer-songwriter Geoffrey Gurrumul Yunupingu was given the honour of meeting with US president Barack Obama as he visited US forces in Darwin, capital of Australia's Northern Territory in 2011. Gurrumul has been hailed as the shining light of the Australian music industry, rubbing shoulders with a host of admiring celebrities, yet is famously humble and retiring, preferring his island home off Australia's north coast to the showbiz limelight. The show was performed in a hangar to 1,500 US military personnel and choice guests at an RAAF base near Darwin and came against the geopolitical backdrop of a new strategic military relationship between the two countries.
20
World's first instrument
7,000 BC
It surely started by banging two sticks together, but six bone flutes have been dated between 7,000-9,000 years old. Discovered in the central Yellow River valley, China, they may be the world's oldest, playable, multi-note instruments.
21
The Holy Trinity
Late 18th century
As in Vienna, there must have been something in the water in South India in the late 1700s. Three extraordinary composers – generally known as Trimurti, or the 'Holy Trinity' – appeared around the same time. The three composers, famed for their Hindu devotional songs, were Tyagaraja (1767-1847), Mutuswamy Dikshitar (1775-1835) and Syama Sastri (17621827), who died the same year as Beethoven. Tyagaraja (pictured above at his shrine), the most celebrated of them all, is still performed daily and on countless CDs to this day.
22
Bhundu Boys on cover of NME
February 1987
The Zimbabwean band, championed by Radio 1 DJs John Peel and Andy Kershaw grace the front cover of indie mag NME. They then proceed to get an incredible six 'Record of the Week' recommendations.
23
Víctor Jara's last stance
September 14, 1973
"You're that fuckin' singer, aren't you?" said a guard picking Víctor Jara out in the Chile stadium hastily turned into a concentration camp on September 11, the day the Chilean military brutally overthrew the democratic government of Salvador Allende. On September 14, despite being in a very poor state following torture, Jara composed, 'Somos Cinco Mil': 'We are five thousand in this small corner of the city… how hard it is to sing when I must sing of horror,' which fellow prisoners memorised. His machine-gunned body was found with six others on September 16, alongside the metropolitan cemetery's boundary wall. On September 18 his wife Joan Jara identified him in an overflowing Santiago morgue. When the 1988 Amnesty Human Rights Now! tour was not allowed into Pinochet's Chile, Peter Gabriel, Bruce Springsteen, Sting and Chile's Inti Illimani remembered Jara in a concert in Mendoza, Argentina. After Pinochet's fall Amnesty reunited them all again for the 'From Chile… An Embrace of Hope' human rights concert with Sinéad O'Connor, Wynton Marsalis, Jackson Browne and Rubén Bladés. Sting closed the show singing 'They Dance Alone' in Spanish for the many mothers of Chile's 'disappeared' prisoners, who, with Jara's family, joined all the musicians central stage. The 80,000 strong audience listened in hushed silence lighting matches and torches of paper.
24

Fado is added to UNESCO's Intangible Cultural Heritage list
November 2011
A sepulchral silence fell in the Bali International Convention Centre when the mayor of Lisbon, António Costa, after reading a short declaration thanking UNESCO for the addition of fado to the Intangible Heritage list, took out his mobile phone and played to the microphone 'Estranha Forma de Vida' sung by Amália Rodrigues. It was a very exciting and emotional moment after years of waiting. A little more than a decade ago, fado seemed in terminal decline. The great singers – foremost amongst them Amália Rodrigues – were gone and there were just a few stubbornly upholding the tradition in venues that were too reminiscent of fado's origins in brothels and backstreets in the early 19th century. But then everything changed. Perhaps Amália's death in 1999 was a catalyst. As Portugal mourned her as a national icon, there was also a feeling we could move on. There was the appearance of a new diva – Mariza – the creation of a fado museum in Lisbon, a definitive book on the history of fado by Ruy Vieira Nery and a film by Carlos Saura that viewed the music in an universal light. And now it's been recognised by UNESCO.
25

Rodrigo y Gabriela go for gold
December 2007
The word-of-mouth Mexican guitar duo sold almost 100,000 copies of their self-titled album in the UK. Billboard described the disc as 'one of the best guitar albums in ages; one of the best discs of the year.'
26
The hunt for Taraf de Haïdouks
December 30, 1989
Two Belgian guys, Michel Winter and Stéphane Karo, set out from Brussels heading for the amazing Gypsy musicians in the village of Clejani near Bucharest. Karo had visited once before after hearing their Ocora CD released in 1988, but it wasn't till the execution of the dictator Nicolae Ceaușescu that they felt the time was right. "We took my old CX Citroën," remembers Winter, "and we reached Bucharest on January 2. It took us a few days to get to Clejani, but you can see the first images I took of the musicians on the DVD [The Continuing Adventures of Taraf de Haïdouks]. Back in Brussels Marc Hollander at Crammed Discs agreed to record them, but we had to bring them over ourselves. We went to see a bank manager who said: 'WHAT? You want money to bring Gypsy musicians here? I don't even know you.'" We asked for 250,000 Belgian francs [around €6,000] and he gave us the money under the condition that we pay him back immediately after the tour." Winter and Karo named the band Taraf de Haïdouks and got them to Brussels in autumn 1990. Since then they've made five albums, a DVD, become an international touring sensation and arguably kick-started the current craze for Balkan Gypsy music.
27
Nusrat Fateh Ali Khan at WOMAD
July 20, 1985
Nusrat's first performance before a large non-Asian audience was at WOMAD on Mersea Island, Essex in 1985. He sang through the night finishing only at 4.30am and it marked the beginning of his huge popularity in the West.
28

Eugene Hütz & Madonna at Live Earth
July 7, 2007
Songlines' favourite Gypsy punk Eugene Hütz and the queen of pop do a Balkan version of 'La Isla Bonita' at the Live Earth event at Wembley.
29
Gipsy Kings 'Bamboleo'
1987
'Bamboleo,' the mega hit of the late 80s, conjures up memories of sangria-soaked summer holidays when everybody was hooked on the catchy tune and attempting to dance to the kings of rumba gitana.
30
Alan Lomax hits the road
1933
The musicologist Alan Lomax first cut his musical teeth when he accompanied his father (who worked for the US Library of Congress Folk Song Archive) and recorded previously unknown musicians like Leadbelly, Jelly Roll Morton and Howlin' Wolf. These early recordings inspired a new generation of musicians such as Moby who reworked some of these old folk and blues songs on his album Play.
31
Kronos Quartet begin Pieces of Africa
July, 1984
Pieces of Africa, released in 1992, is Kronos Quartet's bestselling album to date (over 300,000 copies). It includes pieces specially written or arranged for the San Francisco-based string quartet by seven African composers in one of the best examples of classical meets African music. "Pieces of Africa began in 1984 when we played at the Darmstadt Festival and where I first heard the music of Kevin Volans," recalls the quartet's leader David Harrington. "Later that year, Kevin wrote 'White Man Sleeps' for Kronos." Over the years they met and acquired pieces from Nubian oud player Hamza El Din, Gambian kora player Foday Musa Suso and so on. "So Pieces of Africa did not start out as an idea for an album, but as one piece and then another, and another for almost ten years. Slowly it began to occur to me that this music sounded and felt like no other string quartet music I had ever heard. But it was not until Dumisani Maraire wrote 'Mai Nozipo' and 'Kutambarara' in 1990, that I knew we had a beginning and an ending piece and an album. I will never forget when we played in New York and Dumisani taught the whole audience to sing 'Kutambarara'. Allen Ginsberg [poet] was in the front row singing along. I love all of the many other doors that Pieces of Africa continues to open for Kronos."
32
The One Love Peace Concert
April 22, 1978
Music can seldom have made a more dramatic political intervention than in Jamaica in 1978. With the island convulsed by murderous civil war between gangs in the pay of the two main political parties, Bob Marley – who had himself been shot by gunmen two years earlier – returned to the island to organise a peace concert. The highlight came during the Wailers' set when he brought on stage the two bitter political rivals Michael Manley and Edward Seaga and symbolically asked them to shake hands and end the violence.
33
Andy Kershaw buys an Ali Farka Touré LP
1986
In Paris for a couple of days, DJ Andy Kershaw visited a record shop in the heavily North African district of Barbès. "I'm not sure when it was exactly, but it was soon after the release of Salif Keita's Soro and I was switched onto West African music," he claims. "I'd bought a ton of stuff, but then I tried the bargain bin. My curiosity was tweaked by an odd looking LP with a bright red sleeve with a slightly out-of-focus picture of a family outside their baked-earth family compound. Above it said only 'Ali Farka Touré'. When I got home I started playing the first song 'La Drogue' and I couldn't sit down. I was just pacing up and down the kitchen thinking, what the hell is this? That bluesy guitar. Those vocals. It was so bluesy and so West African. It was one of those records that come along so infrequently that change everything. When I played it on the radio it was the same – it got an amazing reaction." Ali was then tracked down in Mali by World Circuit's Anne Hunt and he came to London in 1987. Kershaw went to see him in Mali recording a series of programmes for Radio 1 and Radio 4 and then Ali recorded a series of albums for World Circuit (two of them winning Grammies). When he died in 2006 he had obits in the mainstream press, but it all began in that record shop in Barbès.
34
Reformation of Orchestra Baobab
June 22, 2002
For many fans of African music it's often been a matter of discovering great bands from the golden age of African music long after they're past their best or even long after they've broken up. This was the case with Orchestra Baobab who a new generation of African music fans discovered through the World Circuit release Pirates Choice – classic 1982 recordings digitally re-mastered and re-released in 1989 after the band had disbanded in the mid-80s. Nick Gold got lawyer-guitarist Barthélemy Attisso over from Togo for a trial session with the key singers Rudy Gomis and Balla Sidibe and sax player Issa Cissoko and tapes were made. "If it was going to be a pointless musical exercise you'd have been able to tell quickly from the tapes," says Gold, "but there was definitely a chemistry there." That was proved to a wider audience in Saint Louis on June 22, 2002 at their first concert in Senegal. Now, believe it or not, they're back at a regular venue in Dakar – sadly not at the Baobab Club from which they got their name (which is long gone), but at the ghastly-named Just 4 U. Even more amazing, they're better than ever.
35
George Harrison plays sitar
October 12 ,1965
The first recording session for the song 'Norwegian Wood' for the album Rubber Soul – probably the first pop song to use the Indian sitar, played by George Harrison, who'd already been inspired by Ravi Shankar. "I bought a cheap sitar from a shop called India Craft in London", recounted Harrison. "I hadn't really figured out what to do with it. But when we were working on 'Norwegian Wood' it just needed something. It was quite spontaneous… I just picked it up and found the notes and just played it. We miked it up and put it on and it just seemed to hit the spot".
36
'The Girl from Ipanema' walks by
1962-3
The Veloso bar in Ipanema in Rio de Janeiro where Tom Jobim and lyricist Vinícius de Moraes saw the 15-year-old beauty Heloísa Eneida Menezes Paes Pinto (now Heloísa Pinheiro) walk by, is now called Garota de Ipanema and the street is now Rua Vinícius de Moraes. The first version was by Perry Ribeiro in 1962, the classic Astrud Gilberto English version, with Stan Getz and João Gilberto came the following year – over 500 have followed, rivalling followed, rivalling 'Yesterday' as the most covered song ever.
37
Youssou premieres Egypt
May 29, 2004
The stunning setting helped: Bab Makina, a massive entrance to what was the Royal Palace in Fes, at the Festival of World Sacred Music in 2004, where Youssou N'Dour premiered his album Egypt. It was a statement of a tolerant Muslim vision and a daring pan-African fusion of Arabic and West African music, a collaboration between Youssou and the eclectic and adventurous Egyptian composer Fathy Salama, on stage directing an eclectic collection of instruments: seven violins, two cellos, double-bass and oud mixed with instruments from West Africa such as the balafon, sabar drums and kora.
On stage, Youssou said that Fes was important for him as it was where Sheikh Ahmed Tijani founded the Sufi Tijaniyya brotherhood, widespread in West Africa. Youssou asserted that "religion should be joyful." Most of the songs were words of devotion of the Mouride community, to which Youssou is affiliated, thanking spiritual guides for leading him to Allah. Perhaps the high point was a song about the Senegalese holy city of Touba, in which all the elements came together: wonderful swooping Arabic strings, soulful flute, masterful oud soloing and a kora that sparkled notes into the night air, all of this topped off with a bluesy melody sung by a voice in a million. It may not have been Youssou's most commercially successful album, but it's his most beautiful and visionary.
38
The beginning of Tropicália
October, 1967
As important and inflammatory as Bob Dylan going electric was a similar move by the tropicalistas in Brazil, a young generation including Caetano Veloso, Gilberto Gil and Os Mutantes. At the MPB Festival in 1967, the electric guitars were provided by Argentinian band the Beat Boys to boos, protests and thrown vegetables. For radical students at the time, electric guitars and rock'n'roll were symbolic of North American imperialism and should have been banned from the festival. In fact, the jury who judged the festival gave second prize to Gilberto Gil's 'Domingo no Parque' and fourth prize to 'Alegria, Alegria' by Caetano Veloso. The rumpus caused by the festival stimulated the label Philips to accelerate the production of solo records by Veloso and Gil. 'Alegria, Alegria' became a big radio hit and sold over 100,000 copies and the Tropicália movement artists became stars. As it happens, the name 'Tropicália' was only adopted by the movement in 1968 when Nelson Motta published an article entitled 'The Tropicalist Crusade' about the young generation of musicians and their counterparts in the visual arts (the name deriving from an artwork by Hélio Oiticica). In May of that year the collective manifesto-album Tropicália: Panis et Circencis was released.
39
Asia's first WOMAD
August 30-September 1, 1991
Asia's first WOMAD at Yokohama showcased Japanese musicians – roots bands, new folk and the Okinawans. But the shocker was the rock-tinged performance of enka star Harumi Miyako on the last day of the festival. Enka stars aren't supposed to rock, certainly not to a young crowd, and they certainly don't 'air guitar' in a kimono with a lead guitarist. No one in the audience or in the media gave her a hope but after five minutes she had everyone on their feet, singing along. World music comes of age in Japan.
40
The beginning of the salsa craze
August, 1971
Salsa's greatest ever supergroup – The Fania All Stars – was first conceived by bandleader Johnny Pacheco and Italian-American lawyer Jerry Masucci in 1968. But their defining moment was one evening in August 1971 when the group featuring future Latin music legends such as Ray Barretto, Willie Colón and Héctor Lavoe, performed at New York's legendary Cheetah club. The concert was recorded and later released as the music documentary Our Latin Thing (Nuestra Cosa). As Fania co-founder Masucci says, "That's really where the salsa explosion started."
41
Ziryab arrives in Cordoba
822 AD
The oud player known as Ziryab arrives at the Umayyad court in Córdoba, Spain. Already legendary for his musicianship at the Abbasid court in his native Baghdad, he lays the foundations of the Arab-Andalus tradition of music.
42
First field recordings
March 15, 1890
The first ever field recordings of music were made on wax cylinders by American Jesse Walter Fewkes. He was an anthropologist interested in the music of the Native Americans and recorded 36 wax cylinders of singers of the Passamaquoddy tribe in Calais, Maine. The Edison phonograph had been invented in 1877 but only improved for more widespread use in 1888. This marked the beginning of scientific work with recordings of folk music – the most influential being the recordings Zoltán Kodály and Béla Bartók made in Hungary and neighbouring countries from 1906. Perhaps more important in the history of world music were the companies, like Columbia in the US, the Gramophone Company in the UK and Odeon in Germany, that started releasing ethnic music for commercial rather than anthropological reasons. The Gramophone Company did a European recording tour in 1899 and in 1902 Fred Gaisberg, generally regarded as the first recording engineer, went to the Far East and recorded street songs and moon guitar solos with the intention of opening up a new market for selling the Gramophone machines.
43
The release of Mughal-e-Azam
August 5, 1960
Director K Asif 's long awaited film Mughal-e-Azam (The Greatest Mughal) – in the making since 1948 or so – was finally premiered in Mumbai, with people reportedly camping outside the cinema hall for a full two weeks. Based on the legendary (and doomed) romance of Mughal heir prince Salim (later emperor Jehangir) and the court dancer Anarkali, the film's title actually refers to Akbar, unarguably the greatest of Mughal emperors. Apart from its beautiful sets and life-like battle scenes shot in the Rajasthani desert (which resulted in the real deaths of several elephants and horses), the film made musical history with director K Asif 's obstinate determination that only the voice of classical doyen Bade Ghulam Ali Khan (who would normally scoff at the prospect of singing for a film) could do justice to what was to become one of the tenderest and most erotic moments in Indian film history: prince Salim strokes Anarkali's beautiful face with an ostrich feather while Khan (as the playback voice for court musician Tansen) renders a silky, butter-smooth number in raga 'Sohini'. Mughal-e-Azam is also remembered for Lata Mangeshkar's eternal hit 'Pyar Kiya To Darna Kya?' (Why Be Afraid, If I Have Loved?) with Anarkali's dancing form reflected hundreds of times in the palace of mirrors. It was all pretty mindblowing stuff for 1960 but the impact was just as momentous – some 44 years on – when Mughal-e-Azam was re-released in a fully digitalised colour version which still runs to packed houses.
44
Khaled, Rachid Taha and Faudel perform 1, 2, 3 Soleils in Paris
September 26, 1998
An epochal performance by three Algerian superstars had 15,000 rai fans – many of them second-generation Algerians – going wild inside Paris' Bercy Stadium. Here was the king of rai, Khaled: the man who pioneered the transformation of rai from a local style spawned in the port city of Oran to a worldwide phenomenon with the aid of a synthesizer and drum machine. Then the prince of rai, Faudel: Khaled's heir-apparent. And the rebel of rai, Rachid Taha: a Clash-loving rocker with tradition in his heart. Together onstage, in uneasy exile in France, they proclaimed their love for Algeria, its people and its music.
45
Mali's first Festival in The Desert
January, 2001
Before it was discovered by Robert Plant and Damon Albarn, the first festival in the Sahara desert was held to coincide with a total eclipse of the moon. There were no more than 30 Europeans present among the nomadic tribes who arrived from all over the desert by camel. The highlight was a performance by Tinariwen, while the moon's shadow crept eerily across the lunar service. The event launched a trend for world music festivals in remote locations but none has matched the dramatic impact of that silvery desert night.
46
Bismillah Khan plays at Indian Independence
August 15, 1947
Shehnai maestro Bismillah Khan (1916-2006), received the ultimate accolade in his career when India's first prime minister, Jawaharlal Nehru, invited him to play at Delhi's Lal Qilla (Red Fort) to usher in Indian Independence at midnight, August 15 1947. Broadcast on All India Radio, the strains of Bismillah Khan's exquisite shehnai (oboe-like instrument) became a permanent feature of Indian Independence and also, from 1950 onwards, Indian Republic Day celebrations. The Indian press had describe him as a down-to-earth man and a pious Muslim who loved to sit in the Hindu temples. But Bismillah Khan always deflected personal praise and honour onto the music itself: "Even if the world ends, this music will live on," he is reported to have said. In an unprecedented honour for a musician, the Indian government declared a day of national mourning at his death in 2006 when he was laid to rest with a 21-gun salute from the Indian army.
47

Japanese roots-rock gig
September 22, 1990
With his first album and Japan tour for seven years, Okinawan legend Shoukichi Kina reformed his band Champloose and headed for Space Zero in Shinjuku, Tokyo where he gave a classic, raucous and high-energy show reminiscent of his heyday in the 70s. Back then he'd called his music 'punk-minyo' and it put the seal on a new wave of Okinawan music surfing up in Japanese cities and paving the way for new Japanese roots bands.
48
The First WOMAD
July 16-18, 1982
"It was a baptism by fire for all of us involved and the experience remains a vivid one in the same way that disastrous holidays, first dates, torrid encounters of any sort often do," remembers Thomas Brooman, WOMAD's artistic director from 1982 until 2008. The World Of Music And Dance was born of Peter Gabriel's wish to bring African music to a wider audience. Despite initially being a financial disaster (the first festival ended up with debts in six figures), WOMAD has never looked back and now has offspring festivals right across the globe. There are many world music festivals, but WOMAD is surely pre-eminent amongst them. "We were enthusiastic amateurs and it was a tough way to learn," admits Gabriel. "But we were deaf to the scepticism surrounding us because we wanted to do it and if we'd given in to the negativity, it never would've happened."
"Perhaps it was our amateur unstoppability that turned the festival into the special experience that it turned out to be," recalls Brooman.
"Having no idea of where to stop, we had laid on a wildly ambitious event. Saturday night inside the romantically-named Showering Pavilion was a triumph. The Beat had played a typically inspirational and full-throttle performance, followed by the Drummers of Burundi. Few of the audience had known what lay in store and the effect of the Drummers' drumming and dance was totally electrifying. The night was then brought to a close by Liverpool's Echo and the Bunnymen, playing at their peak; darkly atmospheric and singular, plaintive and melancholic by turns. Their set featured a brilliant performance of 'Zimbo' (All My Colours) where the band was joined on stage by a core group of the Drummers of Burundi; one of the first moments of on-stage collaboration between artists at a WOMAD Festival."
49
Le Mystère des Voix Bulgares released
1975
Undoubtedly Bulgaria's biggest selling musical export, the voices of various Bulgarian state female choirs were released by the Swiss music enthusiast and mining engineer Marcel Cellier drawing on the archives of the Bulgarian TV and radio from 1975. The first volume of the series was licensed by 4AD and re-released in 1986 to much critical acclaim and huge sales.
50
Paul Simon visits South Africa
February, 1985
After hearing a cassette tape of the Boyoyo Boys, Paul Simon visits South Africa to record with them and other South African musicians. "Perhaps the most significant event was my meeting with Joseph Shabalala, lead singer and composer for Ladysmith Black Mambazo," recalled Simon in an interview for BBC Radio. He says he had some familiarity with Ladysmith Black Mambazo, thanks to the Jeremy Marre documentary Rhythm of Resistance (first broadcast on The Southbank Show). "That is the first time I remember hearing LBM. Everything about it seemed so mysterious and glorious that I was really just a fan." Tracks for what became the Graceland album were recorded during 1985 and 86 and its reaching success in 1986 (its reaching number one in the UK album charts) revived Paul Simon's career and put groups like Ladysmith on the map in their own right. Although Simon was accused of breaking the cultural embargo, this wasn't upheld by the UN as the album was deemed to have promoted black South African artists and not supported the apartheid regime. "The politics and the story of this album seem to be of such interest to people," said Simon, "but I tried to be true to the musicians I worked with and true to my own sense of musicality. So ultimately I would like this album to be judged as a musical piece".
This article (which has been slightly updated) originally appeared in Songlines #50 (March 2008). Text by Simon Broughton, John Clewley, Jane Cornwell, Peter Culshaw, Mark Ellingham, Jan Fairley, Jo Frost, Mark Hudson, Jameela Siddiqi, Nigel Williamson. Subscribe to Songlines.