Friday, January 24, 2020
A Raga for All Seasons
Simon Broughton learns about the relationship between ragas and time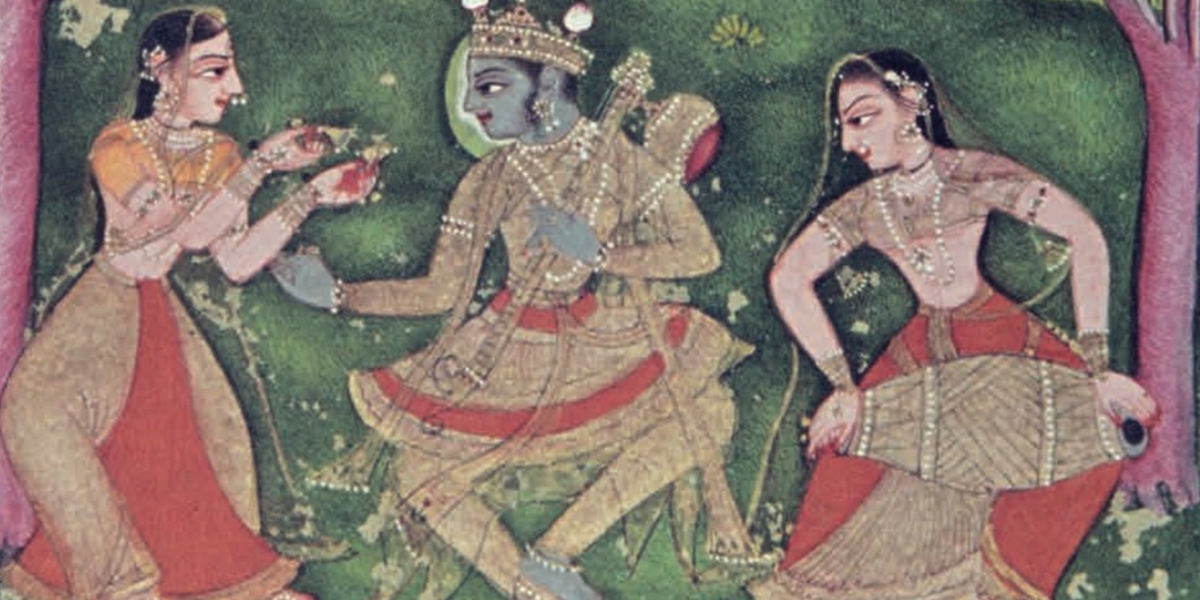 Most people may know there are Indian ragas for different times of day. Very often at a classical Indian concert an instrumentalist explain that they are about to play an early evening or late evening raga before they begin. But how do they work?
Indian music is a complex and poetic interplay of emotions, rules and conventions and it's worth exploring them. However, it's also about something universal: how does this sound make you feel? As part of Kings Place's year-long season, Time Unwrapped, Songlines Encounters Festival is investigating 'time' in Indian music with two concerts from the north and south of the subcontinent. In this case, 'time' means times of day, times of the year, different time cycles, and even different historical times.
The 17th-century painting from Rajasthan reproduced here depicts 'Raga Megh'. It's a ragamala painting, one of a series depicting different musical ragas, a tradition popular into the 19th century. 'Raga Megh' is a raga of the monsoon season and the picture depicts Krishna with two women, one of them playing a drum, dancing by a lotus pool in celebration of the coming monsoon. The oncoming rainclouds are swirling like something by Matisse in the background.
"I think that ragas are spirits that great musicians can conjure," says sarod player Soumik Datta, who is playing in the North Indian concert. "You might be a fantastic sarod or sitar player, but it doesn't mean you'll be able to conjure the raga, because the raga comes and goes as it pleases. The time of day was associated with the fact that at particular times it's easier to channel that raga because the spirit is associated with the morning or afternoon or whatever."
Sitar player Roopa Panesar, the other soloist in the North Indian concert, agrees: "if you play a raga at the right time of day, it's a way of respecting the raga and then the raga will respect you." Indian music is clearly more than an interplay of conventions and emotions, but also a matter of propitiating spirits.
The idea of the North Indian concert is to hear six short ragas moving through the course of a day: early morning, afternoon, early evening, late evening, midnight and late night. And just to keep things interesting, each one will be in a different time cycle.
One of the most popular morning ragas is 'Bhairav'. A famous ragamala painting depicts a woman in a floating shrine to Shiva on a lake with lotus flowers – it's an idealised image of devotion. In old India, the first thing many people would do when they woke up was make an offering to the gods.
"'Bhairav' is a very ancient raga," says Datta, "it has a lot of undulation on the flattened second [for instance C to D flat]. You roll around in that flattened state, creating a sense of meditation, devotion and discipline – like a mantra to start the day. I've heard many Sanskrit shlokas (poems) that use 'Bhairav' because it has the quality."
'Bhairav' is one of the most popular of Indian ragas, and with its flattened second, sixth and seventh it doesn't sound like any Western scale. But a raga is more than just a scale; there are particular movements or patterns between notes that come to define them. "'Bhairav' is such a calm morning raga, that it would feel strange at the wrong time of day," says Panesar. This is why the Darbar Festival (various venues, September-November 2018) often programmes concerts throughout the day so these ragas are heard at the appropriate time, although it's common these days to play 'Bhairav' at any time of day.
Afternoon ragas like 'Bhimpalasi' and 'Multani' tend to have a sense of lethargy and siesta. "Traditionally, throughout India, the afternoon is a difficult time because it's so hot – people are searching for shade to rest," says Datta. "The ragas have a sense of rest and shade and through the music you're trying to evoke something cooler. The notes used in afternoon ragas have a sense of coolness. The evening is about going out to see your friends or to meet your lover and to celebrate. In the [ragamala] pictures of late evening ragas there are candles lit; that changes everything because the light changes. There's something more romantic about late evening and more reflective – that's what draws me towards late-evening ragas."
The beautiful ragamala paintings are actually deceptive to understanding the nature of a raga. A picture, of course, only captures a moment, while a performance of one raga might last for up to an hour and must encompass a range of moods and emotions.
But raga recitals can also be refined down to their essence – most famously by singer Bade Ghulam Ali Khan who from 1929 recorded slimmed-down ragas for 78rpm discs that lasted only a maximum of three-and-a-half minutes. "They are like a miniature painting of the raga and have become a kind of bible for many musicians," says Datta. "I think there's something very special about evoking the raga in a limited time-frame. My guru [Buddhadev Das Gupta] would tell me to try and learn them by heart because in those three minutes he's been able to capture the identity of a raga. Sometimes in a whole concert of an hour and a half the musicians don't capture it. Length, repertoire and skill are secondary to being able to evoke the raga."
The Encounters concert will end with a duet, or jugalbandi, of sarod and sitar in 'Raga Megh', a seasonal raga for the monsoon, so very appropriate for June. Megh literally means 'Cloud' and in India it's a time of celebration after stifling summer heat. "Growing up in Mumbai we lived on the 25th floor and you could see these dense clouds arriving across the Arabian sea," says Datta. '"Megh' has this very important slide from the fourth to the second, which defines this raga. And rain is not so much pitter-patter, but a wall of sound."
In the South Indian concert, violinist Jyotsna Srikanth will play Raga Seasons, a violin concerto she's composed around the six seasons in the Hindu calendar. The inspiration is of course Vivaldi's Four Seasons: four violin concertos that literally depict the birdsong of spring and people sliding on ice in winter. Srikanth learned Western violin in the Bangalore School of Music and led the orchestra with visiting Western soloists. Her depiction of spring (which Srikanth will play together with Ligeti's String Quartet) is similar to Vivaldi's: 'leaves are springing, birds are singing and everything is coming back to life.' But this piece is a dialogue between East and West and summer presents a juxtaposition between the Western idea, when people want to go out and enjoy the sun ('Hindola Raga') and the Indian, when you need to stay inside and everything becomes scorched ('Hamsanandi').
Srikanth's final season is snow – certainly not part of the South Indian landscape. She wrote it when she went to Sweden for her Nordic Ragas performances. "I had been waiting for ten months to write this, but the composition was completed in two days once I had got the feeling of the snow. A small flake starts; I have depicted it by pizzicato and then it grows."
In South India there's a more pragmatic attitude to ragas and times of day and it's common to hear them out of their time slot. "How many morning concerts are there? It's not practical," says Srikanth. So what will happen to those morning ragas? "They will die out if they're not played."
Even in the north there is concern about late-evening ragas, after noise pollution legislation banned outdoor performances after 10:30pm. Health and safety gone mad; it's time for the spirit of the ragas to fight back.
+
DATES The Indian Time Unwrapped concerts are on June 3 at London's Kings Place, see p17 for details
+
MORE Listen to Simon Broughton and Soumik Datta's podcast here: www.bit.ly/timeunwrapped