Saturday, February 3, 2018
Angélique Kidjo interview: "I wanted to be a ghost"
From Adam and Eve to empowering women across the world – there's not much that Angélique Kidjo doesn't have an opinion about. Jane Cornwell meets to the irrepressible singer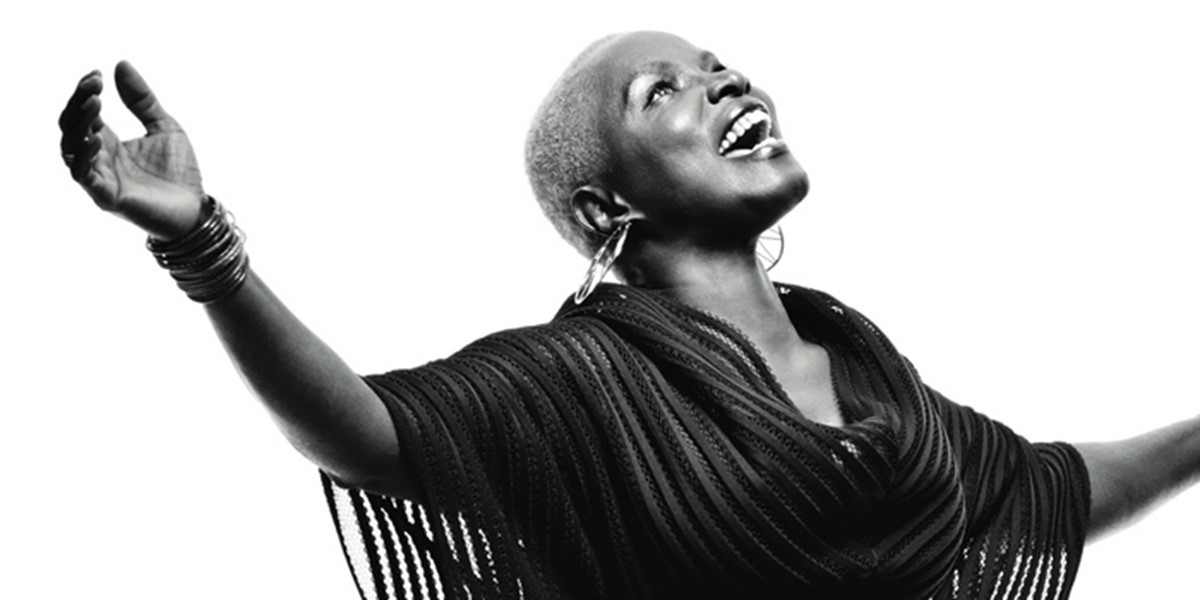 Angélique Kidjo had only just pulled into a village in Samburu County, northern Kenya, when she was greeted by a group of women clad in the colourful garb of the region. It was a hot, dusty summer: nutritional food was scarce. Kidjo was part of a UNICEF initiative tackling childhood hunger and stunting; the welcoming party, a local choir, was similarly involved.
"So there I was," says the Grammy-winning singer-songwriter, a Goodwill Ambassador for UNICEF since 2002, "and there were these women in their beautiful gowns. Suddenly they just opened their mouths and started singing.
"Oh. My. God." She feigns amazement. "It just drew me in, and I started singing along with them. At that moment everything I've been experiencing with women around the world seemed to come together. A few weeks later I brought my bassist and keyboard player back and we did some recording."
So it is that, with a joyful ululation, Kidjo's album Eve kicks off amid the full-throated harmonies of the Samburu women's choir, with the Kenyan song 'M'Baamba' setting the tone for a collection of tracks dedicated to the resilience and beauty of the women of Africa – especially those of Kenya, and of Kidjo's native Benin.All-female choirs from different villages in the tiny democracy of Benin – a slice of West Africa variously bordered by Togo, Nigeria, Burkina Faso and Niger – sing in an array of local languages including Fon, Goun and Yoruba: "The excitement they had when I came to visit them! They were like, 'Pinch us, we're dreaming!'"
Kidjo flashes her mega-watt grin. "And it has been laughter, goofiness, talking about sex and how stupid men can be sometimes… They looked at me funny when I showed them the songs," she says, "but once they got them, it was like trying to stop a fast train."
It's a metaphor that applies neatly to Kidjo, a diminutive whirlwind blessed with formidable energy, a rafter-rattling voice and think-I-can, know-I-can determination. The New York-based mother-of-one has transcended the circumstances of her background (more of which in a moment) to forge an international career on the back of multilingual songs that mix traditional African styles with soul, pop, reggae, jazz and folk music.
There have been 13 albums – including her first live recording, 2012's Spirit Rising, and 2010's Oyo, which she dedicated to her late father – and numerous awards including a Grammy for 2007's Djin Djin. She's performed everywhere from Carnegie Hall to the Sydney Opera House and collaborated with the A-list likes of Alicia Keys, John Legend and Carlos Santana; an early big break was supporting her role model, the South African icon Miriam 'Mama Africa' Makeba.
'Miriam was African, she was a woman, and she was a star; I wanted to be just like her,' writes Kidjo in her autobiography, also titled Spirit Rising. "When I last saw her, she said to me, 'My daughter, I can go now because you're here.'"
Like Makeba (who died in 2008), Kidjo has devoted much of her adult life to activism: her organisation the Batonga Foundation campaigns for girls' education in Africa, providing scholarships and building schools. Her work for NGOs such as UNICEF and Oxfam has seen her writing songs of support, participating in charity concerts and ceremonies and visiting countries including Ethiopia and Zimbabwe (where she was thrown out for calling Mugabe a 'monster') to campaign on everything from eradicating tetanus and malaria to ending the cruel ritual of female genital mutilation.
In 2007 she accompanied a group of women leaders including the then Irish president Mary Robinson to meet with women living in refugee camps on the border of Darfur and Chad. The horror stories of rape and murder that Kidjo heard only strengthened her resolve to fight for their future, and the future of women all over Africa.
"I wanted to be a ghost," she says of the experience. "I swear to God, after that trip I lost sleep until today. These women were able to talk through their pain, and they told me I was not to victimise them twice. They said I had to help put an end to this stupid crisis and get them home safe so they could continue their children's education; they didn't want their kids to have the life they'd had."
She pauses, smiles. "It was a big message of resilience and hope. That's why I dedicated Eve to the women of Africa, because even in the most horrible situations you can't shut down the light of love in them. It's just not going to happen," she adds with a shrug.
We're sitting in the foyer of an upmarket hotel near London's Barbican Centre. It's mid-December, and chilly; there's a blast of cold air each time the doorman welcomes someone in. Undaunted, Kidjo chats on, declining an offer of coffee (as she states in her book, she's already hyped up enough), stopping only when I notice that the red light on my Dictaphone has mysteriously vanished.
I'm trying to figure out what's gone wrong when Kidjo's husband and collaborator, French musician Jean Hebrail, rushes over with his iPhone and pressing record, leaves it on the table in between us. "It's working; Jean will email you the file later," says Kidjo reassuringly, affording me a peek into the well-oiled PR machine the couple have built since meeting as students at the CIM Jazz School of Paris in the mid-80s.
"The thing is," she continues, scarcely missing a beat, "an artist is only really a full artist if they are aware of the society around them. You can do useful things with your music, things that help others, the way we did with the Lilith Fair [the women-led music festival that raised money for North American women's charities].
"I remember being at a press conference for Lilith Fair [in 2010] where a male journalist stood up and said, 'So why only women?'" Her eyes flash. "I said, 'What the hell do you care? If it was men gathered here we would never get that sort of question! Quit bitching at everything we do! Women's issues are your issues!'"
Kidjo was never meant to be a singer; in Benin, professional female musicians were, and in some places still are, considered immoral. Music, however, was in her blood from the get-go. One of three sisters and seven brothers born to liberal parents – a father of Fon lineage who worked for the post office and a Yoruba mother who ran a local theatre troupe – Kidjo grew up dancing to records by James Brown, Aretha Franklin and the Togolese chanteuse Bella Bellow.
Bellow's glorious 'Blewu' features on Eve in stripped-down, guitar-and-voice format. As does 'Bana', a traditional Congolese song she learned from her maternal grandfather, who worked in the Congo; Kidjo duets with her 87-year-old mother Yvonne, to whom Eve is also dedicated. Family is vital to Kidjo, who spends much of our interview outlining her diverse and impressive ancestry.
Her autobiography Spirit Rising tells of a barefoot tomboy fond of climbing trees, playing goalkeeper for her brothers' football games and aged nine, singing with the Beninese mothers who had created an association for women's rights.
'Being with them gave me strength,' writes Kidjo, who also credits her beloved, progressive father and maternal grandmother with giving her the confidence to be herself. 'I wasn't aware that it would shape my way of seeing the world. But those women showed me I could go anywhere.'
Except, initially, around her country. It wasn't just that her high school classmates threw stones and called her vile names because she wanted to be – was – a singer. It was that once she finally hit the big time, Benin had undergone a military coup and turned into a Marxist-Leninist state that grew increasingly more sinister and oppressive. Asked to serve as a mouthpiece for the dictatorship, and with no industry to support artists otherwise, the 23-year-old Kidjo slipped quietly out of Benin for a new life in France.
This would be tougher than she'd imagined. But then Kidjo – who'd decided to be a human rights lawyer if a music career didn't pan out – is made of mighty stuff.
"For the next six years I couldn't speak to my parents because their phone was tapped." She got by working as a babysitter, a cleaner in an Ibis hotel on the Périphérique and in an Afro-Caribbean hair salon for below minimum wage. The money she got from her sessions as a backing singer ("When I really learned to project my voice") she poured into paying for her lessons at jazz school.
Africans weren't meant to play jazz, or so she was told: "Jazz comes from Africa," sniffs Kidjo, who often scat-sings African-style. "I loved jazz because it helped me understand the connections between classical music, pop and African rhythms. I learned how jazzmen like Coltrane revered their African roots, and how a whole group of jazz musicians used African modes and signatures."
But once she burst onto the international scene with Logozo, the 1991 Island Records release for which she shaved her hair into a flat top and donned a zebra-skin jumpsuit (a photo-shoot intended to subvert 'exotic' African stereotypes), the arguments really started. Was Kidjo diluting 'traditional' African music by adding soul and pop? Should she be filed under 'world music' or something more mainstream? Just how authentic, really, was her sound?
"Aaargh!" Kidjo is so over talking about this one. "It's African music," she reiterates matter-of-factly. "All of it."
Her collaborators tend to have the same boundaries-down aesthetic: Eve features guest spots by the likes of Dr John, The Kronos Quartet and the Nigerian singer-songwriter Asa, with whom Kidjo duets on 'Eva', a song that asks African men to appreciate the strength and beauty of African women, and to work together towards love and peace.
"We women have been sitting on the side for too long," says Kidjo after holding forth on topics including slavery, fundamentalism, Western imperialism and the way Eve's adventures in Eden have been misrepresented ("Did Eve shove the apple down Adam's throat? What is his responsibility here? Both were guilty but the woman got all the blame.")
Women can't continue to suffer abuse in silence: "Men have to believe that empowering us is empowering them. Let's get a coalition of women together as peace negotiators! We are the first victims so why are we never part of the reconstruction process when it happens? We need to find those men to tell the other men, 'Come on!'"
There is hope, of course. Just as there is colour, laughter, joy and music, always music – "Benin has a lot of different rhythms; everyone talks about Malian music, which I love, but it's not the only music in Africa." Onstage at the Barbican the following night, backed by just a pianist and an enthusiastic UK-based female choir, Kidjo embodies the indomitable spirit of Africa, of the women of Africa, peppering her set with blessings, calls for peace and reassurances that "there are great people still trying to change the world."
She isn't talking about herself, though she might have been. "I have much to live up to," says Kidjo. "I promise to do my best until the end of my days." And she will: we can all be sure of that.
best albums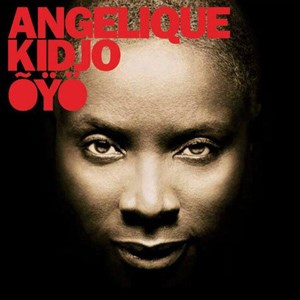 Oyo
(Proper Records)
Oyo features collaborations with major international artists. Contributions here come from soul-man John Legend, on a suitably full-blooded version of Curtis Mayfield's 'Move On Up,' and Dianne Reeves, on the gospel-tinged 'I've Got Dreams To Remember' by Otis Redding. Kidjo has no problem moving from American to African classics. Having led the celebrations of Miriam Makeba's life at London's Barbican Centre, she includes two songs made famous by 'Mama Afrika,' including a soulful rendition of 'Lakuthn Llanga'. Further highlights are a brief but inspired Benin traditional song 'Atcha Houn', an Indian movie tune given an irresistible West African makeover and 'Afia', a Kidjo original built around Brazilian grooves. (Tim Woodall)
Eve
(429 Records) 
Dedicated to 'the women of Africa, to their resilience and their beauty,' Kidjo's tenth studio album features the voices of women's choirs from ten different villages in Benin and Kenya, singing in half a dozen different languages. But don't go thinking this is some kind of worthy field recording. Their voices swoop and swell thrillingly in response to Kidjo's own lithe vocals over dynamic Afro-American grooves provided by the likes of Dr John, Vampire Weekend's Rostam Batmanglij and a heavyweight New York jazzrock rhythm section of Steve Jordan and Christian McBride. Bold, visionary and in places quite spine-tingling, Eve goes down as one of the peaks of Kidjo's impressive career. (Nigel Williamson)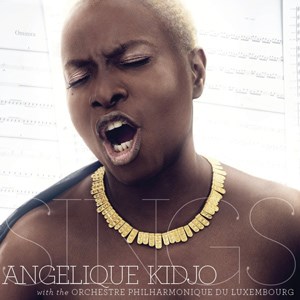 Angélique Kidjo Sings with the Orchestre Philharmonique du Luxembourg
(429 Records) 
Kidjo pursues the marriage of African rhythms and European conservatoire tradition by reimagining nine songs from her back catalogue with a 110-piece orchestra, eight-piece African choir and a small combo featuring upright bass, guitar and percussion. Under conductor and arranger Gast Waltzing, the orchestra sympathetically supports the energy and intricacy of Kidjo's African rhythms on such back catalogue favourites as 'Malaika' and 'Kelele', plus two of the new songs from Eve, and they play with impressive brio, while the thrill of hearing such a powerful swell behind her seems to have brought out the best in Kidjo's rich and supple voice. This recording confirms that she has steadily grown into one of the most ambitious and accomplished African artists de nos jours. (Nigel Williamson)
This article originally appeared in Songlines #98.