Wednesday, October 13, 2021
Angélique Kidjo | My World
The West African superstar talks about growing up in Benin, her various musical influences and her creative practice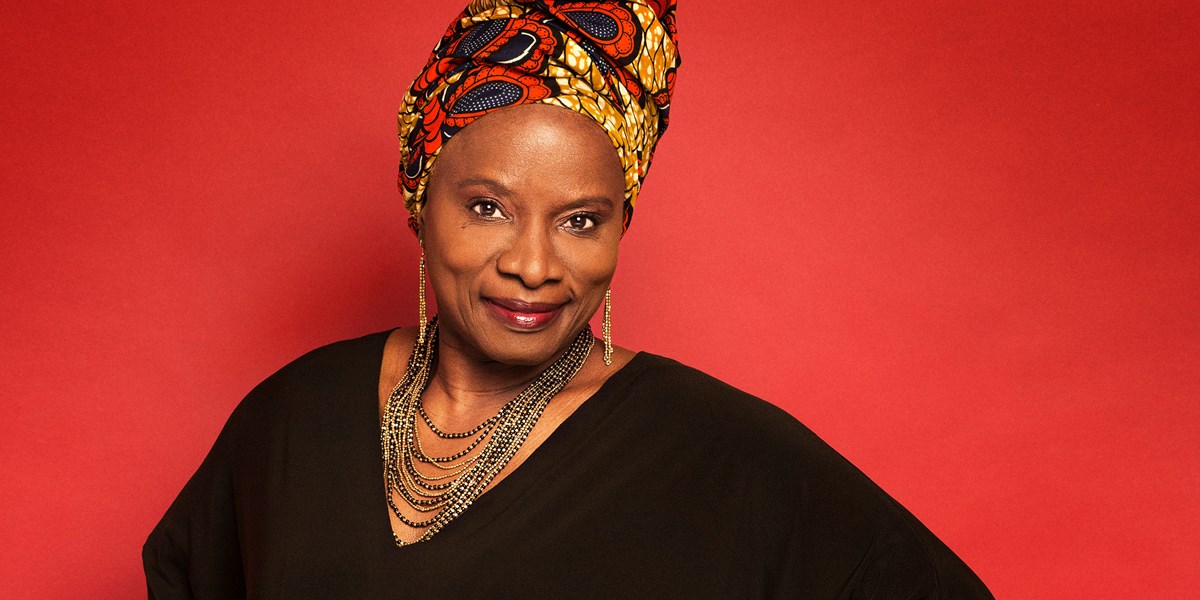 "One of the first things I was taught as a singer and storyteller is that I'm a recipient of the memories of humanity," says Angélique Kidjo. She may be a global superstar, but she keeps any ego she has well hidden. "I have to be humble and listen. If I'm given a talent to sing, it's to tell the story of the people who come before us and the mistakes they made, and it's how you build up a society. That's always been at the centre of what I do. All the rhythm is in our DNA because we all come from one place."
Born in Benin, West Africa, into a family of ten children, Kidjo has always kept in touch with her homeland and the African continent. That's where we all come from, as far as she's concerned – although she's been resident in the US for many years. She's just released Mother Nature (read the review), her 13th studio album and one that sees her team up with a new generation of singers and rappers, like Nigeria's Burna Boy and Zambia's Sampa the Great. It seems a good moment to ask her about her strongest musical influences.
"The first influences that made me start thinking about the role of singing are the traditional musicians of my country – from all parts of Benin. When I was a child, all I knew was the rhythms were different, the languages were different, but they all made me curious to ask more questions… In one village it's the women who play the drums. You see the mother and the daughter and the transmission of the tradition. It goes through music. They haven't been to any school, but what they know for sure is that in order for our society to survive, somebody has to teach you something for you to teach somebody else. That's how you learn."
"I can't tell you that one type of music has formed the person that I am – it's impossible. All the music was like a magical wonder stick in the house and I never questioned that." As she talks about her childhood in Cotonou, the largest city in Benin, it is clear that there are several well-known musical names that influenced her. But what meant the most to her was seeing an African woman appear on the cover of an album. "The question I was asking was, is there a place for me as an African girl growing up in Benin to one day do an album. I grew up listening to Bella Bellow [from Togo, 1945-1973]. I heard her on the radio, but the first African woman I saw on an album was Miriam Makeba. That golden-coloured album where she wore a big hat. The fact she was on the cover meant more than the music – that came after. It was love at first sight!"
The first Makeba song that Kidjo covered was 'The Retreat Song (Jikele Maweni)', which became a protest song among women across Africa. "It was used by my mum and her friends marching to the city every two weeks asking for women's rights to vote, to choose their partner and have the right to exist. They translated the lyrics [from Xhosa] into Fon. So I started covering Miriam Makeba songs from a very early age. When I started singing 'Malaika' it became my mother's favourite song."
Kidjo's mother, who sadly passed away in June aged 94, was born in Cotonou and lived in the same house all her life. Her father was "a bit of a feminist," and encouraged her in everything. "He always said 'be tough with yourself, work hard, be on time.' If my father was taking me to school he'd say, 'we're leaving at this time' and I'd think one minute won't matter, but then I'd see the car leaving and had to walk! So I was listening to Bella Bellow and Miriam Makeba on TV and I was thinking, 'How am I going to sing like that?' And my whole family was listening to me, which was a very tough environment. You can have no fricking ego cos you would just die!" Kidjo's father passed away in 2008, the same year as Miriam Makeba, "so 2008 was a shitty year for me," she admits.

Kidjo's brothers and their friends were her first backing band when she was nine years old. A few years later she started singing with Le Tout-Puissant Orchestre Poly-Rythmo, Benin's best-known band at the time, although Kidjo grew weary of working with them because, unlike her, they never turned up on time! "I sang the song 'Gbeti Madjro' – their big hit in Benin. I loved the music and they were really important at that time – and [they're] the only band known beyond the frontiers of Benin." Kidjo recorded this song with the newly reformed Poly-Rythmo for their 2011 album Cotonou Club (read the review).
Dedicated to the women of Africa, Kidjo's 2013 album, Eve, was recorded in both Kenya, where she was involved in a UNESCO project, and Benin. "Cotonou is like a little city of villages that barely have access to water or electricity – because they are off-grid. I wanted to go to these places and take the music there." She adds, "the women are farmers, or women of the market. Most of them can't read or write. But they are key for the country to function economically. Some of those women have less than a dollar a day, yet they do wonders because they have resources and networks. It's breathtaking to me to see the courage of those women. What I insisted on, although they resisted it, was that they were going to be paid." It's footage from those sessions in Cotonou that featured in Kidjo's film for the Postcards from Now film series at the recent Manchester International Festival.
An international artist exerting huge influence on Kidjo is celebrated salsa singer Celia Cruz, whom she paid tribute to on her 2019 album, Celia, which she also performed at the BBC Proms that year. "Salsa music is like a statement of machismo and Celia Cruz was like a female boss with all the guys behind her. She was the one that made me think 'you can do any music if you put yourself into it.' She gave me wings bigger than an eagle's and made me feel that's what I'm going to do."

Since her international debut on the Mango imprint, Logozo, in 1991, Kidjo has followed an unpredictable musical path but always kept in touch with her African roots. Sometimes it's been through the lens of African-American music from Brazil and the Caribbean, as on Oremi, Black Ivory Soul and Oyaya!, or her African take on Talking Heads' Remain in Light. Alongside these, she's been inspired by the African continent itself, as on Öÿö, Eve and her latest release, Mother Nature. And, as she freely admits, releasing the song is only the beginning: "When you write a song you can't think about that song as being finished. It goes beyond you and goes everywhere. You have to let it free and let it do whatever that song wants to do."
---
This interview originally appeared in the August/September 2021 issue of Songlines magazine. Never miss an issue – subscribe today