Tuesday, February 20, 2018
Aziza Brahim: Voice of the Resistance
The Western Sahara has been the subject of dispute for many decades. One of its most eloquent activists and singers, Aziza Brahim, talks to Violeta Ruano about life in exile and how music and politics are inseparable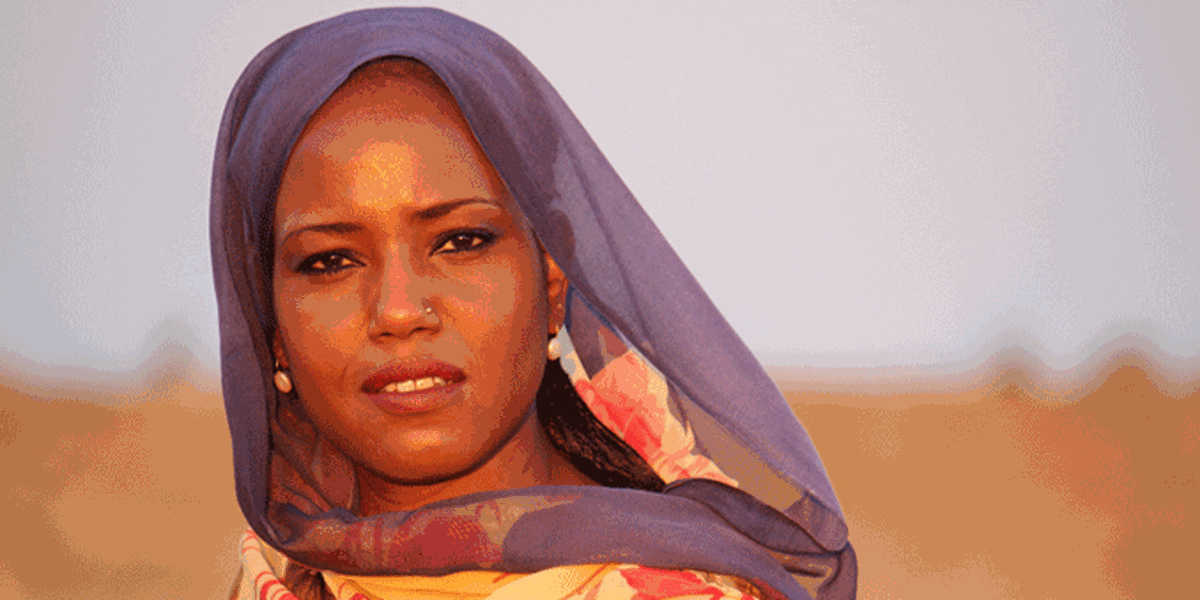 (Photo: Stefano Buonamici)
Singer and percussionist Aziza Brahim was born in the Saharawi refugee camps in the harsh Algerian desert on June 9 1976; the same day as the death of Saharawi revolutionary leader El-Ouali Mustapha Sayed. Her mother, already pregnant with her while escaping the Moroccan military invasion of her Western Saharan homeland a few months earlier, gave birth in the unbearable heat surrounded by nothing but sand, humanitarian aid tents and war. Together with tens of thousands of other refugees, she had left behind a resource-rich territory with fisheries, pastures, agriculture and some of the largest phosphate reserves in the world. Aziza's father stayed in the capital city of Laayoune, controlled by the authoritarian regime of Moroccan king Hassan II. A 2,720km-long military wall – the longest in the world – built by the Moroccan army across the Saharawi land, and protected by over eight million landmines, ensured the singer would never get to meet her father before his death. Today Western Sahara – an ex-Spanish colony – is listed by the UN as the last territory in Africa still pending decolonisation, while the Saharawis on both sides of the wall desperately await for a self-determination referendum.
Family separation, struggle and survival – key elements in the Saharawi's recent history – are all recurrent themes in Aziza's music, even though she now lives and composes in Barcelona, Spain. As she states defiantly: "living in the diaspora does not make me alien to the situation of my people." This is certainly the case of her new album, Abbar el Hamada (Across the Hamada). Through a collection of ten bluesy, almost hypnotic tunes, Aziza immerses the listener directly into the Saharawi reality. Singing in Hassaniya – her native Arabic dialect – and Spanish, she praises their lost land ('Mani'), their spirit of resistance ('Intifada') and the important role of women in the revolution ('Baraka'). In an attempt to connect with other struggling communities, she also references current worldwide experiences of migration, refuge and confinement ('Los Muros'). It is a "conversation," she describes, "a discussion between emigrants, refugees and stationaries… between nomads and the sedentary; between Saharan, sub-Saharan, North Saharan and Saharawis."
The 'hamada' Aziza musically takes us through refers to the stretch of rocky terrain in south-west Algeria – locally known as the Devil's Garden – that has sheltered the Saharawi refugees for over 40 years. Anybody who has crossed this barren territory, either on camel or inside a four by four, can relate to the singer's belief that it's "the ideal territory for the blues; a never-ending source of sorrow and sadness. We've been able to survive there only due to the perseverance of our just cause." Led by the Polisario Front, the Saharawis' liberation movement, they have cleverly used their waiting time to construct their own nation in exile. Life is hard in the hamada, however, where schools, hospitals and humanitarian projects consistently fight against extreme temperatures, sandstorms, the occasional devastating rainfall (such as in late 2015), and a chronic lack of resources. It's only through the strong belief in a fair solution to their conflict that the Saharawis keep going. This has fuelled the development of a unique crossroads in musical culture, based on the oral traditions of the region modernised through the use of the electric guitar, and almost entirely dedicated to the promotion of their self-determination struggle.
As she humbly admits, Aziza first became interested in music because there was nothing else to do as a refugee when she was a child. "It was the main way of having fun during my childhood," Aziza tells me. "The games my family proposed were always musical. I competed with my sisters to compose the best songs before a family jury, always with the percussion." Most women in Aziza's family are also talented musicians and poets who have participated in the cultural life of the refugee camps for years. During the revolution, her mother became part of the first Saharawi national music band Shahid El Uali (named after their deceased leader), together with famous Saharawi voices such as Mariem Hassan, while her grandmother, Lkhadra Mabruk, is a well-known poet who documented the 16 years of war that followed the occupation through her verse.
Indeed, Lkhadra has been a great inspiration for Aziza throughout the years. "When I was a child, I played to musicalise my grandmother's poems," remembers the singer. "It was an honour to learn from her." In 2012, Aziza named her debut album Mabruk in her grandmother's honour, and included a version of five of her stunning poems. I meet Lkhadra in their family house in Laayoune, one of the five residential camps. She is a small but energetic woman who still recites from memory most of her compositions, as well as hundreds of lively family anecdotes. "All the children in my family are encouraged to play music and learn stories. But since the beginning, Aziza wanted to be a famous singer," recounts Lkhadra with a tinge of pride in her voice. "She would go to every concert, every performance, learning very quickly. But she had to fight hard."
Aziza's life has been marked by movement, in a way paying homage to her nomadic roots. She left the refugee camps as a teenager to study in Cuba, thanks to an agreement between the Saharawi and Cuban governments that allowed young refugees to receive an education far away from the war. While on the island, Aziza sang as often as possible, although when she was denied a scholarship to study music, she decided to return to the desert. It was the mid-90s, the war was over, and new opportunities were opening up. Aziza joined a regional band, perfecting her knowledge of the Saharawi national repertoire. In 1995, she won the first prize of a local competition with her song 'La Tierra Derrama Lágrimas', which became one of her hits later on. A few years later, she participated in the triple album Sahrauis: The Music of the Western Sahara, released by the Spanish label Nubenegra. The young singer then became part of the band Leyoad, touring Europe in the late 90s, and finally settling in Spain in 2000.
Since then, Aziza has been continuously developing her musical style, absorbing and combining any influences that have come her way. She has fused her Saharawi roots with styles as diverse as jazz, rock, Spanish popular music, Afro-Latin rhythms and the blues, touring internationally with her band Gulili Mankoo and on her own. She usually composes her own lyrics and music, adapting the melodies that she imagines to the subjects she wants to highlight. "I know my musical traditions and I respect them, but I'm not interested in keeping their purity," she confesses. "I choose to mix some of their elements with other sounds and see where that takes me."
It appears that this strategy is taking her far. Some of her songs have been internationally acclaimed, such as 'Wilaya Blues' (from Mabruk, 2012), used on the soundtrack of the first Saharawi feature film Wilaya (Tears of Sand). This gave Aziza the Best Original Soundtrack prize at the 2012 Malaga Spanish Film Festival (among other awards), and the opportunity to debut as an actress. Her family, who follow her on social media and are in constant communication with her despite the camps' internet limitations, are proud of Aziza and approve of her musical choices. As her grandmother acknowledges: "In this world that is constantly changing, if you want to get your message across, you have to innovate as well. If it hadn't been for Aziza's music, my poems would have never been heard abroad."
It should then come as no surprise that the singer has been increasingly known as the new voice of resistance of the Saharawi people, as well as a cultural activist for their cause. Aziza's response is clear: "For us, to say that you are who you are already means that you are an activist. In a situation of persecution, the most mundane thing, such as saying your nationality or wearing the melhfa (traditional female cloth), is a political act. I can't separate my political side from my cultural one." Saharawi music is thus inextricably linked to their resistance struggle; one cannot exist without the other. And this is precisely what makes Aziza Brahim's music a seed of hope in Western Sahara.
This article originally appeared in Songlines #116.