Wednesday, February 21, 2018
Baaba Maal: Return of the Podor Son
A spokesman for his people and proud champion of West African culture, Katharina Lobeck Kane salutes the Senegalese sensation Baaba Maal.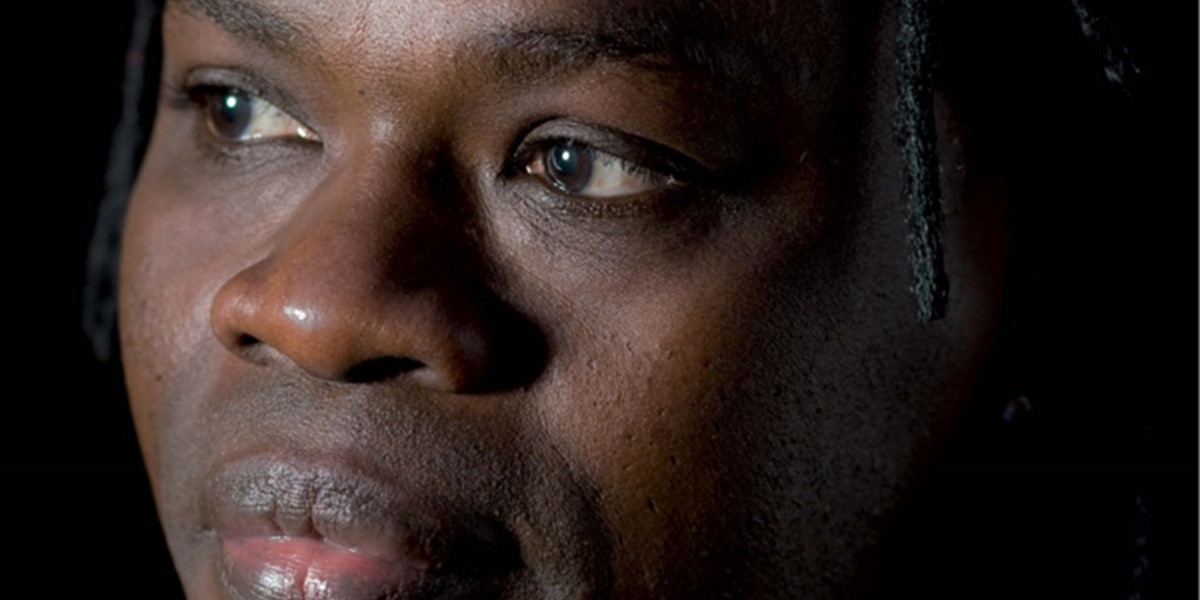 There are a handful of towns on this planet that seem endowed with a unique natural force, strong as gravity and mysterious like the divine. Podor, Senegal's northernmost city and heart of the Fouta Tooro region, is such a place. It draws you to its dusty core and keeps calling you back once you've left. It's hard to pin down Podor's particular magic – it rises somewhere between the tranquil flow of the Senegal river that lines the town, its humble, earthen-coloured houses and the flickering heat that renders even the most ordinary scene somewhat mysterious. It's a town with a deep history, and the past seems strangely alive here, between old colonial warehouses, a small 19th century fort and the sand-blown market streets.
Baaba Maal is one of Podor's famous sons, and he's completely surrendered to the town's loving grip. Nowhere does his music sound so right – so good – as on a drive through the Sahel plains that stretch out on either side of the Podor-St Louis road. "Don't look for Baaba Maal in Dakar," says Oumou Sy, Senegal's most famous fashion designer, a fellow Podorian and one of the singer's closest friends. "If you want to find Baaba Maal, go to Podor." Deeply rooted in the culture of Senegal's river region, this is where he refuels, among friends, family and the artistic currents that sweep the area like the desert storms that wrestle with its small acacia trees. "Podor is a very cultural place," says Baaba, diving straight into an enthusiastic description of the city's proud past. "It seems to have existed forever. The Mali Empire washed over it, and it's a meeting ground for many ethnic groups. Almoravids and Arabs came here from the north to buy salt and slaves, and Podor became an important trading centre. All of West Africa's culture seems to come together there."
Baaba's emphasis on the area's diversity comes as a surprise. Podor is usually hailed as the heart of Senegal's Halpulaar (Tukulor) community, a particular branch of the Fula ethnic group that have come to settle in every corner of West Africa via their traditional nomad lifestyle, cattle-herding culture and ambitious empire building. Baaba Maal is known and loved for his attachment and commitment to this fascinating community. He tirelessly builds connections between West Africa's diverse Fula groups and promotes local development through ambitious projects, such as his mighty annual Festival les Blues du Fleuve and a brand new agricultural foundation. But stories are always more complex than a quick glance suggests, and it seems that Baaba Maal's local grounding has more to do with the breadth of culture and close ties across West Africa this region offers, rather than the belonging to one particular community.
"In my family, you find many ethnic groups. I'm lucky that way," he explains. "My grandmother was Serer, my father Halpulaar. We spoke Wolof, Serer and Pulaar at home. Through my origins, I'm connected right through to the interior regions of Senegal."
Born in 1953, Baaba Maal grew up during one of the artistically most exciting periods in Podor's history. An era where the ancient songs of the griots (storytellers and praise singers) mingled with occasional jazz and R&B tunes that arrived with adventurers, sailors and Senegal's affluent classes at the port of the cosmopolitan city of St Louis, and were carried along the river to the hungry ears of Senegal's kids. The 60s were also the time when West Africa's brand new pop sounds spread throughout the region, celebrating the independence of the young nations with a thrilling mix of Cuban, African and European ingredients. "In the 50s and 60s, Podor was a great intellectual centre," explains Baaba. "Lots of teachers and thinkers lived there; songs from all over West Africa were played there. [Guinea's musical mover and shaker] Keita Fodeba was based in Dakar and St Louis at the time, and came to visit Podor, like many intellectuals, and everything suggests that he was the one who introduced the acoustic guitar to the river region. Suddenly everyone started playing the instrument."
For Podor's youth, the guitar was the bridge needed to carry the music of their villages into the new era. Senegal's traditional Halpulaar culture is strongly dominated by Islam, which doesn't easily favour popular music if it's deemed too raucous. At the same time, the community is structured in a strict hierarchical fashion, where the playing of instruments is traditionally the business of the griot classes. The guitar rendered all those imposed boundaries meaningless. It wasn't part of the traditional range of griot instruments, and therefore accessible to youngsters outside that social group. And the music played on it – the newly developing Sahel sound – was hardly the stuff of rock'n'roll deviance, hence grudgingly accepted by the community's elders.
Baaba didn't learn the guitar, but his childhood friend Mansour Seck did, taught by one of Keita Fodeba's students. Mansour's hypnotic, acoustic riffs were irresistible to the young Baaba, who soon started to compose melodies to go with the patterns. "I said to myself, 'Mansour plays the guitar so well, why should I start doing it as well? I think I'll stick to singing'," he laughs. What started as a youth pastime turned into a profound artistic connection, a friendship to end all others and a life-long collaboration. Baaba's musical styles range from acoustic Fula music to hyperactive electronic experiments. He has shared stages with West African artists and the cream of American pop. Yet whatever style he has dipped his toes into, it has always been underpinned by Mansour's gentle guitar and his trademark exclamations from the back of the stage. "I can't imagine not playing with him," says Baaba. "Everyone, from my mother to my record company loves Mansour. He's someone who brings life to a group, even off stage. Our friendship is sacred for me. Even if he were only to hold a calabash, I'd still take him on tour. The only one who can make me leave without him is God."
Thus Baaba's story starts with cultural breadth, a passion he developed throughout his entire career. The depth of the Halpulaar tradition came a little later, via the unexpected help of the Senegalese postal service. "I had an uncle who was a postman," he explains. "At some point, he started taking me along on his journeys. I particularly remember travelling to Ndioum [a small village in northern Senegal] with him. That's where I really discovered the Pulaar language and realised that I still had a lot to learn. Such richness! Suddenly, when I listened to other [West African] music styles, I realised how the Fouta Tooro was connected to those cultures – to the music of Mauritania and Mali's Bambana people."
Baaba and Mansour honed in on those seductive Sahel sounds and Halpulaar verses. Well on their way to defining their own style, they went to road test it across West Africa.
Over two years, from 1978, they travelled together with singer Mbassou Niang from one nation to the next, building a vast fan base across the region, and refining their sound as they absorbed influences wherever they passed. Soon after their return to Podor, the indefatigable Baaba-Mansour duet headed for Paris, right in the early 80s, when all things African were fashionable. "There were so many African artists around – Salif Keita, Touré Kunda, Mory Kanté – I was so fascinated!" Baaba says. "We all felt that something was happening for African music, and we wanted to be there, we wanted to move it on. Traditional music had been there for a long time, but now, we felt was the time for change." Part of the vibrant Association of Senegalese Students in France, Baaba mingled with the country's young hopefuls, people who were set to form Senegal's future elite. One of them, Aziz Dieng (currently head of Senegal's author rights society BSDA), gave him the final push into a life of music. One friendly nudge of the elbow turned Baaba Maal from a student at a conservatory in Paris, still vying for a teaching career, into a professional musician. "Mansour and I played in cafés, restaurants, universities and sometimes even in our apartment near Saint-Denis. There was an incredible buzz. We organised concerts by people like Mutabaruka and Linton Kwesi Johnson, who made me think about giving more meaning to my lyrics."
During a side trip to Belgium, Baaba and Mansour took up the offer of using a friend's small studio and recorded their first record. Called Djam Leeli, the humble acoustic album was initially meant to be a "souvenir cassette" or "something that we could send home to show to people," as Baaba says. But with just two voices and guitars, they had created a small treasure. The humble album was received enthusiastically. In Senegal, the grip of Cuban music on national pop styles just started to loosen, and Youssou N'Dour's brand new mbalax sound swept the country like a fever. Baaba emerged on the scene right then, and the Halpulaar community – and later everyone else – flocked to his shows, deeply moved by this young singer who shaped profound verses in Pulaar, bringing sentiments of sand-blown streets, dozing cattle and tranquil waters right into the heart of Senegal's capital Dakar. "We were proud of him, and we knew that he would become huge – people flocked to hear him sing when he was still a boy," says Oumou Sy, with a note of characteristic Halpulaar confidence. "Our music is beautiful and it travels easily across West Africa. He couldn't go wrong." When Djam Leeli was released in the UK a few years later, African music fans listened up immediately. To date, it remains his bestselling, and (as many claim) finest album.
Baaba has recreated the intimate feel of this record on several acoustic tours, and released a series of those breathtaking concert moments together on the album On The Road. "If I play for my own pleasure, together with my closest friends, I'll always choose acoustic music," he says, and expresses his admiration for the growing folk music scene in Senegal. "It's music that gives a lot, it has a great public, and deserves to be known." And yet, throughout his 30-year career, acoustic tracks have only rarely made it onto his records. His impressive set of international releases sees him flying through the world's genres, mastering the most diverse styles like a man out to defeat the many sounds of this world. His openness to all these musics has made him a sought-after collaborator, and he's rendered even awkward collaborations exciting through his spectacular showmanship and chameleon-like adaptation to new sound worlds. On The Road is followed by an album that could hardly be any different in character. On Television, he dips his toes once again into completely new waters, blending elements of Halpulaar music with dance and lounge beats. A collaboration with the Grammy-nominated Brazilian Girls, an outrageously funny and daringly experimental New York combo, it's an album for stylish clubs and dazzling parties, a record that sprinkles a bit of Dakar dust into glitzy London bars.
Baaba has worked with dozens of artists in the past, but this time, he says, he wanted to shape a musical encounter on new terms. "Television is above all another stop. On my previous albums, I was very much the African musician who opens himself to new genres and people. This time, I said to myself, the whole world is coming to Africa to look for its music. Why shouldn't we go to them? Would it be possible for us to say, we are just musicians, not 'African musicians'? I wanted to let other elements come in." Two of the Brazilian Girls (who are really two guys and one very feisty lady) – namely multilingual vocal-experimenter Sabina Sciubba and keyboard wizard Didi Gutman – locked themselves into London studios with Baaba to build a whole new aural universe. "I had ideas, rhythms, texts and thoughts about Didi's and Sabina's possible contributions," explains Baaba, "and from there, everything happened by itself. We didn't have much of a plan, we just let the music and our experiences take us to new places. All I knew was that I wanted to create something very different from Missing You [his previous studio album]. I didn't want my voice to occupy the whole space. This album is not about the singers, it's about pieces where the voice becomes another instrument." For some fans, the record may come as a shock, or an unexpected surprise – quite a feat for an artist who built a career on defying expectations. "I don't want to stand still in one creative place," he states defiantly, "otherwise, what's the point of having learnt all those styles throughout my life?"
Baaba's role at home is very different, and much deeper than that of a daring entertainer. While he emphasises his love for cultural diversity, Senegal's Halpulaar community claims him as 'their voice' – not only as their most famous singer, but also as outspoken defender of cultural values, and engaging speaker on social, political and economic subjects. Among the Halpulaar, he's deeply revered for having pushed their traditions right to the centre of Senegal's artistic life and for his unrelenting commitment to drive development in northern Senegal's river region. And considering that most Halpulaar are fairly conservative and protective when it comes to their cultural values, they might consider this album one step too far into the modern, globalised world. Then again, Baaba Maal may just be the person who takes even the most reluctant listener to the musical corners he picks. His spirit of uniting those around him – and that includes, at times, entire West African populations – and sharing his amazing curiosity with them is a force that's hard to escape. He talks about bringing the Brazilian Girls to Senegal, perhaps to the next edition of the Festival les Blues du Fleuve. And who knows what a stay on enigmatic riverbanks could do for bunch of sound travellers from New York, or what the sudden arrival of great electronic sounds might spark in the inquisitive minds of Senegal's young generation of artists.
"People should try something new," says Oumou Sy. "There are great young artists out there, but the trouble is, they all try to sound exactly like Baaba. If they start finding their own voice, they could do amazing things. Then again, how could you not want to copy him? I'll say little and say it well: those who like good music will listen to Baaba Maal." At the last edition of Baaba's festival, thousands of youngsters queued for hours under Podor's scorching sun, waiting patiently for their favourite star to appear. When he finally jumped on stage, a bundle of energy waiting to explode, the place erupted. Dancing feet whipping up clouds of dust into the air, claps and shouts rang across the open-air field. Oumou Sy – it seems that your whole country appreciates good music.