Wednesday, July 14, 2021
Ben Aylon: an African obsession
The Israeli multi-instrumentalist talks about the fascination with African music which shaped his debut album, Xalam, an exhilaratingly kinetic collection featuring star turns from Doudou Ndiaye Rose and Khaira Arby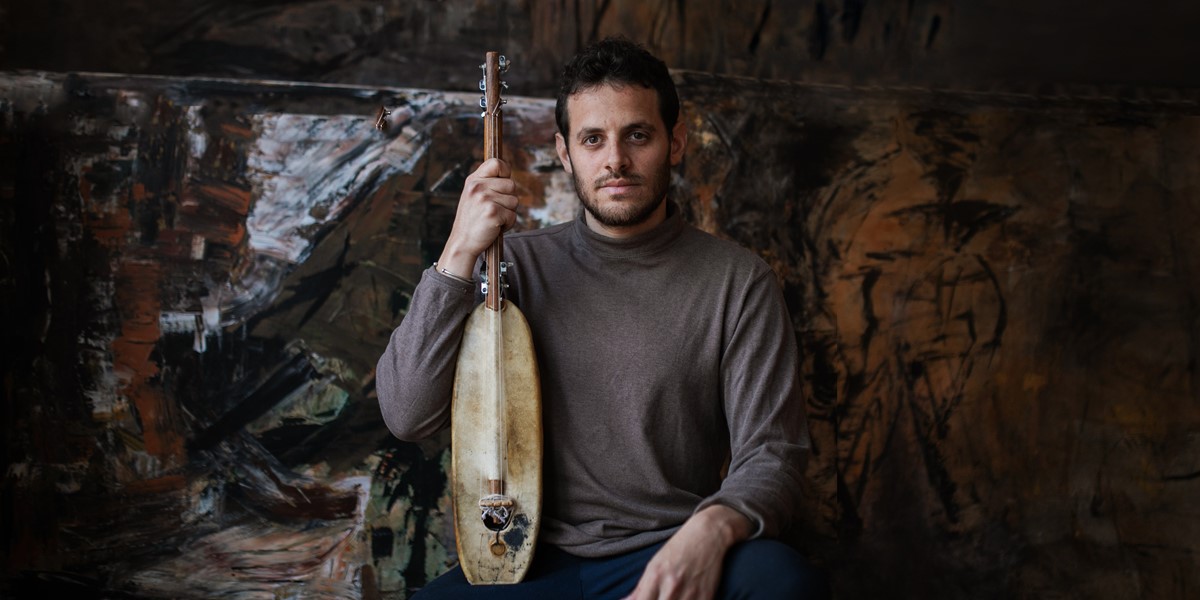 Ben Aylon (photo by Vera Bello)
Ben Aylon is an unlikely new arrival on the African music scene. His album Xalam sounds like a glorious session by some mysterious Senegalese or Malian band, with its blend of complex percussion work, xalam (lute) solos, and appearances by such legendary figures as the Senegalese master percussionist, the late Doudou Ndiaye Rose, and two fine Malian singers, the late Khaira Arby and Amy Sacko, celebrated for her work alongside her ngoni-virtuoso husband Bassekou Kouyaté in Ngoni ba. 
Yet Aylon isn't African at all – he is an Africa-obsessed Israeli musician, who played all the xalam and other ngoni parts himself, along with much of the percussion, all the bass work, and wrote or co-wrote all the compositions. He mostly works as a soloist, and as "an online video entertainer, performing solo and uploading lots of videos." When he played in Senegal before lockdown last year he appeared on TV, and was even thanked by Youssou N'Dour for his work in promoting the country. "For me, the most important thing was 'do they approve? Do they like it?'," says Aylon. "And 90% love it… but there is always the 10% who say 'you are stealing our culture'…"
Aylon started out as a jazz drummer, but then got introduced to African music by an ethnomusicologist friend, "and realised that playing with my hands on the drums is a far deeper experience than holding a stick." Trips to the Gambia followed, and in 2008 – "after visa problems and spending four days in a police station," – he was deported, over the border to Senegal, "where I listened to the drumming style and realised what I wanted to do in life." 
He was eager to learn from the master Doudou Ndiaye Rose, a national hero in Senegal, famed for his percussion orchestra of sabar drummers – and managed to do just that. He met and studied with his son Aly and, in 2013, he got to play with Doudou himself, just two years before his death. Their collaboration is the exhilarating opening title-track on the album. Back home, Aylon worked on what he calls his 'hybrid' drumming technique – "distilling the essence of every part… and playing five, six or seven parts all by myself." He added the xalam, or djeli ngoni, to his repertoire without taking any lessons. "I had a group back in the day," he says "and wanted my guitar player to play the instrument. So I bought it for him, but he never played it… so I just picked it up. And then recorded hundreds of melodies on my iPhone." 
The manager and booking agent Norbert Hausen helped organise the recordings with Khaira Arby while she was on tour in Germany in 2015, and Amy Sacko (in Gibraltar, two years later). In 2018 Aylon added a third female voice, the Israeli-Ethiopian singer AvevA. After seven years, this intriguing album was finally complete.
So what happens next? "I was jamming with Cheikh Lô in Senegal, and hopefully there will be a collaboration," he says. "And I'm thinking of pressing a vinyl album of my drum parts, and going on stage with a big gramophone and playing along to my drumming."   
Read the review of Xalam in the Songlines Reviews Database
This article originally appeared in the July 2021 issue of Songlines. Never miss an issue – subscribe today
Watch