Sunday, December 13, 2020
Blick Bassy: "This generation must defy imported culture and design their own role models and paths"
Daniel Brown speaks to Cameroonian musician and writer Blick Bassy about breaking the silence on France's colonialist treatment towards his country's independence heroes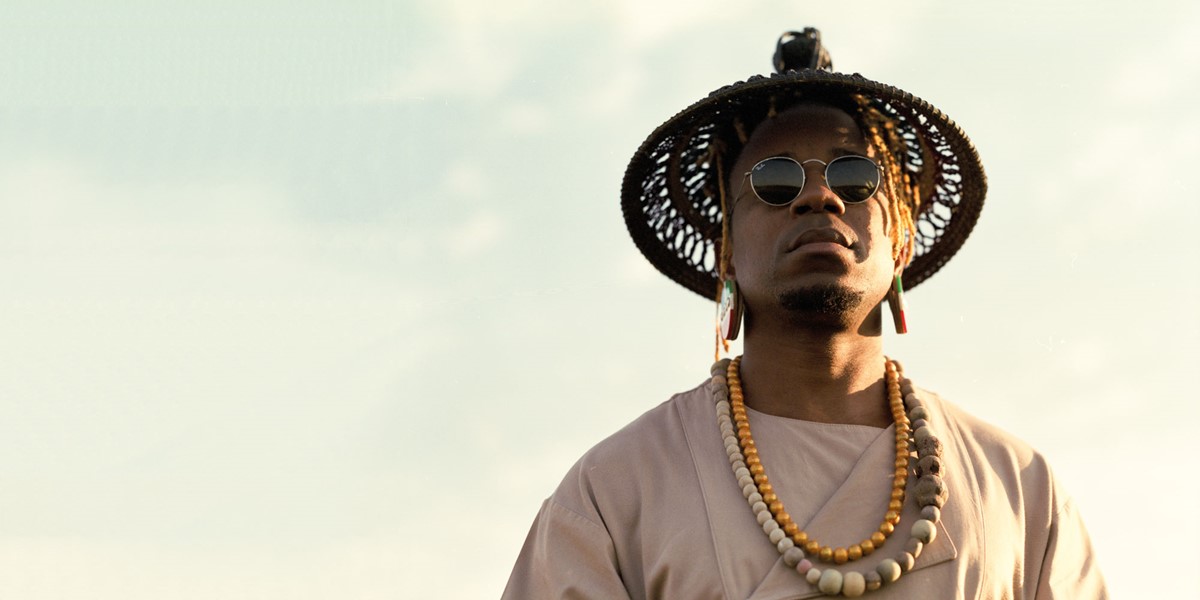 Blick Bassy (photo: Justice Mukheli)
Singer-songwriter Blick Bassy is a man of mirrors, reflecting his and our contradictions in a light simultaneously harsh and gentle. His is a melodic high-pitched voice that scrutinises the screeching fault lines of France's colonial past; a self-taught musician proffering business models for fellow artists in a video series; a self-styled "talking geek" composing lyrics of searing simplicity; a boxer's profile stroking his Gibson with a lover's touch; a man sporting a neck tattoo of a chain symbolising humanity's communality, next to an earring incarnating individuality. Most tellingly, at present he is a "neo-ruralist," (sic) happily ensconced in France's south-west village of Saint-Aubin-de-Branne, where he composed his latest album 1958, an indictment of the savage killing by the French army of one of the unsung heroes of his native Cameroon, Ruben Um Nyobé.
"I see no contradiction in living in the belly of the beast," he says flashing his disarming and ubiquitous smile. Yet, one senses he's ill at ease. After all, the cost of Cameroon's struggle for independence is one more unadmitted skeleton in the cupboard of France's colonial past. Figures fluctuate wildly from 20,000 to 120,000 Cameroonians killed, with historian Meredith Terretta estimating that the 1956-1964 era yielded up to 76,300 victims. This inability to even admit there had been what reporter David Servenay calls "an all-out war" rankles with the musician. "We're close to 60,000 Cameroonians living here and I don't think there's one of us who doesn't still feel that hurt."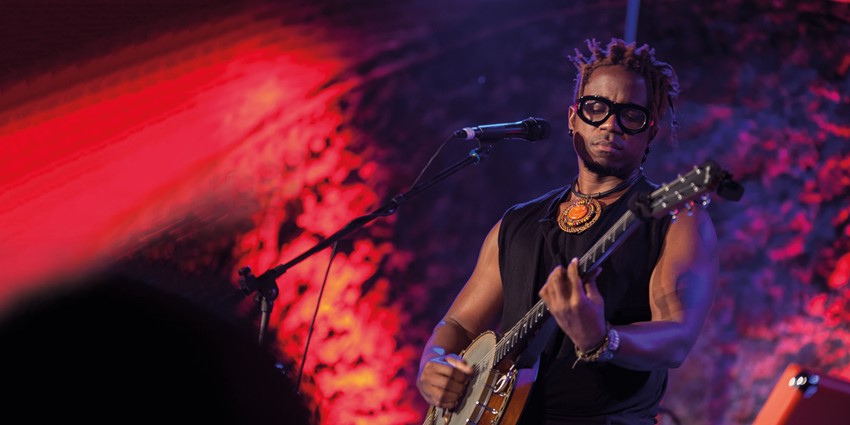 We're sitting behind the Ferber studios stage in Paris where he has just finished his pre-release showcase for his fourth album. Bassy shows few signs of jetlag after zipping in from New York where he says he had so little time to adjust that his guitar was "still frostbitten from the winter air in the Big Apple." But this is a hyperactive artist who has been globe-trotting for much of his 28-year music career. Since his 2015 album, Akö, he has played over 250 concerts worldwide, published his first novel, Le Moabi Cinéma, presented an 18-part video series on the music business called Wanda-full Artistik Concret (co-produced with Radio France International), launched Show-me, a unique digital music market in Switzerland and nurtured the burgeoning drum skills of his son, Dharil Esso. "No, being based in France is important. I see it as my duty to sensitise both the French and the Cameroonians to their own history, warts and all. That's why 1958 is more than a record, it's a workshop. I sing in my native Bassa, only spoken by two million people at home, so I translate my messages during concerts. I'm a bit like Um Nyobé: I try to be an mpodol – one who carries the word to his brethren. That's the title of one of my songs, where I denounce our leaders for not dignifying his memory."
Bassy's links to Ruben Um Nyobé are both ideological and personal. The trade unionist came from Boumnyébel, a village three kilometres from where the musician's maternal grandparents lived. Born in 1913 when Cameroon was a German colony, Um Nyobé's two decades of union and French anti-colonial struggles propelled him to the head of the nation's independence movement. Forced into hiding in Bassa territory in 1955, he was mowed down in 1958, dragged through the villages and buried in concrete by the French military. "At the time, my mother and her father had to spend 18 months hiding in the forest. The military were capturing and torturing people at random to discover where Um Nyobé's hideout was."The stigma around the resistant's death and memory then took on Kafkaesque proportions. "It's one of the reasons for my making this album. Pronouncing Um Nyobé's very name was an offence in Cameroon until 1991! During my research for this record, my grandfather would still whisper his story for fear of being overheard." In Bassy's years of schooling in Mintaba and Yaoundé, Um Nyobé and his followers were labelled agitators or simply airbrushed from his history classes. "Worse, everything associated with the Bassa community was negative because his resistance centred on our region. We were all branded terrorists, violent and irresponsible. Until today, we are stigmatised. That was the second reason I had to bring out this album."
A third motivation resided in Um Nyobé's general philosophy. A charismatic orator, he impressed the UN assembly with his calls to unify an independent Cameroon under a moderate ten-year plan. "I was struck by his visionary speeches, they still resonate in our divided country. They denounced the communal divisions that are tearing us apart, they insisted on reconnecting with our traditions and history to go forward. In songs like 'Ngui Yi' (Ignorance) and 'Sango Ngando', I sensitise Cameroonian youth to Um Nyobé's sacrifice and their responsibility to honour our heritage. This generation must defy foreign imported culture and design their own role models and paths, like he did."
Blick Bassy's own singular approach to music marked him out from fellow Cameroonians. It is symbolised by the key he has moulded into an earring dangling from his left ear. But it is rooted in his childhood. One of 21 offspring, this son of a pastor struggled with his father to impose his dreams of becoming a musician. 'Ironically, my passion for singing was born in my father's church where we made up the entire choir,' he told reporter Arnaud Robert in 2016. 'When I opted for my music instead of three study grants, my parents were mortified. For them I was going down the road to purgatory.' Even before leaving secondary school, Bassy had defied parental pressure and created The Jazz Crew, which mixed his passion for bossa nova with the traditional hongo and assiko rhythms he picked up in Mintaba. Building on the band's national success, Bassy created Macase in 1996. This time, he melded soul and jazz with his indigenous heritage. The success of the group's two albums Etam (1999) and Doulou (2003) spread beyond Cameroon's borders, bagging the 2001 RFI Découvertes and MASA Best Band awards.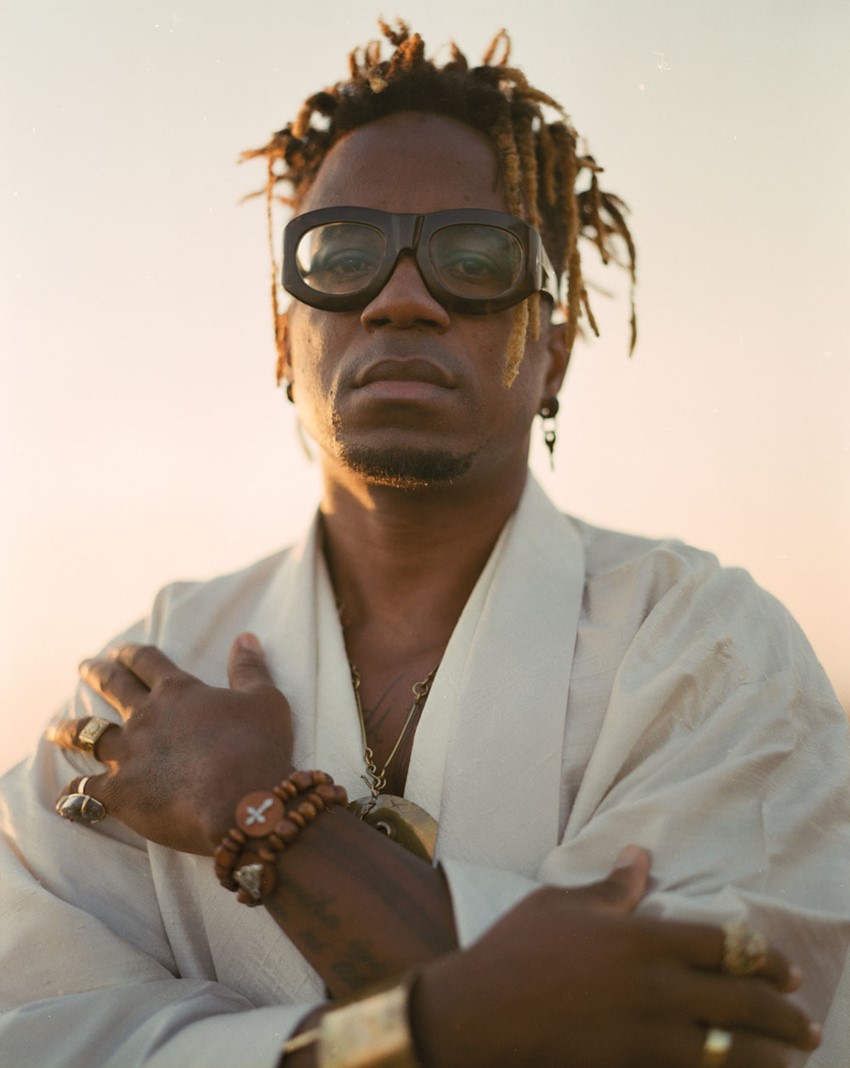 Propelled by Macase's success and saddled with support from Cheick Tidiane Seck and Manu Dibango, the 31-year-old set his sights on a solo career in France. But the move took time to flower. "I tried living in Paris, sometimes living rough or busking, but I need the calm of a rural setting to compose,"Bassy admits. After five years, he moved to a northern village of Quentin where he found the inspiration for Léman (2009) and Hongo Calling (2011). "Ironically, those three years in the north helped me reconnect to my Bassa roots." They also helped turn some of its traditions upside down with the telling additions of the cello and the trombone to his band's line-up. 'The latter,' he tells Robert, 'reminds me of the train whistling when it reaches my village. People dressed up hoping to see one their close-of-kin return, what we call in Bassa the mbenguistes… There are tears of joys. Tears of separation.'
The musical experiments spilt over into Bassy's next two albums. His 2015 release Akö reflects his debt to American blues with a particular fascination for Skip James and the Mississippi blues. The Cameroonian crooner composed intimate ballads adding the banjo and harmonica to a languorous trombone with a haunting timbre. Experimentation also leaked into Bassy's musical clips. The sinister 'Ndjèl', in particular, could come straight out of the nightmarish world of the American series Stranger Things. This is a song almost whispered out by a transfixed artist at the apex of his career. I ask him what is behind this disturbing video and its kaleidoscope of slave ships, explosions, beat up cars, erupting lunar surfaces and an earth turning. What does this all mirror? "It's all about the paths we choose to take," he says, playing with his key earring. "Where do we want to go? We're in front of the corridor of life and our choices bring us closer to who we are. Ndjèl? That's the path I've chosen. Make of it what you will."
Four years after Akö, Bassy brings us 1958, recorded in the same Ferber studio where his first solo album was born in 2005. Again, Johan Blanc's trombone joins Clément Petit's cello and the keyboards of Alexis Anerilles to provide a distinctly modern feel to Bassy's almost eerie voice. This is augmented by alternating between a classic microphone and a high-articulation Heil Sound microphone which distorts and dirties the singer's falsetto explorations.
The album stands out as the Cameroonian's most personal and engaged to date. "We've been waiting too long to shed light on Um Nyobé's assassination," confides Bassy, now 44 years old but still sporting a street fighter's body and attire. "Yet the French have promised to release archives on such crimes ever since Jacques Foccart was the Elysée's Mr Africa. Andit's not just Um Nyobé's assassination, there's also his successor Félix-Roland Moumié, killed two years later. The French were ruthless and really decapitated a leadership which could have made a difference." To drive his message home, Bassy turned to South African Tebogo Malope to direct the album's first video clip for 'Ngwa'. Set in the breathtaking mountains of Lesotho, the award-winning director offers a dense homage to Ruben Um Nyobé with a smattering of Pan-African references – from Matigari by Kenyan writer Ngugi Wa Thiong'o to the contribution by South African resistance figure Solomon Mahlangu whose dying words were "My blood will nourish the tree that will bear the fruits of freedom." In the video's final scene Bassy/Um Nyobé's dead body sprouts the roots, trunk and branches of a new dawn. Just another mirror the musician-philosopher leaves us with, reflecting a generation-old balancing act between death and rebirth, loss and resistance.
This article originally appeared in the May 2019 issue of Songlines. Never miss an issue – subscribe today!