Tuesday, July 28, 2020
Celebrating Festivals: A Lost Summer of Music
The summer of 2020 will be remembered as a giant void in the festival calendar with coronavirus causing a deluge of postponements and cancellations from Shetland to Sarawak. In a show of support for the festival community, musicians and Songlines contributors share their favourite festival memories over the years. Read more in the current issue (#160) available now.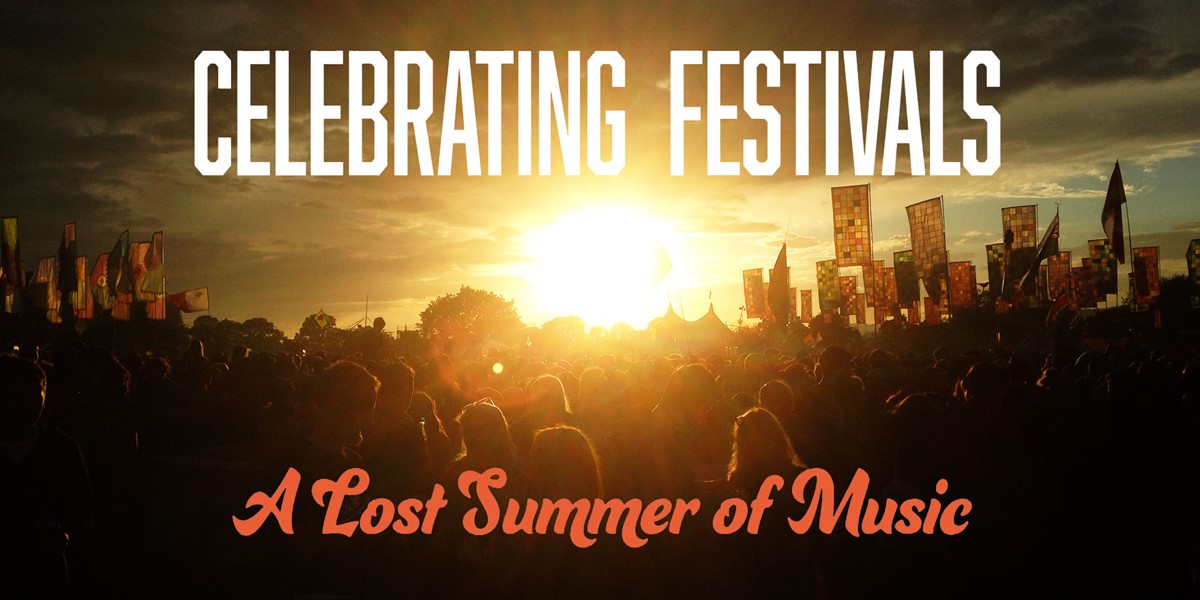 Africa Oyé, 1993
Birkenhead, UK
Chosen by contributor Jim Hickson
I've been a festival regular all my life, and it's through festivals that I developed the forever-love of worldwide music that has shaped my life ever since. My parents carted me about to loads of brilliant events when I was young, so I wondered whether they had any particular memories of Little Jim's formative festival moments. Here's what my dad said…
"It was while Africa Oyé was still at Birkenhead Park, when Remmy Ongala and Orchestre Super Matimila were on the bill in 1993. You were weeks away from being two years old. As we remember, you were captivated by the sound desk, and hurtled off towards it at speed. We were trying to follow you, but as it's easier for a small person to pass through a festival crowd, we were losing ground. We were shouting at you to stop when your path was suddenly blocked by Dr Remmy's drummer. He hoisted you up into his arms, where you burst into copious tears. You were brought back and delivered to us, where the musician said with a big smile, 'He doesn't like my big black hands!'"
So there we have it – my first of many brushes with the people behind the music. I enjoy my encounters a bit more now though!
Africa Oyé returns June 2021


Babel Med Music, 2010
Marseille, France
Chosen by contributor Wif Stenger
In 2006 I stayed in a Moorish house in Andalucía, listening to Ali Farka Touré. Though Mali lay 4,000km to the south, it felt close as his guitar danced around the tiled arches.
Heading home, I heard that Touré had died that week. Later that year some of his final recordings appeared on son Vieux Farka Touré's debut.
Four years later I hopped on a train from Stockholm to Marseille (24 hours including lunch in Paris), where I heard that Vieux was performing at the Babel Med Music festival at Dock des Suds, an old spice warehouse area by the port. There I was embraced by aromas, sounds and the babble of languages that inspired the festival's name. Piled on beds of ice and lemon were oysters and scallops from the nearby Vieux-Port, which dates back to 600BC.
I felt goosebumps as the first piercing notes of Vieux's guitar rang out with a tune from the previous year's Fondo. Pushing to the front, I soaked up the thrilling sound of his desert blues guitar, echoing his father yet stingingly his own.
Backstage to interview him afterwards, Touré was amiable but it soon became clear that between his English and my equally rudimentary schoolboy French, no deep discussion would be possible. So after a firm handshake and a warm grin, it was time to head back out to enjoy Yemen Blues, Papa Wemba and the shellfish.
The next time I heard Vieux was a couple of months later from Johannesburg, onstage at the opening of the World Cup, just before Hugh Masekela and Shakira.
Babel Music XP returns March 25-27 2021


Big Big World, 2006
Glasgow, Scotland
Chosen by contributor Rob Adams
Big Big World 2006 was a landmark event. Although no one knew then, it would be the last festival Billy Kelly promoted. Kelly had been bringing the world to Glasgow for two decades. Always a man with open ears, he'd presented musicians from Afghanistan, Vietnam and La Réunion as well as familiar names including Miriam Makeba, Angélique Kidjo and Mory Kanté. His 2006 programme delivered the Buena Vista Social Club, a pulsating concert by Toumani Diabaté, and the more studious and contemplative spectacle of six hours of ragas – morning, afternoon and evening – as well as Jamaica's Twinkle Brothers, Iran's Payvar Ensemble, British-Bengali pianist Zoe Rahman and Kelly's beloved Omar Sosa with Dhafer Youssef. It was typical Kelly programming, the celebratory and the experimental seasoned with serious folklore. Just a few weeks later he died suddenly. His spirit lives on, however, as Celtic Connections absorbed his world view, presenting musicians Kelly had promoted and others he might well have gone on to promote himself with those always open ears.


Cambridge Folk Festival, 2009
Cambridge, UK
Chosen by musician John McCusker
In 2008, I was asked by Eddie Barcan, the artistic director of Cambridge Folk Festival to compose and curate an hour-long vocal and instrumental suite entitled Under One Sky. I was given the brilliant task of selecting 12 musicians and singers, with the purpose of writing songs and tunes to celebrate jointly the renowned and highly regarded folk festivals of Cambridge Folk Festival and Glasgow's Celtic Connections.
This was a dream gig for me. While I had played at Cambridge many times previously, with artists such as Eddi Reader, Kate Rusby, Julie Fowlis, McGoldrick McCusker Doyle, and Heidi Talbot, this collaborative gig was to be a very unique and special one. I asked many of my favourite folk artists to join me, including Andy Cutting, John Tams and Ian Carr, but equally, I was delighted to be joined by two favourites of mine from the rock world: Graham Coxon from Blur and Roddy Woomble from Idlewild. With everybody on board, we worked solidly together on the music over the course of a year as Under One Sky took shape.
We were all set and ready to go, excited to premiere the piece on the Main Stage. After a lovely introduction by my pal Mark Radcliffe, we walked onstage to a very enthusiastic audience, started playing the drone to the opening number, and smiled as the crowd relaxed and settled in. Our bass player, Ewen Vernal, readied himself as the moment came for his first note. He struck it, and with it, the bridge of the double bass completely collapsed, sending the loudest noise possible through the massive speakers. The audience gasped in horror and covered their ears… We were only about a minute into the performance!
The music was put on pause as I chatted to the audience, hoping to keep them entertained while Ewen and the crew tried desperately to fix the bass. Five minutes later and running out of things to say, I asked the wonderful John Tams to sing something and he sang his gorgeous song 'Only Remembered' from War Horse. I will never forget all those thousands of people in the audience singing along at the tops of their voices. We kept the momentum going as efforts to fix the bass continued... Julie sang a Gaelic song, Graham sang, and we played tunes and told stories... It was one of the most spontaneous, nerve-racking and totally joyful experiences I have ever had at any festival.
Forty minutes later, the audience roared with delight as Ewen threw his hands in the air, indicating we had bass lift off! It was finally time to put our year's work into action. The drone started, and the music flowed throughout the evening. I'll never forget that incredible feeling, the sheer joy of everybody coming together to create such a magical atmosphere in the field that day Under One Sky... It's one of the most memorable occasions on my musical path to date!
https://www.cambridgelive.org.uk/folk-festival
Cambridge Folk Festival returns in 2021


Dark Season Blues, 2016
Spitsbergen, Norway
Chosen by contributor Kevin Bourke
'Next Stop The North Pole' chortled the souvenir mugs at the small hotel transported there after the Winter Olympics at Lillehammer in Norway and temporarily full of blues musicians from around the world. Voluntarily supported by the entire 2,000-strong community at a permanently chilly 78 degrees North, every year since 2003 Dark Season Blues has marked the time in late October when daylight and the sun depart from Svalbard for four long winter months. Thanks to its unique position on the earth's surface, there's a slight blue tinge to the air itself, and you're not unlikely to witness the Northern Lights as you venture back from one of more than 30 shows at venues, including bars, the school, the church, the defunct coal mine and even the kindergarten. With the human population outnumbered by 3,000 or so polar bears, the locals carry rifles everywhere (except to the bank!) lest they might run into a hungry one, driven into town by the very obvious shrinking of their natural habitat, yet it's feasibly the friendliest, most inclusive festival I've ever had the good fortune to attend. It seemed like the polar bears were the only locals not trying to squeeze into the six-hour Saturday night music marathon that closed this breathtaking, improbable and brilliant festival.
https://www.svalbardblues.com/


Eisa Festival, 1991
Okinawa City (Koza), Okinawa
Chosen by contributor John Clewley
At the end of August each year, the Japanese pay respects to their ancestors at the three-day Bon Festival, dancing the bon odori at their ancestors' shrine. In Okinawa, they celebrate bon at their annual Eisa Festival. Everyone joins in, and during the day elders teach young'uns how to make the graceful arm movements of the katcharsee dance, all decked out in their distinctive blue, red and white traditional costumes. These events are held at various school and temple grounds but at night Eisa schools (like samba schools in Brazil) take to the streets in huge troupes featuring up to one hundred musicians. Led by taiko drums and sanshin (three-stringed Okinawan lute) players and followed by a phalanx of paranku hand drummers and sanba (castanet) players, these groups perform songs and dances throughout the night. It's a fantastic, unforgettable sight that is etched in my memory. As dawn approaches, I stagger back with an Eisa troupe to their clubhouse, where they begin a drinking session with the local brew, Awamori sake. Comedy skits are performed. Lots of cheers and down the hatch. And then we go for breakfast.


Halyon Arts Festival, 2019
Greencastle, Co Donegal, Ireland
Chosen by contributor Jenny Cathcart
Hard by the picturesque fishing village of Greencastle on the shores of Lough Swilly, County Donegal is the site of the Halyon Arts Festival. In 2019 I was a contributor to this unique event which is conceived, planned and organised by one woman – Derry born singer and filmmaker, Sarah McGuinness. Sweeping down to the sea from her Halyon cottage home is a landscaped wonderland that takes in the Halyon theatre, hotel, restaurant, nightclub, bookshop, boutique and Floribunda café. A carnival style parade led by the Locomotion Street Circus opened the programme which featured book readings, comedy and magic as well as music. First on the open-air stage were Newry-based folk-rock group The Four of Us who, being now but two, are Northern Ireland's answer to the Everly Brothers. Then came the wondrous Balkan Alien Sound and Sarah McGuinness with her own band. As the evening shadows fell over the main marquee, the surprise guest received a rapturous welcome. The legendary Van Morrison quickly had all the 'Brown Eyed Girls' in the place in his thrall. I didn't get to shake his hand but I did offer him a copy of my book Notes From Africa which references his good self. When Youssou N'Dour watched Van's blistering rendition of 'Caravan' in The Last Waltz, Martin Scorsese's film about The Band, he noted how Van sings from his stomach in the same way that he and the griots of West Africa do.


Into the Wild, 2018
Sussex, UK
Chosen by kora player Seckou Keita
I've performed at hundreds of festivals across the world over the Iast 25 years and in 2018 I was invited to perform at Into the Wild – a little jewel in a remote
location. The festival serves mostly organic food – soul food for me. I don't drink so before my gig I asked for an alcohol-free cocktaiI and the barman laughed,
telling me the whole site was drug and alcohol free. The absence of chemical distractions elevated the experience – women, families and children all safe to explore and immerse themselves in music and nature. It transported me to my homeland, Senegal, where music is a sacred, integrated experience. The attention given to the musicians was extraordinary. No hangovers, no come downs, a joyful excision of these distractions let the music take centre stage.
Into the Wild returns in August 2021


Kaustinen Folk Music Festival, 1990+
Kaustinen, Finland
Chosen by multi-instrumentalist Andrew Cronshaw
I go to a lot of festivals around the world, either as performer or invited journalist, and each has its delights and discoveries. The one festival that I've been going to for three decades, where I was drawn into a living local musical tradition that has also had a big influence on my life is Kaustinen Folk Music Festival which began in 1968.
At its centre is the music of the townships in the Kaustinen area, which is a heartland of a very distinctive fiddle tradition which these days has more highly skilled fiddlers, creating music that's smart and new but still in the unmistakeable Kaustinen style, as well as a long and special local kantele tradition.
Watching a mass concert of hundreds of fiddlers and other instrumentalists from toddlers to the now well-known pros of JPP, Frigg and other bands, all alumni of Mauno Järvelä's teaching process Näppärit, playing and singing together with gusto and without schooliness, sometimes joined by kids from the outreach of Näppärit into South Africa and elsewhere, is a joy. And, after the concerts and dancing, the sessioning between locals and visitors goes on into the next morning in the nearly 24-hour daylight.
Kaustinen Folk Festival returns in July 2021


Love Supreme Festival, 2018
Glynde Place, Sussex
Chosen by Lokkhi Terra bandleader Kishon Khan
I absolutely adore the festival circuit. It's been an integral part of my life, encouraging me to explore, discover, celebrate, and achieve regular bliss. As a musician, it's a place of learning and inspiration, which serves to remind you about the rewards of the profession.
I was playing with Bukky Leo's band at Love Supreme. It was a glorious sunny Saturday, and we arrived early so we could enjoy as many other acts as possible. While waiting in the car park for our wristbands, I noticed this majestic figure smiling at me. To my delight it was Pharoah Sanders.
I have a picture of him hanging above my piano at home where I practice. While grinning back furiously at him, I slowly realised that he was actually trying to get the attention of the female vocalist standing behind me. Undeterred, I still went over to meet him, and he shook my hand graciously, telling me to come to say hello after his show. I didn't – I just sat there blown away by his gig like everyone else. That's the thing about festivals – they can make you feel like a teenager again.
https://lovesupremefestival.com/
Love Supreme Festival returns in July 2021


North Sea Jazz Festival, 1986
The Hague, the Netherlands
Chosen by contributor Mark Sampson
Back when I had the youthful stamina to cope with big festivals, I went to the three-day jamboree of jazz, blues and assorted other genres when it was still housed in the Statenhall, the labyrinthine World Forum convention centre in The Hague. I went to see heroes like John Coltrane's long-time pianist, McCoy Tyner. But it was two other rather different pianists who opened up thrilling new horizons. The first was Hilton Ruiz, who became my pint-sized portal to Latin jazz. I'd never encountered him, but he was the star of the pick-up New York All Stars. At one point, he played a solo of such dazzling rhythmic dexterity that I probably did something quite unnecessary. I would catch him twice more in concert before his untimely death in 2006, when he slipped and fell on Bourbon Street, New Orleans. A couple of hours later on the same stage a human dynamo, Tania Maria personified the irrepressible brio and sheer melodic joy that I would come to discover in Brazilian music.
https://www.northseajazz.com/en/
North Sea Jazz Festival returns in July 2021


Paléo Festival, 2007
Nyon, Switzerland
Chosen by musician Jean-Pierre Smadja, aka Smadj
This is one of my best memories with DuOud – it was the second time that DuOud played at the Paléo Festival but this day had a special atmosphere as it was also my birthday. At this time we were preparing a new album of DuOud, Ping Kong, but we played lots of songs from « Wild Serenade » our first album. The audience at Paléo is amazing, always hot and focused on the music, and we were puffed up and very motivated to play and to have a big party…

Paléo Festival returns in July 2021


Rainforest World Music Festival, 2015
Sarawak, Malaysia
Chosen by musician Sona Jobarteh
This festival still remains as my top favourite, despite being five years ago now. I loved its focus on selecting artists from ancient traditions that usually don't appear on big international stages, the beautiful location setting, as well as the numerous daytime intimate collaboration presentations which involved similar instruments being selected to perform together.
The standout experience for me was that the festival placed great importance on all artists actually getting to experience the entire festival from start to finish, having events organised just for the artists to meet and play together after-hours and learning so much about cultures, traditions and instruments that we had never heard of before. An equally amazing and transporting experience for both the spectators and the participants!
RWMF returns in June 2021


Reading Festival, 2008
Reading, UK
Chosen by Tim Clarke-Romain
Reading Festival's reputation as being a hellhole of teenage debauchery is well merited, and I'd avoid it like the virus these days, but as a school-leaver from a neighbouring town in the late noughties there was no chance I'd miss out on a weekend of mindless moshing, sweaty dance tents and unnecessary crowd surfing fuelled by cheap cider.
For all the embarrassing foolishness of adolescence, you can't deny the super-charged receptiveness of young ears to music. At that age, festival experiences really can have that deep transformative power you get in the final montages of American coming-of-age movies. I had one of those around midday on the Sunday, when the disarmingly affable tones of reggae singer-songwriter Natty coincided with a healing burst of sunshine while my pals and I basked on the grass following two nights of rowdy madness.
It was bliss – Natty's soulful love-and-unity vibes infected everybody around us, hangovers dissipated, and the macho, awkward, too-cool barriers that everybody erects around themselves melted into smiles and friendliness; an unexpected moment of true peace. Hail to the power of festivals, right?
https://www.readingfestival.com/
Reading Festival returns in August 2021


Les Récréâtrales , 2014
Ouagadougou, Burkina Faso
Chosen by Thibault Chaumeil, from the French band San Salvador
My friend and I went to Les Récréatrales in 2014 to play the music in a play. It was our first time in Africa. I remember being so impressed by the differences with our culture. The festival took place in the yards of the people living here; it was remarkable, playing between dogs and chickens and seeing the sharing and the courage of the people. There, everything is possible with nothing.
The year 2014 was the year of the popular uprising against Blaise Compaoré, who ran the country for almost 30 years. Throughout the country, every person was united behind this one single idea, and we were there right at this moment, living through this popular uprising. It was amazing, and then one day, it was over. People had won. What a day! I'm glad that I experienced this, and we were lucky to be part of a festival that shared this emotion with us. We didn't ever feel the same after this festival in Burkina Faso, 'the land of the just'.
Rototom Sunsplash, 2005
Osoppo, Italy
Chosen by contributor David Katz
Getting to the tiny town of Osoppo, north-east Italy, involved a late flight to Treviso and a two-hour van journey in the dark; arriving at 2am and granted a press pass, I found myself behind Michael Rose and Duckie Simpson, the reunited founders of Black Uhuru, delivering a blistering set to a massive crowd, a stunning view of the Alps in the distance. Then everyone headed to the dancehall tent for a futuristic sound system performance from Rootsman, with fellow Huddersfield native Dee Bo General on the mic, that lasted beyond the sunrise. Wandering the grounds of the massive park, I was amazed to find cafés with wooden flooring and actual table service, offering regional dishes like roast suckling pig and artisanal gelato, a far cry from typical festival slop.
Rototom was ten days long and about much more than just music, with afternoon debates on drug policy and euthanasia and documentary film screenings, including a G8 Summit exposé showing shocking scenes of police brutality. Run by a cooperative that lived in a communal farmhouse, Rototom later moved to Spain as the world's largest reggae festival and although downpours occasionally saturated the Alpine campground, I will never forget my maiden voyage to Osoppo, with its village-like atmosphere.
https://rototomsunsplash.com/en/
Rototom Sunsplash returns in August 2021


Shetland Folk Festival, 2009
Shetland, Scotland
Chosen by Canadian band Vishtèn
There's something very special about being from small musical islands with strong musical traditions and travelling across the 'pond' to get to other small musical islands with strong musical traditions – it's exhilarating! And so heartwarming to be able to sit down and play common tunes with locals and visiting musicians, as well as hearing some of the best folk music from all over the world. It makes you realise how connected we are through our different yet similar cultures. Our first experience of Shetland Folk Festival was in 2009. After three days of travelling (including a massive tune session on the ferry), we hopped on a bus with a few other international bands to head to a small community hall to play a show, and after the concert, all the musicians loaded back onto the bus. As we were driven through the narrow roads and across two short ferries rides, fiddles, accordions, whistles, guitars, and even a double bass came out and we all played until we got back to the festival club. Once there, nobody wanted to get off the bus! 'Shetland's Magical Bus' was composed soon after and we recorded it on our following album. We have since been to Orkney, Skye and the Hebrides and hold dear memories of our experiences there too, and are looking forward to getting back.
https://www.shetlandfolkfestival.com/
Shetland Folk Festival returns April 27-May 2 2021


Le Son Continu, 2019
Château d'Ars, La Châtre, France
Chosen by musician Anna Rheingans
This long-standing festival – and our annual soul-refilling pilgrimage – holds a lot of responsibility for my life's trajectory… and I'm convinced I'm not alone in this. Various incarnations of this niche nest have happened every July since 1976. Compared to big-name commercial festivals, it is small, but is the mecca for thousands of European trad musicians, particularly bagpipers. Four days of discovery, from casual quotidien snail-tasting and convivial apéros to drones of timbres that you didn't know existed hypnotising you. The most extreme drone-geeks are guaranteed and numerous here – ideal for coming out as one. Said drones may instigate tears and decisions to elope towards them forever (my 2012 experience). Instruments may be bought.
You end up jamming under trees with headline acts for hours, absolutely rinsing the wine box. Too many notable moments, but one strong memory is a particular siesta deep in the woods, head pillowed on a velvet cabrette bagpipe bag, shaded from the burning sun. These woods are filled with hundreds of instrument makers' stalls, groups of bagpipers and musicians all jamming within earshot, blending together a continuous buzz of intense noise. You forget what silence ever felt like but it's wonderful. Those siestas are essential to get through: to digest the new tunes, meetings, late-night dances beside the illuminated castle, owls flying in and out, for the mind to process the beauty of this giant thing.
This lockdown, I've been in post-production of The Rheingans Sisters' forthcoming album which features instruments acquired from luthiers at this festival, so parts of it are here with me anyway.
Le Son Continue returns in July 2021


Unamplifire, 2016
Deptford, London
Chosen by contributor Tim Cumming
This was a festival I actually performed at – ten minute spots of poetry in the bare board and plaster rooms of the Master Shipwright's Palace in Deptford, South-East London, the site of the Nest Collective's Unamplifire Festival on St George's Day 2016. The building dates from 1708, and the songs and tunes that emanated from it were as rich in history as the setting. Artists sang at the campfire, in the Crane House – a wooden hut on the river bank, where US folk legend Tom Paley's fiddle and voice were set against the sound of the ebb tide on the Thames. Olivia Chaney sang at the keyboard in the Piano Room, with Arthur Jeffes and a three-piece Penguin Cafe to follow, while Stick in the Wheel delivered their London songs around the campfire. I vividly remember Lisa Knapp summon up 'The Outlandish Knight' and a spine-tingling 'Babes in the Wood,' that darkest of ancient tales set to the loveliest of English tunes. From early afternoon till late in the evening, the air was filled with the riches of the folk tradition, with smoke from the fire and talk and laughter. A festival without electricity, and without stages, just people coming together. I can still feel the heat of this Unamplifire.
https://thenestcollective.co.uk/
The Nest Collective's Camp Fire Club returns this August


Vancouver Folk Music Festival, 2005
Jericho Beach, Vancouver BC Canada
Chosen by radio producer and contributor Marc Fournier
I had been attending this wonderful three-day festival by the sea, below the mountains, since 1986 and the fact that I now had two toddlers was not going to change that. Equipped with a mini-tent and endless supplies, I could enjoy the music while my sons were running around or napping in the tent, under the trees, at a reasonable distance from the PA system. I was not alone, many other parents were doing the same. This is the Pacific Coast after all. On Sunday afternoon, an improvised reggae/dub band created on the spot with members from different indigenous nations of Hawaii and Canada started to play. The bass was deep. My four-year-old son's face came out from the tent: "I love reggae music! Who is this?" Later that evening, after the last note and the lantern procession, walking back home, the two-year-old asked "Are we coming back tomorrow?" "The festival is finished," I said. "'We can come back next year." "Next year?!?" They both started to cry. We were all exhausted. And music happy!
Vancouver Folk Music Festival returns in July 2021


WOMAD, especially 2001
Reading, UK
Chosen by musician Nick Page
WOMAD has always been a special festival for me; it's educated and supported me for many years. Transglobal did the first Whirl-y-gig live broadcast on internet there; the first Syriana show took place in the Blue Tent with a big screen – another first for us; Dub Colossus the same in the Blue Tent was glorious. Then there was drinking all night at the bar with Fontella Bass (RIP) on her birthday, during WOMAD 2001. Fontella telling me rude stories, jokes and what it was like being married to Lester Bowie of the Art Ensemble of Chicago (who I am a big fan of), gospel music and the story of recording 'Rescue Me' was one of the highlights of my life!
It happened at the Holiday Inn next to the site in Reading. I remember she had perfect pitch and her show the next day (minus her bass player who rushed back to the US for a family emergency) was mind-blowing. The keyboard player did all the bass work. She said I should call if I ever wanted to work with her on a track; I said great… never got around to it and she died in 2012. I do regret that, but I am content with the meeting alone!
WOMAD returns in July 2021
Read more festival memories in the current issue Songlines (#160): subscribe today!