Tuesday, April 27, 2021
Electric Jalaba: "It's the feeling of being grabbed by the music and lost in the groove"
Gnawa music from Morocco forms the basis of Electric Jalaba's groove-laden sound. Jane Cornwell speaks to Oliver Keen and Dave De Rose about how the band came together and their experimental, improvised approach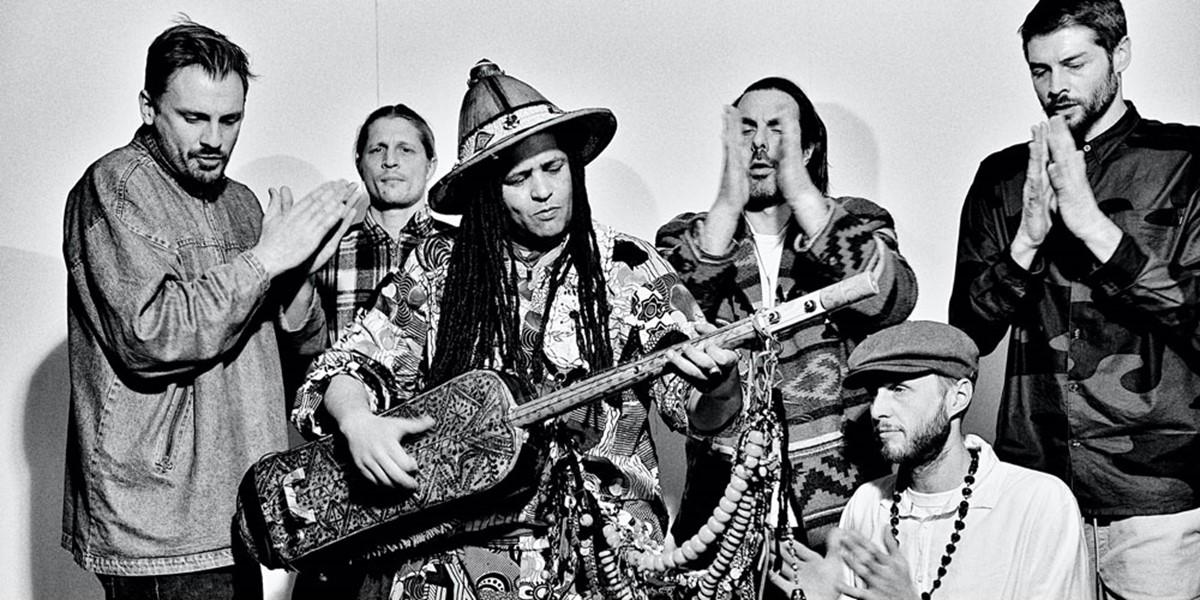 Electric Jalaba [photo: Alexis Maryon]
On a moonlit night a decade ago, at a festival deep in the English countryside, a clutch of wandering musicians were stopped in their tracks by the sound of Moroccan Gnawa music spiralling from a North African tea tent. For a long time they stood mesmerised by the impassioned chants, clattering qaraqab (metal castanets) and boom and thud of the gimbri (North African bass lute) of Simo Lagnawi. Then they went in search of the source.
"The trance-inducing effect of Gnawa was what hit us first," says guitarist/producer Oliver Keen, who with his three brothers – singer and multi-instrumentalist Barnaby Keen, guitarist and multi-instrumentalist Nathaniel Keen and producer and keys player Henry Keen – grew up in a Dorset household where playing music was the norm and exploring music from elsewhere a given.
In the 1980s the brothers' father, Jake Keen, a former teacher, had designed and led the building of the Ancient Technology Centre, an experimental archaeology site and historically based activity centre situated in their village of Cranborne. This interest in cultures past and present was reflected in a love of travel that took Keen Sr across Africa and South America for extended periods of time. "We knew about Gnawa music from our father, who had even brought us back some qaraqabs from Morocco, but none of us had gone into it very deeply. We were stunned by these bluesy, repetitive rhythms and by Simo, who is very charismatic."
Moroccan Amazigh (Berber) musician Simo Lagnawi had moved to London just two years earlier. Rabat-born, he'd spent several years traversing his homeland studying Gnawa music with different Gnawa maalems, absorbing regional specialities and developing a sound that, while arguably not tagnawit (pure Gnawa), was nonetheless committed to respecting the Gnawa repertoire of around 200-300 songs, most of which are used in lilas (all-night healing ceremonies).
In the UK, Lagnawi was on his way to becoming a leading purveyor of this centuries-old North African tradition, a genre with roots reaching down into sub-Saharan Africa. While most Gnawa musicians perform as members of brotherhoods helmed by a maalem, Lagnawi was then working solo. In the Keens and their colleague, Anglo-Italian drummer Dave De Rose, he had found his band of brothers.
Before they were dumbstruck near the tea tent, the siblings and De Rose (Mulatu Astatke, Rokia Traoré) had just delivered an electrifying set of West African riffs as the Bamana Project, the live band incarnation of Soundspecies (originally the electronic production duo of Oliver and Henry Keen). Sensing the potential in an electro-roots Gnawa crossover, they arranged a jam session with Lagnawi that laid the foundations for Electric Jalaba's blend of electronic textures, analogue effects and traditional and contemporary instrumentation.
A debut album, 2012's Introducing Electric Jalaba, was recorded in two days. "It just poured out," says Oliver Keen. "I think, for Simo, coming out of performing with traditional instruments to working with electronics was a big change, where for the rest of us it was more subconscious."
With a vibrant stage presence marked by Lagnawi's colourful robes, cowrie-shell bedecked gimbri and penchant for dramatic Gnawa-style mid-air splits, Electric Jalaba became a fixture of London clubs including Dalston's late lamented Passing Clouds. They played festivals in the UK and Europe, and the Moroccan stage at the sprawling Mawazine Festival in Rabat. There, after their set, Lagnawi took his bandmates to a lila – one context where the names of ancestors including Mali's Bamana are remembered and spoken (the Gnawa repertoire, peppered with words unknown to non-Arabic speakers, reaffirms their roots, increases their agency).
In 2015, after Electric Jalaba released their sophomore album Merhaba (Welcome), the members went their own ways. Lagnawi concentrated on projects including current fourth album Africa Soyo (reviewed in the April 2020 issue). Henry and Barnaby and De Rose founded indie-jazz trio Flying Ibex. Oliver Keen moved to Colombia, then with Soundspecies visited the 2016 Manana festival of electronic and traditional music in Santiago de Cuba: "There were so many interesting collaborations, including a moment when we had hundreds of people bouncing on a stage that nearly collapsed."
For a while Oliver Keen commuted from Barcelona to London, where Electric Jalaba, reunited, began working on new third album, El Hal/The Feeling. "We experimented with sound and structure; the band created some tracks and I partly created others. Not every band member is on every track either, but the chemistry is always there." El Hal finds Electric Jalaba tighter and more intense, while paradoxically freer and more relaxed, than ever. The strong rhythmic and melodic elements benefit both from the brothers' easy empathy and each member's distinct musical personality, with influences meeting in ways psychedelic and groove-based but never overdone. Gnawa music still jostles with the likes of jazz, techno, dub and funk, but this time it is wielded more sparingly.
Lagnawi offered themes and titles that nod to Gnawa ancestors including the Bamana, Fulani and Hausa. On the dubby 'Daimla' his rough-hewn vocals namecheck Mahmoud Guinea, probably the most revered Gnawa maalem in living memory. Elsewhere his Arabic-language lyrics embrace notions of unity, equality and blessings from Allah in an approach befitting the group's anything-goes aesthetic. "Simo selected the chant, the homage, from the traditional song suites," says Oliver Keen, who multi-tracked Lagnawi's voice, here and there, into call-and-response chants (though the lush vocal arrangements on the slow, futuristic 'Shabakru' are by Nathaniel Keen, an alumni of London's Trinity Laban Conservatoire). "Then as a band we extended this short piece of ceremonial music into a much longer piece of music."
Such improvised creation suited De Rose, an experimentalist who made a point of studying traditional Gnawa music before adding his singular touch. The disco-fied 'Cubaili Ba', for example, finds him duplicating looping qaraqab rhythms on his drum kit's hi-hat. 'Lagmami', a classic beloved of legendary Moroccan group Nass El Ghiwane, is rendered gimbri-free and all the more laidback for De Rose's spiralling kit drums. "We jumped on different instruments... We layered drum machines on top of drum machines. While there are key bits where it is really obvious that I am drumming, on much of El Hal no one actually knows who the father is."
Discernible elements including the driving patterns of Senegalese mbalax, the ringing guitars of Ghanaian highlife and on potential live favourite 'Fulan', the rollicking groove of Afrobeat. Of the more leftfield compositions, 'Hindewu' features Nathaniel and Barnaby alternating melodies on vocals and blown bottles similar tothe interlocking technique of hocketing, as practiced by Kalahari bushmen and the Ba-Benzélé pygmies of Central Africa, whose hindewhu vocal style was famously imitated by percussionist Billy Higgins on Herbie Hancock's 1973 version of 'Watermelon Man'. "Herbie is a synth pioneer and a particular hero of my brother Henry," offers Oliver of his elder sibling, whose background in electronic dance music and club culture dovetails with the trancey abandon of Gnawa music's repetitive beats and elongated song structures. "Everything just seemed to come together."
And underlying it all – the plethora of influences, elements, attitudes – is something intangible yet essential. "It's the feeling that comes when we're playing together and totally forgetting where we are, as if you're outside of yourself but totally within yourself at the same time. The feeling of being grabbed by the music and lost in the groove."

+ Don't miss Electric Jalaba at this year's Songlines Encounters Festival at Kings Place in London on May 20. Find out more about the festival here: Songlines Encounters Festival
+ This article originally appeared in the March 2021 issue of Songlines. Never miss an issue – subscribe today