Monday, November 20, 2023
Eliza Carthy's News of the Whirl: Wassailing We Will Go
By Eliza Carthy
'A Wassail, a Wassail, a Wassail we'll begin, with sugar strands and cinnamon, and other treasures in…' In her latest column for Songlines, Eliza is preparing for winter...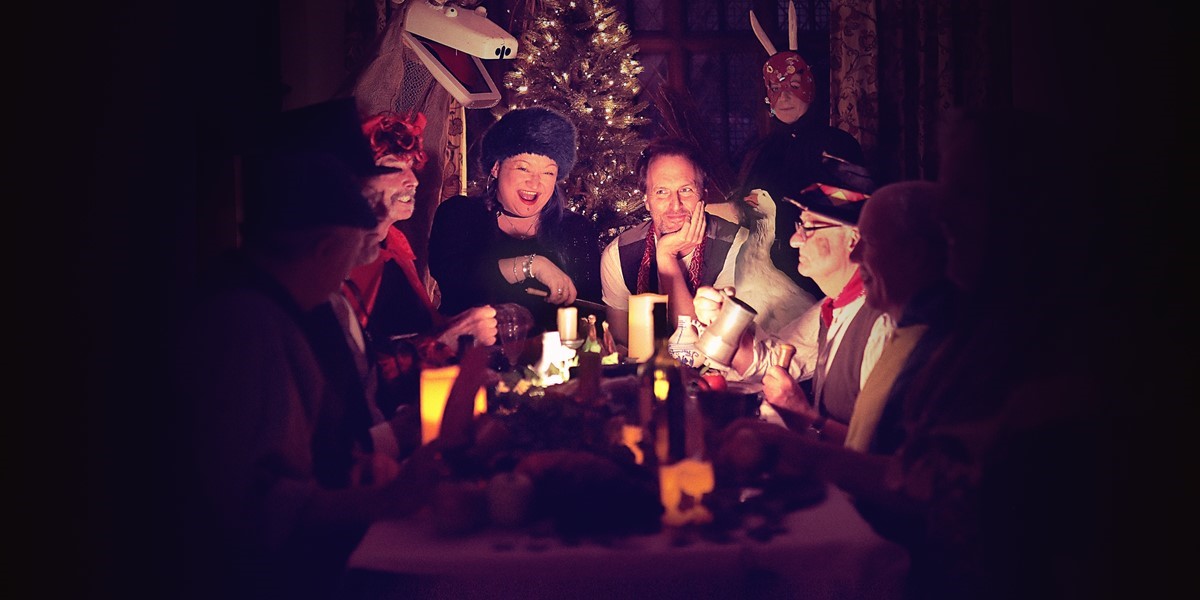 Eliza Carthy & Jon Boden ready themselves for a festive tour
I'm sitting at my desk, with Storm Babet shaking the windows and the first fire of the season crackling in the hearth. It's not yet Halloween, but naturally the shops are stuffed with Christmas tat already and I am about to embark on my first-ever dedicated Christmas tour. 20-year-old me is giving me some serious side-eye. I swore I'd never make a Christmas album, even went as far as declaring such a thing "artistic death." Whatever, 20-year-old me! You don't have kids! Now, one of the less commercial, and lesser known, lovelinesses of the UK's dark season is the tradition of wassailing. A bit 'Jingle Bells', but soaked in cider.
There is no one way to wassail. On one hand, it's a form of begging for communities that might be feeling the pinch in the cold months. Hence, many wassails consist of disguising oneself, going around the wealthier houses of your town or village with your mates and offering doorstep entertainment in exchange for beer, food or money, much like the origins of modern carolling. In other areas the ritual is more centred around crops: apples in South West England or on the Welsh borders; fields or livestock in other places, where the wassailing crew will take offerings to the land and trees, singing songs specific to the area and time of year along the way.
Wassailing appears to be enjoying a renaissance at the moment. For whatever reason, be it the renewed interest in the inherent weirdness of folk ritual, a need to connect to the seasons and land at a time of climate crisis, or a need for connectivity and community post-lockdown; the Tradfolk.co Wassail Directory 2022-23 lists over forty active wassails on these islands, with one in France and a couple in the US.
I had a chat with Robin Burton, formerly of the Stroud Wassail, on why five years ago he decided wassailing was for him and his town. "I was involved in the Gloucestershire Traditions collections and I noticed that in among the 1,400 songs and dances there were lots of wassailing songs," he told me. "At some point every village and town around the country would have had its own song. I came across a recording of a man in his 70s describing what he used to do in the 20s, so we started the Stroud Wassail with a dozen players. I'm not doing it anymore because it became far too much for me: in the last five years we have grown to 350 performers, 33 Morris teams alone."
"We've moved to Mediaeval Christmas in Gloucester now, where there's plenty of support. The Gloucester folkies get involved of course, but we also have great help from the Steampunks who love a bit of dressing-up. This year we're having a huge parade through the town, and when we get to the Cross we're going to have an election for a Lord of Misrule, and an assize [early court] where we will accuse a barrel of beer, and then knock its top off!"
Robin is well versed in the wassail's origin and history. The word itself is a greeting, supposedly first used at a feast by Rowena, German daughter of the mercenary Hengis, to the Romano-British leader Vortigern who apparently fell in love with her on the spot. Written 'Waes Hael', it means 'be healthy, be hearty', and the appropriate response is 'Drinc Hael'. The consequences of not returning the gift of entertainment with food or drink were harsh in the old days in Gloucestershire; wassailers would sometimes travel with young ploughboys who would mess up your garden if you didn't answer the door. Robin also points out that the songs themselves changed within each village, depending on who you were serenading. Thus, if you were at your neighbour's who happened to be a dairy farmer you would 'wish him a fat ox'; a crop farmer would be blessed with good crops and so on. In some places the wassailers would go into the barns and sing to the livestock, too. Sounds like an excuse for a barn crawl to me.
Wassailing is not traditionally a Christmas affair, though these days it can be. The nature of the blessings, that of wishing good crops, means that they tend to begin after Christmas. Sometimes Boxing Day, but more likely Twelfth Night/Old Christmas Day (January 6) and they can go through as late as March.
Bryony Griffith & Alice Jones' album Wesselbobs is named for the double-hooped garlands mentioned in Yorkshire songbooks. They were borne through villages, usually by girls, and mainly in Calderdale, Colne Valley, Huddersfield and surrounds. Like other wassails, the wesselbob songs are specific to each town.
Like many winter traditions, wassailing is at its heart about finding warmth and merriment in the dark, bringing communities together during the cold months, and singing and dancing. That we're all feeling the need for that just now and we can go out and find it, and make it for ourselves, is certainly reason enough to get involved. 
---
Eliza's Christmas album with Jon Boden, Glad Christmas Comes, will be released by Hudson Records on November 24. Eliza and Jon will tour the album across the UK, on their Wassail tour, from November 9. Tour dates at eliza-carthy.com/gigs
Watch