Monday, April 19, 2021
Encounters Countdown: London Bulgarian Choir
Ahead of their scheduled performance on May 20 at this year's Songlines Encounters Festival, we revisit Simon Broughton's interview from last year with the singing troupe's charismatic leader, Dessislava Stefanova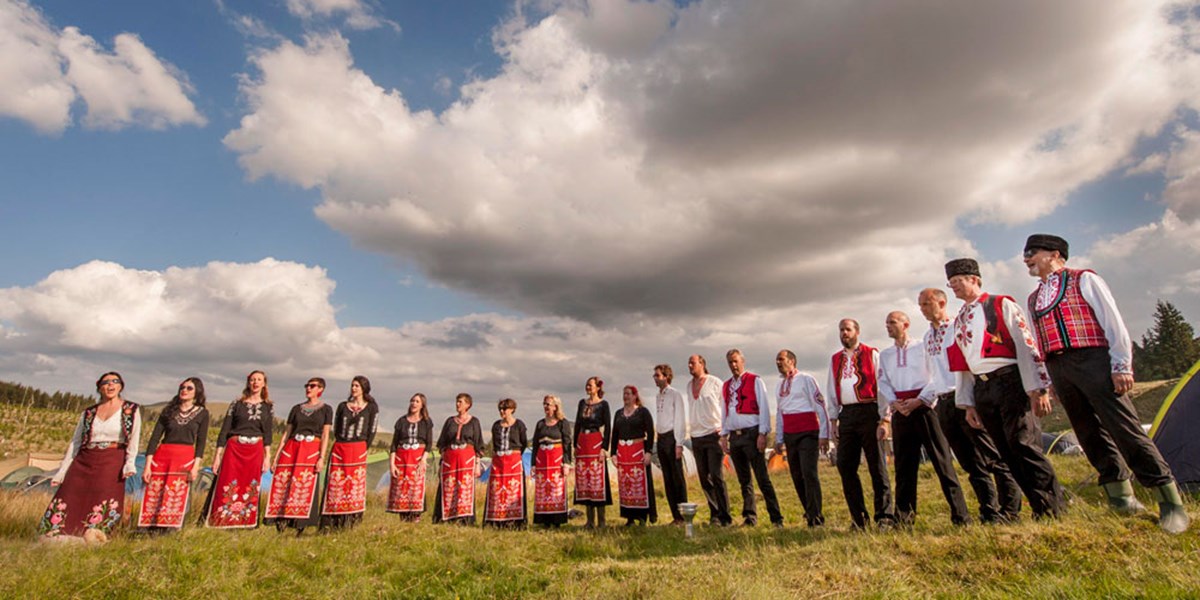 The London Bulgarian Choir are one of the under-reported highlights of the capital's musical life. But this 40-strong ensemble, of which roughly 30% are Bulgarian, are a truly magnificent group performing the distinctive vocal polyphony with clashing harmonies and glorious resolutions that is one of the jewels of Bulgarian culture. The choir's founder and leader Dessislava Stefanova came to London on a tourist visa in 2000 and quickly ran into a network of people fascinated by Bulgarian vocals, popularised through the Le Mystère des Voix Bulgares compilations. The choir soon followed. "Life here had so much more variety of projects and a mixture of cultures, which I didn't have in Bulgaria," she explains.
In Sofia, Stefanova was a professional choir singer working as concert master and assistant to Philip Koutev, the first to establish the style of Bulgarian choral arrangements that subsequently became so popular. "I like to conduct with my chin and eyes," she says. "It's a style you develop in Bulgaria because traditionally nobody was waving their hands and standing with their back to anyone. Singing is a communal thing." She says she took up the challenge of creating a choir in London because "Bulgaria coming out of communism was always in transition and that led to the development of a certain type of adventurous person. I was the sort of person who enjoyed exploring that adventurous streak."
Watching Stefanova in action is fascinating. She's a commanding leader whom everyone clearly holds in respect. Alongside the Bulgarians in the choir, the remainder are from London and around Europe, with previous members from India, Australia, Argentina and Japan. "The challenge of teaching people who haven't learned Bulgarian music from birth is an interesting one," she says. "And it's something that I'm still working on."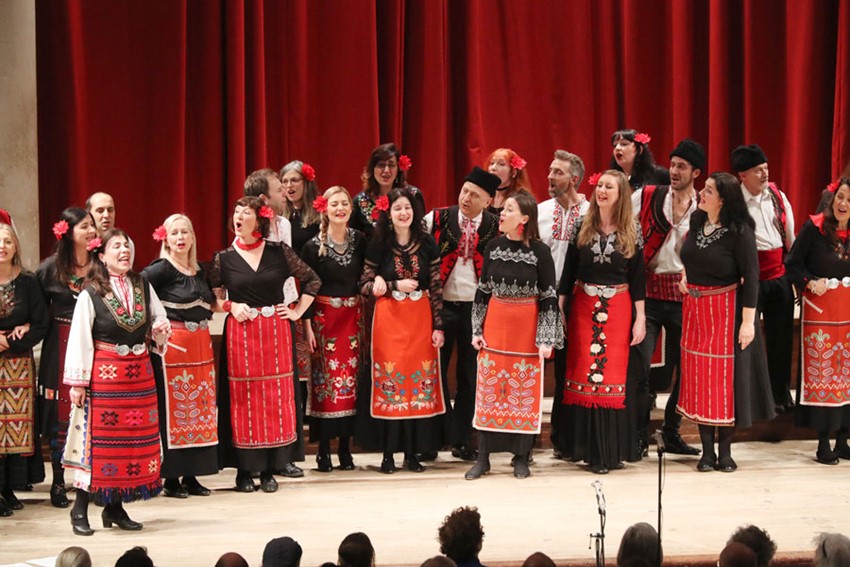 In May the ensemble are due to perform songs from their latest album Songs of Forbidden Love (reviewed in #156). These include 'Dreme Mi Se Lega Mi Se', a joyous song of 'a maiden I'd like to lie with' and how the villagers extract various bribes from him to allow it to happen. And 'Kalimanku Denku' (Evening Gathering), one of the most beautiful songs on the first album of Le Mystère des Voix Bulgares. What makes LBC different from that group, or the Koutev Ensemble, is that it includes men, who comprise ten out of the 40 members. In Bulgaria, women were traditionally doing a lot of the agricultural work in the fields, which is when they would sing together. The men were doing the vine harvest and Christmas carol singing.
They are also planning to perform older songs from their repertoire. "'Chompilche' depicts a little bird fluttering about and we thought it would be beautiful in the acoustic of Kings Place to bring that bird to life again," says Stefanova. "Also a song called 'Chereshchitsa' (The Cherry Tree). It bore so many cherries that it broke. It's a song of abundance. Bulgaria has so many cherries at the end of May it would be a shame not to sing a song of abundance and fertility."
+ DATE The London Bulgarian Choir will perform at Songlines Encounters Festival on 20 May at London's Kings Place ​​
For more details more details and ticket info visit kingsplace.co.uk ​
Watch