Thursday, January 27, 2022
"Geomungo playing is a combination of melody, percussion and bass" | Hwang Hyeyoung
One half of the South Korean duo Dal:um, Hwang Hyeyoung speaks about her deep-toned, bamboo-plucked zither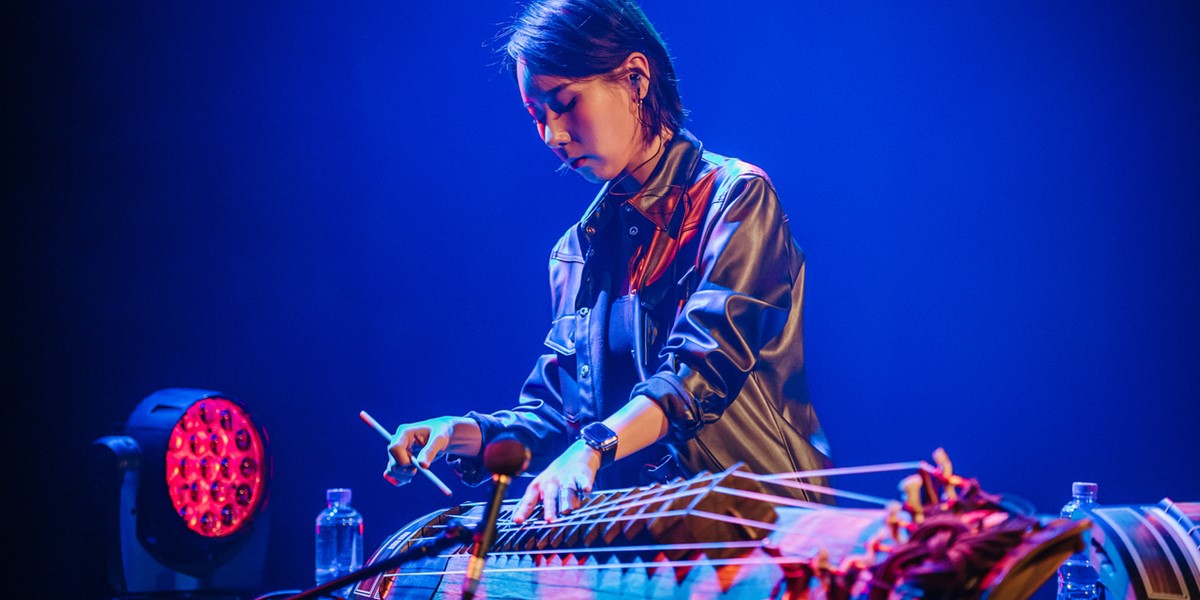 ©Ikin Yum
One of the most interesting new groups on the Korean music scene is Dal:um (their name literally translates as 'Keep Running,' and refers to their continuous drive to create something new). The duo of Ha Suyean and Hwang Hyeyoung play two of Korea's distinctive zithers – the gayageum (played by Ha), which is plucked with fingers and is the higher-pitched of the two, and the deep-toned geomungo (played by Hwang), which is plucked with a bamboo stick. The title of their debut album, Similar & Different, is a perfect description of these two instruments.
Hwang started playing gayageum when she was eight, but switched to geomungo aged 14. "I was attracted by its low register and percussive sound," she says. In their K-Music show in London this November the two musicians, dressed in black leather jackets, were sculptural and elegant on stage, as one with their instruments. The gayageum took the lead in the upper-register with the geomungo adding a thwack of bass, low springy vibratos and percussive raps and snaps as Hwang tapped the body of the instrument and scraped the stick along the frets. "Geomungo playing is a combination of melody, percussion and bass, and each player has different aspects of the technique that they like to use. These vary from piece to piece," she explains. 
Although in Dal:um the geomungo provides the duo's bass, in Korean traditional music it is often heard as a solo instrument and instrumental sanjo pieces can be performed on geomungo, just as they are on gayageum and other Korean instruments. In fact, geomungo sanjo is recognised as an Intangible Cultural Heritage asset in Korea. 
"With Western classical instruments, the older they are the better they are thought to be, and the more expensive they are," Hwang laughs. "With Korean traditional instruments, it's the newer instruments that are better and it's not so important who made it." She's travelling with two instruments with the strings tuned differently, so she doesn't have to re-tune during the concert. One she bought off the shelf three years ago, the other she won in a competition last year. Her favourite instrument, which is heavier and less easy to travel with, is ten years old. Wisely, perhaps, she left it behind in Korea. 
The geomungo has only six strings, three of them are drones, while the others pass over sizeable frets down the centre of the instrument. Hwang plucks the strings with the stick (suldae) in her right hand and stops the strings with her left. The frets are very high, so that the pitch of the strings can have an enormous vibrato by pressing down the fingers. All the techniques she uses are found in traditional music, she says. But it's the power and percussiveness of her right-hand stick technique that is so surprising. "The strings are twisted silk. I am striking them really hard and they are easily broken," she admits. "When I am playing a lot, I change them every two days."
The pieces Dal:um play are mostly composed and developed by both Ha and Hwang. "When I'm playing," explains the latter, "I try to focus on all the emotions I felt when composing the piece, and I hope that also reaches the listeners." 
---
Read the review of Similar & Different in the Songlines Reviews Database
This article originally appeared in the January/February 2022 issue of Songlines magazine (with thanks to Kim Hyelim for translation work). Never miss an issue – subscribe today