Friday, May 1, 2020
Giants of Afrobeat: an interview with Tony Allen and Orlando Julius
Fela Kuti is synonymous with Afrobeat, but there are two other underappreciated pioneers of the genre. Nigel Williamson speaks to Tony Allen and Orlando Julius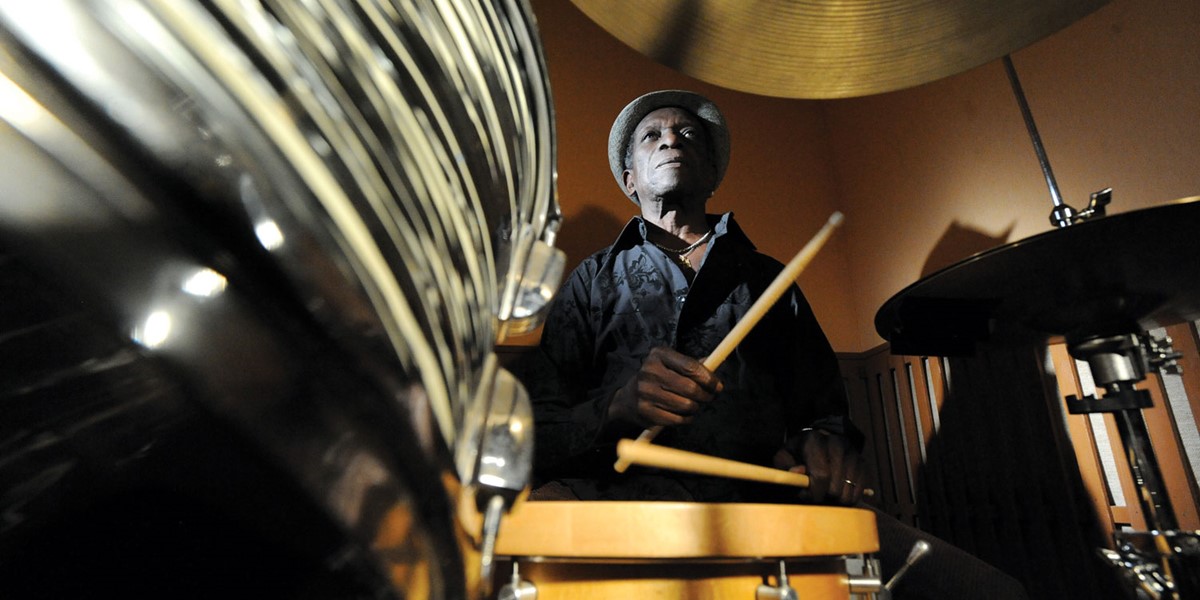 Tony Allen (photo: Bernard Benant)
The world music scene is reeling after news that legendary Afrobeat drummer Tony Allen died in Paris yesterday evening (Thursday, April 30). Along with Fela Kuti, Allen helped create the genre that has travelled far from its birthplace in Nigeria. Fela was once quoted to say that "without Tony Allen, there would be no Afrobeat." There will be a full obituary in our June issue (#158), on sale May 15. As a tribute to Tony Allen, we have re-published below our classic interview from the November 2014 issue of Songlines with him and Orlando Julius – two giants of Afrobeat…
Every time I sit down at my drums I'm looking for something new, something I haven't played before," says Tony Allen. "Above all I'm trying not to repeat what I've done before. I need to challenge myself. That's always been my approach to the music business."
It's a remarkable attitude that has sustained the Nigerian drummer for over half a century – 2014 marks the 50th anniversary of his first meeting with Fela Kuti. He worked with the great Afrobeat trailblazer from 1964 until 1979, as his drummer and the musical director of his band Africa 70, his contribution neatly summed up in Fela's famous comment that "without Tony Allen, there would be no Afrobeat."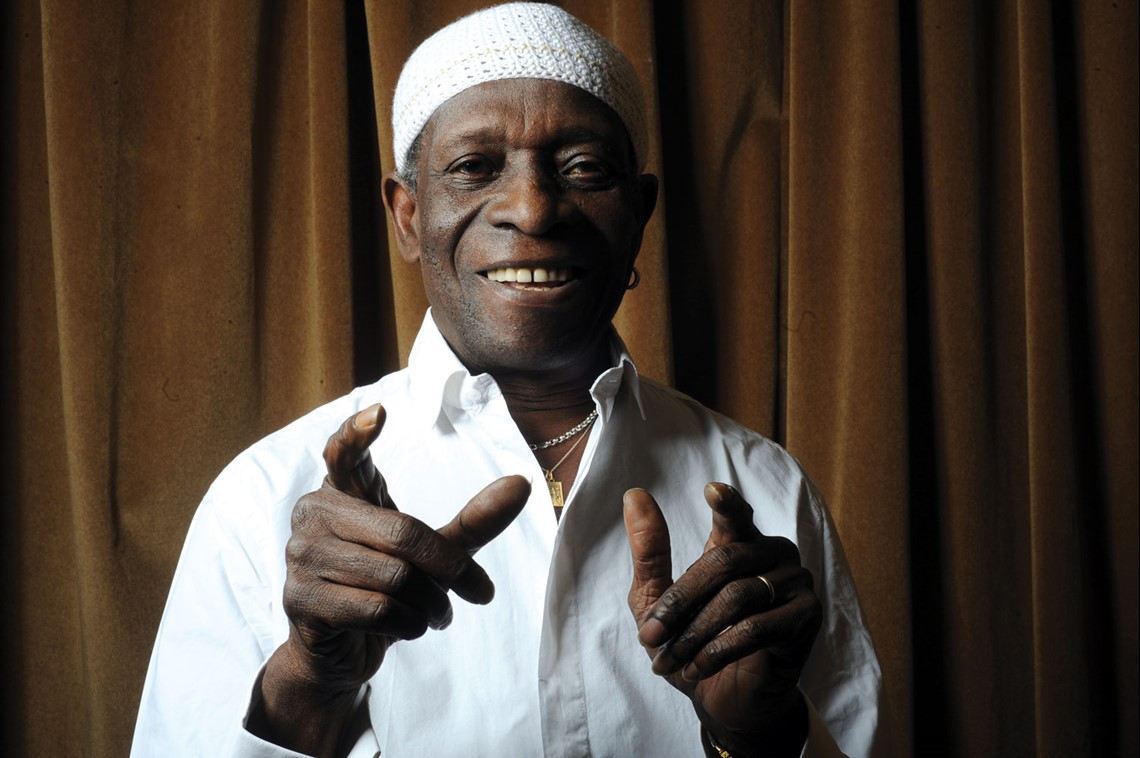 Tony Allen (photo: Bernard Benant)
On his new album, Film of Life, he curates a thrilling mélange of tribal grooves, jazz and funk that pays homage to his rich musical past but at the same time expands Afrobeat far beyond the parameters he defined with Fela Kuti all those years ago. "It's good to look back at everything I've done," says Allen, who last year published his life story in Tony Allen: An Autobiography of the Master Drummer of Afrobeat (reviewed in #95). "I will never forget my past, I'm proud of it, and the book was a good way of remembering what I've done. But musically I'm still moving forward. I cannot repeat the same things every time. That's why it takes so long for me to make an album. The last one was five years ago. I take my time to look for something different to do."
But however expansive and experimental his music has become over the years, the simmering rhythms of Afrobeat remain at the core. "Afrobeat is still what I'm doing," Allen says. "But now everybody is doing Afrobeat and talking about Fela, I want to let people know I've not grown stagnant and I'm giving it a new twist. I'm enjoying what I'm doing and I wouldn't enjoy it if I didn't always look for a new challenge."
A key collaborator in Allen's search to break fresh ground and not become merely a nostalgic warm-up act for the burgeoning Fela Kuti industry with its Broadway musical and now Alex Gibney's Finding Fela biopic, has been Damon Albarn. Back in 2000 on Blur's top ten single 'Music is My Radar' Albarn sung the line 'Tony Allen… he really got me dancing.' It was an expression of his growing interest in African music and after the pair met by chance in London two years later, Albarn sang on 'Every Season', a track on Allen's 2002 solo album Home Cooking, adding a characteristically catchy-but-leftfield hook to the drummer's loose, spacious groove.
Albarn is another who shares Allen's determination not to repeat himself, calling time on Blur at the height of their success and embarking on a range of audacious projects from a Chinese opera to the cartoon band Gorillaz and his Mali Music album. Allen has become one of his most trusted collaborators, drumming with Albarn's post-Blur bands The Good, The Bad & The Queen and Rocket Juice & The Moon and joining him on his Africa Express adventures. On Film of Life, Albarn contributes to two of the most arresting tracks, 'Tiger Skip', a clattering instrumental collision of melodica, dubby effects and complex, supple rhythmic patterns, and 'Go Back', a characteristically plaintive Albarn-sung ballad about exile, which Allen drives with jazzy precision.
"I heard that song where he mentioned me and I didn't know who he was but I was flattered," says Allen. "He's become my friend, not just someone I work with. He calls me up and asks me to do things with him. This time around I asked him to do a track with me and he said, why not? He came to Paris and I was very happy he did it. It's not always easy to work with people but with Damon it seems like we've been working together forever." Allen once said that his relationship with Fela Kuti was "telepathic." Does the same about his relationship with Albarn? "Yes, musically we do have that. Fela was a one-off. But everything you did with him was always a challenge and Damon has that attitude too. Fela was a really good composer. And Damon is, too. So there is a similarity, and they're both the kind of people I like to team up with. It broadens my own knowledge to work with people like that. I've got nothing to lose and everything to gain by taking up the challenge."
At the age of 74, Allen speaks in a deep, sonorous voice that would make him a natural for TV voiceovers and sings with a similar bass-heavy profundity, somewhere between John Lee Hooker and Leonard Cohen. But he's a reluctant singer. "I didn't want to sing on this record. I was forced to do it," he complains. "I wanted it to be an instrumental album. But they said no, I had to sing. Everybody tells me they love my singing voice, but drumming and singing together isn't easy. I've practised and I can do it; but I don't want to. I just want to be with my drums."
His record company's publicity for Film of Life calls him 'the metronome of Afrobeat' but he gives the description short shrift. "Any drummer can play that straight beat like putting a metronome in there," he scoffs. "But the drums were made for four limbs. A few jazz drummers use their four limbs, but most drummers don't. I want all my four limbs to be working. That's why Fela said I sounded like four drummers." He pauses, searching for a suitable metaphor. "You don't ride a bicycle with one leg," he adds. "You've got to put both legs on the pedals and steer with your arms if you want to get where you're going."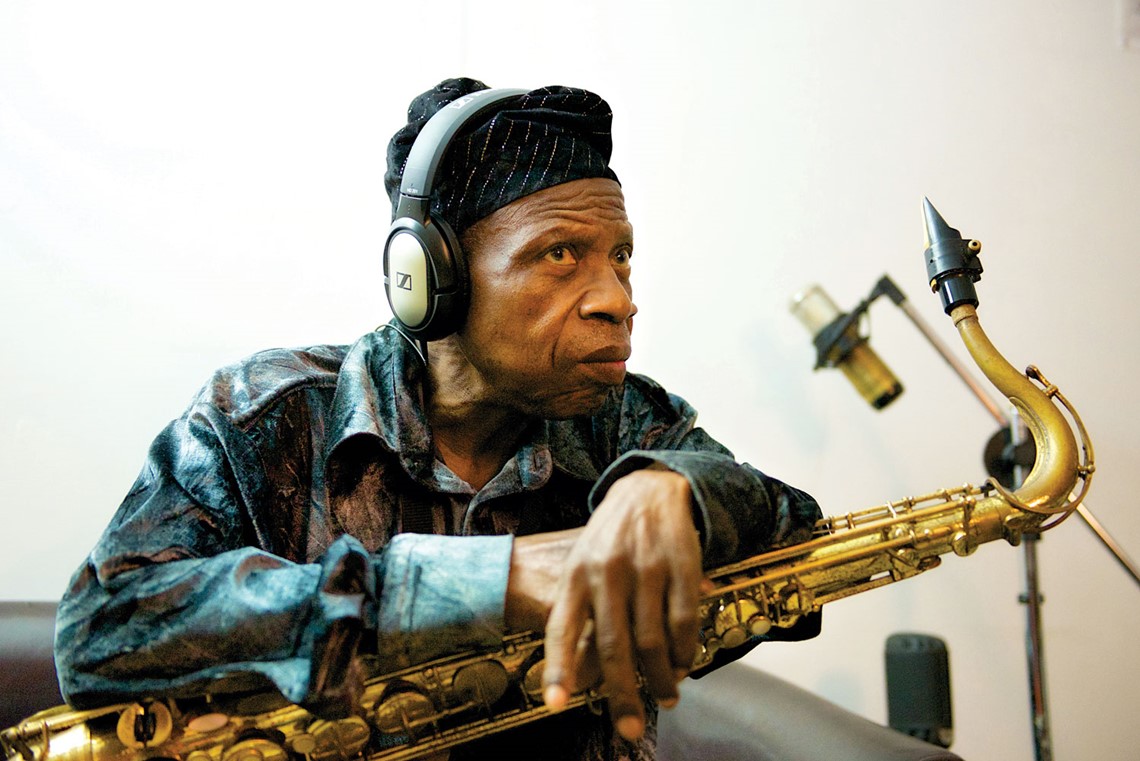 Orlando Julius (photo: Alexis Maryon)
He warms to the theme that the drums are not merely there to provide the backbeat. "I don't want to be bored when I'm drumming," he insists. "I like to have a conversation between the drums and other instruments. You ask a question with the drums and the guitar or saxophone answers. I'm not saying everybody should be like that; but that's me. It's the only way I can work."
With felicitous synchronicity, another pioneer of Afrobeat with a musical history stretching back half a century also makes a welcome and energetic return this autumn. Saxophonist Orlando 'OJ' Julius was fusing highlife with international influences drawn from rock, pop, soul and jazz well before Fela Kuti when he formed his band the Modern Aces in 1964. Julius was 21 at the time but was already a veteran of numerous bands and had even played with Louis Armstrong on his visit to Nigeria in 1960.
Julius and his Modern Aces took up a long-running residency at the Independence Hotel in Ibadan, Nigeria's third largest city, and were soon the hottest band on the scene. A regular visitor to their Friday night sessions was the young Fela Ransome-Kuti, at the time a producer at the Nigerian Broadcasting Corporation and recently returned from his studies in London. "Ibadan was the mecca of Nigerian music at that time with many different clubs and bands playing juju, highlife and other styles," Julius recalls. "Fela came to my club every week to check out what we were doing. He sat in with us; he was still playing the trumpet in those days and hadn't taken up the saxophone. Then when he was ready to form his own band, I gave him some of my musicians – Eddie Fayehun, Isiaka Adio and Ojo Ekeji – to get him started."
By 1965 Fela's group which featured Tony Allen on drums had adopted the name Koola Lobitos. "But what Fela launched back then wasn't Afrobeat; it was jazz-highlife," Julius says. "He only started playing Afrobeat after he went to America at the end of the 60s. But I'm glad Fela was successful. His father came from my area, Osun. So we had the same roots."
So would Julius claim that the Modern Aces were playing Afrobeat before Fela? "We started out playing highlife, but I was listening to American soul music like Sam & Dave and Smokey Robinson and The Miracles, and I was the first to modernise Nigerian music with rock, jazz and soul and R&B," he says.
"A lot of students from overseas and American ex-pats came to my shows so we catered for them. I wanted to play music for everyone. That meant highlife but with international elements. I liked to play like Ray Charles or Jimmy Smith. I was composing and putting different styles into my music. It was my own invention and idea to develop highlife. It was like Afrobeat but my record company, Phillips, named it Afro-soul. I didn't worry as long as it had Afro in the name. That was what was important to me."
Tony Allen concedes that Julius was a key mover in the early development of the Afrobeat sound. "What Orlando was doing was a bit different from everyone else," he says. "When we started doing Afrobeat, everybody said they were doing it first. But he's right that what we did was a highlife/jazz fusion. That's what everybody was trying to copy and Afrobeat came out of that."
By the time Julius' 1966 debut album Super Afro Soul was released, he'd already became a star with local hits such as 1964's 'Ijo Soul', a song that bears a striking similarity to James Brown's 1965 hit 'I Got You (I Feel Good)'. He doesn't claim that Brown plagiarised him, but Julius believes they influenced each other. He gave Brown a copy of Super Afro Soul when he visited Nigeria with his band the JBs in 1970.
"I couldn't go to see him at the Liberty Stadium as I was playing that night," Julius recalls. "But somebody brought Bootsy Collins and the rest of his band to my club. Bootsy came onstage to play with us. He said, 'Orlando, you're bad.' I said, 'What do you mean?' He said 'You're super-bad.' I laughed when I realised he meant we were good. The club was closing, it was late, way past time. But we stayed open for another two hours because James Brown's boys were in the house."
The following day, a member of Brown's entourage called at Julius' house and told him he had been sent to escort him to the Premier Hotel. "They said James Brown wanted to meet this guy Orlando Julius. To be able to give him my LP as a present was great. There is a picture of him holding my LP. We liked each other. We copied each other. I don't want to sue anybody for that. American music was influencing African musicians and I was proud that then African music was influencing American musicians."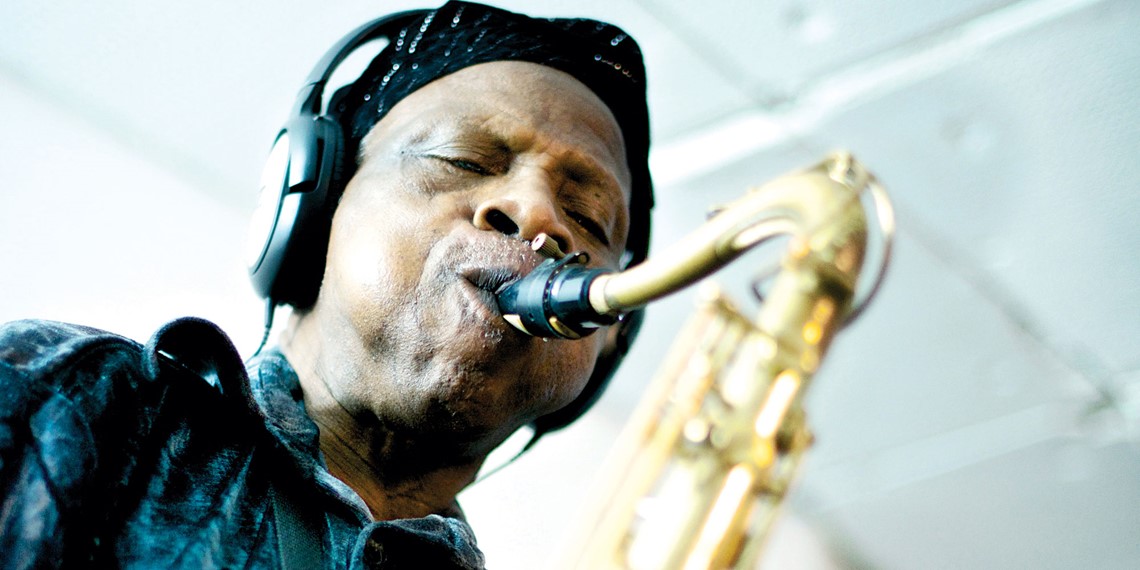 Orlando Julius (photo: Alexis Maryon)
He wrote and recorded the funk-fuelled 'James Brown Ride On' to commemorate their meeting, but by 1974, Julius had disappeared from the Nigerian musical scene and relocated to the US, where he recorded with Hugh Masekela, Lamont Dozier and The Crusaders, among others. He eventually returned to Nigeria in 1998 and watched with astonishment as reissues of his 60s recordings – which had never been released outside West Africa – found a new cult following on specialist crate-digging labels such as Soundway and Vampisoul. "That surprised me," Julius says. "It surprised me a lot. But I'm so glad for the internet and YouTube and that people all over the world can now find my music there."
His new and first internationally released studio album, Jaiyede Afro (a Top of the World review in #103) was recorded with the London-based jazz collective The Heliocentrics. It mixes Afrobeat jams, Yoruba chants, new material and contemporary versions of old compositions and favourites including a cover of James Brown's 'In the Middle'. "The record goes back to my roots because people want to hear my old songs," Julius explains. "But we've refreshed them and made them sound new and different. I'm just glad to be doing this because people didn't even know I was still alive."
This article originally appeared in the November 2014 issue of Songlines