Monday, February 12, 2018
Heart and 47SOUL
By Yousif Nur
Tipped as one of London's hottest new bands, 47SOUL talk to Yousif Nur about the stresses and challenges of being a touring band from the Middle East, and how they've become pioneers of shamstep and champions of the Palestinian cause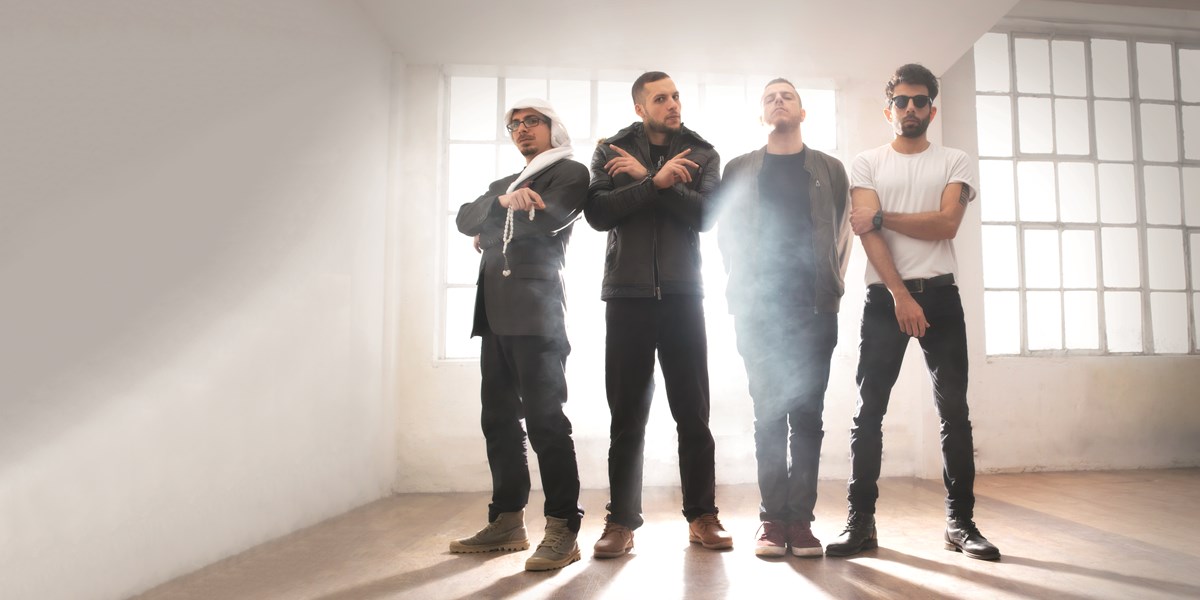 From left to right: Walaa Sbait, Z the People aka Ramzy Suleiman, El Far3i aka Tareq Abu-Kwaik and El Jehaz aka Hamza Arnaout (Gianluca De Girolamo @ adshot.co.uk)
A 47SOUL show is not your typical gig: expect lots of Palestinian flag waving, traditional dabke dancing, a big Arab community of all ages in attendance and a melting pot of different styles of music from the band.
It's because of this buzz and reputation for being an explosive live act that 47SOUL are a band on the cusp of big things. Through the power of social media and word-of-mouth recommendations, the group's fanbase has helped them grow from playing small club venues to main stage festivals around the world – all within the space of four years. Although 47SOUL's members – Walaa Sbait, El Far3i, El Jehaz and Z the People – are from Palestine, Jordan and the US respectively, they are all rooted in the Palestinian diaspora. Having formed in 2013 in Amman, Jordan, the band shortly upped sticks and all moved to London for logistical and musical reasons. They are an international band in the truest sense of the word, playing shows in all four corners of the earth.
Moments before hitting the stage in Hamburg to conclude their 2017 tour of Germany, the band sit down to talk about their new album, Balfron Promise, named after the Balfron Tower in East London. It's a tribute to the refugees from displaced communities that live in the 26-storey building. There's an added poignancy as the album is released in and around the 100-year commemoration of the Balfour Declaration, written by the then British foreign secretary Arthur Balfour, who promised a Jewish homeland in the place of historic Palestine.
The band also bear the brunt of heightened tension in the region, exacerbated most recently by US president Donald Trump's announcement that the US will recognise Jerusalem as the capital of Israel – all but ending any hope of the two-state solution between the Palestinians and Israelis. It's an irresponsible, unhelpful move, which was the last thing the Middle East needed, according to the band. "Trump's announcement can be compared to Balfour's promise 100 years ago," Z the People, aka Ramzy Suleiman, says. "He is making a statement about a land he does not own on behalf of a people he does  not control. The fact that this is news everywhere shows us the world still upholds a colonial mindset."
So, back to the music, which they'd much rather talk about. Did they ever, in their heart of hearts, think they'd be touring worldwide, playing to audiences as remote as New Zealand to as far as Chile via their word-of-mouth following? "No, not really," El Far3i, aka Tareq Abu Kwaik, reflects. "But when this band formed, we wanted to make it an international project. We wanted to go to as many countries in the world and play to as many people as possible. We wanted to sing in Arabic and English... We have a message – of peace, bridging together communities and opening borders – to send throughout the world as well, not just for our own people. I still think word of mouth is the best way of spreading the word. Or word of click!"
The band met while all working on their respective solo projects within different music scenes in Amman, Jordan. Each member of the band came with their own unique musical backgrounds and stories but were united by their shared Palestinian heritage. Yet numerous borders kept them apart, and this is what led to them moving to London.
"Through our own solo projects this all came about so quickly, playing in places like Australia and South America," Z the People says. "All of us come from different scenes and places so when we came together and started playing, we had already been brewing for quite some time. As we're all songwriters, 47SOUL's songs are more like conversations that we have with each other."
So to what do they owe their growing popularity exactly? "It's the drums," El Far3i says playfully. "The beat that we have in our music is universal. Put it this way: if you put a thousand people in a room with the greatest drummer in the world, nobody would be dancing. But if you put them in a room with rhythm, then they'd be moving." Though the band share instruments such as guitars, synthesizers and drum machines, they play traditional drums such as the tableh (a double-headed drum played with sticks) and the tabla (a goblet drum played with the fingers).
Aside from the band being talented in their own right and as a collective, guitarist El Jihaz, aka Hamza Arnaout, is proud of the fact that they are praised by many for being inclusive to everyone. "Our shows are now not just music shows, but [are a space] for people of all ages, genders, races to come and feel safe, happy. Even if they don't understand Arabic culture or the language, the 47SOUL community of fans will be more than happy to welcome them and build a vibe into the shows. I've had lots of feedback from people [who] feel totally safe at our concerts, wherever we go. This is the whole ethos of what we're trying to build as a band."
Another key to 47SOUL's growing reputation is shamstep, a genre they've pioneered that is a mixture of traditional Levant wedding music popular in Palestine, Lebanon and Syria and Western music, inspired by dubstep, dancehall and electronica. There's now even a Shamstep category on the Middle Eastern version of Spotify, featuring bands who take their cue from 47SOUL. "It's a fusion, but it's a sensitive and a delicate subject. It's delicate dabke!" El Far3i claims. "I think that the formula we use works but it's also holistic as this is who we are and where we come from," he continues. "That comes from the beats we use, to the mejwiz Palestinian styles on keyboard. The reason I say it's a delicate fusion is because we use Western-influenced singing, but then you could also say it's African at its very essence. In fact you could say shamstep is a sub-genre of traditional Palestinian dabke." Dabke literally means 'stamp of the feet' in Arabic, and traditionally its origins pertain to folk wedding music from the Levant region of the Middle East. Dabke is also a traditional wedding dance where people lock hands in a line and move around the room – something many 47SOUL audiences have experienced during their shows.
Z the People concurs: "genre can either be expanded from the inside or it can be quite general and focused. I think the music we make is built upon the different tastes that we have as individuals as we come from different cities. Because we're a multinational band, the focus on different styles is built upon the foundations of dabke."
All these varying styles blend into something that is clearly heard on their new album, Balfron Promise. They still sound as effervescent and boisterous as on their first record – perhaps more so – with more than just talk about borders, occupation and partying. For instance, 'Gamar' is about the drummer and lead vocalist Walaa Sbait having dreams about visiting the moon, only to find having landed there, via a rocket, that it's an illegal settlement. The first single, 'Mo Light' (featured on the covermount CD), is a nod to dubstep in terms of drum patterns and tempo, interspersed with Arabic and English lyrics. The penultimate track, 'Marked Safe', is an almost alt-indie/new wave affair with abundant guitar riffs and a dark atmosphere.
The album was recorded at The Motor Museum in Liverpool, where the likes of Oasis, Lianne La Havas, Detroit Social Club and Michael Kiwanuka have been previous clients. Self-produced, it is a record that truly encapsulates the band at its full potential. "When we wrote our first album, it was written and recorded in a very short space of time on a low budget in a farm," El Far3i explains. "But with this record – this is what it sounds like when people actually have time to write an album. We've stuck to the same formula as before. I guess that there's more actual songwriting [on Balfron Promise] than the previous record. What we do essentially is experimental dance music."
Balfron Promise certainly has an alternative indie sound and the band express a desire to move away from the restrictions of the world music category. "We're trying to keep Western audiences in the picture for what our message is. Right now in  the Arab world, there's a feel for alternative music and vice versa, Arab music in the West. They don't want to stick to their traditional styles, they want to see where else they can go and discover new music. World music as a term is becoming less and less relevant," El Far3i concludes.
Despite Sbait and Z the People possessing Israeli and American passports respectively, they are of Palestinian descent and this means that despite their growing stature, new challenges and obstacles arise, namely passport and visa issues. This has led to concerts being cancelled in the West Bank, thanks to both the Israeli and Palestinian authorities, although the precise reasons are still unclear to the band.
They are determined to not let these issues stand in the way of the growing support for the Palestinian cause, thanks to the power of music. "47SOUL is basically confirmation that Palestine has support," says an emphatic El Far3i. "When people see or hear something they like and they happen to come from Palestine, even though they don't know anyone from there as it's a universal cause, then maybe support will grow for the freedom of our country, y'know? It's a blessing and a curse for us in a way because you have to think about if you're using the Palestinian cause to get our music out there. There's a constant thought in my mind that wonders if I should just stick to music and leave politics to the politicians." Though they're not an overtly political band as such, in between songs and in their lyrics, there is a strong sentiment of the struggle for a free Palestine and a solidarity for all displaced peoples and refugees. 'Every Land' from their previous album Shamstep is an open letter to displaced people, declaring freedom, justice and equal rights for all. The band are always striving to search for the commonalities of other people and races. But the more they head beyond their comfort zones, the greater the reward of newer fans, as El Jihaz says: "The great thing about our following is that our diaspora will come to our shows and bring their non-diaspora friends along to introduce them to Palestinian culture and show why they love this band from the Arab world. Everyone feels included."
The overriding message is that it's a blessing to do what they do, but insist that it's all about individualism, in terms of expressing themselves through their different backgrounds and characters. There's inevitably a certain charm and romanticism to 47SOUL's craft and background story, but that's also why people come running back for more.