Monday, April 19, 2021
How Astor Piazzolla transformed tango
By Chris Moss
Chris Moss assesses the intrepid composer's impact on music – and why his legacy, 100 years on since the great man's birth, remains a challenge for contemporary tangueros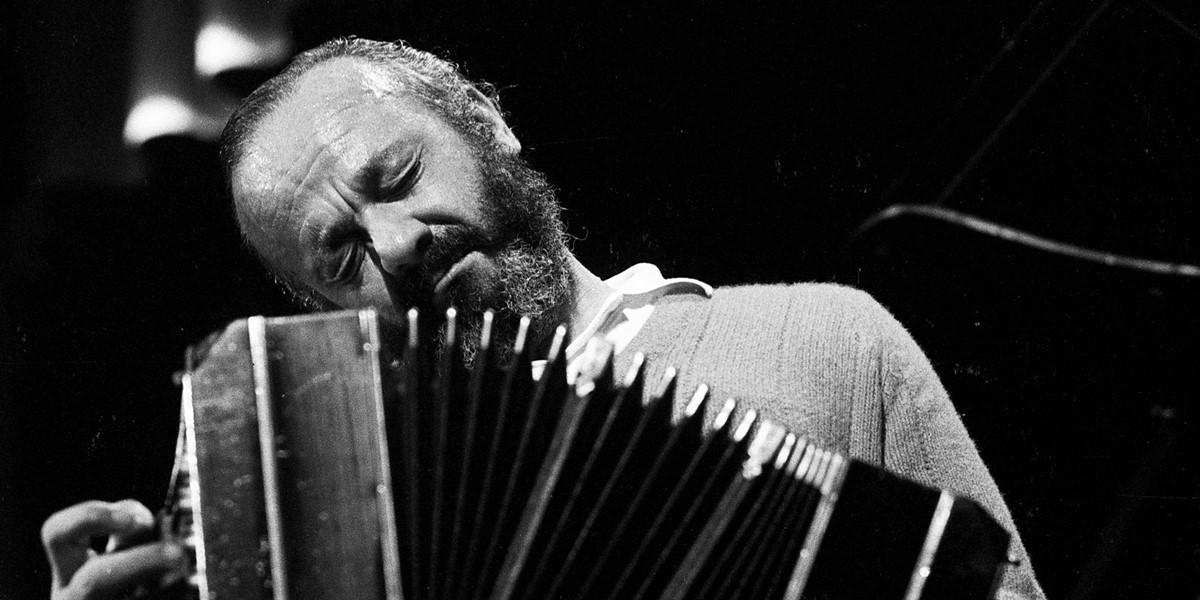 Astor Piazzolla [photo: Quinteto Astor Piazzolla]
'Traitor.' 'Apostate.' 'Little Lucifer.' Astor Piazzolla was called all of these things and worse by his fellow Argentinians during his long career. It seems absurd now to think he received death threats in the 60s for breaking with tradition and taking tango off the dance floor and into the conservatory. Yet it was not only arch-conservatives who damned his innovations. Aníbal Troilo, the legendary bandoneón player and bandleader for whom Piazzolla played in the early 40s – is on record as saying, "it bothers me the way he at times wants to frighten people with strange arrangements."
Undaunted, Piazzolla moved to Italy and reinvented tango from exile. He studied classical composition, listened to electronic music, worked with poets and novelists including Jorge Luis Borges and Ernesto Sábato, collaborated with jazz virtuosos, and wrote for Roberto Goyeneche and Milva, Manos Hatzidakis and Mstislav Rostropovich. By the 80s, Buenos Aires had come around. By then his musical genius was already acclaimed all over the world, and he had played the Montreux Jazz Festival and Central Park with his New Tango Quintet.
What was so revolutionary about Piazzolla's approach – and why did it 'frighten' people? This year, the centenary of his birth, his most iconic songs and compositions – 'Adiós Nonino', 'Libertango', 'Milonga del Ángel' – will (pandemic permitting) be performed across the globe. But as well as celebrating Piazzolla's legacy, it's also perhaps timely to ask: why has there been no new Piazzolla, no great innovator of the tango since his passing?


Origins and encounters
Astor Piazzolla's birth and death years – 1921 and 1992 – more or less span the first century of tango. Argentina had seen, or heard, its first radio broadcast in 1920. Three years earlier, the Odeon label had released Carlos Gardel's first tango canción. The small orchestras of the great bandleaders – Eduardo Arolas, Julio de Caro, Robert Firpo – were vying for supremacy in the socially accepted club scene that had recently emerged from the rawer, rougher roots of early tango.
When Piazzolla was four, his family moved from the Atlantic coast of Argentina to New York. He was given his first bandoneón when he was just eight. As if fingered by destiny, the young Piazzolla landed himself a bit part in the Paramount film El Día que me Quieras (1935), starring an already famous Carlos Gardel.
Back in Buenos Aires by 1937, Piazzolla worked as a jobbing bandoneónist for various tango bands, while studying composition under Alberto Ginastera and attending rehearsals at the Colón Opera House. He learned about atonality and counterpoint from Stravinsky, Gershwin and Bernstein. He began to write his own tangos. Some of these songs, such as 'Inspiración' – arranged in 1943 for Troilo's orchestra – would appear on his first recordings.
A 1954 trip to Paris marked a turning point. Nadia Boulanger famously told him to forget the piano and, when he performed a few bars of his 'Triunfal', declared, "This is Piazzolla! Don't ever leave it!" Piazzolla made recordings of his own tangos for the Barclay, Festival and Vogue labels, playing with a string orchestra. Lalo Schifrin played piano for some sessions. On his return to Buenos Aires, he formed an octet that included, for the first time in a tango band, an electric guitar. His arrangements incorporated jazz elements he'd heard in Paris. Piazzolla released two records: an album, Lo Que Vendrá (1957), for Uruguayan label Antar-Telefunken, and the EP Tango en Hi-Fi (1957) for Buenos Aires label Music Hall. Both releases had in common the composition 'Tres Minutos con la Realidad'. With its Bartókian astringency and angular tempo shifts reminiscent of The Rite of Spring, 'Three Minutes with Reality' was a tango for the real world.
Piazzolla called himself and fellow musicians 'eight war-tanks' and while this initial grouping only lasted a couple of years it established a procedure and a philosophy – and provoked a largely negative reaction among traditional tangueros. 'The Octeto Buenos Aires (1955) can be seen as marking the real start of the so-called tango de vanguardia or 'avant-garde' tango,' write María Susana Azzi and Simon Collier in their peerless biography Le Grand Tango: The Life and Music of Astor Piazzolla. 'There is a case for viewing the Octet as the most audacious of Piazzolla's various ensembles.'


Revolution, rejection, realism
Argentina had changed immensely during the first half of the 20th century. The lush arrangements of sweeping, romantic compositions like 'Quejas de Bandoneón' and 'La Cumparsita', played by large orchestras – with five bandoneóns playing the same melodic line or rhythm – had provided a soundtrack for the fast-rising, newly rich Buenos Aires of the 20s. World War I and booming exports had led to a belle époque of architecture, fashion, leisure and hedonism in the Argentinian capital and its sister-city across the Río de la Plata, Montevideo – at least for the wealthier classes.
But, by 1950, Argentina had experienced its first two coups d'états (there would be more to come) and seen the rise of crypto-fascist Peronism. The fond nickname for Buenos Aires, Gran Aldea (Big Village), could still just about be used in 1900-1920. But now it no longer described the mega-city of Buenos Aires, with its massive immigrant population, slums, busy traffic, polluting industries and residential sprawl; the pampas were being eaten up by urbanisation. A metropolitan culture that was once divided between patricians and the poor, criollos and migrants now had myriad layers and social levels. Equally, the old tango clichés – street lamps, hoodlums in gaucho-esque neckerchiefs, knife fights and madams – were dusty and irrelevant.
Moreover, music had moved on. Jazz and bebop had happened. Classical music had been convulsed by Bartók, Satie, Ravel and Debussy. Ballroom culture, with its waltzes and sleepy feet-to-the-floor tangos, was tired. Rock'n'roll was just around the corner. Instinctively, and led by his heart as much as his head, Piazzolla looked for a new idiom that responded to all these changes. Neither a folklorist nor a populist, hitching his modernism to neo-classical and jazz modes, and by playing without dancers in concert halls he was demanding his audiences to listen and think.
Listen to Piazzolla's most popular tango, 'Adiós Nonino' (written in 1959), and the seeds of revolution are there: the schizophrenic moodswing, the storytelling motifs, the startling syncopation, the fugal energy, the sound of sirens. It was this complexity – of musical language and performance – which confounded and upset dyed-in-the-wool tango audiences. When Piazzolla premiered the wonderfully surreal 'Balada Para un Loco' (Ballad for a Madman) at Luna Park in November 1969, traditionalists in the audience threw coins at the stage to signal their scorn. Yet 150,000 singles had sold by March 1970. Piazzolla was divisive, but not to be denied.


Landmarks and legacy
Between the 60s and 80s, Piazzolla shapeshifted as he toured, relocated his home, married, had two children, divorced, remarried, wrote hundreds of tangos, and collaborated with artists from across the worlds of music, painting and literature. Major landmarks along the way were an opera, María de Buenos Aires (1968), written with poet Horacio Ferrer; Libertango (1974), which would become world-famous through Grace Jones' cover of its title-track; the three movement Concierto de Nácar, premiered in 1972; Summit (1974), with Gerry Mulligan, who remembered Piazzolla telling him, "it turned out he'd had a kind of a fantasy for 20 years of doing an album with me, since he first heard the piano-less quartet and the Birth of the Cool album, and my Tentet and all that,"; three sublime albums in 1986, 1987 and 1988 for the American Clavé label, released collectively as The Late Masterpieces (1997); The New Tango (1987) with vibraphone player Gary Burton; and Five Tango Sensations (1991) with Kronos Quartet – his last recording.
He continually changed his ensembles and approach, moving through three quintets, an acclaimed nonet, a sextet, dozens of orchestras conducted by himself and by others, and no fewer than four octets – two of which were 'electronic,' with his son, Daniel, on synthesizer in the first incarnation and on synth and drums in the second. Piazzolla, who struggled to fill medium-sized theatres in Buenos Aires in the early 70s, went on to play the Paris Olympia in 1977 (L'Express called him 'the Boulez of the bandoneón'), Tokyo's Shibuya Public Hall in 1982 and, a year later, Buenos Aires' venerable Colón.
Versatility and virtuosity make for a fertile combination. Piazzolla responded to each musical experiment with extraordinary energy. Performers, from Dizzie Gillespie to Yo-Yo Ma, were blown away by Piazzolla's bandoneón. Gerry Mulligan was another admirer: "Watching him play was incredible, because he would do these very modern voicings on the thing, and in order to reach these buttons, his fingers looked like snakes going all over. It had a really uncanny sense to it."
For Astor Piazzolla the dance of tango was a discretionary mise-en-scène. Tango's 'evolutionists' who had preceded or been contemporaneous with him, like Osvaldo Fresedo, Pedro Maffia, Osvaldo Pugliese and Miguel Caló, had accentuated the music over the show, the dance or the rigours of tradition. But Piazzolla took this much further, writing classical concertos and a symphony, ambitious suites and song cycles like the 'Angel', 'Four Buenos Aires Seasons' and 'Diablos' sequences, music for films, ballet and theatrical works. Changing publishers more often even than addresses, his catalogue is in disarray. Discogs website lists 5,663 items in which he is credited, covering studio and live albums, EPs, singles, soundtracks, collaborations and cover versions – artists paying homage always name him in their titles. Piazzolla sells.
He wrote songs about madmen, whisky, angels, shark fishing, Michelangelo and the Great Wall of China. Like Borges, but armed with a button accordion rather than a pen, he tossed off elaborate fictions that deconstructed themselves. Did he play tango or classical or jazz or 'avant-garde jazz-influenced tango,' as one critic puts it? Genres seem not to fit as neatly as all the black shirts he wore on stage – to keep things formal, to earn respect. There is not the space to fully explore Piazzolla's personality here, but he was serious, maverick, occasionally bad tempered, generous and demanding, prolific and hopeless at business. The standard genius profile, in other words.



Post-Piazzolla tango
Since Piazzolla's death, tango has had moments rather than movements. Singer Adriana Varela's first recordings, the emergence of youthful orchestras like La Camorra (named after a Piazzolla album) and soloists such as pianist Sonia Possetti, the better electro-tango exercises, and the dub-tango burlesques of Daniel Melingo all represent points of important, or at least interesting, inflection. But in the last 30 years, more tango legends have died than genuine talents have emerged. 'Piazzollean' trios, quartets and quintets have sprung up in Europe and in Argentina, but many are better cover-bands than composers or innovators.
Which makes it worth asking: did Piazzolla, in the end, liberate tango, or trap it in a new set of strict codes?
Tango musician Adam Tully, producer of Astor 2020 (see box), has the following theory: "You can talk about how he was an innovator who took a traditional urban dance music and elevated it to art music, and that's not incorrect, but it's incomplete and can lead to a dead end. Because when you tell it that way it seems binary, as if there is old tango and new tango, when in reality it's all tango."
"It's too easy to think that he was leaving it all behind or rejecting it; in truth he was completely a part of this music and wanted it to be ever greater, to grow rather than to stagnate. And the dead end is to think that since Piazzolla innovated, then the natural progression of tango is the language that he invented. The danger there is for other composers, arrangers, and performers to get absorbed into Piazzollean language, which is what happened in the 80s and 90s."
Piazzolla stretched the harmonic and chromatic possibilities and amplified the thematic range of the tango without altering its substance. "Very often when musicians start occupying themselves with popular forms, they make it all very intellectualised and it loses a lot," says Daniel Barenboim. "Not Piazzolla. He was a genius. Today Gardel's tangos need special arrangements or they would sound old-fashioned, whereas Piazzolla's do not." Cellist Yo-Yo Ma concurs: "Piazzolla, to this day, is claimed by everybody. He's claimed by world music, classical musicians, jazz musicians. He's one of us, because… people recognise, in his music, their own DNA."
As a non-musician, as a listener, I recognise my own DNA there, too. If Piazzolla is still sometimes divisive, I am absolutely on the side of the converted. He opened up and redescribed Buenos Aires like a Cubist painting for me, while I was living there. He allowed me a cool, contemporary way into tango, that led back to 1900 and on to 2000 and to now. Piazzolla's tango is universal music, about humanity, ideas and feelings; the least parochial, most cosmopolitan export ever to come out of Argentina; he is as important as Gershwin, Bernstein, Stravinsky, Weill or Gardel – and a bit of all of them, at once.
This article first appeared in the April 2021 issue of Songlines. Never miss an issue – subscribe today