Sunday, May 1, 2022
"I lost everything, so it was time to rule my destiny" | OKI
Champion of an obscure Ainu lyre, Oki Kano talks to Charlie Cawood about the late-night encounter that launched his life's passion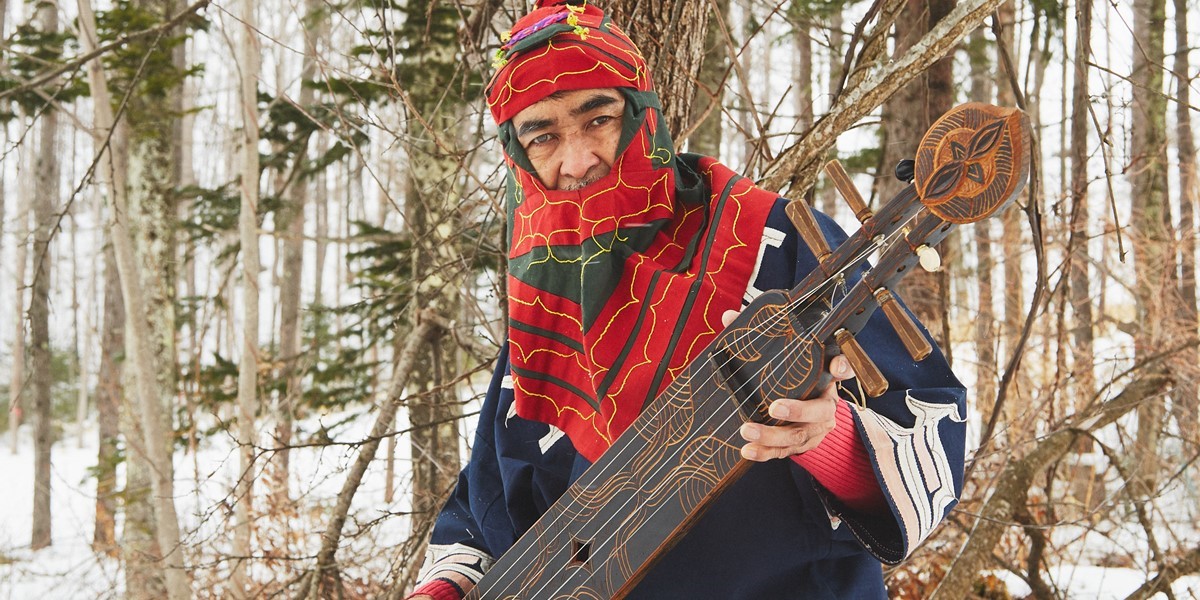 The tonkori is a board lyre traditionally played by the Ainu, a minority group native to Hokkaido, northern Japan, and Sakhalin Island. An extremely rare instrument even in Japan, the lineage and history of the tonkori doesn't exist in any official form, given the Ainu's reliance on oral tradition and lack of written language. The earliest written documentation dates to the 1850s, at which time every Ainu household had a tonkori, with the instrument being played by most people. With the increasing industrialisation of the Japanese fishing trade, the instrument was slowly abandoned as the Ainu were exploited for their labour. The Ainu's enthusiasm for their own culture began to wane, and by the middle of the 20th century the tonkori was practically extinct.
Born in Hokkaido, Oki Kano, known professionally as OKI, is the most prominent tonkori player working today. Regarded for his popularisation of the instrument outside of Japan, and its use in crossover music – notably with his Oki Dub Ainu Band – OKI came to the tonkori at the relatively late age of 32. An artist and sculptor by trade, the collapse of a role as a film art director led to OKI finding himself stuck in Tokyo with no money and few connections – "I lost everything, so it was time to rule my destiny." After his parents separated when he was a child, OKI's mother kept his Ainu heritage from him, due to the stigma attached to being a member of a minority. "Now, Ainu culture is very popular because of government promotion, cartoons, movies. There's been an Ainu culture boom, but 40 years ago, no boom. To say 'Ainu' [was] taboo." Travelling to Hokkaido, initially with intentions of making a documentary about Ainu culture, OKI reconnected with an uncle who ran a small private Ainu museum. Deep into a night of heavy drinking, OKI was inadvertently introduced to what would become his calling. "It was 2am and everyone had left, my uncle went out of the room, and suddenly he threw a big wood block at me, totally drunk. It was a tonkori!" OKI set about developing his own playing style from scratch. "It was my mission to do something with this instrument. The tonkori has been my partner ever since."
Traditionally built from Jezo spruce or pine, the tonkori typically has five strings – often made of deer tendons – that are played open, akin to a percussive lyre. Older instruments have a removable bridge made of walrus skin, which lacks the tension to hold a stable tuning so the tone relies more on harmonics and overtones than fixed pitches. "If you think of it as a melody instrument, you bump into a wall, but if you think of it as a percussive instrument there are more possibilities." 
Although the surviving repertoire now totals fewer than 50 songs, each performer's interpretation will be totally different to the next, with every player expected to cultivate their own identity. "Everybody has his or her own style. Imitation is not a good idea for the tonkori tradition. Originality – the feeling – is the most important thing. Even the same player plays the same song in a different way if the day has changed."
Utilising his background in sculpting and painting, OKI builds and customises his own tonkori, mostly using pine and maple woods. To achieve greater pitch stability, he replaces the peg tuners with banjo machine heads, and has added an extra string to better replicate different playing styles. Rather than deer tendon, OKI uses silk strings coated in turmeric, in a similar fashion to the modern shamisen. For amplification, he installs a Fender Stratocaster-style jack input, and through trial and error has settled on a Piezo microphone as a pickup. Chaining through effects such as reverb, delay, and octave pedal, the best onstage sound is achieved via a tube preamp directly into the PA. But OKI is reticent to add too many customisations to the tonkori, in order to preserve the instrument's unique tone and identity. "The point is what can I do for the tonkori, but also what can I not do to the tonkori," he explains.
Still one of only a handful of tonkori players working today, OKI continues to embrace the instrument's limitations while enticing international audiences towards Ainu culture. "I am the king of the tonkori, because nobody wants to play this instrument. That's why I am a champion from the beginning!"
---
Read the review of Tonkori in the Moonlight in the Songlines Reviews Database
This feature originally appeared in the April 2022 issue of Songlines magazine. Never miss an issue – subscribe today